Transferring Emails from AOL to Yahoo Mail with Attachments Directly
" Hello, I am planning to transfer some of my very important emails from AOL email account to Yahoo Mail. I got in touch with my friend, who works in an IT company to talk about my situation. But, he said that transferring emails from AOL to Yahoo is a complex task. Now, I am looking for a quick and smart solution to import all my emails from AOL to Yahoo Mail. Please suggest me a great solution "
Saving emails on a reliable platform is always a peace of mind for users. They switch from one platform to another to meet their needs. But, there are many times, they are unaware of the migration process. One such process is "How to forward AOL Mail to Yahoo?" If you are also looking for the same solution, read this blog. We have discussed the complete process to save AOL mail to Yahoo account in the blog. Any technical or non-technical user can use this method to get accurate results. Keep reading to quickly quickly transfer AOL email to Yahoo Mail using a reliable solution.
How to Forward Mail to Yahoo Accont?
The user can easily migrate AOL emails to Yahoo Mail using the trusted solution AOL Email Backup Wizard. It is a professional tool and 100% safe for the migration process. In a couple of clicks, all your emails are transferred from AOL to Yahoo. The tool has a consistent interface and does not alter any information during the process. Therefore, to easily transfer the email from AOL to Yahoo, follow the steps.
Step 1: Download & Run AOL Backup Tool on Windows machine.
Step 2: Select AOL from the email source list and enter credentials (Email Address and Password)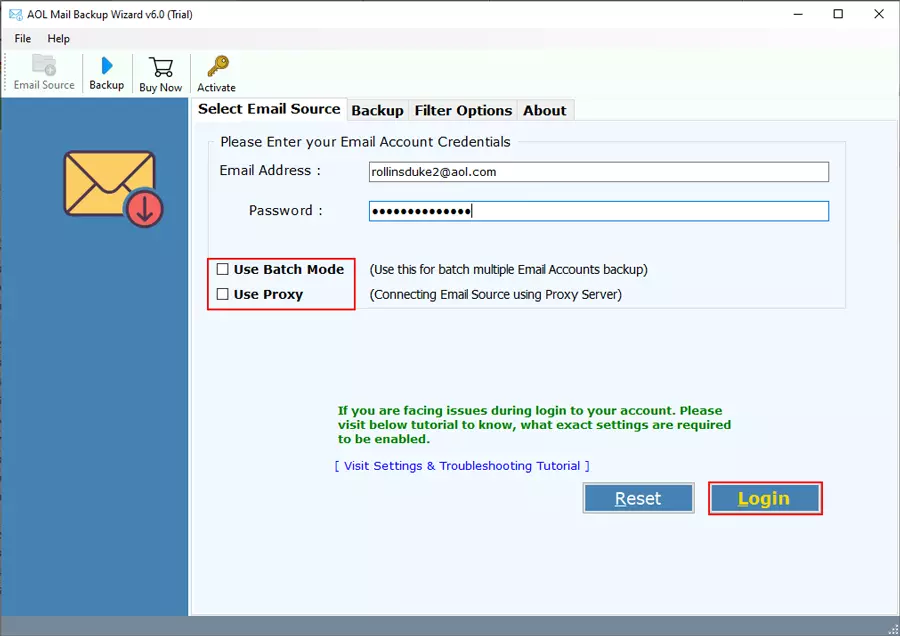 Step 3: Select required AOL email folders for the migration process.
Step 4: Choose Yahoo Mail as the Saving option.
Step 5: Add the credentials of Yahoo Mail account, press the Backup button. The process of transferring emails from AOL to Yahoo Mail is started.
Free Solution for Transferring Emails from AOL to Yahoo
The user can download the free trial version of the tool to save 25 AOL emails in Yahoo account. It is a simple and easy process and does not require technical knowledge. In addition, with this free version, the user can evaluate the working and features of the tool without spending money. Once you are satisfied with the tool, purchase the licensed edition to move multiple AOL emails to Yahoo account.
Salient Features of AOL to Yahoo Mail Migration Tool
Direct Approach: The tool is an automatic solution and move AOL email to Yahoo without any loss of information.
Easy & Quick: No technical knowledge is required to use this product. It is designed with such care that even the first time user will feel ease when using the tool.
No Limitations: It is a smart application and is capable to transfer AOL mail to Yahoo in bulk.
100% Secure platform: AOL to Yahoo Mail Backup is completely safe and secure to use. It does not store any of your information while transferring emails from AOL to Yahoo Mail account.
Advance option: The application is intelligently designed to forward AOL Mail to Yahoo Mail. It has many strong features that make the task hassle-free. All your email properties, attachment formatting are maintained.
Maintains Folder Hierarchy: The product is a great application and preserves the folder hierarchy throughout the process.
User-Friendly Interface: The tool has an easy-to-use interface. Any non-technical or technical person can use it.
Accurate Results: The tool is popular for providing user-desired results in quick time. All your email messages, folders, attachments, etc., are completely preserved throughout the process.
AOL Mail Vs Yahoo
AOL Mail is a free web-based email service provider that gives you an alert "You've got a Mail" every time you unread a message in your inbox. Although AOL Mail also claims it offers unlimited free storage, there are in fact limits. The inbox can contain 1000 new messages. Moreover, AOL Mail does not have an app for Android or iOS. Mobile users must configure existing mail apps such as Mail for iOS to synchronize with their AOL Mail account.
Yahoo mail is a reliable mail service provider with four platforms according to the requirements, such as Yahoo Mail Basic, Yahoo Mail Plus, Yahoo Mail Free, Yahoo Small Business, etc. Yahoo Mail broke the 280 million user mark in December 2011. The interface is simple and easy to use, which is very popular among users. It offers advanced features that ensure that your emails are highlighted with animated photos and email designs created by Paperless Post artists.
The Conclusion
Hope you are able to transfer emails from AOL to Yahoo in an easy manner. You do not need an internet connection to run this tool. It is an excellent utility with many beneficial features. Try this tool and move all your AOL mail to Yahoo account.