How to Transfer Windstream Email to Outlook ?
What's on this Page:- 
Do you want to transfer Windstream email to Outlook email client? Are you looking for an expert solution to add Windstream to Outlook? If yes, end your search here. In today's guide, BitRecover professionals will answer this user query. We will explain the simplest and straightforward way to migrate all emails from Windstream account to MS Outlook with attachments. The complete process is described in a step-by-step. So, here we go.
First of all, Windstream webmail doesn't directly export emails into MS Outlook application; therefore, you have to look for other alternatives. The best solution to transfer Windstream email to Outlook is Email Backup Wizard. It completes the full task in 5 simple steps without any loss of information.
Read More about the Best Windstream to Outlook Converter Tool
The software is a user-friendly and straightforward solution. It is a #No.1 platform to add Windstream email to Outlook PST directly. It not only migrates Windstream emails but also attachments in the MS Outlook editions. Whether you are a beginner or a technical expert, all can use this product for Windstream to Outlook conversion. It offers 100% exact results to the user without any compromise. It is the fastest way to achieve complete Windstream to Outlook migration with all properties.
In the section below, we will detail all five steps required to export Windstream to Outlook emails with attachments. So, keep reading.
How to Transfer Windstream Email to Outlook in Single Clicks ?
Open and start Windstream to Outlook converter tool.
Now, select Windstream and enter the account credentials.
Mark the folder to transfer emails from Windstream.
Choose PST as the saving option and specify a location.
Click on the Backup button and run the conversion.
Complete Step-by-step Guide to Export Emails from Windstream to Outlook with Images
First, launch the program on a Windows-based computer.
Now, select Windstream from the list as the required source. After that, fill the credentials such as email address and password. Then, click the login button.
After the software analyzes the data, a list of all files and folders will be displayed. Here, you need to select the required folders for migration from Windstream to Outlook. Select PST as the save file type and specify the location where you can view the final result.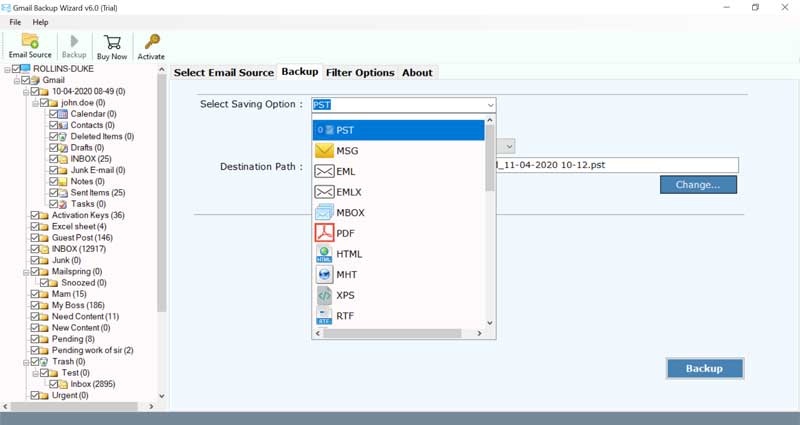 Next, please click the "Backup" button, and then check the live conversion process in the software window.
Get the Final Results:- 
After the email transfer process from Windstream to Outlook is completed, you will get the complete conversion message. Next, a log report provides full details about the process. Now, go to the destination path mentioned location and get a folder named as .pst. That's it.
What is the use of Demo Edition?
The product comes with a free trial edition that lest you add transfer Windstream emails to Outlook free. You can download it on your Windows computer. It allows you to migrate 25 Windstream emails to Outlook with their attachments. The process is safe and straightforward. Once found to be useful, you can upgrade to the Pro version for unlimited conversion.
Why Should you Choose Windstream Conversion to Outlook Tool ?- Features & Advantages
This tool directly transfers Windstream email to Outlook without any risk.
You can also batch convert Windstream emails to Outlook to save time and effort.
This application can perform Windstream to Outlook email migration with attachments.
It also allows saving the resultant folder at user desired location.
The software supports all the latest and earlier versions of the Windows operating system.
It is a standalone application and does not require Outlook to be installed for conversion tasks.
The utility supports all versions of Outlook. You can export Windstream to Outlook 2019, 2016, 2013, and more.
This product is a safe application that can add Windstream emails to Outlook without any changes.
What are the Frequently Asked Questions ?

1- How do I add Windstream email to Outlook manually?

 Open the MS Outlook application.
Choose open and export options. Then, click the Import/Export button.
From the File menu option, select Import from another program or file, and then click Next.
Select the "Outlook Data File (.pst)" option, and then press the "Next" button.
Browse the .pst file you want to import, and then finish.

Important Note:- This process is only applicable if you want to transfer limited Windstream email to Outlook. So, better use Windstream to Outlook converter to work without restrictions.

2- After the migration, can I see the sender's address, attachments, and other information in Windstream email?

Ans. Yes, the tool retains all attributes and provides results with complete information.

3- How to get the licensed version of Windstream to Outlook conversion utility?

Ans. It's simple. Go to the "Buy Link" and download the version. After that, you provided an activation key on the email ID provided.
The Last Words
If you wish to change from Windstream to MS Outlook with attachments, please follow the information mentioned in the blog above. With a few taps, you can transfer Windstream email to Outlook quickly. If you need help, please contact our support team available 24*7.