How to Transfer Mail from Mac to Windows PC ? – A Complete Guide
The Mac Mail services are continuously running fantastic, but the developers of Macs do not make it easy for you for switching from Mac to Windows 10.
Of course, almost all personal Mac Mail data and settings remain in Apple's proprietary format. At first glance, it may seem confusing to understand how emails are transferred from a Mac to a Windows PC. However, if you want to transfer Mac Mail messages and move your emails from your Mac computer to Windows, you can easily transfer them to other email applications such as Outlook, Thunderbird, etc.
In this article, we will describe to you different techniques about how to transfer emails from Mac to Windows PC.
Content of this article:
Steps to Transfer Mail from Mac to Windows 
Follow these steps to transfer emails from Mac to Windows:
Open Mac Mail and choose the folder you wish to migrate.
Right-click on it and select the Export Mailbox option.
Pick a location for saving Mac Mail emails.
Repeat steps for Mail folders you wish to export.
Copy the .mbox mailbox emails and move them to Windows PC.
How to Export Emails from Mac Mail to Windows with Complete Working Steps ?
If you have the modern Mac Mail version and want to export emails from Mac Mail to Windows. Then, even if you don't know about the location of Mac Mail data storage. Still, you can perform the Mac Mail to Windows conversion.
In such case, you can save Mac Mail messages into mailbox files using this option "Export Mailbox…"
Go through these steps to transfer Mac Mail to Windows PC:
Run the Mac Mail application and go to the Mailbox > Export Mailbox… option located on the menu bar.
Give a name to this folder and press on the "Create" button.
Thereafter, choose a required folder from Mac Mail to export into Windows.
Click on the Choose button to continue further.
Then, copy desired folder and paste the exported files into Windows Machine by using a pen drive or through the other medium as explained in the later section of the blog.
Once you have taken Mac Mail backup, thereafter you can copy the same exported data via pen drive, WeTransfer.com or through Google Drive to Windows.
Convert Mac Mail Exported Emails into Multiple Formats on Windows
Now, you have your Mac Mail messages on your Windows PC, so you can use a reliable software MBOX Converter software by BitRecover.
This expert solution gives you the facility to convert Mac Mail exported data items to varied file formats. The users can export Mac Mail to Windows Outlook 2016, 2019, 2013, etc. The tool can migrate all mailboxes into PST file format without any data manipulation. This conversion utility perfectly fits for your MBOX emails to be converted into formats that are compatible with Windows.
You can export Mac Mail exported .mbox emails to Windows PC into standard file formats. Such as MSG, EML, TXT, HTML, MHT, DOC, CSV, PDF, etc.
Let' see how this software works to convert mail from Mac to other formats on Windows:
Download and run the software on your Windows machine.
Import Mac Mail MBOX emails with dual file selection options.
Preview required Mac Mail .mbox folders and hit on Next button.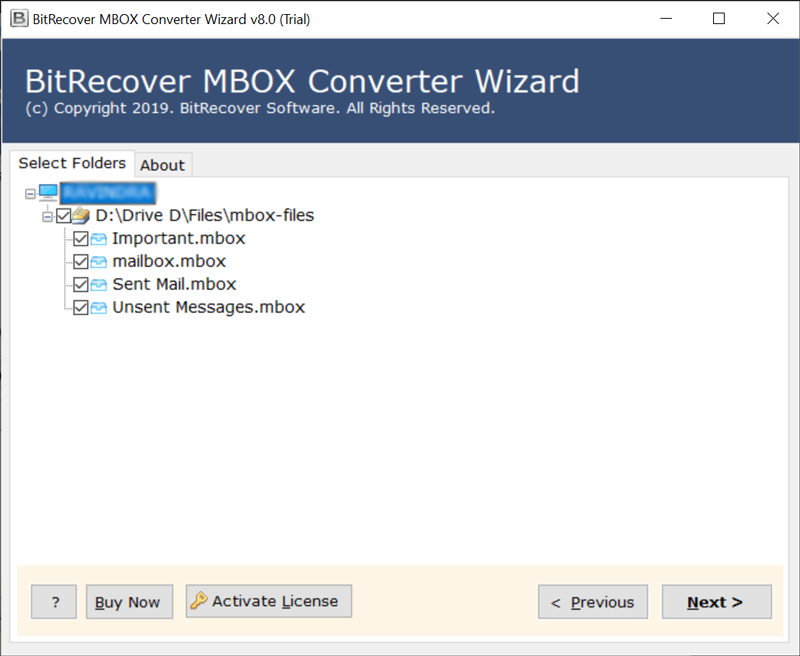 Choose PST saving option to transfer email messages from Mac Mail to outlook ( Windows).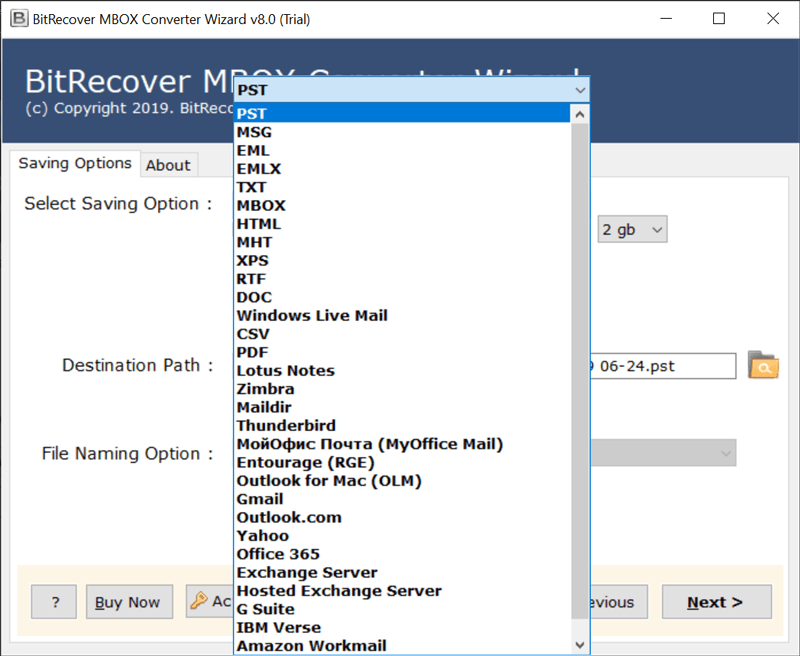 Select advance settings for creating separate PST per MBOX file.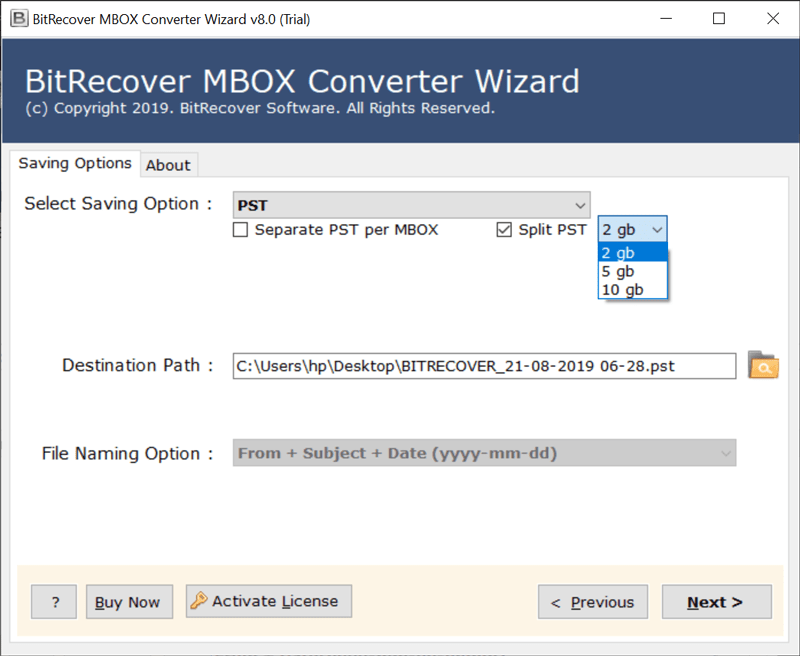 Enter a destination path for saving the Mac Mail to Windows exported emails.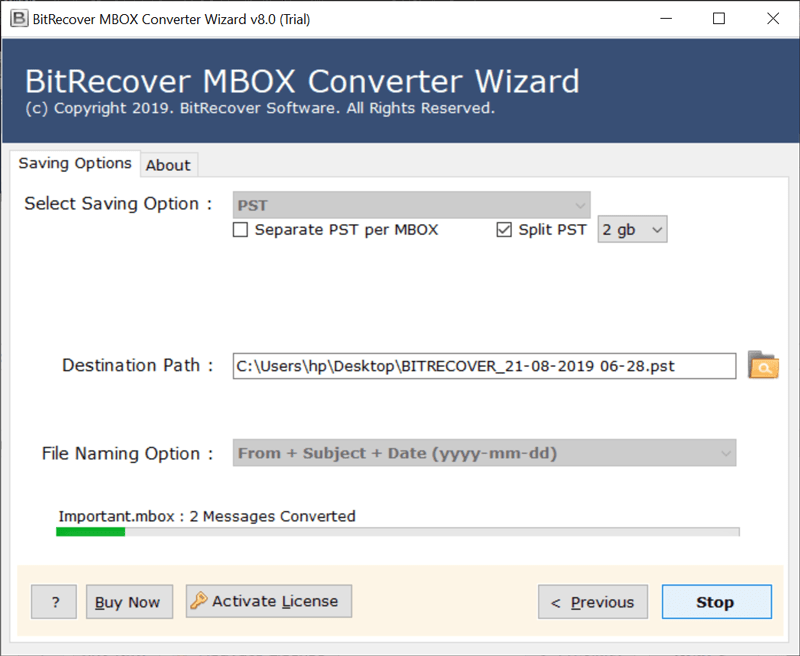 Mac Mail MBOX to PST conversion starts successfully.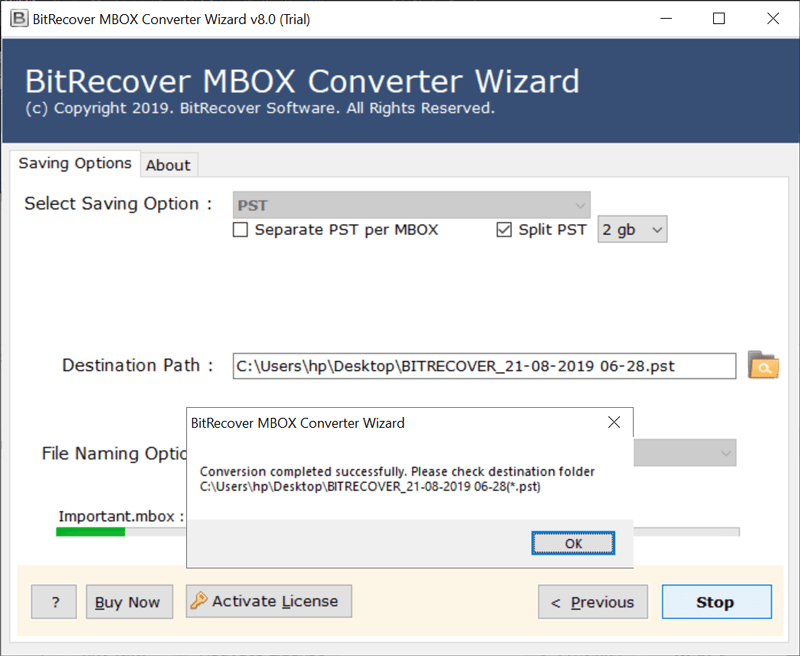 What are the Gains of Using this Software ?
Bulk convert emails: The software offers the facility to do batch file conversion. One can use this utility to transfer mail from Mac to Windows and do further conversion of emails into popular file formats. For thus, the users can batch convert emails in single processing.
Offers different file naming options:- The tool gives many file naming conventions for better email management. For this purpose, choose any file naming option from GUI.
Dual file selection options: With this wizard, the users have the option to import a single MBOX file or a complete folder for further conversion. It gives dual options that are Select files and Select folder option.
Retains email data integrity: The software maintains the internal folder hierarchy of complete data. Moreover, it keeps intact all email components like sender and receiver details, subject, attachments, active links, formatting, etc.
Supports all Windows OS: You can download this software on any version of Windows OS. It is compatible with Windows 10, Windows 8.1, Windows 8, Windows 7, Windows XP, Windows Vista, Windows Server 2019, Windows Server 2016, etc.
Some User Queries and Expert Replies
✔️How do I transfer from Mac to Windows ?
You can use the above solution to transfer mail from Mac to Windows PC.
✔️ Can I convert from Mac to Windows 10 ?
Yes, the solution described above can help you to move emails from Mac to Windows 10.
✔️ Will I be able to export Mac Mail to Windows Outlook 2016 ?
Yes, this software will let you move email from Mac to Windows Outlook 2016.
Try Now the Demo Version of Software for Free
If you are looking to migrate only few emails and want to do an evaluation. Then, please check this demo version. You can download it by clicking on this green button given below. This demo version will let you to convert first 25 items from each MBOX folder to the selected file format. Upgrade the tool's licensed key for unlimited file migration.

Final Verdict
If you have never worked on data converters, then this blog will help you out. It explains how to transfer mail from Mac to Windows. This solution helps any user to move your Mac files to Windows pc with precision and without any data loss. If you have doubts or queries, feel free to contact to our support team.