How to Transfer Emails from BigPond to Gmail Account ?
I want to forward the emails which are saved in my BigPond account to the Gmail account. Though I have tried to add BigPond account to Google mail but in the process, I am nowhere finding the emails stored in BigPond inbox, outbox, and various email folders. I want to know some alternative solution other than forwarding data. How can I transfer emails from BigPond to Gmail account with all mailboxes?
BigPond fulfills the requirements of growing technology and delivers the same service. It is one of the largest Internet service-providing companies in Australia. It must be noticed that until 2007, BigPond had a large number of broadband subscribers.
But, after 2013, it has been stopped and merged with Telstra. Now, there are thousands of people who want to move their BigPond data to some other webmail like Gmail.
If you also wish to forward email from BigPond to Gmail, then this blog is meant for you.
Try the Best Tool to Switch from BigPond to Gmail
The BitRecover IMAP backup tool is a reliable software that gives the facility to the users to transfer emails from BigPond to Gmail. With this utility, one can move unlimited mailbox data from BigPond account to Gmail. The software comes with numerous benefits like selective email conversion, bulk migration of data, transfer of emails from multiple accounts, etc.
Take a free trial of the software-
Steps to Transfer Emails from BigPond to Gmail
Launch the BigPond to Gmail tool.
Enter BigPond email login details, IMAP information.
Choose required mailboxes for conversion.
Select Gmail & enter the email ID, password.
Start to transfer BigPond emails to Gmail account.
Complete Stepwise Solution to Move BigPond Emails to Gmail Account
Start the software on your machine (either Windows or Mac).
Now, set up the login details of your BigPond account and fill in the IMAP host settings.
IMAP HostName- imap.telstra.com
IMAP Port Number- 993
Then, click on the login button.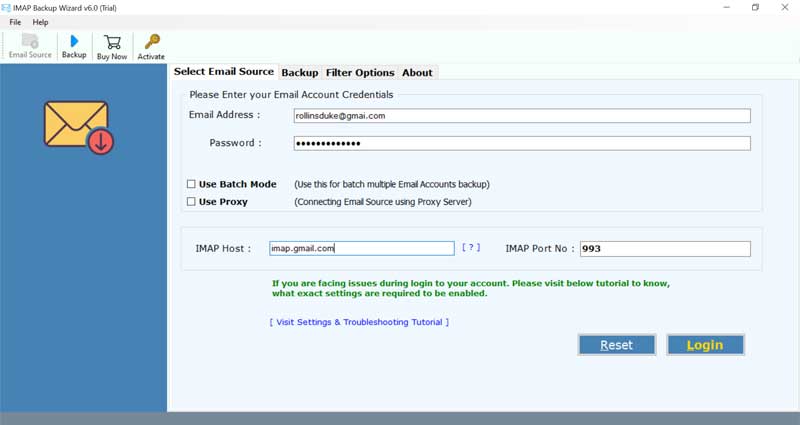 The software starts to fetch all mailboxes from your account. It will load them into the software panel.
Now, enable only those email folders whose data you wish to transfer from BigPond to Gmail.
Thereafter, navigate to the saving options list. Choose Gmail and enter the email address and password.
Lastly, click on the backup tab to begin the conversion process.
The task to transfer BigPond emails to Gmail is running on your screen. Once the process finishes, you will get a conversion completed message report.
Benefits and Features of BitRecover BigPond to Gmail Software
Move Multiple BigPond Email Accounts Data- By using this tool, you will have the access to transfer multiple BigPond email account data to Gmail. The batch mode option enables a user to migrate bulk BigPond account emails to Gmail.
Keeps Intact Email Details- During the process to transfer emails from BigPond to Gmail, the utility will retain the metadata like sender/ receiver details, attachments, subject, images, hyperlinks, etc.
A Maintained Folder Structure- While you move all BigPond data to Gmail account, this software will never disturb the original folder hierarchy.
Many Data Filters- It offers various filter options which are useful for transferring selective BigPond emails to Gmail account. These filters include From, To, Subject, email address, etc.
Compatible with Latest Windows OS- One can install the product on any version of Windows Operating Systems such as Windows 11, Windows 10, Windows 8.1, Windows 8, Windows 7, Windows XP, Windows Vista, etc.
Independent Application- The tool does not require the installation of any external app for migrating emails from BigPond to Gmail account.
Time to Conclude
In this write-up, we have included all the details regarding the process to transfer emails from BigPond to Gmail account. The software is best for all professionals, technicians, and novices who want to move a large volume of mailboxes from BigPond webmail to Gmail service.
The user can check the proficiency of this software by downloading its free trial edition. It will allow converting the top 25 email items of the BigPond account. If you want to exceed this conversion list and want to enjoy more features, upgrade the license keys of the product. We assure you that your data will remain intact.