How to Perform SurgeMail Backup? A Complete Tutorial For the Same
Is it a horrible situation for you to download SurgeMail backup on local PC?
But why? Are you accessing a wrong SurgeMail backup software?
Or, the approach you are using to archive folders of SurgeMail is tedious / inappropriate / difficult to perform?
It looks like you don't know a workable and flexible technique to save SurgeMail folders locally on computer. Don't take stress… We are here to resolve your problem in a simplified manner. In today's post, professionals are going to learn about a foolproof method to attempt the SurgeMail backup procedure.
The struggles faced by officials at the time of creating replica for SurgeMail account, will be overcame in our suggested solution. We ensure computer users that they will not encounter a simple hurdle while implementing the approach.
What for are we waiting for? Are you thinking about something? Well, before we begin, we only want to request one thing – just give the solution a try by using the demo version of SurgeMail converter software. It is free-of-cost and the data integrity will not get compromised.
Close your eyes for a while, take a deep breathe, and then, hold PC mouse in your hand to start.
Download SurgeMail Server Emails on PC – A Reliable Approach
The approach calls for a standalone program to complete the entire task with ease. It comprises of an easy-to-use interface, making it smooth for clients to operate it without any tech assistance. Now, you can start reading the following guidelines to backup SurgeMail on computer :
1 – Firstly, download the setup file of SurgeMail backup software on your PC and install it. The installation process is effortless because it holds a self-descriptive nature.
2 – Launch recently installed application on your system and then read the 4 instructions carefully. Once done with reading, click on Next.
3 – Now the utility shows two options to add orphaned database files of SurgeMail client. You can opt for anyone of the option but here, we are clicking on Select Folder option.
4 – Thereafter, browse towards the location where orphaned folder of SurgeMail profile is stored. Select it and then, hit on Select Folder button.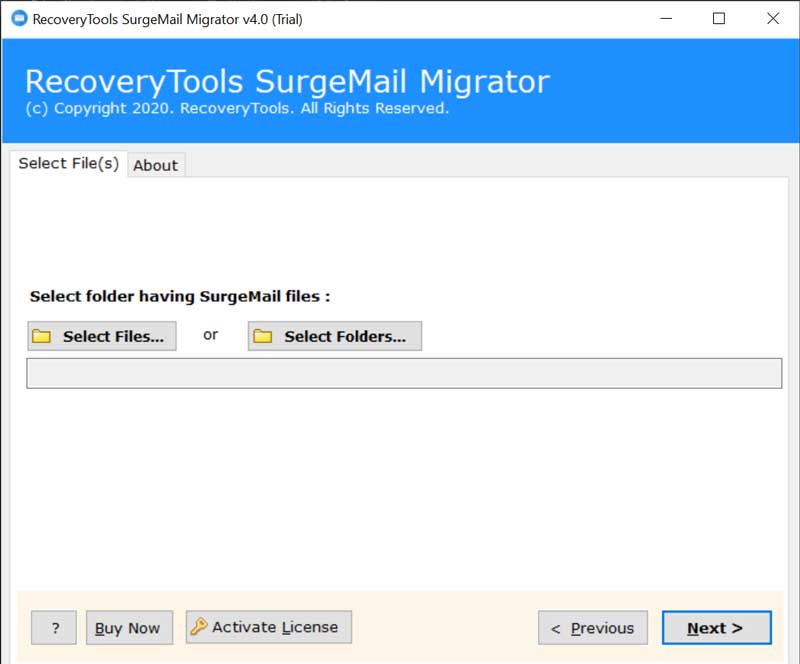 5 – This launches a screen where you have to check the checkbox of folders, which you wish to process for backup purpose. Click Next to continue with backing up of SurgeMail folders.
6 – Thereafter, explore the menu of 'Select Saving Option' and choose anyone of the file format for backup purpose. Here, we are choosing PST option to make SurgeMail emails accessible on every digital device.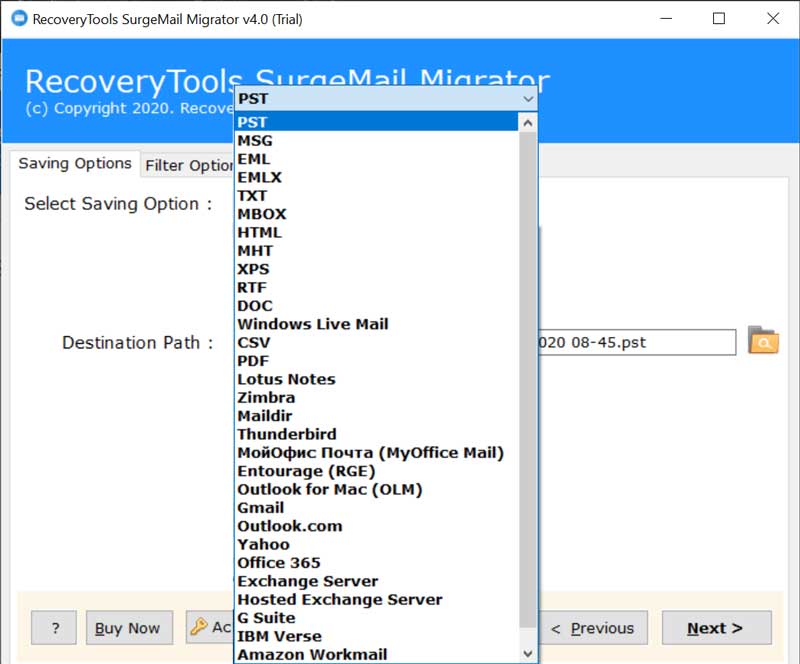 7 – Define the path where you wish to archive copy of SurgeMail account on your system.
8 – Finally, hit on Next button to initiate the backup procedure as per your defined settings.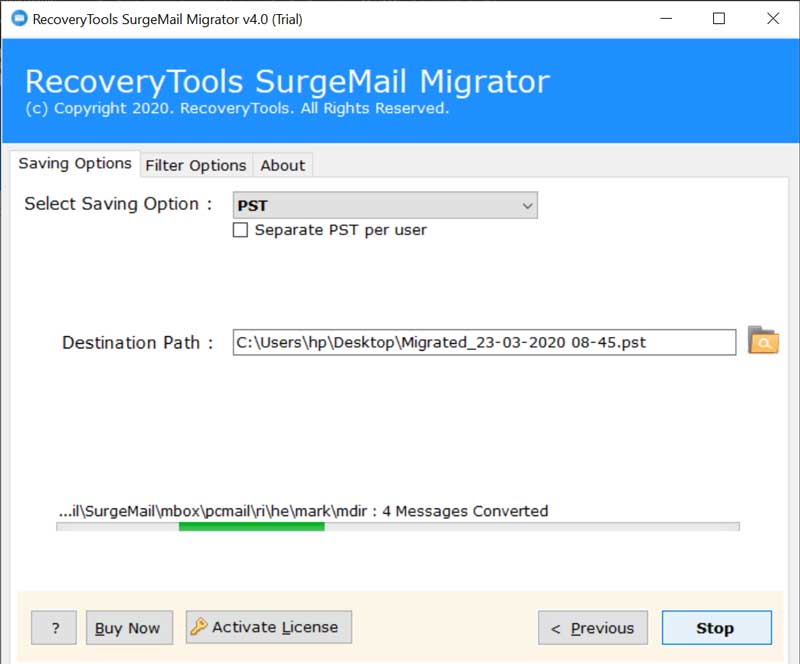 'Conversion completed successfully' – This statement appears when SurgeMail backup tool is done with its procedure. Officials can click on the Ok button, and close the app. Open Windows Explorer / My Computer wizard on your system and navigate towards the location that you had defined in Step (7). Here, one will observe all the files of the SurgeMail account backed up locfally in chosen file format.
Frequently Raised Questions by Satisfied Clients
Multiple queries come in mind of customers whey they make the decision to download SurgeMail Server Emails. Arrival of these kind of queries is quite obvious; because it enables in finishing up the backup procedure with 100% accuracy. Nevertheless, we are noting down some the commonly raised queries, which might help you in resolving your issues here itself :
Que 1 – Will your tool demand for SurgeMail mail client installation for support?
Ans – No, our solution is independent. It will not demand for any supportive email client installation for accessing it. The software works flawlessly with orphaned or detached files of SurgeMail tenant.
Que 2 – At the time of backup, what will happen to attachments of SurgeMail mails?
Ans – The attachments embedded each mail will be processed during backup procedure. No changes or manipulations will be made to email attachments and they will be present as it is, even after the backup procedure.
Que 3 – What restrictions are available in demo edition of SurgeMail backup tool?
Ans – There is only one restriction available in trial / demo version of SurgeMail backup program. It is – Customers can backup only first 25 emails from each selected mailbox. They can remove this restriction simply by buying the licensed version of the app.
Que 4 – Can I create replica of SurgeMail account on Microsoft Windows 10 OS?
Ans – Yes, you can! Our suggested approach is a Windows-based utility. You can use it on all available editions of Windows 10 and below editions.
Que 5 – Is there any demand for achieving technical sessions to access this app?
Ans – No, SurgeMail backup software holds an easy-to-use interface. This GUI makes it simple for customers to understand things with ease. Even if there is any doubt, our support team is available for 24*7 to help its customers.
Observational Verdict
The blog gives a detailed description on how to backup email folders of SurgeMail in bulk. There is no restriction on overall amount of mailboxes to be processed at one time. Clients can examine the free edition of SurgeMail backup software. They can utilize it to analyze the performance and working of the application. Once a user gets completely satisfied, he or she can buy licensed edition. This allows professionals to backup folders with complete items present in them without any limitation.