How to Save Word DOC to PDF File with Hyperlinks ? – Guide for Novices
Now days, saving Word DOC to PDF with hyperlinks is not a Rocket science. A simple and effective method to save Word DOC to PDF file is to use the built-in option available in MS Word as "Save as PDF". This particular plugin can be used in MS Office 2010 and its later editions. However, in order to know how to save Word DOC as PDF with hyperlinks, one can also use a third-party solution. Reason being, it will not demand the heroic patience required in the normal manual solutions and will also preserve the hyperlinks.
BitRecover DOC to PDF Converter is a simple as well as effective automated solution that can quickly save Word DOC to PDF with hyperlinks, attachments, etc.  It has been programmed with the best algorithms that maintains the integrity of data throughout the process to save Microsoft Word as PDF file.
Why Should You Save Word Document to PDF Format ?
If you are using Microsoft Word documents, you must be already knowing that any person can view or edit the document. Thus, the major concern is about the integrity of your sensitive Word data. Unlike the Word files, the format of Adobe PDF is not constructed to be edited, it's designed to be a universal format so that users can see them on all platforms. If you are also having thousands of Word documents that your business or work demands to be static then it is a right decision to save Word DOC to PDF with hyperlinks. The output PDF will keep intact the original formatting including the embedded hyperlinks too.
How to Save Word DOC to PDF with Hyperlinks, Attachments, Images ?
In order to save Word document as PDF with embedded files, first you need to download and launch the software on any Windows machine. Once you have properly installed it on your PC, now go through these steps one by one:
Step 1: Now, from the Select Source File(s) / folder option, click on either of the Select Files… or Select Folder… options. You can here batch select DOC files so as to bulk save Word to PDF format.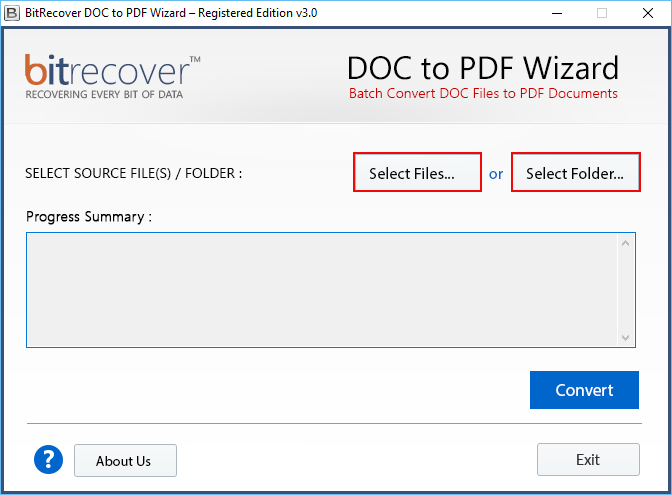 Step 2: Then, cross-check the number of MS Word files chosen for the conversion. To the bottom of the Word DOC to PDF converter, tap on the convert button so as to start the process to save Word DOC to PDF with hyperlinks.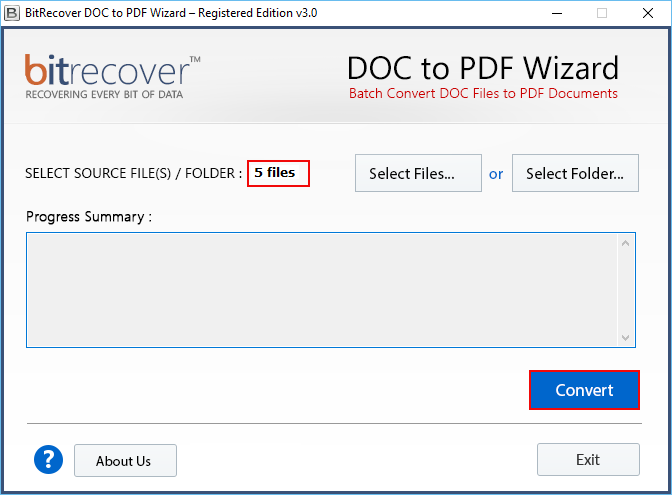 Step 3: Thereafter, browse a folder or make a new folder for saving the output PDF files on your computer. Click on OK button.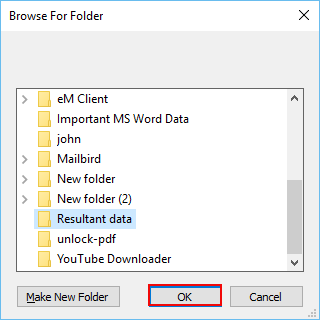 Step 4: The save Word document as PDF file processing is running in the tool. You can see the live conversion.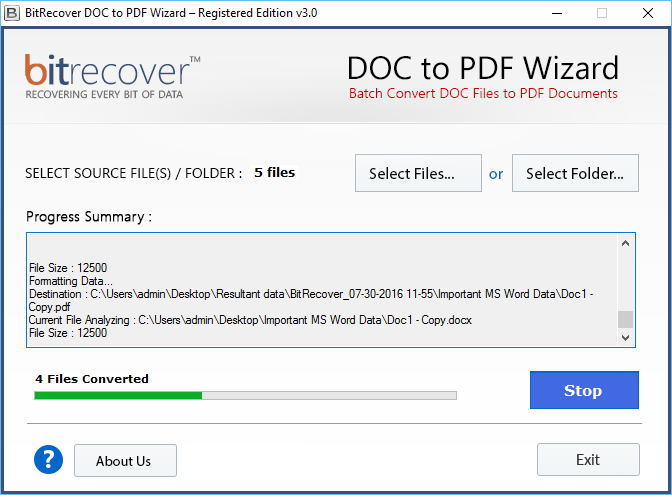 Time to check the real outcome – Once the process is done, the software pops up a conversion completed message on your screen. After that, open the resultant PDF folder.
Manual Solution or Automated Word DOC to PDF Converter Tool – Which One to Choose ?
To clear all your doubts to choose between the manual and automated process, we will walk through a real world scenario. Yes, have a look at the actual queries of user regarding how to save Word to PDF files.
I have searched on the web about how to save Word DOC to PDF with hyperlinks. Then I got to know that Microsoft Word itself provides a save as PDF option. So, I tried to save Word DOC as PDF and opened the PDF file, but really got disappointed when I saw the embedded link but I was unable to click on that. I thought that this was the cheapest and a best alternative to any tool. But, clearly this does not worked for me. Hence, I now need a solution which can directly bulk save Word to PDF along with embedded hyperlinks, attachments, images, etc. Please help me out!
Hopefully, now you could have idea that in order to save Word file as PDF, the automated approach is what the user actually demands. Therefore without wasting any of your time and efforts, quickly go for the Word DOC to PDF converter.
All-in-one Solution to Save Word Document as PDF Format
BitRecover Word DOC to PDF conversion tool provides an easy way of saving Word DOC to PDF files. This application saves you from the hassles of searching, downloading as well as launching an external application on your computer. This tool offers useful lightweight features and uncluttered Graphical User Interface that really helps users to choose countless Microsoft Word documents and process them in the minimum of time. The software is efficient, reliable and user-friendly. All this makes the DOC to adobe PDF tool absolutely perfect for all home and technical users.
Explore the major benefits of the software
The software has an easy and understandable GUI that helps to save Word DOC to PDF file efficiently.
The tool maintains the internal folder hierarchy as well as the integrity of data throughout the process to save DOC file as PDF with hyperlinks.
It provides dual options to import MS Word documents for the conversion process.
You have the freedom to save the output PDF files at a location of your choice so that you can find them quickly.
It permits to save Word DOC file as PDF along with hyperlinks, attachments, inline images, formatting, email headers etc.
You can download the Word DOC to PDF export tool on all latest and earlier versions of Windows OS.
There is no file limitations to batch save Word to PDF file with this application.
You can preview the number of files in the software panel once you have chosen the Word documents.
The tool creates a separate PDF file for each DOC file.
The tool to save Microsoft Word as PDF has the fastest conversion rate.
Take a Free Trial of Demo Version for Tool's Evaluation
Right now, if you want to batch save Word to PDF, then we suggest you to first download the free demo version of Word DOC to PDF converter. You can download it from the following link. The free demo edition helps any user to convert almost everything like text, pictures, hyperlinks, attachments, etc in a single file with single page. However in single file with multiple page, the tool will put a Water mark of www.bitrecover.com into all PDF files. In order to support multiple pages file you need to purchase the Enterprise license.

Top Reasons to Use PDF File Instead of MS Word – Read Something Interesting
Working with PDF documents permits all experts to edit, share, team up and guarantee the security of the data within the digital documents.
1) Universal compatibility of PDFs – Editing Word documents can be simple and helpful, however if you save a Word file on a Mac, it may not outwardly move appropriately to a PC; while PDFs are perceptible on any gadget.
2) Reliable plus Secure – Indeed, even law experts largely rely on PDFs. For an electronic report to be permissible in an official courtroom, it must be made in a file format that can't be modified without leaving an electronic impression. PDFs fulfill that need.
3) Minimizes File Size – Experts can change DOC to PDF without giving up quality
4) Free Reading – Most PDF Readers, including Adobe Reader, are allowed to the general public. This guarantees anybody you send the PDF file can view the full version of your report.
5) Mobile Access – Adobe Reader is accessible on any gadget, so individuals can peruse your PDF documents anyplace they need.
6) Entirely Searchable – Clients can without much of a stretch find what they are searching for through a quick search.
7) Password Protection – Numerous organizations deal in sensitive information or copyrights that requires a considerable level of security. You can lock PDF file with a strong password to ensure data security.
Thoughts of Client on "How to Save Word File As PDF"

Claudia Walker, New York

What do you like the best?

Word DOC to PDF converter is a definitely the BEST conversion software till now I have come across. It offers the quality of documents that is not provided by the conversion of Word default. The tool has an intuitive GUI and permits the batch conversion of DOC files to PDF with a single button.

What hassles are you solving with the utility? What benefits have you realized?

I am impressed with the advanced functionalities of the product. Basically, I can batch save Word to doc, can save the documents as per my choice, can save Word DOC file as PDF with hyperlinks too. All-in-all product that can convert lot of Word files into PDF within few seconds.

Recommendations to others regarding the product

I will highly recommend the Word DOC to PDF saving tool to those who wants to get quality documents after the conversion of files.
The Closing Thoughts
If you are someone who is looking to save Word DOC to PDF with hyperlinks, attachments, then your search ends here. In this blog, we have explained the reasons and a solution to save Word DOC as PDF file. It is a swift and efficient method. Moreover, an excellent choice for the novice users as the tool is very simplified. So, good and try the solution by downloading it now! For any queries please talk to our technical support team.