How to Print Yahoo Email Attachments on Computer ? – Automatic Solution
If you use Yahoo! Mail, you can print attached files of emails with the Print option available on the email account. But, what happens when you have got multiple attachments comprising of multiple attachments – and you have an urgent need to print them swiftly? Well, you can choose to print one or all attachments easily with the solution discussed in this blog. Read the entire blog post to print yahoo email attachments on computer at once.
The Problem – Couldn't Print Yahoo Email Attachments at Once
Whenever I open Yahoo! Mail and click on the print icon on a particular email attachment, I can't print it. This message "The requested URL was not found on this Server" always pops up and this has been happening from the last three weeks. Prior to this, I have never faced any issue while saving yahoo mail attachment. Frankly speaking, I am not a computer savvy and don't know how to print yahoo email attachments on computer. Please help me with this problem!
So, in order to open all yahoo mail attachments at once on your PC, you are forced to open each message. This produces extra step and makes you completely indulged in a long process for printing multiple attachments from yahoo mail.
Fig. Typical preview of an email with an attachment.
So, how to overcome from this situation? Well, there is a simple solution to print yahoo email attachments on computer. Download the all-in-one Email Attachment Downloader software and save all email attachments from yahoo mail at once.
How to Print Yahoo Email Attachments on Computer at Once ? [ Complete Description with Screenshots]
First of all, download the trial version of BitRecover Yahoo email attachment saving tool on your Windows machine. Launch it properly and then follow these guidelines to print attachments from yahoo mail.
Now, choose Yahoo Mail from the email source list and enter the credentials of your Yahoo! Mail account and hit on login button to continue.
Then, the software will start fetching the yahoo mailboxes into the GUI. Just enable the desired yahoo emails whose attachments you want to save onto your PC.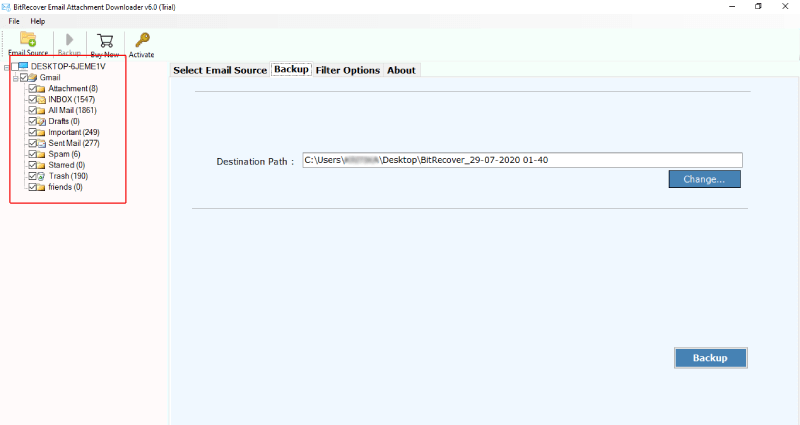 Thereafter, click on the "Use Selective Export Settings for Extracting Attachments".  With this you can save yahoo mail attachments having extensions like*.doc, *.xls, etc. Also, enable the "Use Advance Settings for Selective Backup" if required.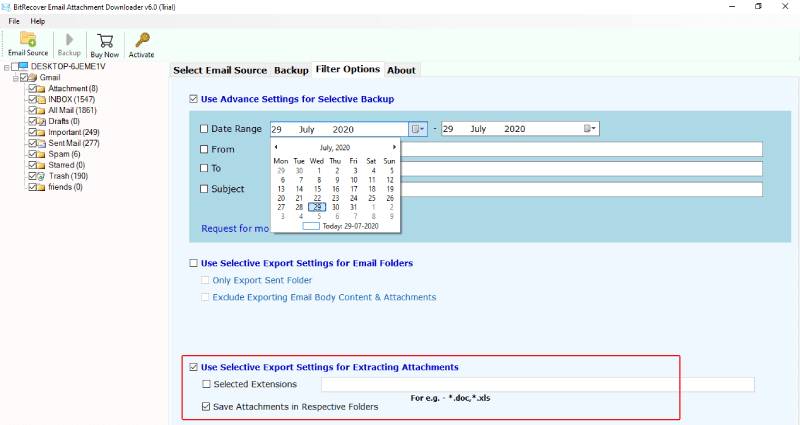 After this, confirm a destination path where you wish to save the email attachments of yahoo mail account. Along with this, click on the backup button to start to download all yahoo email attachments on local PC.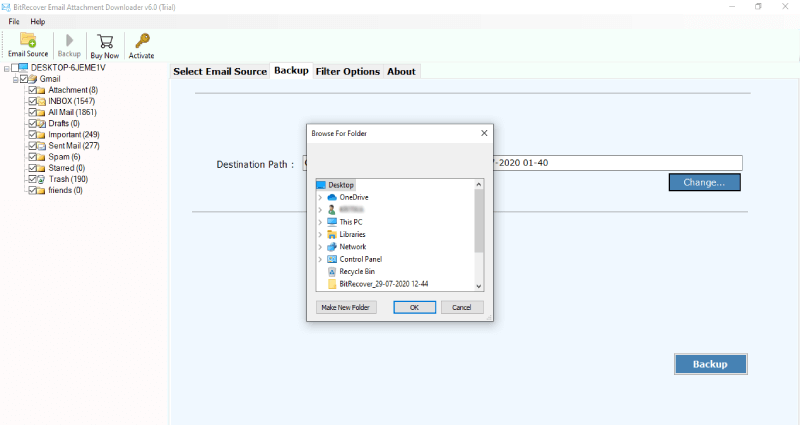 The process to print Yahoo mail attachments is running.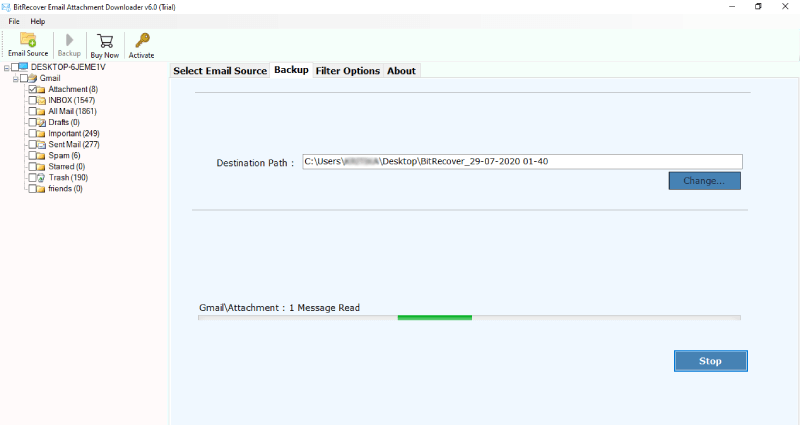 Once the process finishes, the tool will give a completion message. Now, you can open the downloaded email attachments of Yahoo mail. Open and print Yahoo email attachments without any hassle and limitations.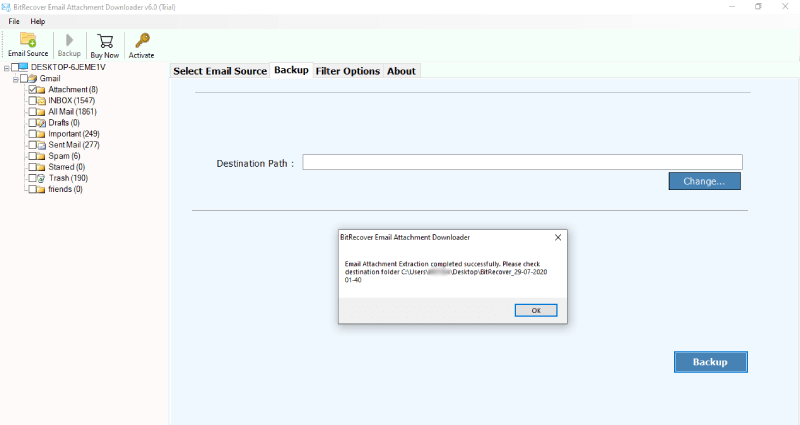 Top-5 Benefits of Yahoo Email Attachment Printing Tool
Extract Yahoo email attachments selectively:- This software is an all-in-one utility that gives users the facility to print Yahoo email attachments on local hard drive in a selective manner. You can save Yahoo mail attachments as per date range, subject, email address, etc.
No technical proficiency required:- Once you have decided to print Yahoo email attachments with this application. Then, you don't require to have extra computer skills. Since this software is built with advanced algorithms and has a user-friendly interface. Thus, any professional or even novice user can easily print multiple Yahoo email attachments without any hassle.
Windows compatibility:- If you are running an old version of Windows OS or latest version, you can use this utility effectively. It supports all editions of Microsoft Windows Operating System such as Windows 10, 8.1, 8, 7, XP, Vista, etc.
Maintains data integrity:- This software to print Yahoo email attachments always preserves the integrity of data. There will be no harm to the original email attachments and all the attached fill will be saved to your PC without any alterations.
Print data of multiple Yahoo accounts- Are you running more than one Yahoo email account? Then, take the help of this utility to print multiple Yahoo attachments at once. For this, you need to enter the login details of all Yahoo accounts in a .csv file and upload it into the software panel.
Clients Testimonials
I had over 1500 emails in my Yahoo! Mail account that contained more than 500MB attachments. Earlier I used to go with the basic method i.e. open the email message and then print the attachment one by one. But, due to the amount of database, now this process created a stress on me. So, I immediately contacted to the BitRecover team and they suggested me this software. For the very first time, I actually feel really organized! All thanks to this great product that enabled me to print Yahoo email attachments on computer. It has already saved large amount of my time by allowing me to save multiple Yahoo mail attachments at once.
-Churchill, Spain
I have hundreds of Yahoo mail folders and receive approximately 400-500 emails daily. Before I came to know about this awesome application, I used to spend hours a day just to sort our each email attachment present in the message. But, this utility has dramatically improved my work productivity. Earlier, I used to open an inbox full of messages and saving each attachment one by one. But, now this process has become fast and a super easy one with the Yahoo email attachment printing software. Great product to print Yahoo email attachments on computer!
-Leslie, USA
The Closure
The email attachments of Yahoo mail are as much significant as the email text. It may contain the important business information, invoices or your personal notes. Whatsoever be the reason, with the usage of Yahoo email attachment downloader, you can easily open all email attachments from Yahoo mail. It will help you to print Yahoo email attachments without losing any details. We suggest you to download the free trial version of the software. It permits to save few email attachments. But, if you wish to print more email attachments then, it is highly suggested to purchase the license keys of the software.