How to Open Word as PDF Documents ?
Abstract- The most usual method to open Word as PDF file is from Microsoft Word itself. However, it can be intimidating to load huge Word files one by one or perhaps one may have not access to Word document itself. But, don't worry, you can use the BitRecover DOC to PDF Converter in order to save Word file to PDF format in simple steps.
PDF format (Portable Document Format) was created by Adobe organization for the U.S. government specialists to make and store their working records. At present PDF is utilized in distributing, for conveyance of faxes, for charge detailing, in institutions related to education, finance, law as well as by standard computer users. PDF document are easily printable and use for collaboration purposes too. The recipient of PDF file don't have option to alter or refresh the record. Along these lines, our software to open Word file as PDF  is the right utility to keep away from huge costs and get the last report with no troubles and extra programming.
How to Open Word as PDF Document with Attachments Easily ?
If you want an easy and fast of Word file to PDF save processing then you first need to download the recommended software. Install it on your Windows computer and then follow the step-by-step procedure:
Step 1. First of all, select Source file (s) / folder option, choose either of the Select Files… or Select Folder… options. Here choose the multiple Word files for the process.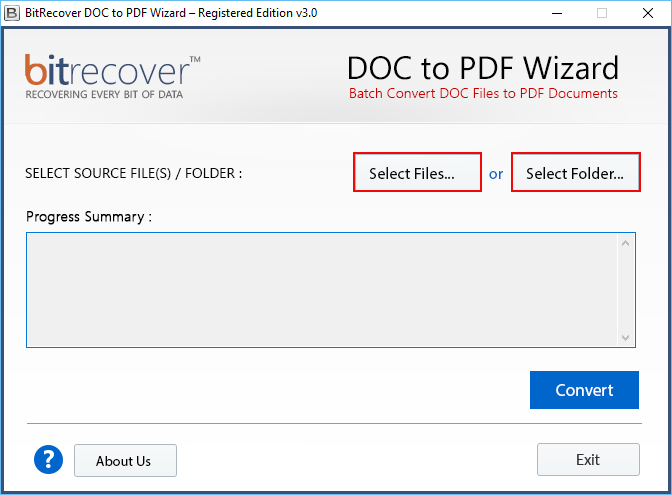 Step 2. Now, cross-verify the number of Word files picked to open Word as PDF. Lastly, hit on the Convert button to initiate the process to open Word file as PDF document with attachments.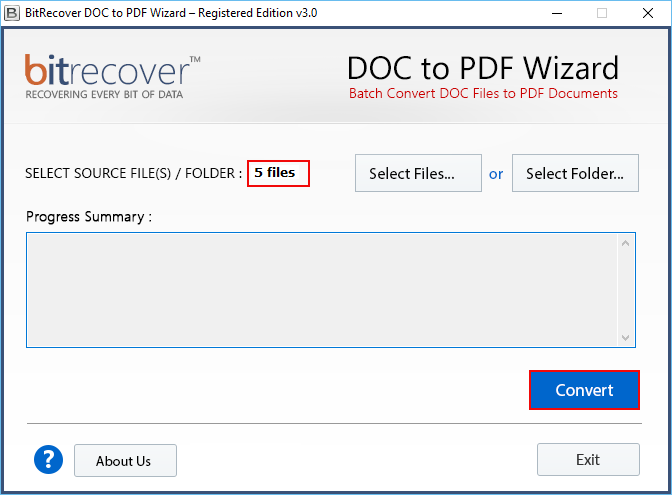 Step 3. Then, browse a folder to save the Word file to PDF saved documents at a desired location on PC. Hit on the OK tab.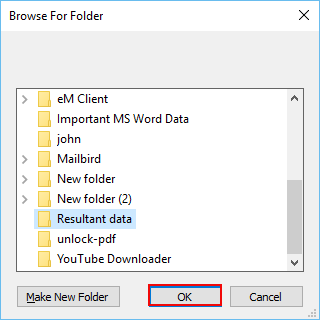 Step 4. The process to open Word as PDF is running in the software panel. You can analyse the live conversion progressive report.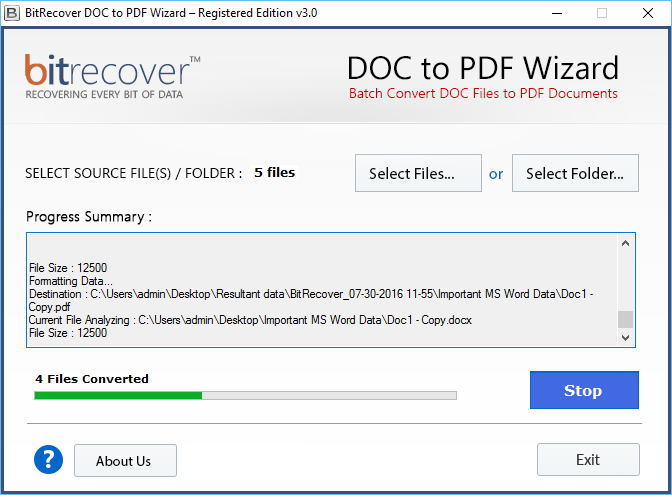 Final Results- Once this entire processing ends, the tool will show a completion message. Finally, open the resultant folder containing the Adobe PDF files.
Word File to PDF Save Software – Explore the Tool's Benefits
The BitRecover software offers an easiest method to open Word as PDF document. This application saves you from troubles of installing external applications for accomplishing the conversion. Also, you can get rid of the time-taking manual procedures involved in opening MS Word file as PDF. It has an uncluttered Graphical User Interface that gives advantage to users for achieving maximum conversions in less time. The tool is trustworthy and is programmed with advanced algorithms.
The tool maintains the complete original folder hierarchy throughout the process to open Word as PDF file.
It gives dual options to import Microsoft Word documents for the Word file to PDF saving process.
Users has the freedom to save the resultant data at a desired location on computer.
This application allows to open Word file as PDF along with associated attachments, images, hyperlinks.
You can install the software on any Windows version – Windows 10, 8.1, 8, 7, XP, Vista, etc.
One can preview the number of Word files chosen for the conversion process in the software screen.
This utility provides function to produce a separate PDF file for each Word file.
There are no file restrictions with the pro version of this software for opening Word as PDF.
Want to Test the Software ? Download the Free Demo Version Now
If you wish to open Word as PDF document then we recommend you to download the free demo version of this application. It permits the users to convert text, pictures, hyperlinks, attachments, etc in a single file with single page. But, in single file with multiple page, the software will put a water mark of www.bitrecover.com into each PDF file. If you want to do this conversion for multiple pages, then you need to purchase the license keys of the tool.
Conclusion
If you want to open Word as PDF documents along with attachments then this blog must certainly be helpful for you. Here, we have briefly described a proper solution for the users who are looking to open multiple Word files as PDF format. If you are a novice, don't fret! One can use this utility even without any technical proficiency. So, quickly download the trial version of tool now and perform a hassle-free conversion of Word files to PDF.