How to Migrate Webmail to Exchange Server Directly ?
From the past few years, I have been using Webmail service to deal with my clients. But, with time I have found that the Webmail is slow and old. That's why I have decided to migrate Webmail to Exchange Server. I don't know the direct solution for this, please help me!
Such type of queries are often received by our technical support team. So, we have got the right solution for Webmail emails to Exchange migration. BitRecover Webmail Email Backup Wizard is an all-in-one product that provides facility to migrate Webmail to Exchange Server, Hosted Exchange OR Exchange Online.
If you are not satisfied with your current Webmail and have decided to switch it to Microsoft Exchange Server. Then this blog will be informative for you.
Why Should One Migrate Webmail to Exchange Server ?
Experts today require adaptability in work culture and day in and day out admittance to crucial information. This can be effortlessly finished with Microsoft Exchange Server.
Exchange Server has numerous highlights such as handling address book, scheduling meetings sharing schedules between workers to stay up with the latest.
With Microsoft Exchange Server, associations can likewise work more proficiently by making it a lot simpler to discover and resolve any upcoming issues.
On account of a Hosted Exchange, the Webmail to Exchange Server migration gives venture level security to shield your correspondences from any sort of dangers.
Finest Tool to Migrate Emails from Webmail to Exchange Server
This Webmail to exchange migration software is very helpful for any easy email migration from Webmail service. It has the proficiency to transfer Webmail to Hosted Exchange without loss of data. This utility is the most ideal approach to import all Webmail emails to Exchange Server without destroying the data integrity. Once you migrate Webmail to Exchange Server, then you can undoubtedly open these migrated emails on any edition of Exchange Server. One can launch this utility on any variant of Windows since it supports all latest and old versions of Microsoft Windows. It retains all email properties during the Webmail email to exchange migration task. This is a 100% secure application and gives no-blunder during Webmail to Exchange transfer process. With this application, one can move single or numerous Webmail messages to Exchange with only a couple of snaps.
How to Migrate Webmail Emails to Exchange Server Without Losing any Information ?
First of all, download and launch the Webmail to Exchange migration tool on any Windows based system. Now, follow these guidelines to migrate Webmail to Exchange Server.

Step 1- Choose the Webmail option from the email source list.
Step 2- Now, enter the Webmail account details like email address and password, IMAP Host, IMAP Port No.
Step3- The software starts analysing all Webmail folders. It will load all the emails in the software panel. Now, enable the desired Webmail email folders which you want to transfer into Exchange Server.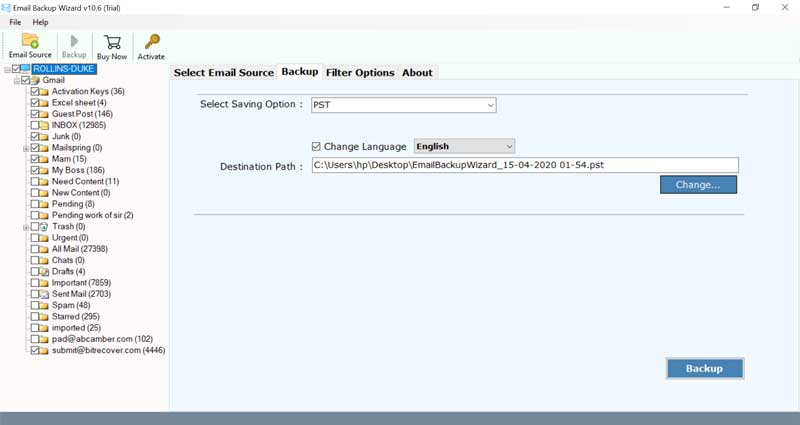 Step 4- From the saving options list, choose Exchange Server.
Step 5- Enter the credentials of your Exchange Server account like Domain/user name, Password, Server Name. Also, if you are an admin of Exchange account and wish to migrate Webmail emails to multiple user accounts then, click on the I am admin option.
Step 6- Thereafter, click on the backup button to start to migrate Webmail to Exchange Server.
Impressive Features of Webmail to Exchange Migration Tool
This toolkit provides numerous benefits to its users. Here are some of the key features of this software.
It is an error-free application which gives facility to migrate Webmail to Exchange Server, Hosted Exchange, Online Exchange in a direct manner.
The Webmail to Exchange migrator preserves all the email components during the entire transfer process.
This utility is a standalone application and does not needs any requirement of installation of external application.
It offers a separate option of "Save messages in default folder" that facilitates users to migrate Webmail emails in a default label.
The tool provides a live conversion progressive report during the entire process to transfer Webmail to Hosted Exchange Server.
The utility gives "I am admin" option to transfer emails from Webmail to specific Exchange accounts.
It offers a selective export option using which one can easily sort out emails as per date range, subject, etc to migrate Webmail to Exchange Server.
Frequently Asked Queries and Expert's Replies

Q1. How to migrate Webmail to Exchange Server?

Follow these steps to migrate Webmail messages to exchange account.

Install the Webmail to Exchange Server migration tool.
Choose Webmail email source and fill the account details.
Enable desired Webmail folders to transfer into exchange.
Select Exchange Server as saving option and fill all its credentials.
Start to migrate Webmail to Exchange Server.

Q2. Can I migrate Webmail messages to Exchange online in batch mode with this tool?

Ans. Yes, this application permits to migrate emails from Webmail to Exchange Online in batch.

Q3. I want to move only a particular month Webmail messages to my Hosted Exchange account. Will it be possible with this utility?

Ans. Yes, why not! You can use the "Use batch mode for selective backup" option to transfer Webmail database to Hosted Exchange Server in a selective manner.
What Does our Clients Says About Us ?
Very useful product Bitrecover team! I get 400-500 emails everyday on my Webmail. Recently, there was an urgent need to migrate Webmail to Exchange Server. After researching a lot about an application for this process, I finally got the Webmail to Exchange export tool. First I installed the trial version in few seconds and used it seamlessly for the email migration. I was so impressed with this utility that I immediately bought it to migrate bunch of Webmail emails to Exchange Online. Highly recommended product.
-George, Finland
Each day hundreds of email comes into my Webmail inbox. Handling all these email became tough for me so I decided to export Webmail emails to Exchange Server. With this utility, I efficiently migrated Webmail to Exchange Server in an effortless manner.
-Anthony, Sweden
The Closure
In this blog, we have described a complete solution to migrate Webmail to Exchange Server account. This solution comes with a simple and user-friendly interface. This intuitive GUI of the software helps any technical or novice user for using the application. It provides a demo version which is available free of cost to the users. It will help you to analyse how the software works. Once you are completely satisfied with it, then you can update the license keys. The full pro version will enable to migrate unlimited Webmail messages to Exchange Server.