How to Migrate Qmail to Exchange Server Account ? [Guide for Novices]
Trouble in transferring emails from Qmail mail server to Exchange online? Are you still confused about how to migrate Qmail to Exchange server account. If yes, then you will he happy to know that today all your doubts regarding Qmail to Exchange server migration will be resolved. We at BitRecover provides 100% precise solutions for accomplishing smooth transfer of emails from Qmail to Exchange 2016, 2013, 2010, 2007, etc.
Mr. Oliver has shared his query regarding Qmail to Exchange migration –
Hello BitRecover team! Yesterday my boss assigned me a new project for which I need to change my mail server of one of our client from Qmail to Exchange. Basically there are two major problems.
1. How to migrate Qmail to Exchange server with multiple attachments?
2. How to transfer Qmail server database to Microsoft Exchange if I want to do selective email migration of particular dates.
I would really appreciate, if you help me as soon as possible. Right now I'm stuck between switching from Qmail server to Exchange.
In order to solve such queries, we are explaining a brief solution for Qmail to Exchange migration. It involves three stages-
How to Migrate Qmail to Exchange Server ?
Stage 1 – Install Qmail to Exchange Migration Tool
To execute the process to migrate Qmail to Exchange server, we would recommend you to first download the Qmail server to Exchange transfer tool. You can download it both for Windows OS and Mac OS. With the demo version, you can test the tool's features and functionalities. Later you can upgrade to the full pro version for unlimited email conversion.
Download for Windows OS


Download for Mac OS

After installing the utility, enter the account details of your Qmail server. Also specify the IMAP host and IMAP Port No. and click on Login button to continue.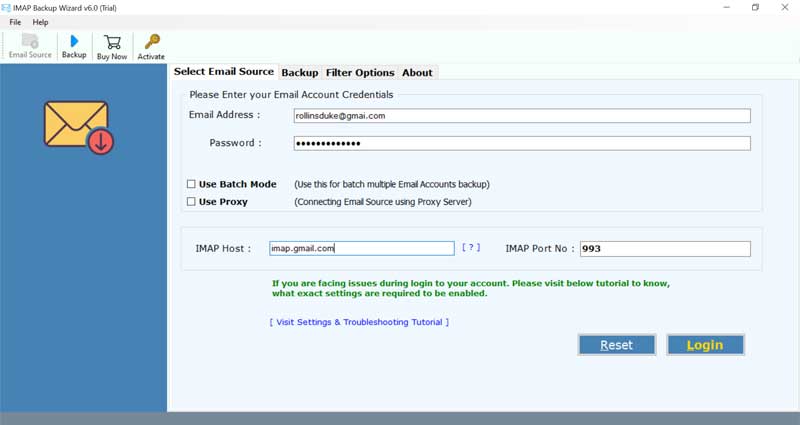 Stage 2 – Choose Exchange Saving Option for Qmail to Exchange Transfer
Now, the utility will start fetching emails from your Qmail server account into the software panel. You need to enable the required Qmail folders to migrate Qmail to Exchange server.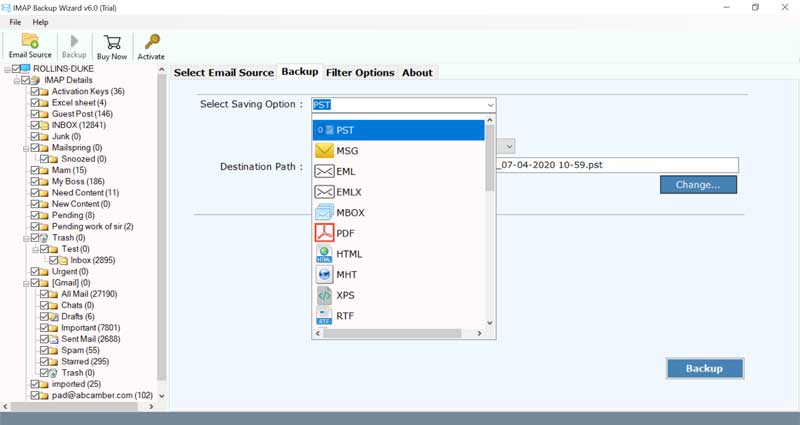 Thereafter, choose the Exchange server option from the tool. Enter the Exchange server login details and advance data filter options if required.
Stage 3 – Begin to Transfer Qmail Server to Exchange
Once all steps are done, hit on the backup button to start the process to move Qmail mailboxes to Exchange online. The process is running and will end after sometime. Now, you can open your Exchange server account to view all emails of Qmail mail server.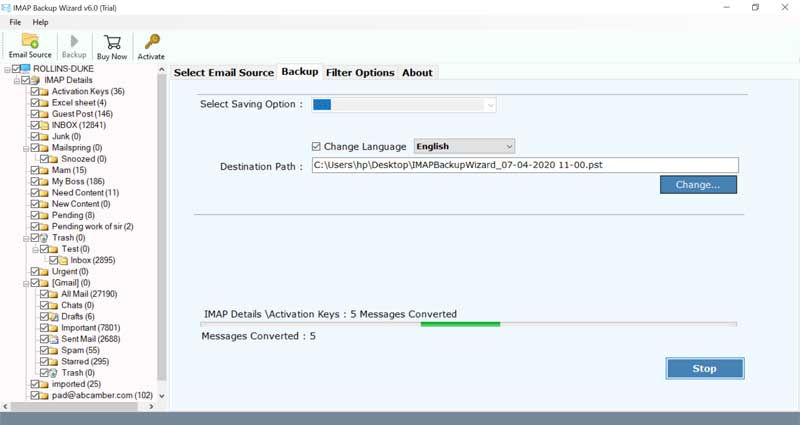 What are the Key Advantages of Qmail to Exchange Migration ?
Moving your emails from Qmail to Microsoft's Exchange online brings unmatchable benefits in functionality and safety.
Microsoft Exchange secures your significant data and it educates clients regarding interior compliance policies.
Gives you office to keep all information securely at a solitary spot with Exchange archiving, enormous mailboxes and maintenance policies.
Rapidly decimates email dangers before they arrive at your networks.
Gives clients an intelligent, inbox experience on pretty much any gadget.
A Sneak-Peek of All the Amazing Features of Qmail to Exchange Tool
CSV File for multiple Qmail server mailbox transfer
For convenience, users can effectively migrate multiple Qmail server accounts to Exchange server for Mac and Windows OS by using a CSV file. In this CSV file, the user needs to enter the source IMAP Server details of Qmail server accounts. Then, you can upload this CSV file to toolkit to automate the migration.
Advanced Data Filter Options
This Qmail to Exchange migration tool is the smartest application one can could ever use for effective data migration. With wide-range of custom options, users can change the behaviour of entire Qmail to mail server to Exchange migration process too meet the particular requirements. Use these options to apply a criteria that can filter the Qmail messages in different ways:
Transfer all Qmail email folders or single folder.
Move a specific subset of Qmail server messages that falls within a particular interval of time and date.
Migrate Qmail server to Exchange by applying filters such as From, Subject, To.
Keeps Intact Metadata Properties
The email properties of Qmail server emails during the processing remains exactly the same. Also, the source Qmail server emails are never compromised in anyway – it remains in exact form before the migration starts.
The software preserves the integrity of emails and attachments of Qmail server database throughout the migration of Qmail server mailboxes to Exchange server.
The inline images maintainted during the entire Qmail to Exchange server transfer.
Move your Qmail Server to Different versions of MS Exchange
One can import mailboxes of Qmail server to multiple Exchange versions. Use this application to import Qmail to Exchange 2016, Qmail to Exchange, Qmail to Exchange 2010, Qmail to Exchange 2007.
Well-interactive interface
The software of Qmail to Exchange migrator comes with a simple and intuitive Graphical User Interface. It is programmed in such a manner so as to give users accurate and quick results. No matter how much emails you have in Qmail server. Even then the toolkit effectively migrate Qmail to Exchange.
Common FAQs About the Software

Q1 – How to migrate Qmail to Exchange 2016?

Follow these steps to migrate emails from Qmail to Exchange server.

Launch the Qmail to Exchange transfer tool.
Enter the imap details of Qmail server and hit on login.
Choose desired Qmail server mailboxes to move into MS Exchange.
Select Exchange server as saving option and fill all account login details.
Start to migrate Qmail server mailboxes to Exchange.

Q2- Can I transfer Qmail server to Exchange on my Mac machine?

Ans –  Yes, the software supports Mac machine also.

Q3 – What should be the minimum hard disk space required on my Windows 10 laptop for the installation of Qmail to Exchange migrator?

Ans – There should be atleast 49.7 MB of free hard disk space for software's installation.

Q4 – Does the software migrate Qmail mailboxes to Exchange with attachment files too?

Ans – Yes, it will move all content of your Qmail server including the attached files too.
Concluding Words
In the above write-up, we have explained the detailed instructions to migrate Qmail to Exchange server. There are no restrictions for Qmail server to Exchange migration. If you are hassling with any queries, please contact to our technical support team.
Similar Blog Post- Migrate Qmail to Office 365