IMAP to Zimbra Migration : A Quick and Efficient Way to Migrate IMAP Mailbox to Zimbra
Want to move 50 mail accounts from an old IMAP server to Zimbra? It would be very difficult to transfer such an amount of emails in one go using a manual approach. Thus, things become much easier with an automated method since it saves so much time and effort. Learn how to execute IMAP to Zimbra migration in the easiest manner.
Harry, Sweden: I have got 150 mailboxes from an old roadrunner IMAP server account. Now, I want to replace the current IMAP server with something simpler like Zimbra mail. Is it possible to do IMAP to Zimbra migration? If yes, then is it necessary to buy expensive software to bulk migrate IMAP server emails to Zimbra mail?
In response to Harry:
Yes, you can easily migrate IMAP to Zimbra account and that too with a cost-effective approach. The BitRecover IMAP to
Zimbra Converter software
is an all-in-one product that specifically serves your requirements which you are asking. It can quickly transfer bulk IMAP emails to Zimbra without losing any information.
Let's talk about the software in detail.
IMAP to Zimbra Migration Tool – One Software, Endless Benefits!
We often get numerous queries regarding the download of IMAP emails. Users often switch from one email platform to another in order to fulfill their professional needs for communication.
If you have also switched from an IMAP server account to Zimbra mail then you would be happy to know then our software makes your conversion tasks simpler.
The BitRecover IMAP to Zimbra migration software enables a user to batch transfer multiple IMAP account emails to Zimbra mail. No email attributes are lost during the transfer of emails and attachments.
The product is made in keeping in mind all requirements of the users. So, one can migrate IMAP to Zimbra in a selective manner also. In this way, you can easily sort your old emails that comes in a certain date range, time, particular email address, subject, etc.
So, without wasting much time, download this software today to evaluate its potential capabilities.
How to Migrate IMAP to Zimbra Account with Attachments and all Email Components ?
First of all, download and install the IMAP Mail Backup Tool on your Windows or Mac machine.
Important Note: This application runs on all Windows OS like Windows 10, Windows 8.1, Windows 8, Windows 7, Windows XP, Windows Vista, Windows Server 2019, Windows Server 2016, etc. It also supports Mac OS such as 10.15 Catalina, 10.14 Mojave, 10.13 High Sierra, 10.12 Sierra, OS X 10.11 El Capitan, 10.10 Yosemite, 10.9 Mavericks, 10.8 Mountain Lion, etc.
Now, after installation, you can see the starting screen of the software as given below.
Then, enter the email address and password of your IMAP server account. Also, fill the incoming mail server and port number.
Thereafter, click on the login button and the utility will start to fetch all mailboxes from your IMAP server account into the toolkit.
Next, choose the required email folders to migrate from IMAP server to Zimbra.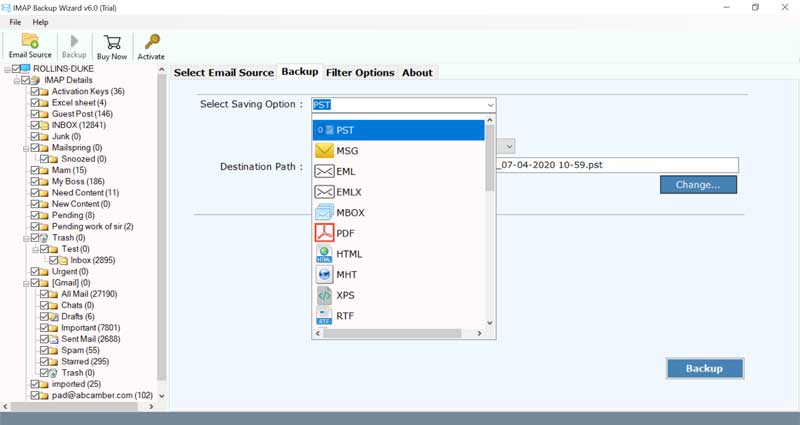 After this, go to the saving options list and choose Zimbra from it.
Now, browse the desired destination location where you wish to save the output.
Lastly, tap on the backup tab to start the IMAP to Zimbra migration process.
Soon, you will see all your emails and attachments are migrated from IMAP server to Zimbra.
Difference between Trial and License Version of IMAP to Zimbra Migrator
Free Edition- Capable to migrate the top 25 email items from selected IMAP server account to your Zimbra mail.
License Edition- This will help you to migrate unlimited emails from IMAP server to Zimbra. It comes in three categories of users:
a) Lite edition- It will help you to do one-by-one mailbox conversion from IMAP to Zimbra. Its particularly meant for home users and not for organizational use.
b) Pro edition- It supports to implement batch migration of IMAP mailbox to Zimbra.
c) Migration edition- Enables to do bulk conversion plus helpful for IMAP email migration projects in your organization.
Powerful Features of Software
There are many advantages to this application. Some of them are mentioned below:
It comes with an 'advanced mode' option so that the users can also selectively migrate IMAP to Zimbra account.
Users can move multiple mailboxes from IMAP server to Zimbra mail in a single round of processing.
There is also a separate batch mode option for bulk transfer of multiple IMAP account emails into Zimbra.
During the conversion, the software keeps intact all email attributes such as formatting, attachments, images, hyperlinks, email headers, signatures, etc.
It preserves the internal folder structure during the process to migrate IMAP to Zimbra mail.
There is no loss of information while you execute IMAP to Zimbra migration with this tool.
You can choose any destination location for storing the output converted emails.
Free technical support is available for all individuals who have any doubts or queries.
Conclusion
This blog described the whole method to implement IMAP to Zimbra migration process. If you are a novice user and completely unaware about the technicalities of email migration. Even then you can use this application because it is so much self-descriptive.