How to Migrate DreamHost Email to Google Workspace / G Suite Account with attachments ?
Summary: This blog post will assist you to migrate DreamHost email to a Google Workspace account. With the assistance of this highly qualified specialist, we will walk you through the procedure step by step.
DreamHost is a web hosting company based in Los Angeles, California. Provides workplaces with the ability to register domain names and obtain web hosting services including such WordPress, WooCommerce, shared hosting, VPS hosting, cloud storage, and dedicated hosting.
We've noticed that a significant number of users are seeking for a means to migrate their DreamHost email to Google Workspace account. Are you also one of those required to carry out this task? If you answered yes, this article will be extremely beneficial to you. So, lets get started.
How to Migrate DreamHost Email to Google Workspace ?
We want to emphasise that there is no manual process accessible for doing this activity. This requires the use of a professional solution. Therefore, quit spending your time attempting to discover an inbuilt or manual approach.
On the internet, you'll find a plethora of professional applications that may assist you with this work. Additionally, we have developed a solution that may be superior than any currently existing alternative.
So, lets have a look.
The Most Professional and Secure DreamHost to Google Workspace Solution
BitRecover DreamHost Backup Wizard is one of the most amazing application available. This solution has been developed while keeping all type of users need. Using this amazing solution, one can safely migrate unlimited data from DreamHost to Google Workspace (formerly known as G Suite) account. Also, it helps you to migrate data along with respective attachments.
Would you want to learn more about how things work? Let's have a look at it
In order to perform the migration, you just need to follow some simple steps we are mentioning.
First and foremost, make sure that this solution is correctly downloaded and installed on your computer. (this application is completely virus-free).
Now, run the solution and your will see a list of email applications. Please choose DreamHost and enter the login details.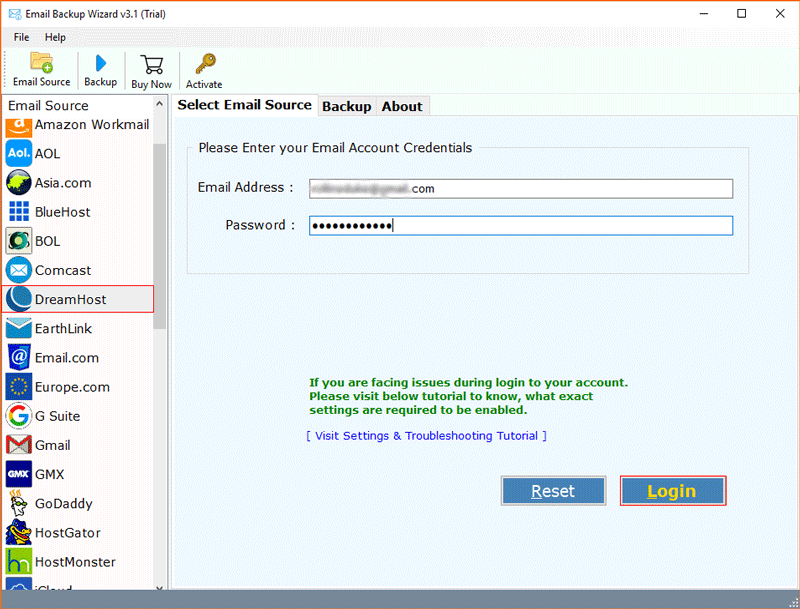 Once you click login, this application will load all your folders on the left panel.
Now, click on backup and choose Google Workspace (G Suite) as file saving option.
Enter the required credentials of your G Suite account and click on Backup button.
That's it. The software starts migrating DreamHost email to Google Workspace account. This process will only take a few moments.
Once you got the completion message, login to your G Suite account to check the resultant output.
Migrate DreamHost Data without Downtime
Using this incredible solution, you may forget about all of your concerns. The tool is entirely secure and safe to work with. It enables you to transfer an infinite amount of data from DreamHost webmail to Google Workspace without experiencing any downtime.
Some Great Features of DreamHost to G Suite Software
100% Secure and Easy to Use: DreamHost to Gmail program offers a user-friendly interface that is completely safe. Because it never remembers user account details, the solution ensures that all of your data is safe. It is a 100% safe method that enables you to simply convert your DreamHost email to a Gmail account.
Batch Migrate DreamHost Accounts: It is possible to migrate many DreamHost accounts at the same time using this approach. Simply select the batch choice before logging into your account to get started. Additionally, generate or upload a CSV file with the credentials for all of your DreamHost email accounts. Following that, the solution will begin examining all of the mailbox folders associated with your email accounts.
Get Exact and Accurate Migration: Email migration is a difficult operation to do. Throughout the process, the solution retains the structure of email labels as well as the attributes of the emails. The original folder hierarchical structure, as well as email components such as attachments, email internet header, photos, and so on, will be returned to you once the procedure has been completed successfully.
Migrate Emails and Attachments: It is one of the best tools to migrate DreamHost email to Google Workspace account. With the help of this application, it is possible to simply move DreamHost emails, including attachments. This software does not have any restrictions on the size of the files it can handle.
Queries That the Software Can Easily Resolve
I need to migrate multiple DreamHost accounts data to G Suite in bulk. Also, my emails containing multiple attachments. Is it possible with this software?
Yes, you can use this software to batch migrate multiple DreamHost email accounts to Google Workspace with attachments.
Do I need to install any application ?
No, you don't need to download or install any supportive application to perform the migration process.
I only want to migrate my inbox mailboxes from DreamHost account. Can I do it with this software ?
Yes, with our solution, you can easily perform the selective migration from DreamHost to Google Workspace account.
The Conclusion
It is the purpose of this post to provide a method for users who wish to convert their DreamHost email to a Gmail account. If you are one of those who wants to move emails from their DreamHost account to their Google Mail account, this article is for you. Then take advantage of the DreamHost to Gmail migration option. This solution is available for free and allows you to effortlessly export a small number of emails and test the usefulness. Throughout the process, it retains all of your mailbox's settings. If you have any additional questions or concerns, please contact the technical support staff.