How to Migrate CommuniGate to Gmail Account in Some Steps ? – Permanent Solution 
Introduction: – There are many reasons why people want to migrate from CommuniGate to Gmail account. If you also want to migrate CommuniGate emails to Gmail / G Suite account, know that it is simple and easy. How? That is exactly what we are going to share on this blog. So keep reading.
If we talk about both the Communigate and Gmail email apps, they are quite famous for their services. People use CommuniGate to obtain groupware information and save the email system with the help of the SMTP protocol. On the other hand, Gmail is a webmail service used by millions for its excellent performance. It gives you access to Google Apps which is very beneficial for the office tasks.
There are many limitations of CommuniGate email due to which users decided to migrate from CommuniGate to Gmail / G Suite.
Get to Know the Best CommuniGate to Gmail Migration Tool Completely 
BitRecover CommuniGate Migration Tool is an excellent solution to migrate all emails from CommuniGate to Gmail account. In a matter of a few clicks, you will get your CommuniGate message into Gmail with attachments. The email properties and structure folder are maintained throughout the task. Also, the method is effective and effortless. You don't need any special technical skills for it. Let's check it.
How to Migrate CommuniGate to Gmail Account in 5 Steps ?
Follow the step-by-step instructions for quick Communigate to Gmail migration.
Install and Open CommuniGate migration tool.
Select the CommuniGate Pro server mailbox.
Pick the required CommuniGate account email folder.
Select Gmail as the saving option and enter account details.
Click on Backup to migrate from CommuniGate Pro to Gmail.
We will show you the CommuniGate to Gmail / G Suite migration with a screenshot and a particular explanation.
Complete Guide to Migrate CommuniGate Mailboxes to Gmail / G Suite with All Information
Free Download CommuniGate to Gmail Migrate Solution
Many want to switch their mailbox items from CommuniGate Pro Server to Gmail. Therefore, please check the demo version of the utility. It enables users to export only the first 25 emails from each folder. Then, activate the license key to migrate all CommuniGate emails to Gmail with attachments.

Download and launch the mentioned utility on your Windows compatible system.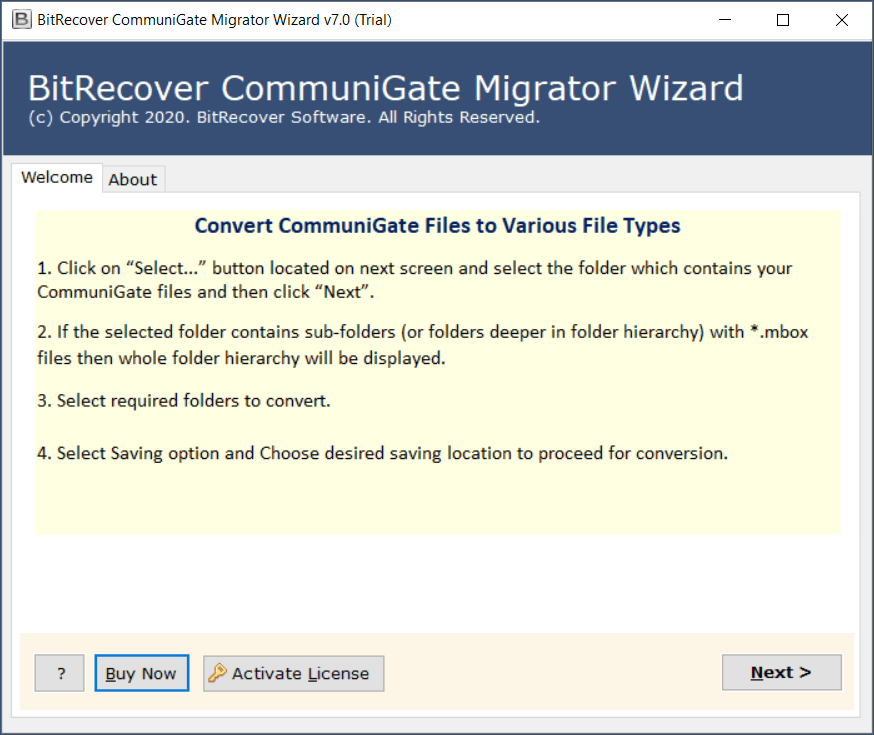 Choose "Let me select my CommuniGate mailboxes user data' to select the emails for conversion.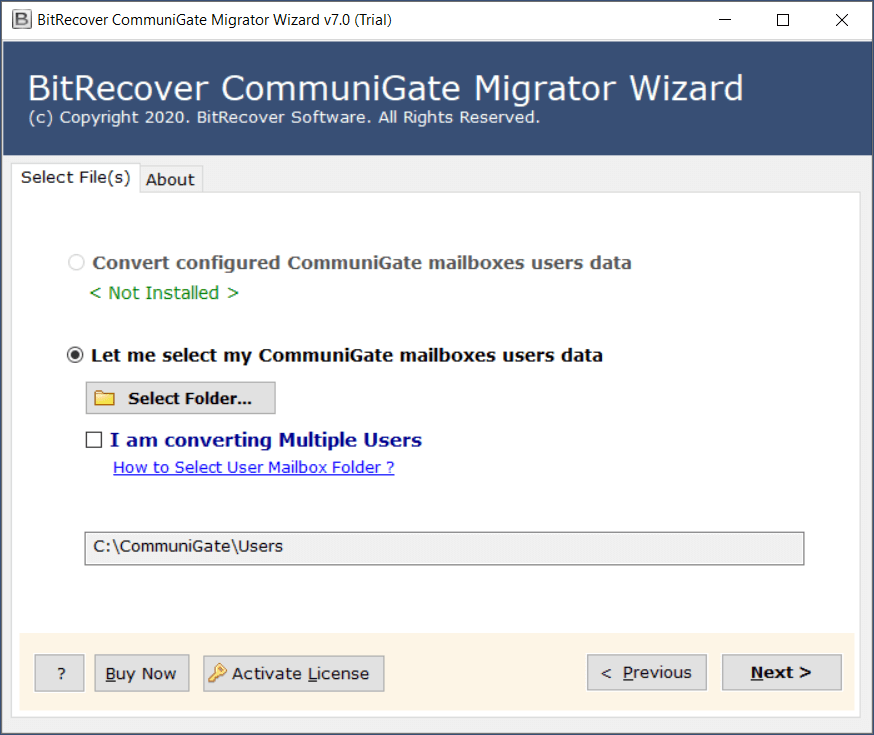 Important: If you want to move multiple CommuniGate user mailboxes, please check "Pick the "I am converting multiple users."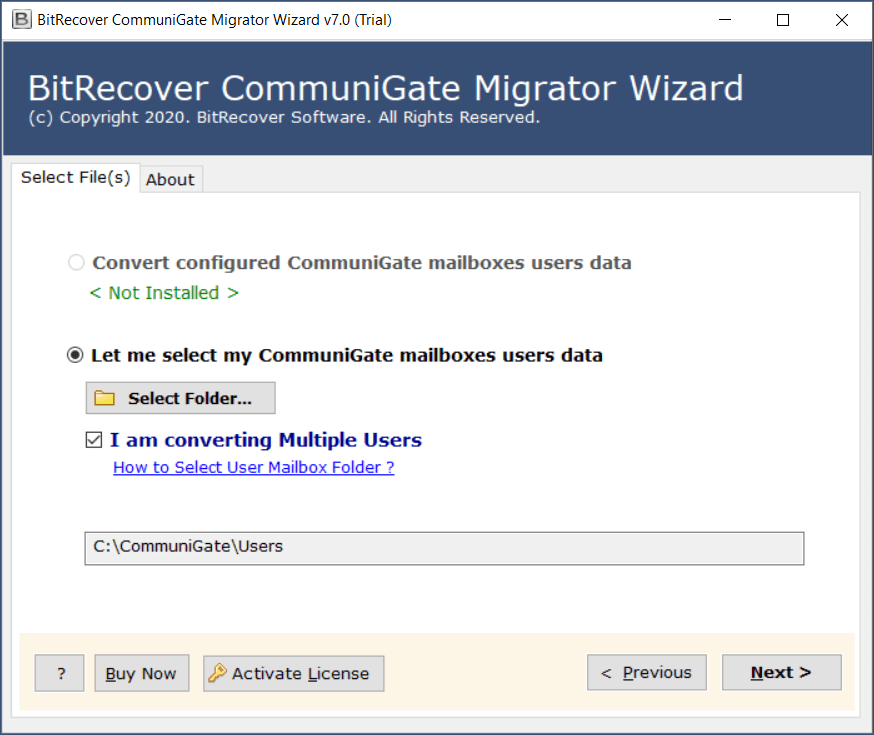 Now, please select the required Communigate folder for the further migration process and click on the Next button.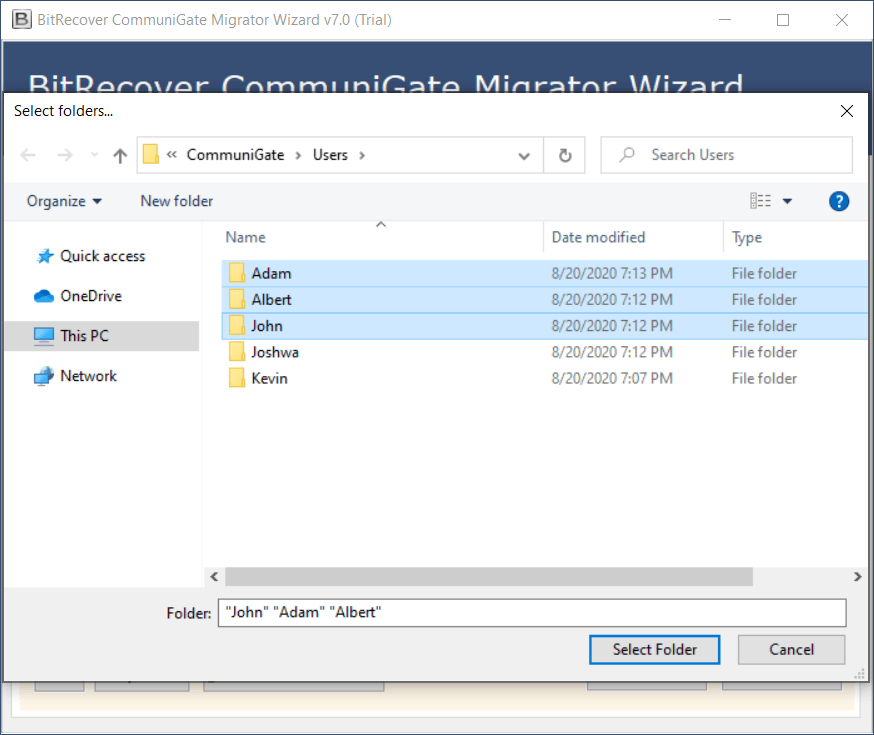 It's time to choose Gmail as the saving option. Next, enter email address and password for the work.
Please Read: – To migrate from CommuniGate to G Suite, check G Suite as the Saving option in the list and fill details, respectively.
Now, hit the Backup button and look at live CommuniGate email to Gmail / G Suite migration process.
Please be patient. It may take some time, depending upon the emails you are converting from CommuniGate to Gmail account. That's all.
Watch this Video Tutorial to Know About Software
Highlights of the #No.1 CommuniGate to Gmail Migrator Software
As you can see in the screenshot, the Best CommuniGate migrator saving list has several options. It helps you to save CommuniGate mailboxes to standard file formats, desktop-based applications, and cloud services. Below we have mentioned all the saving options. Please have a look:- PST, MSG, EML, EMLX, TXT, MBOX, HTML, MHT, XPS, RTF, DOC, ICS, vCard, CSV, PDF, Outlook, Windows Live Mail, Thunderbird, Apple Mail, Zimbra, Gmail, G Suite, Office 365, Yahoo, Outlook.com, Lotus Notes, Maildir, Outlook for Mac (OLM), IMAP.
It allows batch migration of emails from CommuniGate Pro to Gmail with attachments.
This tool allows for multiple CommuniGate mailboxes of numerous users to be selected for conversion.
This software helps to migrate CommuniGate to Gmail / G Suite account.
It is Windows compatible software to run it on Windows 10, 8.1, 8, 7, XP and other operating systems.
This utility provides advanced data filter options for selective email migration of CommuniGate emails.
The tool generates a log conversion report at the end of the migration task.
It has a simple and intuitive interface, so any technical or non-technical user can use it.
The licensed version of CommuniGate Pro has no file restrictions when migrating emails into the Gmail app.
In conclusion
In the above blog, we explained how to migrate CommuniGate Pro email to Gmail in short steps. The software is reliable, easy to understand, and error-free. You can convert CommuniGate mailboxes to Gmail without any problems. Hope that now, even if you don't have any computer skills, you can easily migrate CommuniGate to Gmail/ G Suite.