How to Migrate Axigen to New Server?
Introduction: Perhaps you have struggled with the challenge of transferring Axigen emails to another server? If you'd like to learn how to migrate Axigen to new server then, you can continue reading this blog.
Axigen is a Linux, Windows and a Docker email server having groupware and collaboration functionalities. Undoubtedly this messaging solution is innovative in multiple aspects, particularly scalable and configurable. But, if you desire more performance, more flexible scaling or you simply want to switch to some small server. Then, you might ask yourself this question: how to migrate Axigen emails to new server?
Well, the answer isn't far away: with the right approach and distinctive automated software, you can easily transfer the desired Axigen data to new server.
While transferring your complete Axigen mail server data to another server, you should understand in advance that the integrity of data is of great importance. Hence, we highly suggest to opt a professional third-party software for this. BitRecover Email Backup Software is a simple and cost-effective solution to migrate bulk Axigen mails to new server. It comes with a free demo version too so you can check it's working before investing your money on it.
How to Migrate Axigen to New Server ?
Firstly, you need to download the software's setup file and install it properly on your Windows machine. Now, you are ready to go for the migration process.
In the left panel of the software panel, you will see a list of popular email sources. From here, choose your source email source which is Axigen mail server.
Now, moving to the next step you have to fill the details of your email account and thereafter hit on login button to continue.
Then, the software will start fetching all mailboxes from your Axigen mail server. Here, enable all required email folders which you want to migrate from Axigen to new server.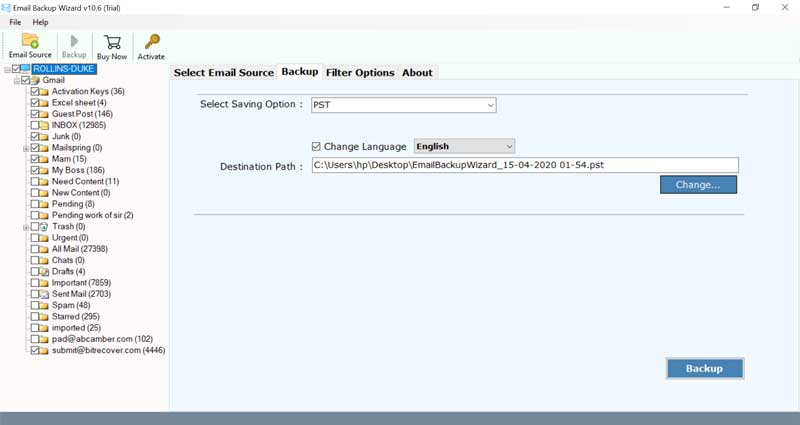 Thereafter, navigate to the saving options list and choose any file saving option as per your requirement.
After this, you need to enter all login details of the destination mail server where you wish to transfer data.
Lastly, hit on the backup button and the application will immediately start the migration process.
The task is running and will end in few moments. Click on OK once you get a completion message.
Read the Salient Features of Axigen to New Server Migration Tool
No file restrictions- With the license version of this software, you can do countless email migration of Axigen emails to new server. The tool supports huge Axigen mailboxes with respective attachments.
Easy and Clutter-free interface: It comes with an easy to understand Graphical User Interface that makes the migrate Axigen to new server process extremely quick for novice users.
Exclude unwanted data items: You can de-select the unnecessary Axigen emails which you don't want to migrate to another mail server.
Data Filter options: Users can also selectively migrate Axigen emails to new server with this tool. The advanced data filter option enables users to sort all emails as per date range, subject, email address, etc.
Preserves email properties: During the process for Axigen to new server migration, the utility keeps intact all email attributes like email headers, text formatting, inline images, attachments, hyperlinks, etc.
Maintains on-disk folder hierarchy: The original folder structure remains the same even after you migrate all emails from Axigen to new server.
No supportive app needed: The tool supports to migrate Axigen to another server without any external software configuration.
Microsoft Windows Supportive: This application is fully compatible with all versions of Windows Operating Systems.
FAQs- Axigen to New Server Migration Tool

How to migrate Axigen to new server?

Follow these steps to transfer emails from Axigen to new server:

Download and launch the Axigen to new server migrator on Windows OS.
Choose Axigen as email source and fill all account details.
Enable specific Axigen mailboxes which you want to move into new server.
Select a desired saving option and a destination path.
Start the process to migrate Axigen to new server.

Can I batch export Axigen emails to new server?

Yes, with this software you can easily batch migrate Axigen emails to new server.
Ready to Migrate Emails? Take a Free Trial of DEMO Version to Evaluate the Software
We understand the user's requirements that's why we have created a product that fulfil all your professional needs. This tool comes with a demo version which is absolutely free of cost. It allows to move few Axigen emails to new server. Also, you can test the tool's features and working. Later you can upgrade the license keys of the application for unlimited migration of Axigen data to new server.
Wrapping Up
In this blog, we get to know how to migrate Axigen to new server in a direct manner. It's a simplified and risk-free process to transfer Axigen mails to new server. Since, the tool has a very intuitive interface thus it can be used by both professionals as well as non-technical users. If you are facing any hassle while using the product, our technical support team is available for you 24*7.