How to Import vCard to Salesforce with Accurate Contact Details ?
Summary: Is there any straightforward solution that can lead you to import vCard to Salesforce? The answer is No! But, don't worry, you can easily transfer your vCard contacts list to Salesforce contacts. Read this blog post to know how to import vCard into Salesforce.
If your business or workplace demands the use of Salesforce for Outlook, and your Outlook application has been synchronized with your Salesforce contacts list. Then, you can import VCF files into Outlook and then whenever you sync the two programs, those files will be added to Salesforce. But, the problem arises when the Salesforce does not recognizes .vcf (Virtual Contact File). If you want to view vCard contacts in Salesforce, you first need to convert it into .csv (Comma-separated values) file.
Though manually it is not possible to import VCF to Salesforce. However, a reliable automated solution can solve this problem. You can easily import vCard to Salesforce, by using a trustworthy VCF to Salesforce conversion utility. Now, let us see how you can transfer vCard contacts to Salesforce with these simple steps.
How to Import vCard to Salesforce ? – Transfer Unlimited vCard Contacts to Salesforce
Firstly, download and install vCard Converter. Run it properly to proceed further.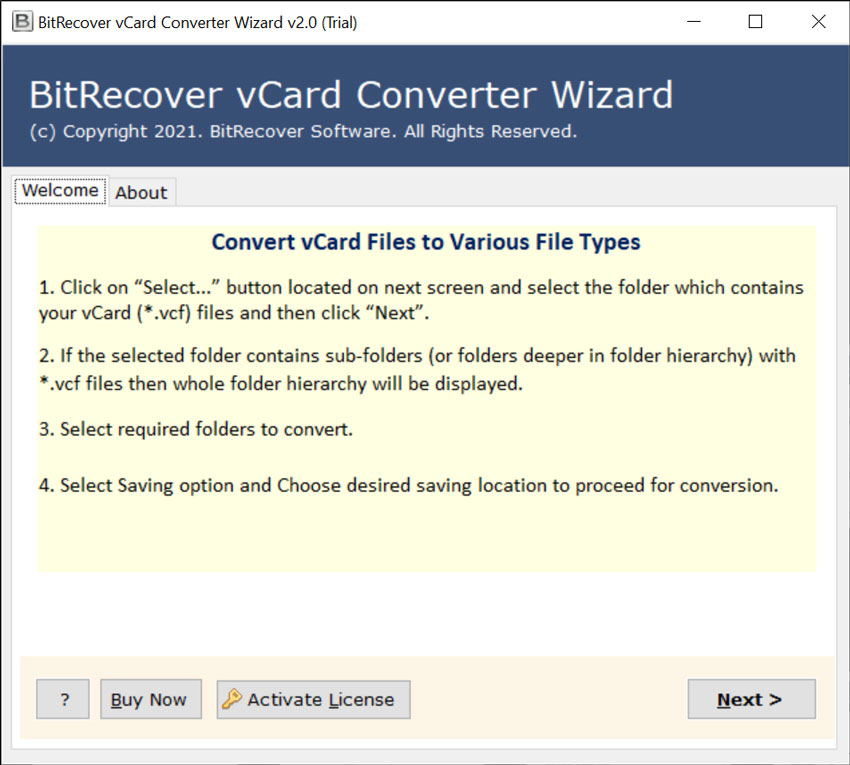 Then, select vCard contacts file with the dual options: Select Files and Select Folders option.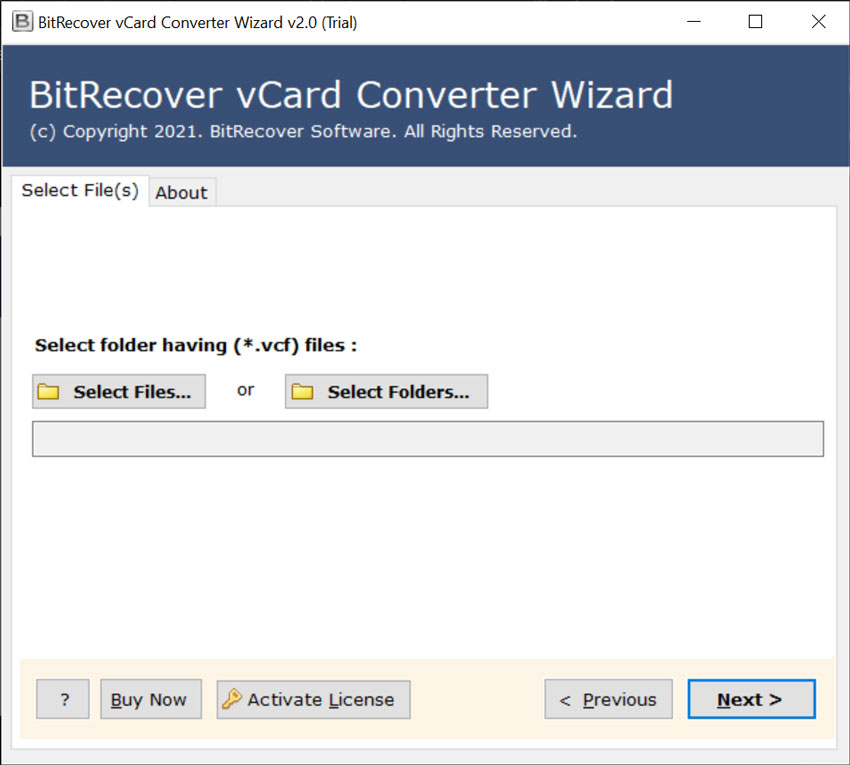 Now, check the preview of all contacts list by selecting the desired vCard files.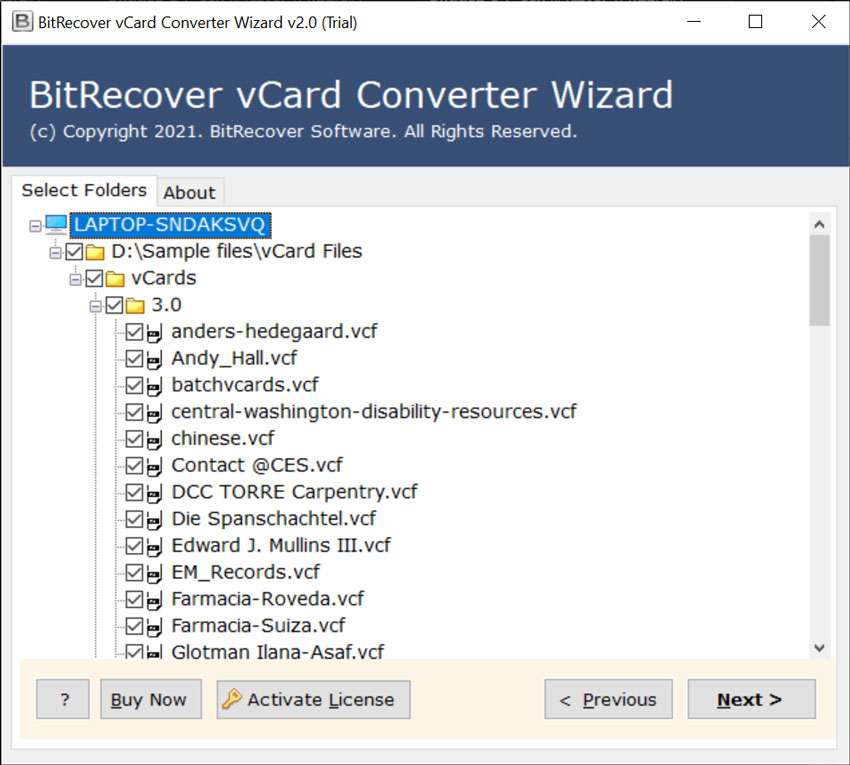 Go to Saving Options list and select CSV as saving option to import vCard to Salesforce.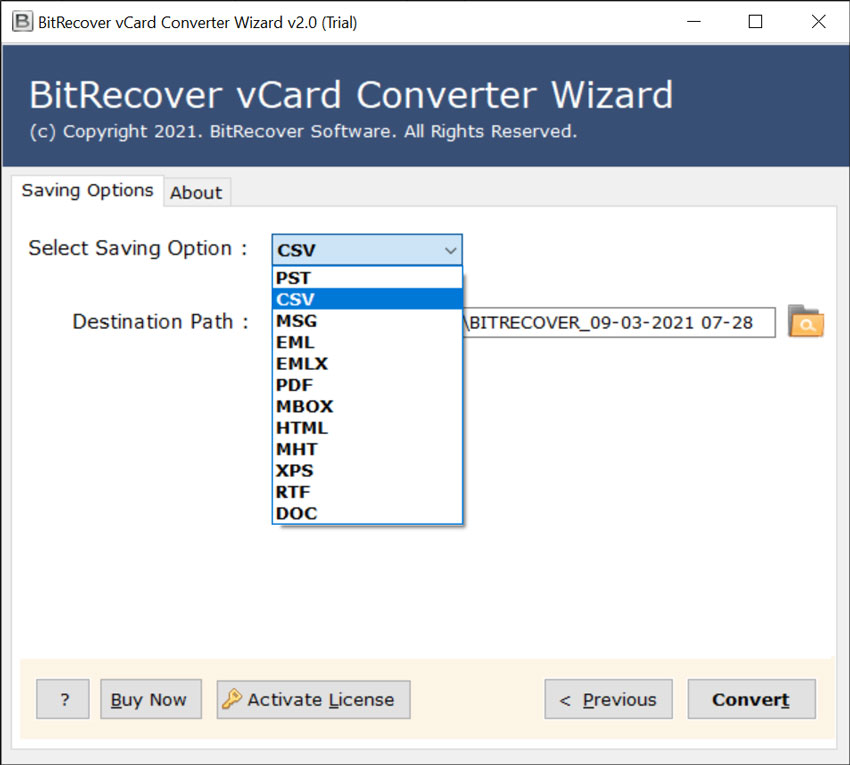 Now, you can select any location for saving the converted data.
Click on the Convert tab to start the conversion process. It will take some time and will give a live conversion progressive report.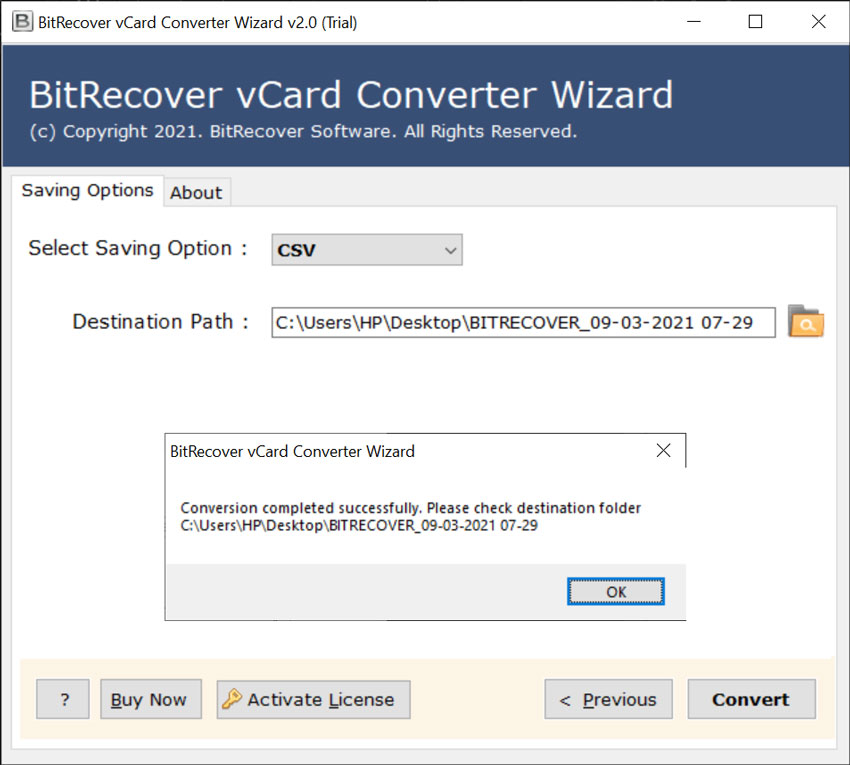 When this migration process gets over, the tool will automatically open the location where the .csv files are saved.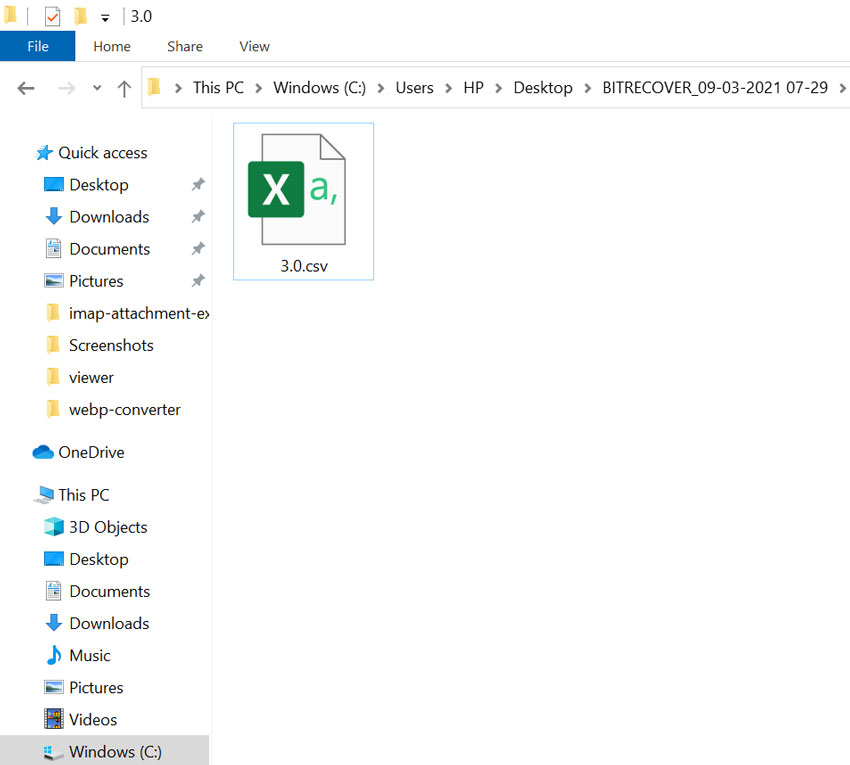 Now, Login to your Salesforce account by entering its credentials. On the upper section, go to the Contacts tab and find the Import option at the right corner of the screen.
Navigate the mouse towards Import your data into Salesforce and then click on Accounts and contacts.
Then, go to Add new records option so as to import vCard into Salesforce.
Upload the converted CSV file here in the Drag CSV file here option. Click on Choose File to upload vCard contacts. Press the Next tab.
Now, here you can edit the field mapping and change it manually too. Press on Next.
You can Review your CSV contacts here before starting the import process. Now, press on the Start Import tab to begin the process to import vCard to Salesforce.
Once your import process has finished, you will get a completion message at the end as shown in the screenshot. Click on the OK button to end the task.
Now, again go to the Contacts list and choose My contacts list. There you will find all the imported contacts. In this way, you can easily import vCard contacts into Salesforce contacts list.
Import VCF to Salesforce Contacts List Easily
VCF to Salesforce import tool is a beneficial tool that facilitates to import vCard to Salesforce with exact details. This conversion tool gives a batch export option using which you can convert multiple vCard contacts to CSV files in single processing. All the CSV data will be stored in one place so that you can migrate multiple vCard contacts into Salesforce at once. The user can transfer VCF files to Salesforce without encountering any data loss issues. Moreover, no matter what Windows OS you are using, the tool will function in the same way. The reason being it is compatible with all the latest and earlier versions of Windows OS. The user's data is of prime importance to us so, it is assured that none of your contact details will be lost during the entire processing. It will retain the contact details exactly as of the original one such as Name, Address, Account Name, Title, Email ID, Phone no., etc.
Prime Features of VCF to Salesforce Conversion Utility
Batch import VCF to Salesforce: With this application, you can import as many as vCard files to CSV. Thereafter, you can import multiple vCard (.vcf) contacts into Salesforce contacts list.
Dual options to upload data: The user can manually select vCard files from the database with the double options. With this, you can choose single as well as multiple vCard files for conversion.
Guarantees data integrity: The software assures to maintain the integrity of data throughout you migrate contacts from vCard to Salesforce processing.
No requirement for external application: Using this wizard, you don't need to install a third-party application for the conversion.
Maintains all contact details: While you import vCard to Salesforce, the tool will retain all the contact details. The contact information such as Name, Address, Account Name, Title, Email ID, Phone no., etc.
Supports all versions of vCard files: This tool supports all vCard versions such as 2.1, 3.0, 4.0, etc.
Preview contacts before conversion: The utility provides an option to view the vCard contacts files before you start the migration. You can double click on the required file and preview all its details.
Frequently Asked Questions
Ques1: Which tool can be used to import vCard to Salesforce?
Ans: There is no direct option to import vCard into Salesforce. However, you can use the BitRecover vCard contacts to Salesforce conversion utility and thereafter transfer the converted CSV files into Salesforce.
Ques2: How can I import individual vCards to Salesforce?
Ans: You can use the vCard to Salesforce transfer tool to convert a single VCF file into CSV file format. Then, you can import vCard to Salesforce easily.
Ques3: I am unaware of a specific solution to import VCF to Salesforce contact list. Does this software provide any workable solution for the same?
Ans: Yes, the above-described solution will help you to migrate vCard contacts to Salesforce.
Client Reviews
I got frustrated when I found that there is no simple format in Salesforce to import vCard contacts. Then, I used BitRecover vCard to Salesforce migration tool that enabled me to change vCard to CSV files. Thereafter, I easily import vCard to Salesforce. Thanks a lot!

-Jacob, USA

From the past few days, I was searching for some standard solution to import vCard into Salesforce. But, couldn't got any right approach to perform the same. Once I have used this utility to import VCF files into Salesforce, now I am no more in any worries. The tool preserved all the contact details until the end of conversion.

-Damian, New York
Summing Up Together
Lots of users ask on different platforms for a viable solution to import vCard to Salesforce. But, end up getting worried when unable to find a correct and easy solution. In this blog, we have explained step-by-step how you can import vCard into Salesforce so that now the users can perform this process in a hassle-free manner.