How to Import Email from IncrediMail to Gmail Account ?
From March 2020, IncrediMail has shut down its services and closed its support. After this news came up, many users looked out for the best IncrediMail replacement. Our support team recently received a user asking for a reliable and easy solution to import IncrediMail to Gmail.
Acknowledging this query, the BitRecover team launched the best workaround to solve IncrediMail Gmail problems. The IncrediMail Converter can successfully move all IncrediMail emails to Gmail, G Suite account within some seconds. In this write-up, we have talked about an efficient solution to solve the problem of "how to transfer email from IncrediMail to Gmail".

Know About Gmail: Google Mail or Gmail is a free, web-based email service, which is accessible from web browser anywhere anytime as long as there is an Internet connection present. Gmail was introduced by Google in 2004. As per some statistics, there are about 1.8 billion users who are operating a Gmail account. It offers a free 15 Gigabyte storage of messages to users and also provides a search option to search a specific message. It automatically organizes a successively related message into a conventional thread.
How to Import IncrediMail to Gmail ?
Launch IncrediMail to Gmail tool on Windows.
Choose IncrediMail mailboxes with dual options.
Select emails from appeared IncrediMail emails.
Set up Gmail option and fill its account login details.
Start to import IncrediMail to Gmail account.
How to Transfer Email from IncrediMail to Gmail Account?
The software to import IncrediMail emails to Gmail is integrated with an advanced algorithm that empowers it to perform rapid, quick, and correct email conversion. It converts all IncrediMail data to Gmail like contacts, calendars, all mailboxes without alternating the original format of file.
In order to import IncrediMail mailboxes to Gmail, the user needs to just enter the account login credentials of the Gmail service. It's the ultimate technique to move IncrediMail to Gmail with attachments, images and all email information.
Now, follow these step-by-step guidelines to import IncrediMail emails to Gmail service:
First of all, download and install the setup of the software on any of your Windows machine.
Quick Note: The IncrediMail to Gmail software runs perfectly well on all editions of Microsoft Windows Operating Systems such as Windows 10, 8.1, 8, 7, XP, Vista, etc. It also supports Windows Server 2019, 2016, 2010, etc.
After launching the application, read all instructions stated on the welcome screen. Click on Next to proceed.
Then, select the IncrediMail data with dual options-
Convert configured IncrediMail mailbox data: If you've already configured IncrediMail on your machine then enable this option.
Let me select my IncrediMail mailbox data: Choose IncrediMail files or folders having (*.imm, *.iml or *.db) files. With this option, you can even select multiple IncrediMail emails for the task.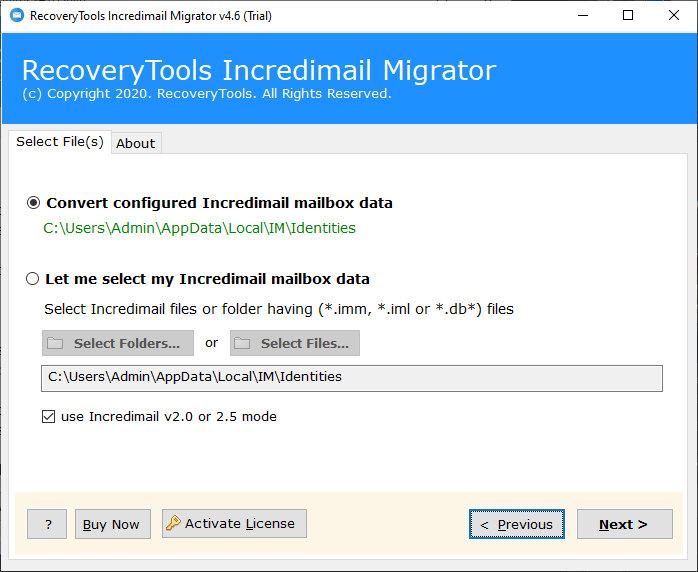 Thereafter, specify the mailbox data which you need to import IncrediMail to Gmail.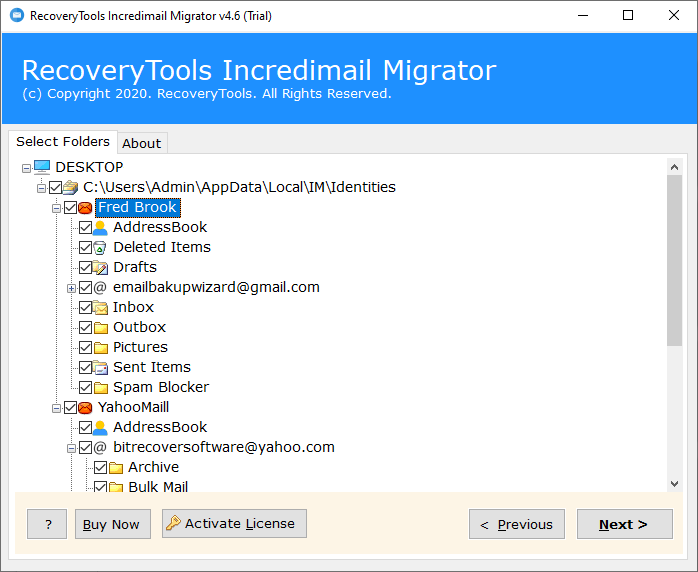 After this, go to the Saving options list and choose 'Gmail' from it.
Next, enter the login information of your Gmail account in the toolkit.
Lastly, tap on the Next button to begin the process to transfer IncrediMail emails to Gmail account.
Now, relax and wait for this conversion process. This software will immediately give you results. Open your Gmail account to view IncrediMail data.
Key Note: If this utility fails to authenticate your Gmail account, then make sure that you entered the correct Gmail account login credentials. Also, ensure that you have enabled the IMAP settings and Less Secure Apps.
Outstanding Features of IncrediMail to Gmail tool
Analyze Whole Data by Previewing it: After selecting the files, folders or the automatic IncrediMail configuration option, the users can check the complete database. The software lists all IncrediMail emails, contacts, calendars in a tree-view structure. You can check and enable the required folders and sub-folders for an accurate import of IncrediMail emails to Gmail.
Bulk Import IncrediMail to Gmail: With this application, one can migrate bulk IncrediMail mailboxes to Gmail account. The software grants the users to select a single or more than one IncrediMail file to import into Gmail. This saves a lot of user's time and efforts.
Free Trial for All: Before buying the licensed version of this product, the users can take a free trial too. The free trial edition permits to move few IncrediMail emails to Gmail. In this way, one can evaluate how the software works and can gain confidence before investing their money on it.
Automatically Detects Data: If a user has configured the IncrediMail service on their Windows system, then this IncrediMail to Gmail tool will quickly pick up the data. It will load all mailboxes directly from its configured path.
Fully Safe and Secure to Access: This software retains all email properties, text formatting, inline images, hyperlinks, attachments, etc. It gives 100% accurate results without changing the originality of the database. During the import of IncrediMail data to Gmail, this tool never saves the user's details in the software database.
Frequently Asked User Queries
Why does user need to transfer IncrediMail to Gmail?
As by using Gmail, users can easily store data and easily access it from anywhere with the help of internet. By simply login the Gmail account, user can find the message which contains your data. All the data is kept in exact form and user can't lose the information. Even user can easily share their data with others if they want to. That's why users mainly prefer to import IncrediMail to Gmail.
Can I bulk export IncrediMail to Gmail with this tool?
Yes, with this software, you can perform bulk export of IncrediMail mailboxes into Gmail.
Can I save whole folder of IncrediMail *.imm emails to Gmail?
Yes, you can select IncrediMail folder and move all *.imm emails to Gmail.
What Our Clients Says ?
For a while now, I have been looking for a significant application for the conversion of data, I have tried many applications and complicated options, but I didn't get maximum satisfaction. But this, software is really amazing, which takes only a few seconds to export IncrediMail to Gmail in exact form. Thank you BitRecover for this amazing software.
-Ronald, Australia
Hats off to BitRecover for this amazing software. I have trusted this brand twice and glad that not even a time regretted my decision. The software is so simple and user-friendly to access without any technical advice.
-Khalid, Dubai
IncrediMail to Gmail software is an amazing tool to convert bulk of IncrediMail data to Gmail at once, which helps to save users time. It preserves folder structure after conversion in exact form. Thank you BitRecover.
-Pamela, UK
Closing Remarks
We hope that now you have got a clear idea regarding the migration of IncrediMail data to Gmail account. The software mentioned in this write-up is very user-friendly and comes with descriptive screens so you will not face any problem while handling it. If still any difficulty persists, do contact our support team.