How to Import Gmail Calendar to Outlook ? (All Versions of MS Outlook)
Google officially announced the "Google Sync end of Life" on December 14, 2012. It stated that Google Calendar Importing services are no longer supported. On the other hand, the Outlook users who wish to import Gmail calendar to Outlook are disappointed now. Don't fret! Read this write-up.
Well, you don't require to have a third eye to figure out why Google discontinued this service. For many years, Microsoft company and Google are the greatest opponents conflicting with the power and market share.
Anyway, apart from Google's calendar sync feature, there exists a couple of ways that can help Outlook and Gmail users to import Gmail calendar to Outlook 2019, 2016, 2013, 2010.
There are manual and automated ways to Import Google calendar to Outlook.
Since the former top player (Google Calendar Sync) is out of the game now, it obviously makes sense to review at an expert solution as well as to open Gmail calendar in Outlook. The ICS Converter is very straightforward and hardly requires any technical guidance. It can easily convert the exported Google calendars (.ics files) to (.pst) format which can later be imported into MS Outlook.
Basically, it's a three-phase process to import Gmail calendar to Outlook. Have a look at them one-by-one.
How to Import Gmail Calendar to Outlook ?
If you use Outlook daily, then you can link Gmail calendar to Outlook and get all those important events, appointments, tasks at one place.
So let's get started!
Phase 1: How to Export Calendar from Gmail Account to Your Computer ?
To sync Gmail calendar in Outlook, you don't require to re-enter all your appointments. Simply, export Gmail calendar to a file as discussed here.
Firstly, sign in to your Gmail account and select Calendar.
Then Choose My calendar>> Settings.
Now, select Export Calendars.
Choose a location for saving Google calendars.
Go to chosen location and unzip the file.
Here, you will get extracted Google calendars in .ics format.
Phase 2: Convert Gmail ICS to PST Format for Outlook
PLEASE NOTE:
Check out the free demo version of the tool to import Gmail calendar to Outlook. This is a free demo edition that permits the conversion of top 25 Gmail ICS files to Outlook PST format. Buy the license keys for countless conversion of data items.
Step 1: After downloading the tool, install and launch it on any Windows machine. The starting screen will be as shown in this picture.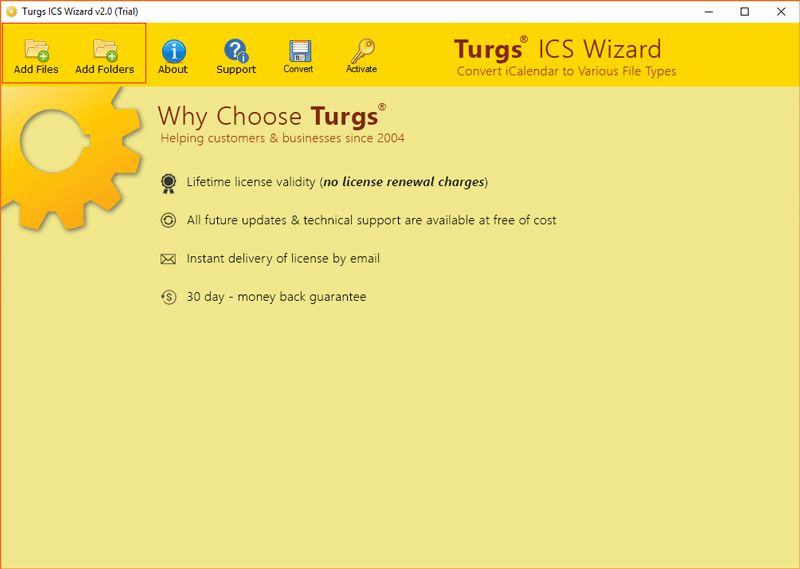 Step 2: Select the Add File / Add Folder option to load Google calendars.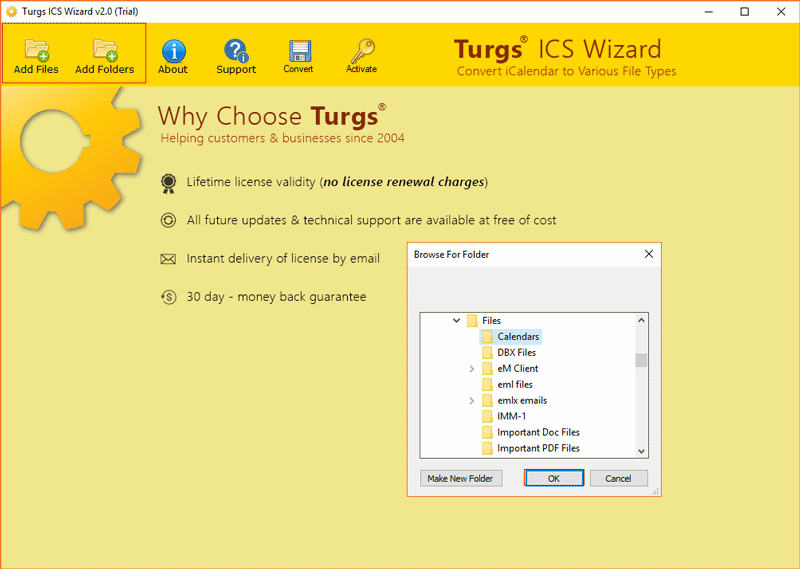 Step3: See the preview of calendars in the software's GUI.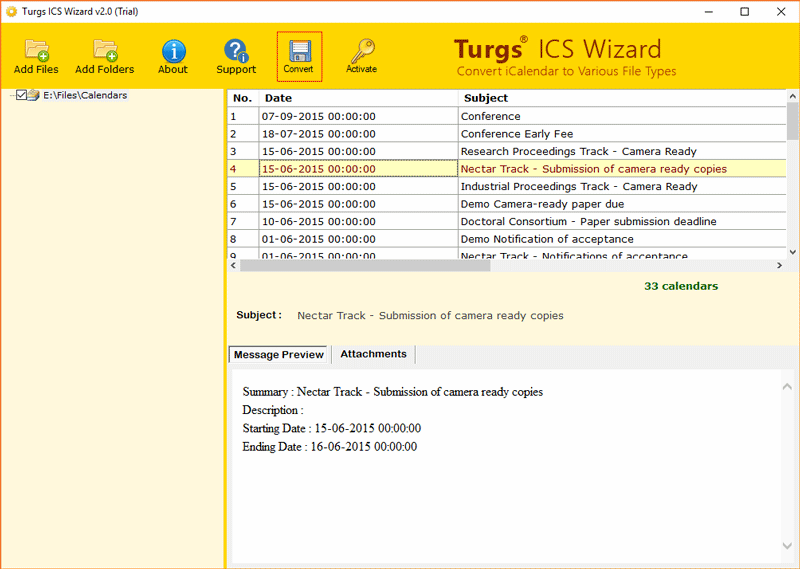 Step4: Choose PST as saving option.
Step 5: Set the destination path and tap on the Convert tab to start conversion.
Now, you have PST files. Here comes the concluding stage wherein you need to import PST files in Outlook.
Phase 3: Import PST in MS Outlook
To do this, open your MS Outlook and go to the File menu.
Choose Open & Export>> Import/ Export to import Gmail calendar to Outlook.
Pick Import from another program or file and then hit on Next tab.

Browse your Outlook PST file  and import it.
Now, you can successfully view Gmail calendar in Outlook 2019, 2016, 2013, 2010.
What Benefits do You Get with Software to View Gmail Calendar in Outlook ?
Have you got one or more Outlook and Google calendars? Do you need to import Gmail calendar to Outlook so that you don't double-book appointments?
Well, to export Google calendar to Outlook was relatively simple but the discontinued service has definitely put users in dilemma about how to get Gmail calendar in Outlook.
A right application is must if you have decided to do this process. The BitRecover Gmail to ICS conversion tool surely fits all your requirements for fixing issues "Gmail calendar in Outlook not Importing".
This conversion tool gives you ability preview entire information of Google calendars such as date, subject, summary, description, starting date, ending date, attachments, serial number, etc of the fixed appointments/ events. You can have a glance at these important information before you import Gmail calendar to Outlook.
The users can choose bulk of Google calendar files into the software panel using the Add Files and Add Folders option. These features will enable you to pick a single or multiple Google ICS file for Importing Google calendar with Outlook.
Before conversion, the tool asks to set a location for the output. It's up to you to select a computer location where you wish to save the resultant files.
You don't have to worry about which Outlook version you are using. The reason being, the tool facilitates to add Google calendar to Outlook 2019, 2016, 2013, 2010 or any prior version.
Top-3 Reasons to Import Google Calendar to Outlook
There are ample reasons for different users to import Gmail calendar to Outlook. But, these topmost reasons are the most valid.
For scheduling meetings with a reminder
Let's suppose you urgently need to book some schedules for the upcoming weeks and forward it to your executive every week and thereafter set a reminder that will alert you to organize and send these appointments in every Monday morning. Then, the recurring appointment in Outlook will make this thing easier.
Once you add Gmail calendar in Outlook, then you can set a reminder to receive the notification whenever required.
Manage assigned tasks
Outlook now provides the feature for you to centralize your group communication, scheduling, and tracking all assigned tasks easily.
Google mail does not facilitate this feature. So, it's a bonus for you if you have decided to import Gmail calendar to Outlook. Afterward, you can navigate to the bottom-left corner of the Outlook window where you can schedule your assigned projects through tasks including due dates, reminders, and priority.
To transfer Gmail calendar to other webmail
It has been seen that the users often merge different email accounts at one place like Outlook so as to manage all of them effectively. So, if you own some other webmail account and have configured it in MS Outlook, even then this export Gmail calendar to Outlook process is worthy.
The users can set up a Gmail calendar in Outlook, the same one in which you have configured another webmail account.
Now, you must have deducted why to import Gmail calendar to Outlook and also how to do it.
Time to Wrap Up
In the above blog, we have explained a detailed solution about how to import Gmail calendar to Outlook 2019, 2016, 2013, etc. Any technical or novice user can use this solution to export Google calendar to Outlook. The best part is you don't require to install any external software for this process.
Let's Us Help You! – Most users get hassle while using a third-party application. The BitRecover software is very easy and interactive. However, still, if you are encountering any problems please share your queries with our technical support team. We are always available for you 24*7.