How to Export Contacts from Excel to Thunderbird Address Book ?
Are you also looking for a reliable solution to import Excel Contacts to Thunderbird ? And, do you want a solution to export address book without any data loss ?
Then, without any doubt, you came to the right place, because here we will discuss the relevant methods to transfer Excel spreadsheet contacts to Thunderbird account.
We all know that contacts play an important role in daily life, both personally and professionally. In addition, there are many users who keep a list of contacts stored in Excel spreadsheets. While reading some forums, I found that various users have the query to import Excel contacts to Thunderbird. Let's see the query first:
User Query: "I have an Excel file that contains a list of more than 100 contacts with all the details. Now, I want to move all of these into my Mozilla Thunderbird account. But, I do not know how I can import a bulk of address book at once. Therefore, I am looking for a solution that allows me to import contacts from Excel to Thunderbird in a quick way. If anyone knows any solution to it, please suggest."
Stepwise Guide to Import Excel Contacts to Thunderbird Quickly
There is no direct method to transfer an address book from Excel XLS, XLSX to Thunderbird. For the export process, you must follow the below-mentioned methods step by step.
Free Download Excel Contacts to Thunderbird Converter Software
Demo Version: Try out Excel to Thunderbird conversion providing freeware version prior to purchasing the entire software. It will allow you to check its functioning free of cost and can get the assurance of investing in an accurate and trustworthy program.
#Step 1: Transfer Excel Sheet to vCard VCF File Format
Select the Excel XLS / XLSX contacts sheet that you want to export in Thunderbird mailbox.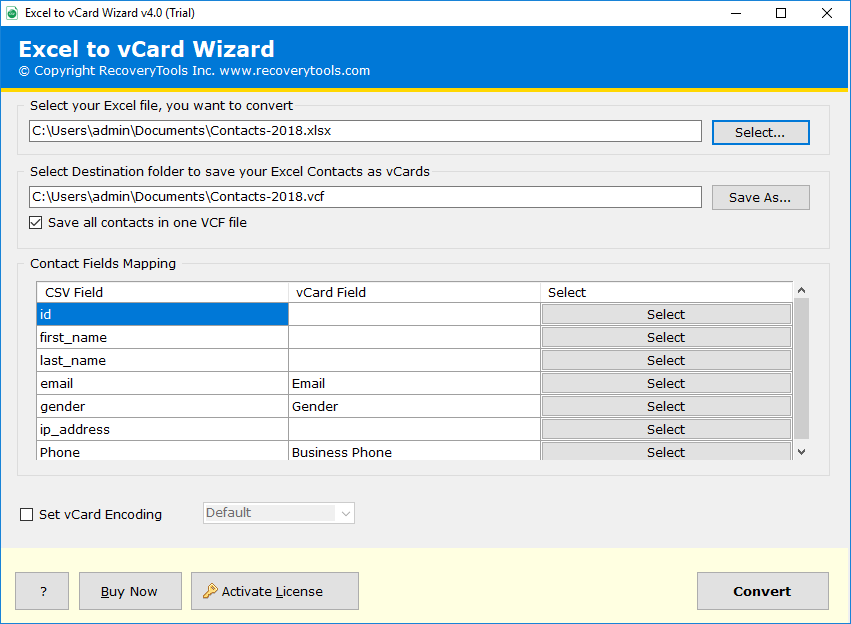 Using Excel contacts to Thunderbird converter, you can set Contact Fields Mapping as you required.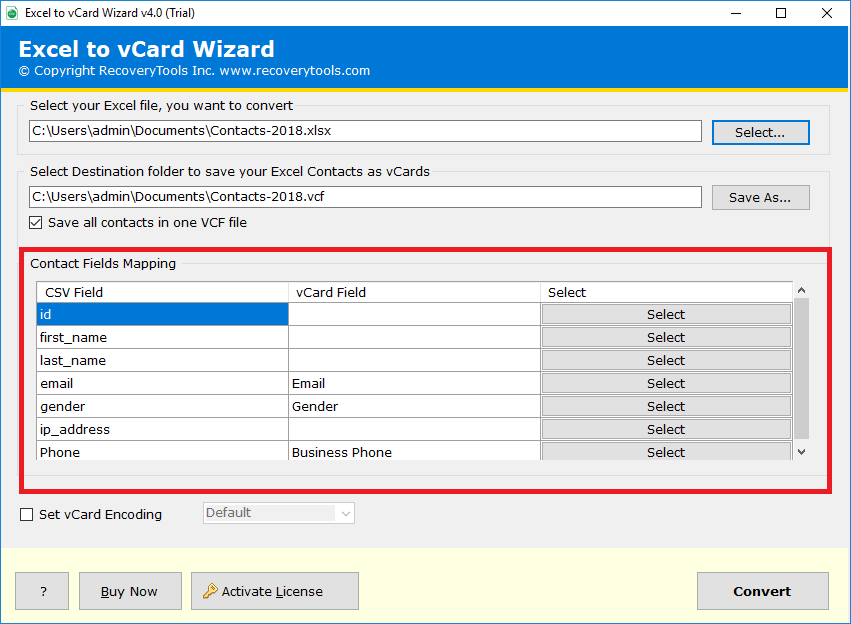 Important Note: The application automatically Map the Excel and vCard fields i.e., First Name, Last Name, Email Address, Gender, etc.
Now, choose the Destination Location to save the resultant vCard file.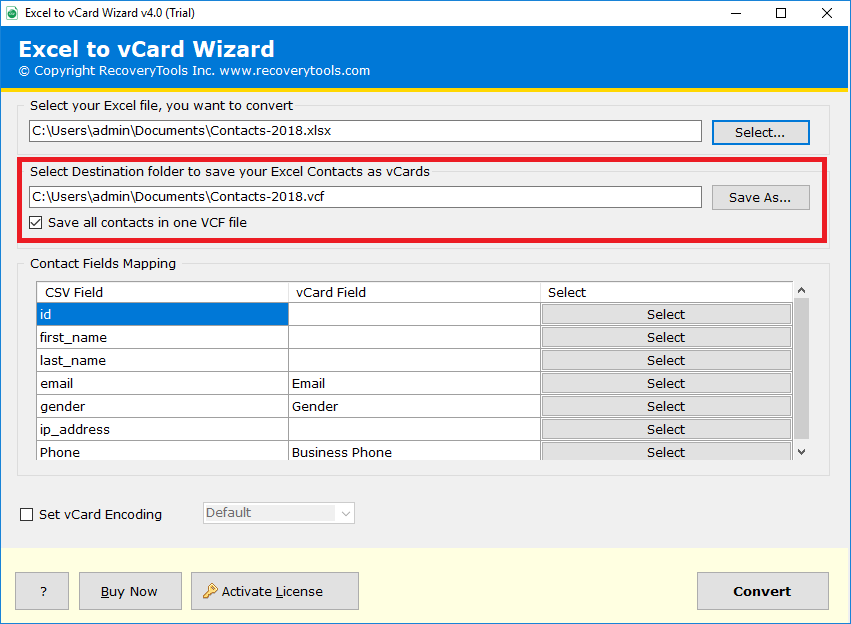 It lets you pick the vCard encoding. Select the VCF encoding according to your need to import contacts from excel to Thunderbird account. Now, click on the Convert to import contacts from excel to Thunderbird.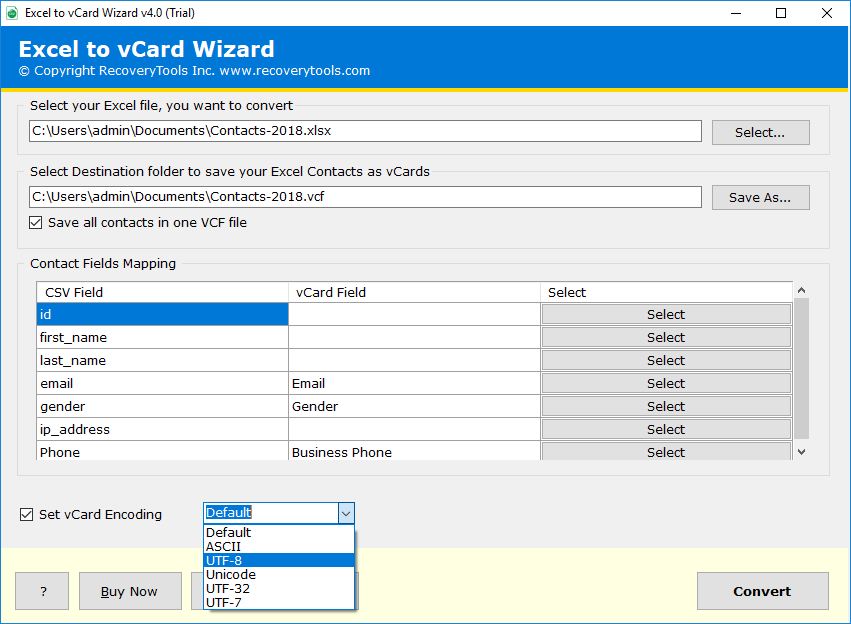 Once you perform the above steps, contacts details can be easily migrated into Thunderbird address book, now you just required to transfer and import these files from your Mozilla Thunderbird account. As the exported .vcf file is supported by several applications or devices including
Yahoo
,
Android Phone
,
Outlook Mac
, etc.
#Step 2: Import vCard Contact File to Thunderbird
Once the Excel contacts file is converted into a vCard file format, the user can easily import vCard address book into Thunderbird. To move the VCF contacts file to Thunderbird, the user must follow the step-by-step process explained below:
First, open the Thunderbird application into your system.
Now, click on the Address Book> Tools> Import
The Import Wizard will open, in Select the type of material to import option, you have to select Address Books option and click on Next
Select the vCard file option and then select the VCF file which you converted in Step 1
In last, click on the Open button and then Hit on OK button to import Excel Contacts to Thunderbird
Now, all Excel contacts will be imported successfully into Thunderbird account.
Benefits & Features of Excel Contacts to Thunderbird Converter
Highlighted Feature: Mapping Excel and vCard Fields – The software to export excel contact to Thunderbird provides countless features, one of them is contact fields mapping. It automatically displays user information for mapping Excel fields with vCard fields including First Name, Last Name, Birthday, Gender, etc.
Create Single vCard File: The utility to import Excel contacts to Thunderbird lets you convert Excel contacts into separate VCF files.
Choice of vCard Encoding: The tool offers numerous vCard encoding options such as Unicode, UTF-8, UTF-32, UTF-7. You can pick any option as you needed.
Support All Windows OS: This Excel contacts to Thunderbird conversion utility, compatible with all the latest as well as older Windows devices like Win 10, 8.1, 8, 7, XP, Vista, etc.
Save File to Desired Path: The software to import contacts from excel to Thunderbird an option to choose the destination location for saving the converted Excel spreadsheet to Thunderbird account at any desired location.
The Closing Words
In the above write-up, we have explained the complete step by step solution to import Excel Contacts to Thunderbird address book properly. The conversion tool from the Excel Address Book to Thunderbird account can directly transfer Excel contacts into a portable file. In addition, you can export or transfer vCard to Thunderbird. Also, the utility provides a special option for contact field mapping. You can use the FREE TRIAL edition for a better understanding.