How to Export Contacts from Excel to Mailbird Account ?
Are you in stuck for finding a solution to import Excel contacts to Mailbird account?
Here, in this write up, we have given an all-in-one solution to transfer Excel XLS or XLSX spreadsheet to Mailbird with ease. We will show step by step complete procedure on how to migrate contacts list from Excel to Mailbird mailbox. The Excel to Mailbird converter software is the multi-functioning tool for all the XLS / XLSX address book data migration. So, read the full blog in order to know the complete process properly.
Free Download Excel Contacts to Mailbird Converter Tool
Trial Version: The DEMO edition of this amazing Excel Address Book to Mailbird Converter software will enable the users to export the first 10 items from each folder. In case if you want to move unlimited Excel contacts to Mailbird address book then it is necessary for you to first activate the software just by purchasing its appropriate license.
A large number of users wants to know about how they import Excel contacts list stored in their Mailbird account. They regularly asked about it on various forums and platforms regarding the same issue. One of the major queries that are found globally are listed below:
"Hello, one of my employees share bulk of excel contacts files. I am from the Marketing team. So, I need these address book data to contact my team. Is there any possible way to import those contacts to my Mailbird account ? I've read somewhere a manual technique to import excel contacts to Mailbird. But, it seems quite lengthy and difficult also I lost some important data. So, now I want a professional way to Excel contacts list file into Mailbird without any data loss. Any help or suggestion will be appreciated. Thank you!"
After reading the above query, I started my research and got the findings which will help users to import Excel Contacts to Mailbird. Now, explore the article to get the best solution for moving contacts sheet from Excel to Mailbird.
#Step 1: Convert Excel File into vCard Format
The tool will give different options to import Excel Contacts to Mailbird. Choose the Excel contacts XLS or XLSX file, which you want to convert.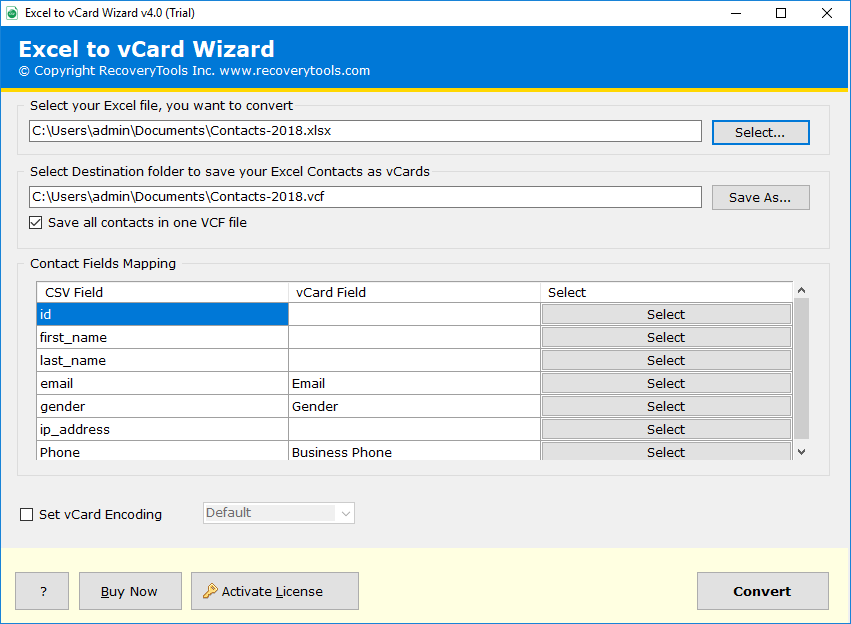 The software will let you set-up Contact Fields Mapping according to your need.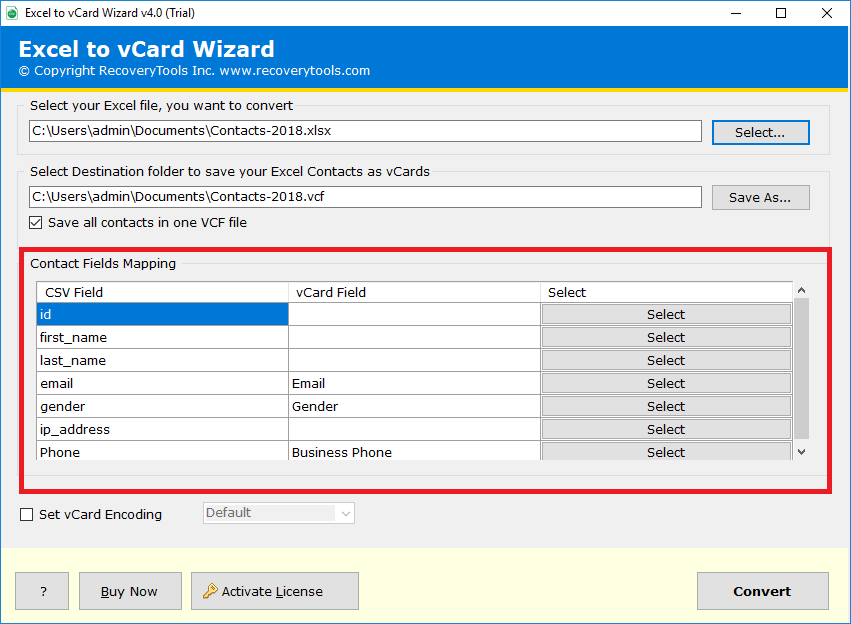 Choose the Destination Location Folder to export Excel contacts into Mailbird address book.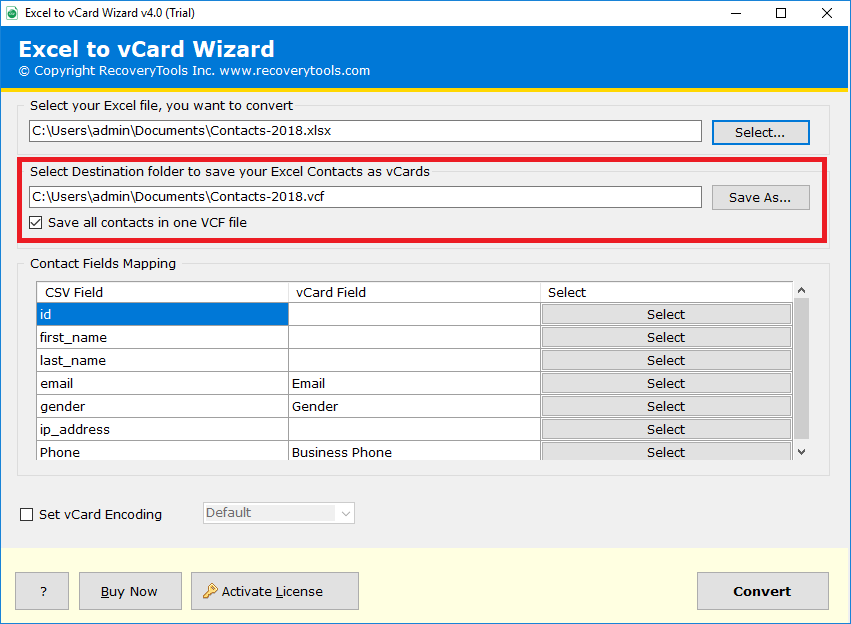 Also, you will get an option to set vCard Encoding. Choose the desired vCard option. Click on Convert to convert Excel sheet contacts into Mailbird account.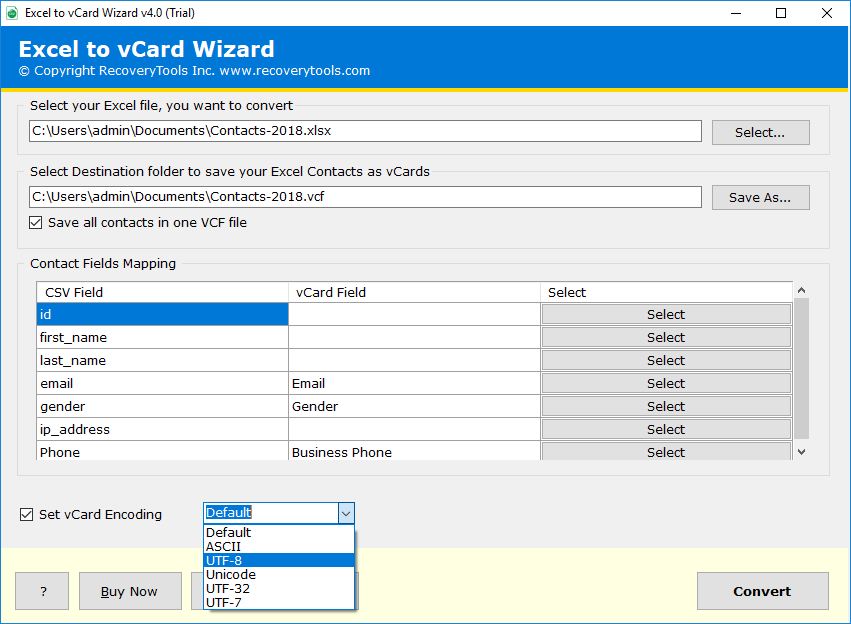 Now you will get the desired file to import Excel contacts to Mailbird account. After this, you can easily transfer the converted file into Mailbird mailbox through a quick manual procedure.
#Step 2: Import Converter VCF File to Mailbird Account
Now, we have a resultant vCard file. In this step, we will import this VCF contacts file into the Mailbird folder. Follow the below steps:
First, you have to Open your Mailbird Email application.
After that, click on the contact icon from the left side panel. Then, the application will show the All contact list.
Now, Hit the Gear icon present in the top. Press on the icon to choose "Import contacts from vCard" option for importing Excel Contacts to Mailbird.
Click on the Browse button for browsing the exported vCard files data.
Through this screen, you can select the single VCF file which you want to import >> Next, click the Open button.
To see the imported vCard file, press on "All Contact" drop menu. Now, traverse to the imported VCF contact file. It will be saved with the date convention.
Now, Hit that file to view all contact details.
In this way, you can successfully import the single vCard file into the Mailbird account.
Highlighted Feature of Tool to Import Excel Contacts to Mailbird
The tool has a special feature for the assignment of contact fields. It will automatically display user information to map Excel Fields with vCard fields. Some of the fields like – First Name, Last Name, Birthday, Gender, etc.
The software is smartly designed to import Excel Contacts to Mailbird account in bulk.
This utility is completely standalone as there is no MS Excel installation required to convert your Excel XLS / XLSX sheet contacts into Mailbird.
The tool is Compatible with all the latest as well as the previous version of Windows OS i.e., Win 10, Win 8.1, Win 8, Win 7, Win XP, Win Vista, etc.
The application enables the users to save address book list from Excel to vCard (.vcf) format which is supported by many applications or devices like Mailbird, Yahoo, Thunderbird, Outlook Mac, Android Phones, Mac Address book, etc.
Conclusion
In the above blog post, we have discussed one of the most advanced toolkits i.e., Excel contacts to Mailbird converter software. It has the complete functionality to import Excel contacts to Mailbird account with just a few clicks. This utility is designed intelligently for technical and non-technical both types of users. The users can evaluate the free DEMO version before purchasing the tool. In addition, if you need more help, contact our specialized technical team without any hesitation.