Know How to Export Excel Contacts to IBM Lotus Notes Account
Are you seeking different forums and several online services that offer solutions to import contacts from Excel to Lotus Notes ? If yes, so now you do not have to search anymore. This blog describes all the possible and precise measures to convert Excel address book data into IBM Notes account.
Free Download Excel Contacts to Lotus Notes Converter
BitRecover also provides the Free DEMO version of the software which is helpful to the users to evaluate the functionality and working of the application. The Trail edition of the toolkit allows users to move first 25 Excel contacts items. User can check the below steps to understand the complete working process of the Excel Contacts to Lotus Notes Converter Software.
How to Import Contacts from Excel to Lotus Notes ?
Table of Content
Export Excel Contacts List into VCF Format
Select the Excel (XLS / XLSX) file that you want to convert in Mac IBM Notes.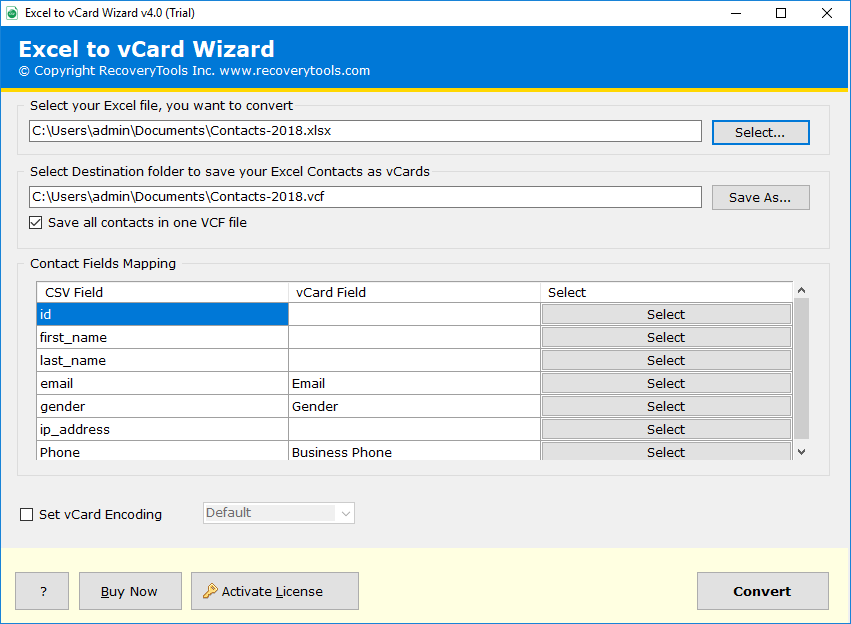 Using Excel to Lotus Notes converter, you can easily set Contact Fields Mapping as you needed.
Note: The application automatically Map all Excel & vCard fields. These fields include First Name, Last Name, Email Address, Gender, etc.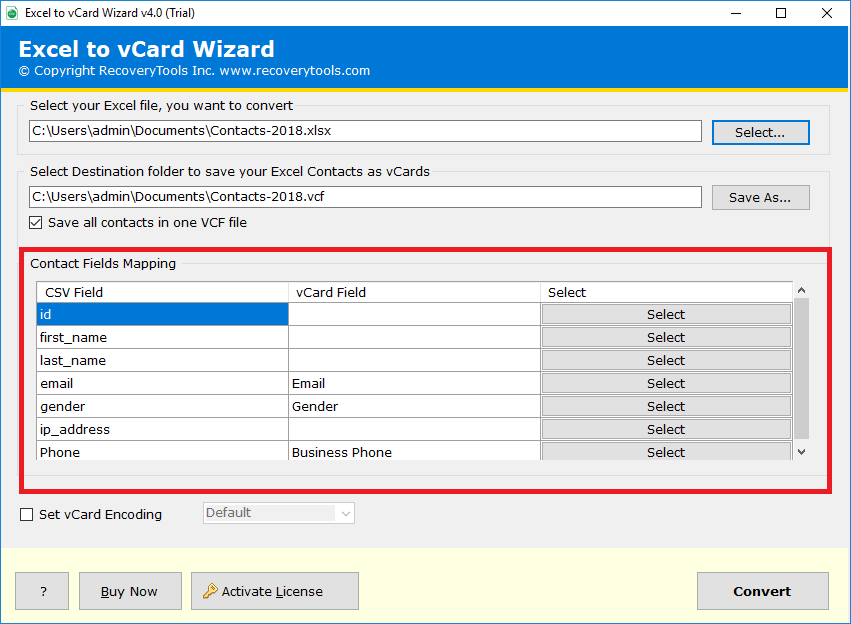 Now, choose the Destination Location for saving resulting VCF file.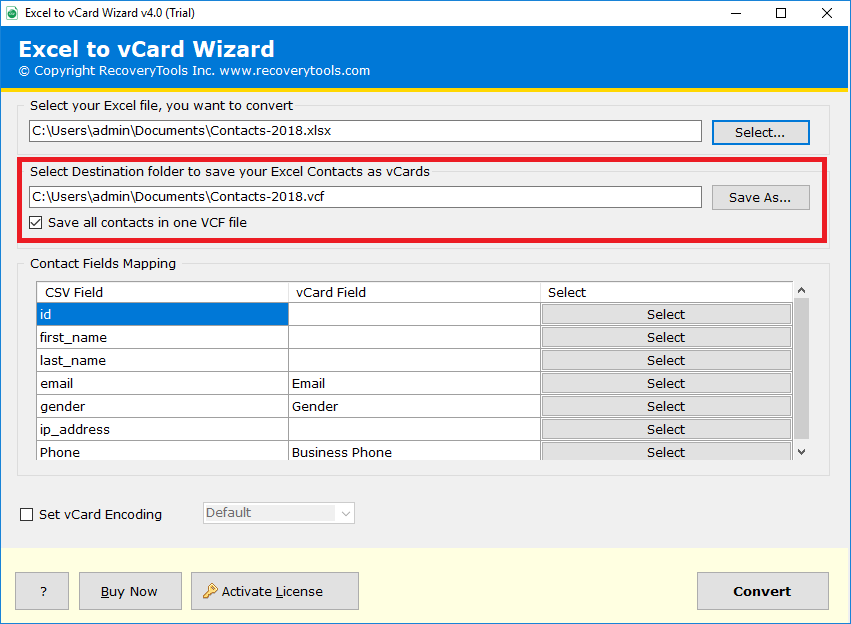 Select the vCard encoding as required for converting excel contacts to Lotus Notes. Now, hit on Convert.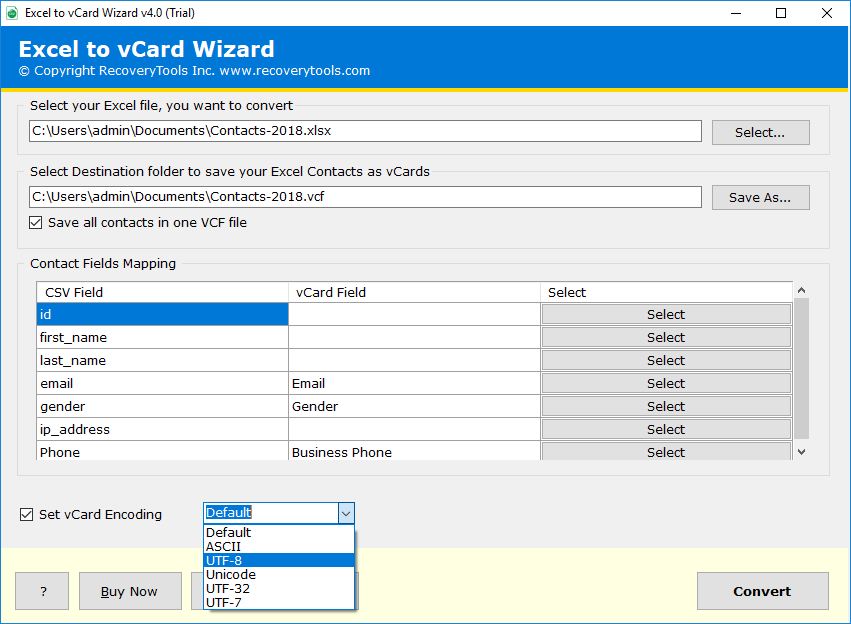 Now you will get the resultant vCard file to import contacts from Excel to Lotus Notes. After this, you can easily import the converted data into IBM Lotus Notes Account by following the few easy steps.
Import vCard to Lotus Notes Address Book
First, you have to start your Lotus Notes Email Application and provide account login details such as Username and Password.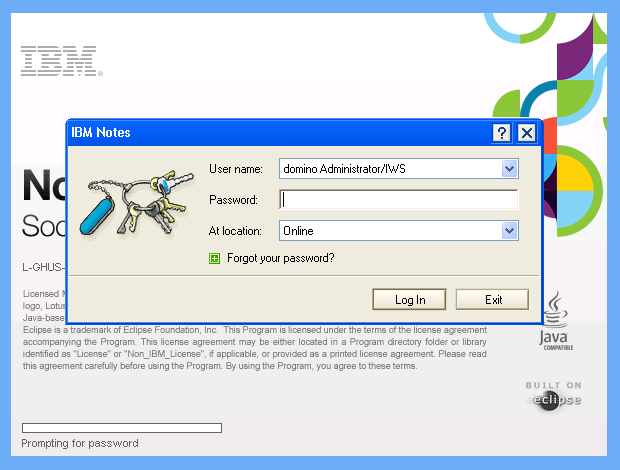 Now, Go to the Contact section for adding Excel contact to your Lotus Notes profile.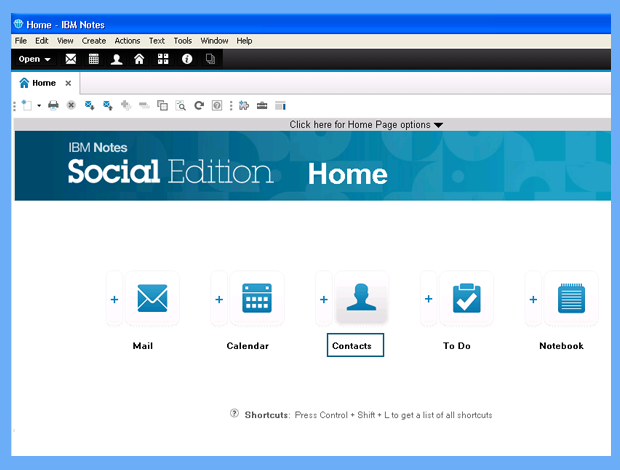 In the account interface, Click on the More option and select Import Contacts from the Drop-down menu.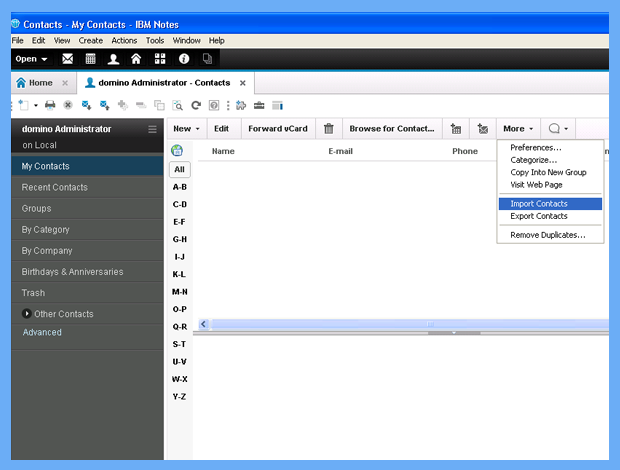 Now Browse the exported VCF File from the above conversion process and hit on the Open button to import contacts from Excel to Lotus Notes.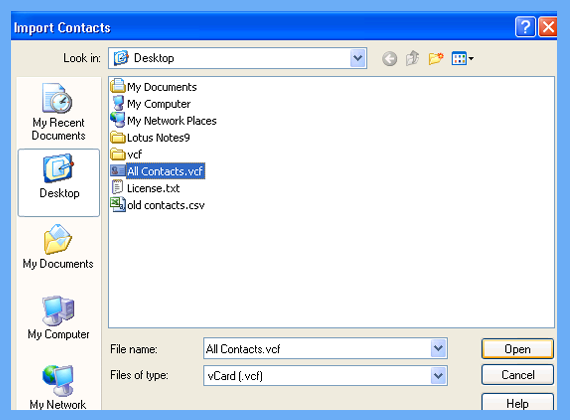 If the number of items in the Excel address book imported into Lotus Notes is greater than 250 contacts, a pop-up message appears with the message box, i.e., do you want to continue or not. Click on the Yes button.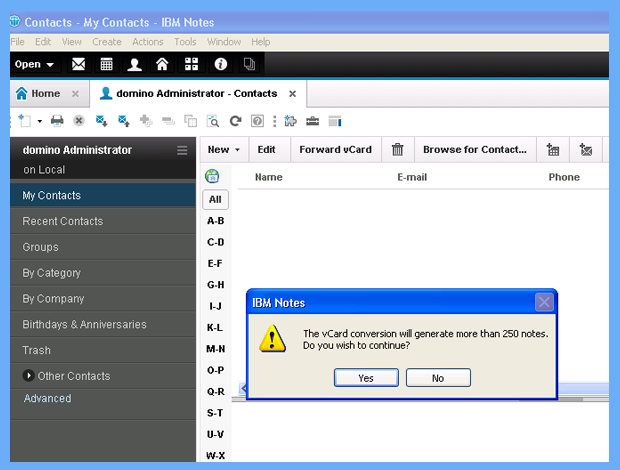 The user can preview the contacts before importing them into the IBM Notes account using the Next option.  Now, click on the Import option for converting excel contacts to Lotus Notes application.
After some time, you can see the imported contacts in the Address Book of the Lotus Notes account.
Reasons to Migrate Excel Address Book to IBM Notes Account
There are several reasons that affect users, which makes them change platforms to suit their needs. Some of the common reasons may be the following:
The advanced features of Lotus Notes, such as contact management, scheduling meetings, tasks, browsing, etc. They adapt better to the needs of professionals. Therefore, people tend to move towards IBM Notes.
Safety is of the utmost importance at the industrial level. Lotus Notes uses IBM Domino as its server and implements a better security module to safeguard your data.
People are forced to migrate from one email client to another when they change their profession or their company decides to change the email application.
Trouble-Free Way to Import Contacts from Excel to Lotus Notes
This tool is completely tested product by our expert team, developed to carry out the conversion of Excel address book to NSF in the most effective way. The wide variety of relevant and efficient functions make it the perfect option to import contacts from Excel to Lotus Notes mailbox. An easy-to-use interface with numerous functions provides accurate results without any risk. Some of the other benefits of using this utility are:
Features of BitRecover Excel Contacts to IBM Notes Converter
Outstanding Function:: Mapping of Excel and vCard fields – the software to import contacts from Excel to Lotus Notes provides numerous functions, one of them is Map Contacts Fields. Automatically displays user information to assign Excel fields with vCard fields that include Name, Surname, Birthday, Gender, etc.
Converts multiple Excel address book lists into NSF mailbox quickly
Maintains the complete Data Integrity throughout the process
No data loss issues after the conversion procedure too
Preserves the original database folder structure in the output file
Compatible with all Windows devices i.e, Win 10, 8.1, 8, 7, XP, Vista, etc.
Concluding Lines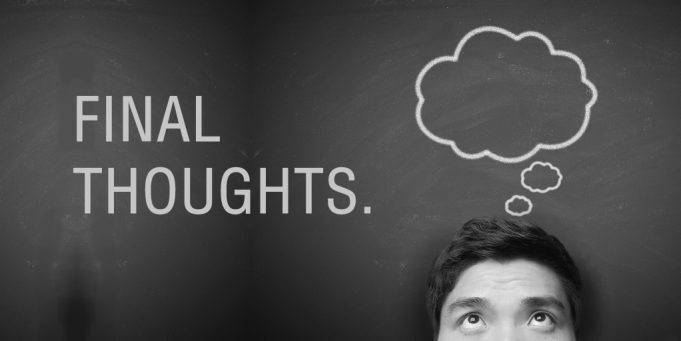 Being people with technical knowledge, we would like to qualify this product with a 9.8 out of 10. Since, if the tool to import contacts from Excel to Lotus Notes in bulk, then it will literally be a product of ten out of ten. However, other works provided by this software show that the tool is one of the best Excel Contacts to Lotus Notes Converter applications. In addition, this advanced utility does not require technical knowledge or Guidance to operate the tool, so that each technical and non-technical user can easily use this tool without any problem. Users can opt for this software to perform fast and easy data conversion.