How to Migrate / Export HTML to EML Format with Attachments ?
Are you looking for a solution that allows you to convert HTML to EML format ? Want to access HTML emails in EML mailbox ? Are you also have one such query in mind ? No need to worry, we got you.
Therefore, in the upcoming section, let us have a look one of the user queries about HTML to EML conversion.
"Hey, for some reason, I cannot access my HTML emails, before I lose any data, I want to save every email on my system, I've heard that I can save individual emails in the form of EML file, but as a non-technical person, I do not know how to convert HTML to EML file, please help me take those emails to my local disk."
In order to solve this problem, we have come with this article. Here we will reveal multiple reliable and easy solutions for the same.
Free Download HTML to EML Converter Software
Demo Edition: The trial version of this HTML Converter tool will allow the users to export the first 25 emails from each folder of HTML completely free of cost. To perform unlimited migration, it is necessary that users activate the software first by purchasing the corresponding license. The working of this application is very easy and simplified, anyone can have a better idea of its operation simply by following these simple steps:
Steps to Convert HTML to EML File Format Directly
Step 1: Run HTML to EML Converter software in your system.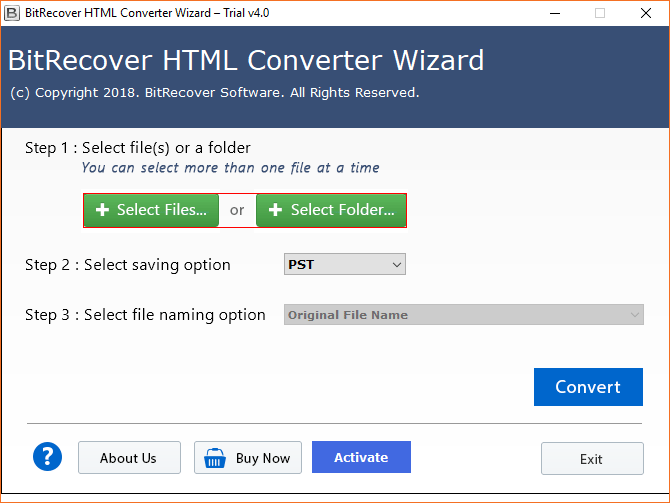 Step 2: Browse HTML files by hitting on Select Files or Select Folders option to convert HTML to EML file.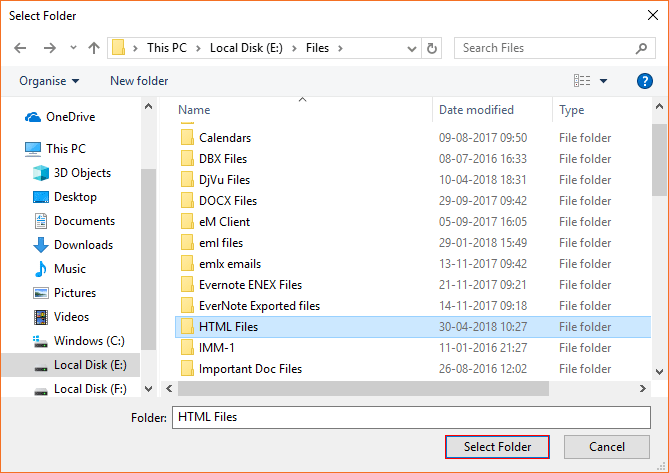 Step 3: Choose the EML option from the following list of savings options.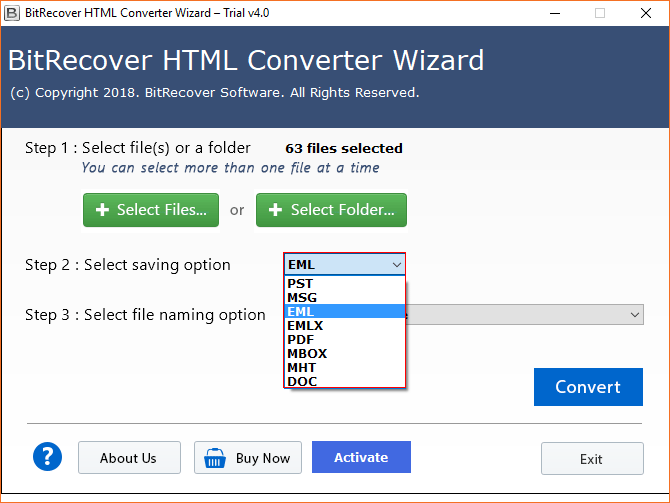 Step 4: HTML to EML converter provides File Naming Option, so can select any of one the various options.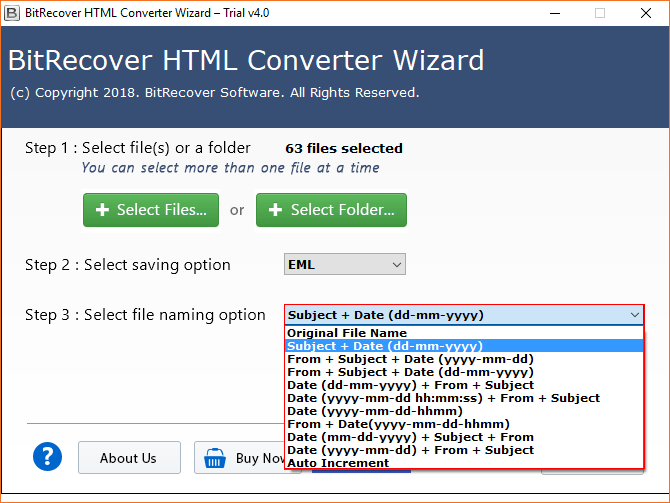 Step 5: Click on the Convert button and then quickly start the process to batch convert HTML to EML file.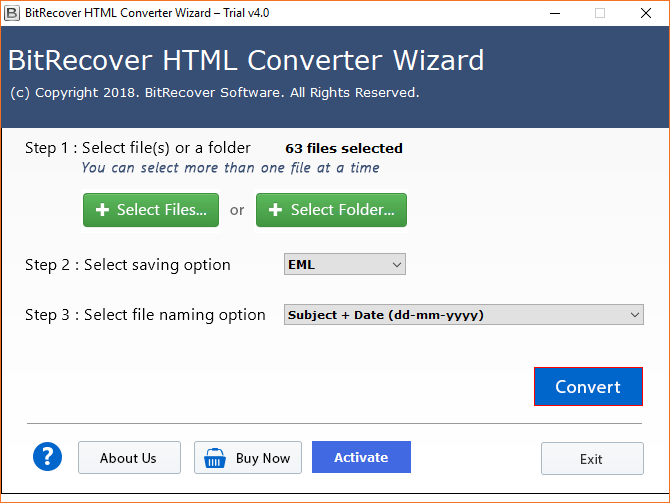 Step 6: Now, choose the Destination Location to move further.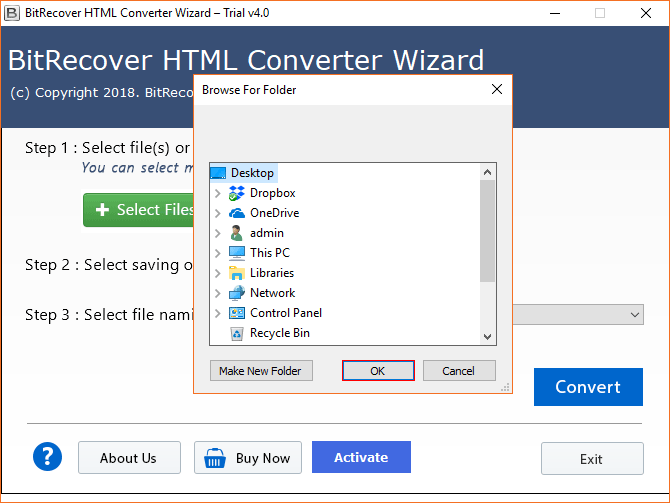 Step 7: The HTML to EML file conversion is running now, it will complete in a few seconds.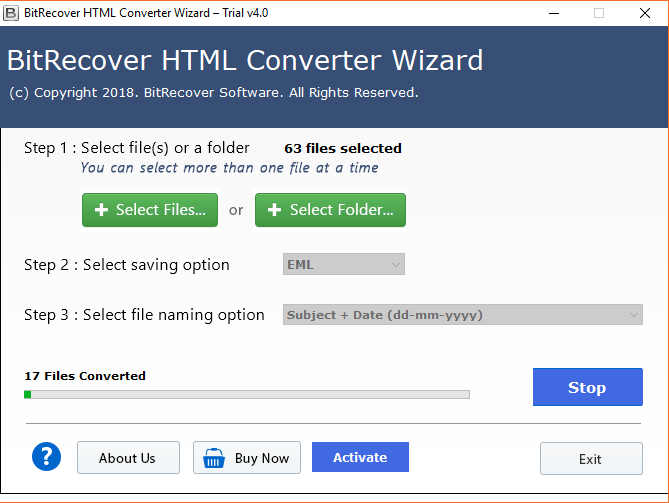 Step 8: Access the Resulting Data directly from the destination folder.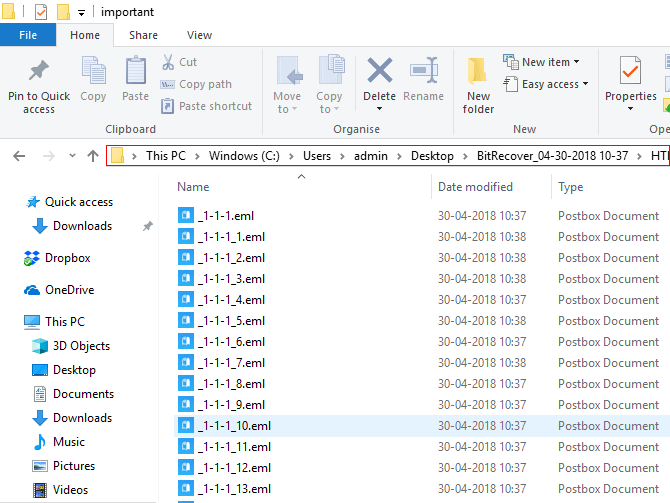 Productivity and Security Go Hand In Hand with this Converter
If you are looking for the conversion of your HTML emails data into EML format, then you will be happy to know the technically appropriate guidelines that are included in our mentioned software.
Bundled Features of BitRecover HTML to EML Converter Tool
The software allows users to quickly batch convert HTML emails files data to EML folder without any data loss.
This utility also generates live conversion report to analyze the complete conversion process properly.
It is the simplest and fastest application to migrate / convert HTML to EML file format with a well-maintained folder hierarchy.
The HTML to EML Converter program is an independent utility and it does not require additional installation to export HTML emails into EML mailbox.
The tool to convert HTML email to EML comes with a number of file name options so that users can keep the resulting data in various styles by date, time, subject, etc.
Advantages of EML Files
They can be used for Forensic Analysis to retrieve all the information from the e-mail header inside the e-mail.
It is easy to send individual messages to the recipient without exposing all the data.
This will make it easier for users to access emails anywhere through a browser on the laptop, mobile or tablet.
After the conversion of the HTML file to EML, a user can send an email as an attachment to an email and forward it to any number of users.
What Client's Says about Product ?
"The best thing that I liked about this application is the interface. Each and every step of the conversion procedure is explained in such a simple way that technical guides are not needed to work with this tool. Being a normal computer user, I was able to convert HTML to EML format some personal purpose. The efforts of the developers are reflected in this software to and I greatly appreciate the teamwork that created this HTML to EML converter tool. Well done guys!"
"This tool is an easy-to-use program which quickly convert HTML email to EML format. Initially, I tried free versions of 5 to 6 products and, among all of them, I found this reliable BitRecover for my need. I activated the licensed edition of the software and also recommend it to my other business friends. Thanks, guys for this independent approach!"
Final Words
At the recent date, the users want to have access to their emails anywhere they want without any dependency. Therefore, users are continuously looking for the solution to convert HTML to EML file format. Hence, in the above post, an optimum solution for the HTML to EML conversion is discussed. A user can try without any data loss.