How to Save & Export HTML Files to Word DOC, DOCX Format ?
Are you looking for a solution to export HTML emails to Word document ? Have you ever tried to do it manually ? Here, in this blog, we have come up with an efficient way to batch convert HTML to DOC, DOCX file format using the best step by step guidance.
Similar Blog Posts
Free Download Tool to Convert HTML to DOC in 7 Easy Steps
The trial version of the HTML Converter software will allow users to export the first 25 items of each HTML folder to the Word Document. If you want to migrate unlimited HTML emails to DOC file, then you need to have the activated version of this utility. It is one of your own type of advanced migration application from HTML to Word DOC file and your work is very easy. Follow these below simple steps to understand it's working.
Step 1: Run HTML to DOC Converter software into your PC.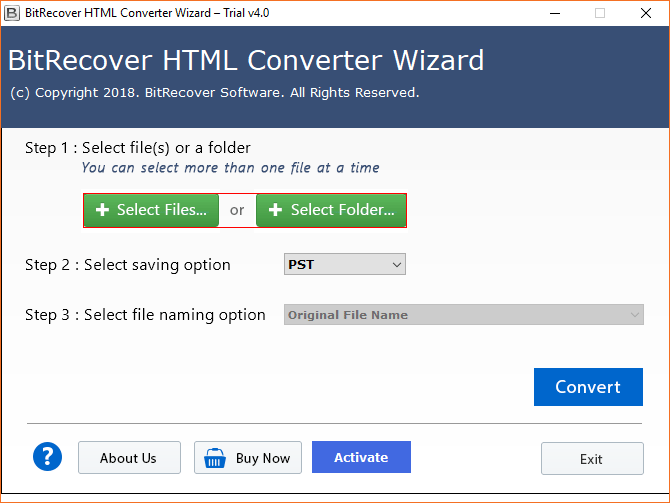 Step 2: Load HTML files which you want to convert HTML to word document, Select Files or Select Folders option to batch convert HTML to DOC file.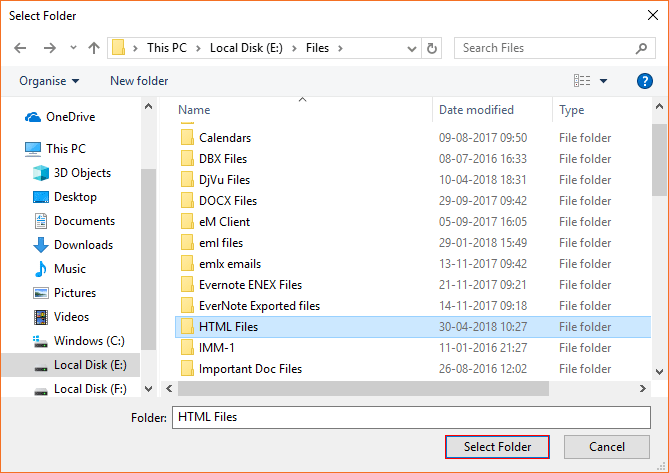 Step 3: This application offers several saving options, choose DOC as saving format because Word DOC files can be opened easily with Microsoft Word.

Step 4: Batch HTML to DOC converter provides Multiple File Naming option, so you can select any of one.

Step 5: Now, choose the Destination Path to export HTML to DOC file format.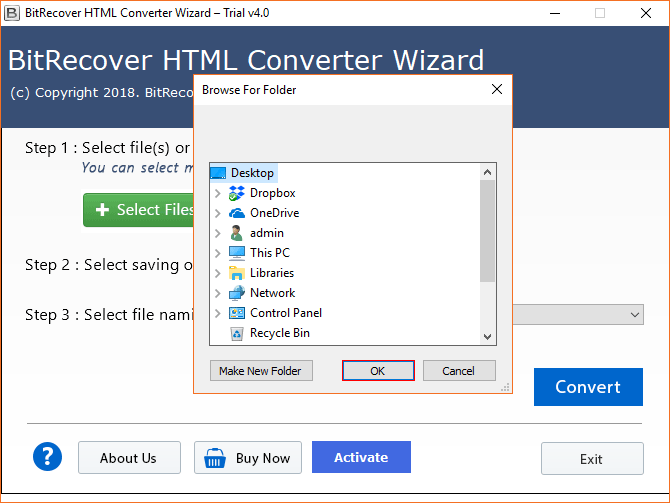 Step 6: The HTML file to DOC conversion is running now, it will successfully complete in a few seconds.

Step 7: After pressing the OK button, the application to convert HTML to DOC will automatically open the destination path so that users can easily get the Resultant DOC Files.
From the above section, we can easily conclude that it is one of the best toolkits available in today's time to batch convert HTML to DOC data files. The application is easy to use, even a non-technical person can easily handle the tool. The best thing is that the utility offers various savings options. The user can select the desired savings option according to their convenience.
Major Features of HTML to DOC Converter
BitRecover HTML to Word Document Converter offers double options for browsing HTML files in the software interface, such as Select files or Select folders.
After selecting a folder with several HTML files, the tool shows all the files in the application panel from here users can choose only specific HTML files for the conversion.
BitRecover HTML to DOCX Converter gives you the freedom to choose the destination location path to store the resulting MS Word documents items.
The tool has a separate option for saving converted messages in the same source folder with one click.
The HTML to Word Converter software comes with numerous file name options so that users can easily manage their resulting DOC data files professionally.
This application to convert HTML to DOC displays a live conversion status report during conversion and, once completed, automatically creates a log report as well.
It is a software based on the Windows operating system that can be installed on all machines based on the latest Windows operating system and previous 32 bits and 64 bits.
HTML to DOC Converter lets you convert HTML files to Word in batches and keeps the email attachments in a separate folder.
Benefits of DOC File
A DOC file is also called as a word processing document file generated by the MS Word program, as well as some other word processing programs i.e., OpenOffice, Apple Pages, etc. It can contain text, table, table, WordArt, signature line, images, hyperlinks, date and time, symbols, objects, header, footer, forms, much more. A DOC file is very important for students, teachers, engineers, doctors, IT companies, to complete their daily needs, such as curriculum, letters, notes, invitations, etc.
No Internet connectivity is needed to open DOC files, users can double-click to read MS Word documents.
DOC files can be easily opened with several computer programs including MS Word, LibreOffice, Microsoft Wordpad, Kingsoft Writer, Apple Pages, Apache OpenOffice, or many more.
Different types of OS support DOC files, like Windows. Mac, Linux, iOS, Android, etc.
Users can effortlessly send or receive resulting DOC files as email attachments and it is very safe and secure from viruses.
Clients Reviews
"I wanted to convert HTML to DOC file format to access them in MS Word Document. But I could not find a safe way to export emails from HTML file to Word. Then, one of my friends suggested the BitRecover HTML to DOC Converter tool. This software is like a magic, I was able to convert all my emails from HTML folder to Word with attachments. I am not a technocrat, but the easy-to-use interface of this tool allowed me to work with it without any issue. Thanks, the BitRecover team for developing a tool so rich in features."
"Recently, my client asked me to convert some HTML emails in Word DOC format. At first, it was a challenging task for me, since I did not know how to implement the task. Then I searched the Internet and learned about BitRecover HTML to Word Converter. With this amazing software, I was able to export HTML to DOC format along with the attachments. In addition, the software is associated with many beneficial features."
It's the Conclusion Time
In this write-up, we have explained the complete and detailed approach to convert selective or multiple HTML files to DOC format in a trouble-free manner. The user can evaluate the free HTML to DOC converter Tool to test the work efficiency of the toolkit that is capable of exporting 25 emails. After the complete satisfaction with the DEMO version, the user can buy the full version to save or convert HTML to DOC mailbox. In case you need more help, contact our specialized technical team.