How to Download Old Emails from Outlook 2019, 2016, 2013 ?
Outlook is becoming a highly acceptable medium of professional email communication. You may have tons of old emails messages in your Outlook account that you wish to dump but few of them are very crucial to you. Then, what is the most effective idea to save all old Outlook emails to computer folders. Precisely, the answer is you can download old emails from Outlook.
Then, having a personal copy of all old emails of your Outlook account can definitely come in handy whenever you are in need – perhaps for your next project.
The steps involving exporting the specific emails from MS Outlook is full of complications and lengthy too. Hence, in this write-up, we will walk through a reliable and effective method about downloading old emails from Outlook to computer. The BitRecover Outlook PST Converter is one such utility which gives you preference for choosing specific emails your Outlook account and later convert those data in a desirable file format.
How to Download Old Emails from Outlook ?
Follow the steps for downloading old Outlook emails:
Download and launch Outlook conversion utility.
Choose a file/ folder containing Outlook emails.
Enable particular old email folder for conversion.
Select a desired saving format.
Enter destination path and start to download old emails from Outlook.
Download Multiple Old Email Folders from Outlook at Once – Complete Solution
This migration tool offers you option to download and save multiple folders containing your old emails to a desired platform. Just follow these guidelines:-
Firstly, download the suggested software and install it properly on your Windows machine.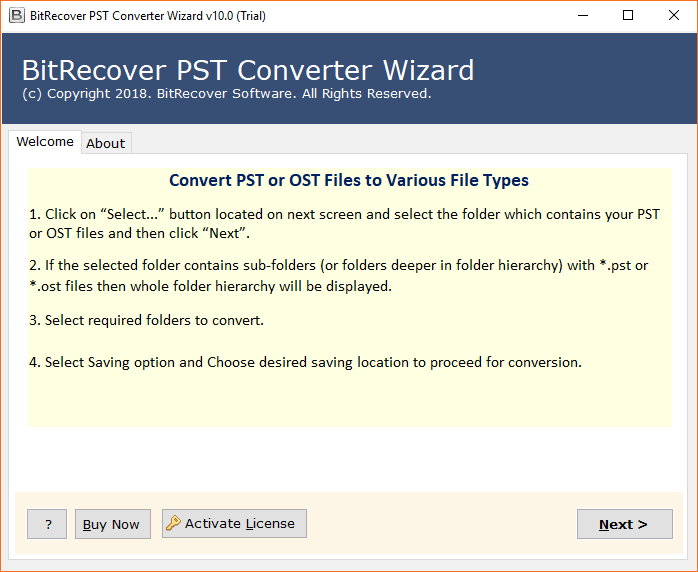 Now, choose single or multiple emails from the Outlook application. You can do this in either of these two ways: Select files or Select folder option.
Thereafter, go to the preview panel of the GUI and select all those email folders that you want to choose for conversion. You can select any number of folders such as inbox, personal folders, sent items, etc. This ends the first phase to download old emails from outlook folders.
Now, go to the saving options list and pick a desired saving option.
Afterward, select a desired file naming options from the list of options available in the software.
Now, enter a destination path for saving the resultant converted Outlook data.
Lastly, press on the convert tab to start to download old emails from Outlook.
After the conversion, the software will open the resultant folder containing the emails.
What Benefits does the Software Holds?
This multipurpose utility is integrated with lots of beneficial features. Have a look at them one by one:-
1. The software possess a batch conversion feature using which one can download multiple old emails from Outlook account in a single processing.
2. It offers customizable file saving options which you can opt according to your requirement.
3. The tool assures to preserve the integrity of data and internal folder hierarchy of Outlook folders throughout you download old emails from Outlook.
4. It keeps intact the email components such as sender and receiver details, attachments, active links, subject, formatting, etc.
5. This conversion utility supports all Outlook versions for download bulk of old emails from Outlook. It is compatible with Outlook 2019, 2016, 2013, 2010, etc.
6. It offers many file naming conventions for managing the resultant data in a better way. Now, you can download old emails from Outlook and arrange the resultant files as per choice.
7. This software runs smoothly on all Windows OS versions like Windows 10, Windows 8.1, Windows 8, Windows 7, Windows XP, Windows Vista, Windows Server 2019, Windows Server 2016, Windows Server 2012, etc.
Some User Queries and Experts Replies
✔️ Can I download old emails from Outlook along with multiple attachments too?
Yes, the software gives facility to download old Outlook emails with attachments.
✔️ Do I need to have Outlook installed on my computer to save old emails from Outlook to computer?
No, it is an independent software. You don't require to have Outlook for downloading emails from Outlook.
✔️ Is there any option in this software which can auto locate the profile data of Outlook for conversion?
Yes, the tool gives manual as well as automatic option for importing Outlook files or folders to the software panel. Using the automatic option you can convert configured Outlook mailbox data easily.
Client Reviews
I was working on a business project in which all my emails were in my Outlook account. The emails were more than 1000 with multiple attachments too. Now, due to some reason I decided to switch my workplace. But those old emails in my previous Outlook account were very crucial for me. So, I was looking for an application that can download old emails from Outlook to my new computer. Thankfully, I got this software which helped me to solve this problem. Thanks! -Robert, USA
I would like to owe a thanks to BitRecover team for launching such a useful application. I have huge amount of old emails in my Outlook account which I needed to print in PDF format for some documentation purpose. Luckily, got this software and thereafter, I downloaded all old emails from Outlook easily. -Anthony, California
Summing Up Together
In this blog post, we have explained how to download old emails from Outlook to computer. The recommended software is user-friendly so it is easily accessible for any technical or novice user. If you want to test the tool first, download the demo version of the software which allows to convert first 25 items from each Outlook folder to the selected format. Later, switch to the licensed version of unlimited conversion.