How to Decrypt PDF Files in Bulk ?
Are you looking for a way to decrypt PDF files? This blog will show you the best possible way to decrypt protected PDF file. This process can be smoothly done by using automated software. By using PDF Decrypt Software users will be able to get over this situation. Read whole blog carefully and follow the procedure.
Many people share PDF files with strong encryption to prevent documents from unauthorized access. Such as printing, copying, sharing extract information about PDF file content. However, it is good to encrypt the PDF file. It maintains confidentiality and integrity to the content. But an encrypted PDF file is only accessible by the authorized one. Many times, some situation arises to access the encrypted PDF file. Then they search for the solution to decrypt PDF file. There are multiple methods to decrypt PDF files. But users mostly get confused in these methods as user is not able to find the right solution for this process. Here we will tell you the most effective & efficient solution for completing this process.
Objectives of using an automated solution for decrypt encrypted PDF file
Support all Adobe Acrobat versions to decrypt PDF file
Decrypt restricted PDF files for Editing, Copying, and Printing
Remove PDF restrictions from known user-level password security
Decrypt PDF files protected with user passwords
Decrypt locked PDF file from owner level password protection
There is no requirement of installing Adobe Acrobat to decrypt PDF file restrictions
Batch decrypt PDF files restriction in a single round of processing
How to decrypt multiple PDF files – step by step procedure
User has to follow these simple steps through which user will be able to decrypt PDF file easily:
1 – First, download and install PDF Unlocker Software on your system and select the Import option.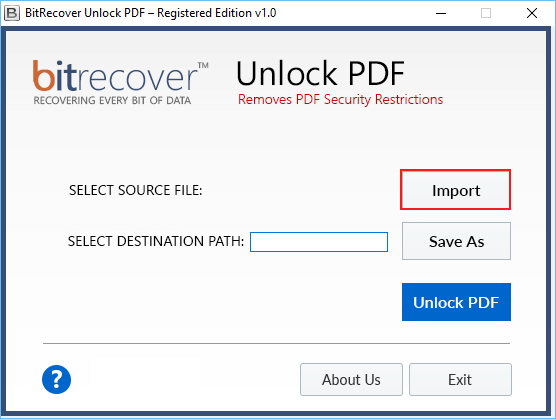 2 – Now, users have to select restricted PDF files from their machine.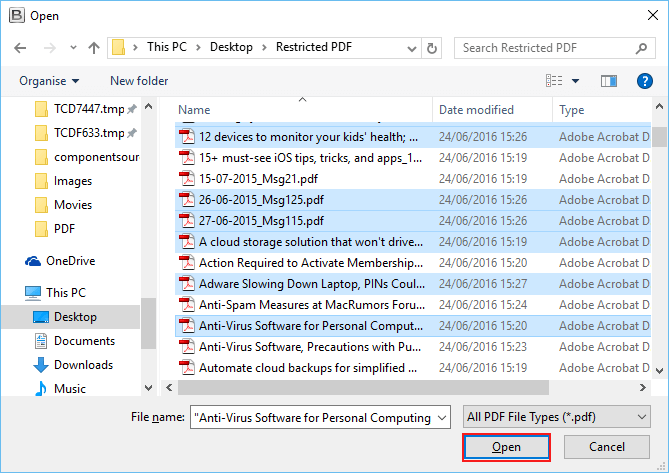 3 – The tool is showing number of selected PDF files, now click on Save As button to select destination path.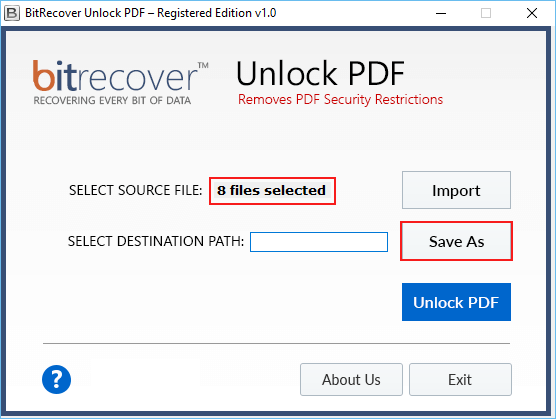 4 – Now, select the desired location to save resultant data, the tool also allows to create New Folder from software panel. After selecting destination path click on Ok to continue.
5 – Thereafter, showing destination path, press Decrypt PDF button to complete the process.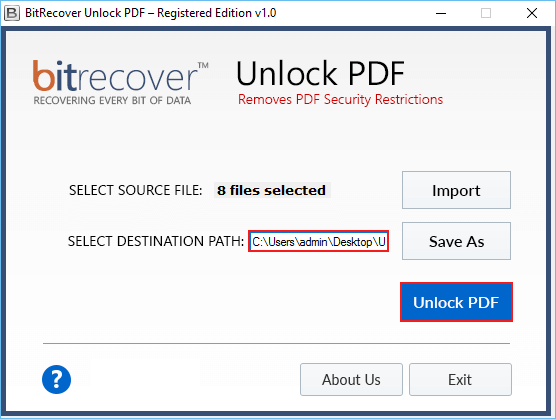 6 – If any PDF file is protected with a user-level password then software will ask about the password. So, if user knows the password then type it and press Ok. If user is not aware of the password then click on Skip to continue.

7 – After that, software will decrypt security restrictions from PDF files, user has to wait till the process has been completed.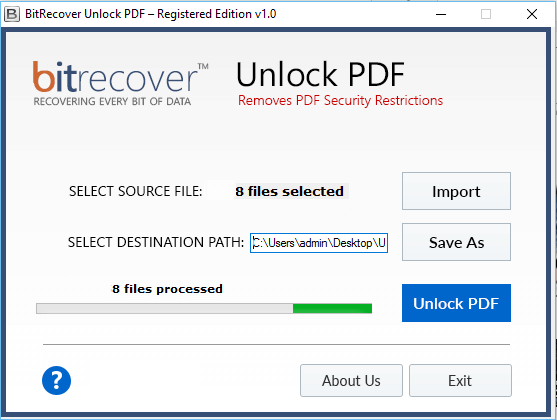 8 – Adobe PDF files decrypted successfully. Now, press OK to confirm.

9 – Finally, go to the destination path to check the resultant data.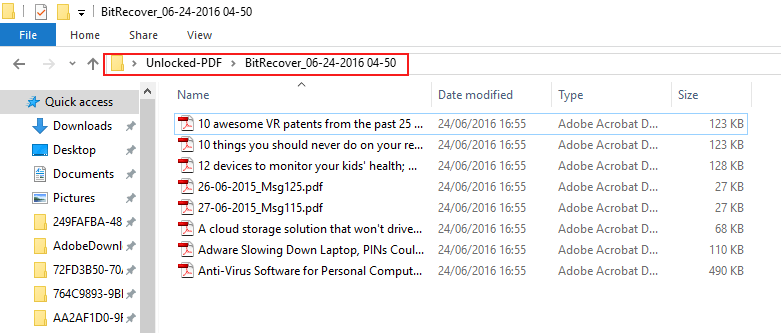 PDF Decrypt Software – Major features
batch decrypt pdf files
If user's system is containing multiple files having common PDF file restrictions or with some unique restrictions. Then PDF password decryption software will decrypt the protection from all of them in one go.
Swift removal of PDF document restrictions
Decrypting Adobe PDF restrictions using PDF decrypt software is very quick. In few clicks, it decrypts restricted PDF files. The user will get complete access of documents without losing any of his crucial data.
Secure handling of user's database
BitRecover PDF decrypter does not alter the content, structure, and properties of the document. So, there is no chance of data loss at the time of decryption of PDF restrictions. Tool decrypt the PDF files without even changing the original format of the document. Therefore, users need not worry about the originality of their PDF files.
Conveniently lock a decrypted PDF file
This PDF password decryption software is to remove owner password from documents. Also, if there is any user-level password applied on file then tool can decrypt it by providing a respective password when prompted.
Easy setup of PDF password decryption software
PDF decrypter is very easy to install. It can be quickly installed on any Windows computer. As it owns a user-friendly interface, one can use it without any expertise knowledge. It is a professional tool but still can be easily used by both technical and non-technical users.
Compatibility with Adobe Acrobat variants
Using this software, users can remove PDF password protection from documents created by all of Adobe Acrobat versions or any other PDF creator.
Save resultant PDF files in new folder
The tool allows to save decrypt Portable Document Format file at desired location. Instead, user can also create a separate folder from the software panel. After that user can save the PDF file into it for further accessibility.
Ending lines
Here we have discussed about how to decrypt Adobe PDF files. By using an automated solution users can easily complete this process. It is the simplest and reliable solution for doing this. If user still has some doubt, then he can use the trial version of the tool. To decrypt the local restrictions from small files, user can make use of the trial version of PDF password decryption software. However, for use with large documents, users need to buy the complete license version of the software. So, follow above-mentioned steps and get rid of all the issues regarding to this issue.