Fastweb Mail Backup Tool – Expert Solution to Download Fastweb Mail Emails to Computer
Introduction: – If you are wondering how to take Fastweb Mail backup to computer, you will find this guide to be of great help. Here we will introduce a reliable and powerful solution to export Fastweb Mail emails with attachments. We will also list all the steps required to backup FastMail emails to a PC. So, let's get started.
Table of Content
1. Introduction of Fastweb Mail
2. Reasons to take Fastweb Mail Backup
3. A quality solution to Export Fastweb Mail emails.
4. Steps to download Fastweb emails to a computer.
5. How to migrate Fastweb Mail to Outlook?
6. How can you migrate Fastweb emails to Gmail?
7. List of 20+ saving options for Mail Fastweb backup.
8. Top 7 Advantages of Fastweb Mail Backup Tool.
Fastweb Mail – Free Italian Webmail Service 
It is common and free email service in Italy that offered many user accounts. Some of its settings are very limited because it only provides IMAP access outside the web interface. Moreover, the storage space of 10 MB only and only 80 MB of transmission per month. These are not sufficient for the everyday communication process.
Why Take Fastweb Mail Backup on Local Computer ? – Users Queries
Query1:- Hello, I am Alessandro. I want to take a complete backup of my Fastweb mail as I want to close my user account on it permanently. Can anyone tell me a secure method for Fastweb Mail backup without any loss? Many thanks for considering my request.
Query2:- Voglio trasferire le mie email Fastweb Mail nel mio account Gmail personale. Qual è il meglio che posso fare?
Excellent Solution for Fastweb Mail Backup With all Information
BitRecover Email Backup Wizard is a feature-packed solution to export all emails from Fastweb Mail account to a Computer. It moves Fastweb Mail mailbox along with attachments. The process to do is simple and direct. Also, you do not need any specific skills for the task. The software interface is simple and user-friendly to take Fastweb Mail backup efficiently. In the section below, we will highlight all the steps to export Fastweb Mail on a PC. So, keep reading.
Learn from Expert and Free use Solution
Before explaining the detailed process, we want you to check the DEMO version of the software. It is available free of cost. Click on the download button below and run trial edition. It helps you take backup first 25 emails from Fastweb Mail account locally with attachments. For unlimited process, buy the license key of the software.
How to Download Fastweb Mail Emails to Computer with Attachments ? Steps with Screenshots
Follow the below mention instructions to export emails from Fastweb Mail to a PC.
Firstly, launch the Fastweb Mail backup software on your Windows computer/laptop.
Now, scroll the email source list and select Fastweb Mail. Then, fill the email address and password of the account and click on Login.
The utility will extract all the files and folders from Fastweb Mail account and list them in the software window. Mark the required folder.
As shown in the screenshot, you have multiple file type options to save Fastweb Mail emails. So, choose as per requirement.
Here, fill a specific location in the destination path to see the complete backup from your Fastweb Mail account. Also, specify account credentials if chosen an email service for the conversion.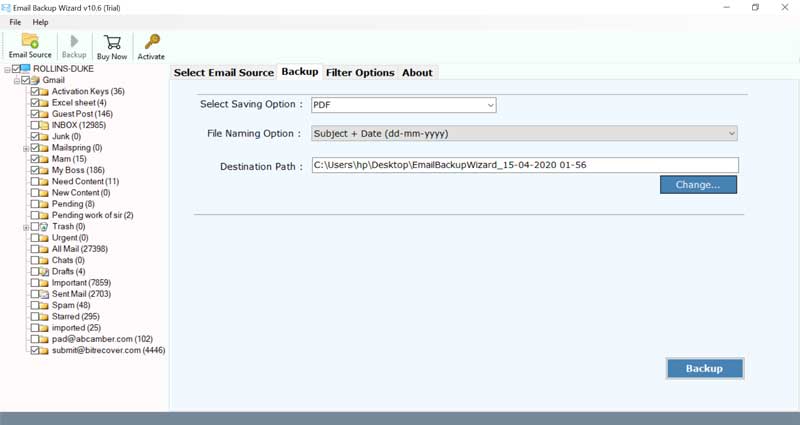 Now, click on the Backup button and start the task.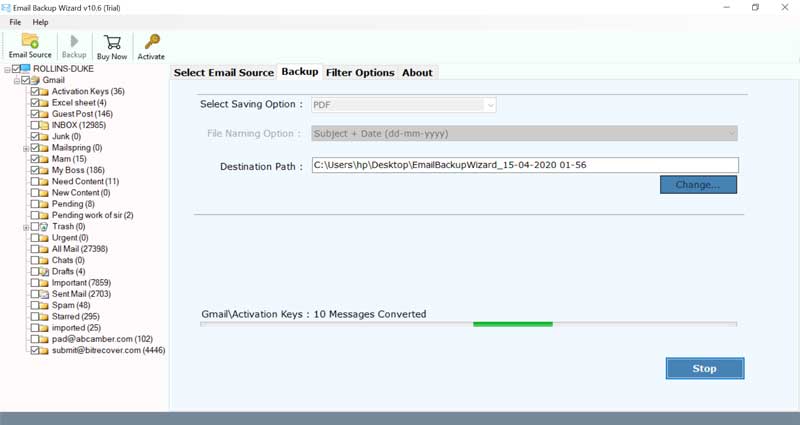 Remember me:- Once you hit the Backup button, the process gets started. After that wait till you get a complete conversion report. Click on Ok and get a logtxt contains all information about the task. Finally, open the specified location and get a folder named as "Fastweb Mail." It's all done.
Quick Process to Migrate Fastweb Mail to Outlook PST Files
Start the mentioned tool.
Select Fastweb Mail as an email source and enter login details.
Check a folder of your choice for the backup process.
Choose PST as the required file format and fill the location.
Hit the Backup button.
Note:- You can follow this process to migrate Fastweb Mail emails into Outlook 2019, 2016, 2013, etc.
Learn Fastweb Mail to Gmail Migration Process in 2 Mins
Launch the Email Backup Wizard utility.
Pick Fastweb Mail as email source and fill details.
Mark a folder of choice for the backup process.
Select Gmail as the saving option and enter credentials.
Tap on Backup button and wait for some time.
List of All the Saving Options Supported by the Professional Tool
Common File Formats: The tool successfully to convert Fastweb Mail emails to PST, PDF, EML, EMLX, MSG, MBOX, HTML, MHT, CSV, RTF, DOC, and other formats.
Popular Email Services: It can migrate Fastweb Mail data to cloud or desktop-based services directly. With this tool, one can easily migrate FastMail emails to Windows Live Mail, Zimbra, Thunderbird, Lotus Notes, Gmail, G Suite, Yahoo Mail, Outlook.com, Office 365 (Microsoft 365), Rediffmail, Exchange Server, Hosted Exchange Server, IMAP etc.
Top 7 Benefits of the Tool to Backup Fastweb Mail Data
Use batch mode:-The batch mode allows you to complete backup multiple Fastweb Mail account in seconds. Upload a CSV file containing the email address and password information.
Migrate selective Fastweb Mail Folders: – Using this application, you can easily migrate selected Fastweb Mail folders to your PC to save time and effort.
100% tested and easy to use:- This application is completely free of any risk. Moreover, using this software, you can safely export Fastweb emails without losing any information.
Use without any technical skills:-Because of its simple user interface, both technical and non-technical users can easily use this application without any technical support.
No file size limit: – There is no file size limit for fast mail backup software. Using this application, you can easily migrate unlimited amounts of data without losing information.
Maintain all email attributes:-The software keeps all email attributes of Fastweb Mail emails. You can easily get accurate migration without losing some information.
Windows compatibility:-This software is only available for all Windows versions, including Windows 10.
Concluding Words
Now, you have understood the complete process to backup Fastweb Mail easily and directly. Go and download the expert solution and get your task in 2-3 clicks. In case of any query, connect with our team of professionals.