How to Export Emails from Yahoo to CSV File Format ? – Tech Tips
In the world of online business, one of the main goal is to reach a massive number of clients. Since CSV files can be easily set up, business owners can operate these files in multiple ways. Do you have emails in your Yahoo account and wish to export Yahoo emails to CSV file format for extracting the email addresses? If yes, then read this blog to export emails from Yahoo to CSV format.
Today almost every business is entirely based on the database received by the emails. For example, leads from a lead provider, confirming the orders, purchasing orders from online shops, sales statistics, you name it… Do you need to copy all this vital data from your Yahoo email account to Google sheets (particularly Excel / CSV)?
Or, you need to share some very important Yahoo email database with your teams or partners? Then, you can just export Yahoo emails to CSV format (a Google spreadsheet) and thereafter, share it easily.
Having bulk of emails in Yahoo account and moving Yahoo data to CSV files becomes necessary due to reasons discussed just above.
Expert Solution: In order to extract Yahoo email addresses to CSV file, BitRecover Yahoo to CSV Converter is the right choice for you. It gives facility to export emails from Yahoo account to CSV format without losing any details. You can use the trial version of software which allows to convert first 25 items from each Yahoo folder to the supportable format. For migrating more emails without suffering file limitations, please purchase the license keys.

How to Export Yahoo Emails to CSV File Format ?
Below are the steps given to export emails from Yahoo to CSV:
Run Yahoo Email backup wizard to export emails in CSV format.
Fill your Yahoo mail credentials in the GUI and login.
Choose required Yahoo mail folders and pick CSV
Specify destination location and press on backup tab.
Start to export Yahoo emails to CSV format.
Detailed Instructions to Extract Email Addresses from Yahoo Mail to CSV
This step-wise guide to export emails from Yahoo to CSV format is as follows:
Get the software on your windows computer by downloading it from this green button given below. Now, install and launch it properly for extracting multiple email addresses from Yahoo mail to CSV format.
After launching the tool, enter the credentials of your Yahoo account – your email address and password. Enable the Use Advance Mode option to export multiple Yahoo email account data into CSV files. Also, check on the Proxy Server if want to connect the Yahoo email source using Proxy Server. Press on the Login button to start the processing.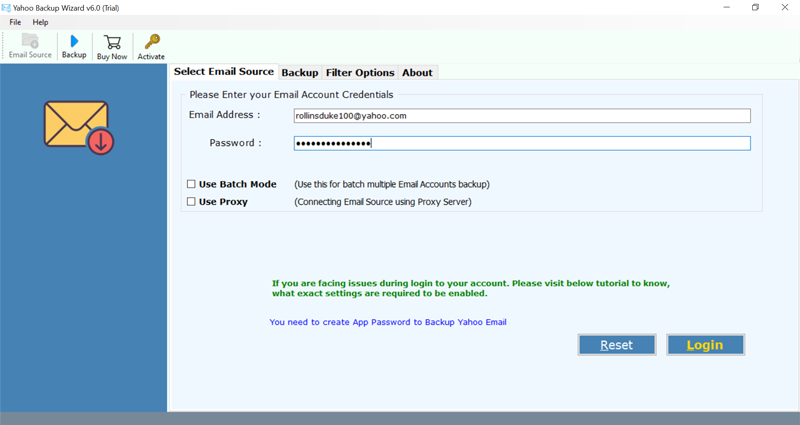 After you login, the tool will automatically upload all the email files and folders from your Yahoo account into the software panel. Check on those folders only whose data you want to extract from Yahoo mail to CSV files.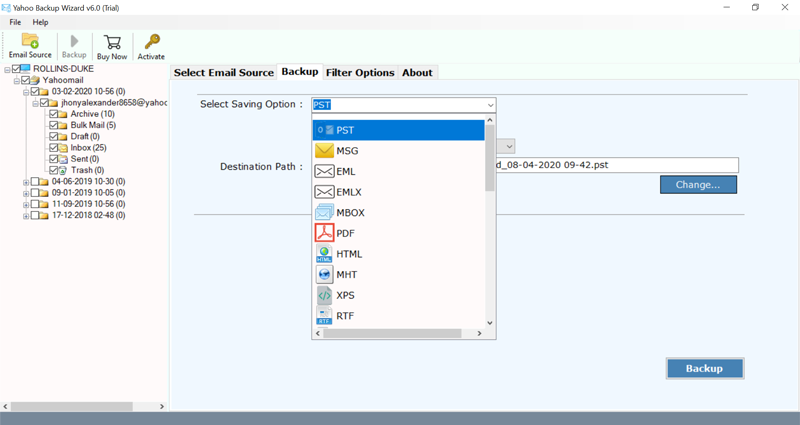 Now, navigate towards the saving options list and choose the CSV option and also mention the destination path for saving the resultant files at the chosen location. Click on the Backup tab to start to export Yahoo emails to CSV file format.
The process to convert Yahoo data to CSV format starts successfully. It will take some time.
What are the Benefits of Migrating Yahoo Emails to CSV File ?
Envision a scenario you have just begin a start-up that buys customer data from a website. The online network will likely to send the client's data to your CSV format database, so that is much easier to exchange the information. CSV files has a universal structure, which is one another factor that makes them easy to import, export and convert.
Comma Separated values file format or a CSV file is an easy format to save tabular data like spreadsheets or databases. It is quite direct to open CSV files using opensource tools like MS Excel, OpenOffice Calc, LibreOffice, et. Basically, using CSV files, it becomes easy for any user to save their emails for better accessibility.
Top Benefits of Using Yahoo to CSV Converter Tool
It is a 100% reliable and trustworthy application which you can rely to export Yahoo emails to CSV file format.
The users can extract email addresses of multiple Yahoo accounts in a CSV file with this software.
This tool has a simple and understandable interface. Any technical proficiency is not required to export emails from Yahoo to CSV format.
You can selectively migrate data from Yahoo mails as per date to date range, subject, time, email addresses, etc with the advance selective backup option.
The users can download this utility on any Windows OS – Window 10, Window 8.1, Window 8, Window 7, XP, Window Vista, Windows Server 2019, Windows Server 2016, Windows Server 2012, and below versions.
This tool keeps the internal hierarchy of folders maintained throughout you export bulk of Yahoo emails to CSV format.
It saves the email component during the entire processing such as sender and receiver details, subject, time, attachments, hyperlinks, etc.
It is a standalone platform which does not required the installation of any external application.
What Does the Users Tell About Our Product ?
Well, due to the heavy compilation of emails in my Yahoo account, I got very stressed out as I needed to send some of the specific emails under a CSV file to my client. Having searching for many solutions, I got to know about the BitRecover Yahoo to CSV migration tool. It was very helpful with this application to export Yahoo emails to CSV file format. It is an amazing product with genuine functionality.

-Bryony, Canada

Kudos to the BitRecover team who launched this software to export emails from Yahoo mail to CSV format. It is a completely perfect tool for maintaining all of my Yahoo accounts email database in a CSV format. This software enabled me to export multiple Yahoo email accounts to CSV file within a couple of mouse clicks. Thank you so much!

-Ardys, Scotland
Over To You
We are hoping that now you have got a clear idea about how to export Yahoo emails to CSV format. We have stated a complete guide for you to extract Yahoo emails addresses in a CSV format.
Now, download this application and use it for converting large Yahoo email database to CSV format for sharing it with multiple people or just for a simple backup.
Some Related blog posts
1. How to save Yahoo emails to USB flash drive ?
2. Transfer Yahoo emails to another Yahoo account
3. How to archive Yahoo emails to hard drive?
4. How to save multiple Yahoo emails as PDFfile format ?