How to Export AOL Email Folders to Gmail? Get Solution Now
In today's date of digitization, business clients prefer the use of the Gmail email client instead of any other mailing platform. It is so because Gmail not only provides mail services but, also offers different free benefits to its customers. A wide range of public is there who wish to switch from their existing email client to Google mail service. One such requirement is to export AOL email folders to Gmail!
There can be any sort of purpose due to which enterprises search for a solution to transfer AOL mail folders to Gmail. But, the lack of knowledge results in different challenges while executing this task. Therefore, today we are here to aware our page readers with an effective and efficient method to migrate email folders from AOL mail to Gmail. Come let's start!
A Smart Way to Export AOL Email Folders to Gmail
The solution involves the use of an intelligent utility named as AOL Backup Software. This application provides a swift method to transfer AOL mail folders to Gmail without any high technical requirements. Well, the following points are going to describe how you can export AOL email folders to Gmail tenant without facing any single complications :
Step-by-Step Approach to Transfer AOL Mail Folders to Gmail
1. Download AOL to Gmail migration tool from the 'Download' button given below and install it.
2. Launch the product and from the left-hand side of the screen, click on the AOL option.
3. Please enter the credentials of the AOL account in the required fields i.e., 'Email Address' and 'Password'.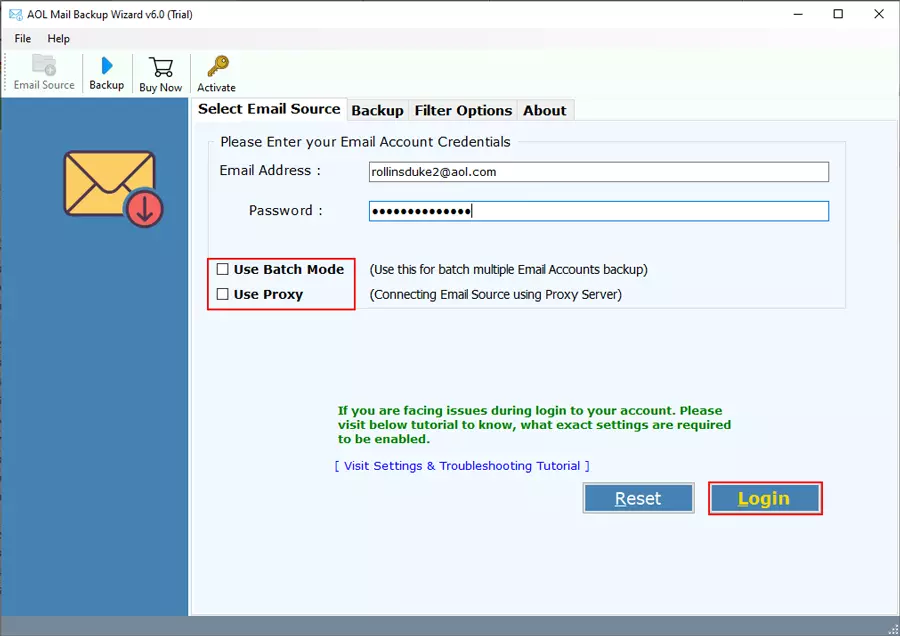 4. Now simply click on the Login button to proceed further with the method to export AOL email folders to Gmail. Here you can see how to use the batch mode option. – https://emailbackupwizard.com/help/batchmode-csv.html
5. After a while, all email folders of the source AOL tenant displays on the preview panel of the screen. Select those email folders, which you want to migrate in the target Gmail account.
6. Expand the menu of 'Select Saving Option' and choose 'Gmail' from the displayed list.
7. Enter the email id and password of the target Gmail account in the required fields. Ensure that the destination Gmail tenant has IMAP settings enabled and 'less secure apps access' feature is activated.
8. Hit on the Backup button to initiate the procedure of migration procedure and give only a few minutes to the software for completing its task.
9. Once the process gets completed, the software automatically flashes a dialog box. This gives us information that the entire conversion is successfully finished and now you can check your AOL email folders in the Gmail account.
It seems as if you are interested to use this solution but, still in some doubts!! Don't worry, the development team of this utility has provided a test version of this solution.
This product's edition is available absolutely for free with NO hidden charges within it. You can test all the functionalities of this software (along with other provided extra features) via this trial version.
Different Queries Can be Sorted Out by This Approach
There are several queries of AOL clients when they decide to export AOL email folders to Gmail. Some of the user-asked queries are listed below:-
 "I want to migrate email folders of 5 AOL accounts at a time to one of my professional Gmail tenant. I have the administrative credentials of the source tenant. But, the solutions that I tested until now do not support batch migration. Is your software helpful for me in such a case? If yes then, how? I want a proper guide for the same then only I'll decide whether it is good for me or not."
 "I am working as a technical expert in my organization. Recently, an employee asked me about a solution to transfer AOL mail folders to Gmail. I tried all manual methods for the same but, none of them were suitable for 50+ emails' migration at a time. So, can anyone recommend me an effective third-party solution to Export AOL Email Folders To Gmail that is available at a reasonable price ?"
 "Since the time I had been allotted the task to come with a solution to switch AOL email folders to Gmail, it has now become a nightmare for me. I used the Gmail import option, Gmail Add a POP3 mail option but, nothing is worth. Now I am seriously fed up! Please, someone, help me out in finding a suitable method to import AOL mail to Gmail."
All the above-listed queries can be easily resolved by our suggested AOL to Gmail migration tool. In fact, clients were pretty satisfied with our solution and also gave us positive feedback to share their experience.
Observational Verdict
Drawing the comparison between AOL and Gmail, business users always pick Gmail as one of the best email services. Let it be in terms of functionality, better accessibility, or anything else, end-users always prefer Google services. It could be a common need of any individual to export AOL email folders to Gmail can be a. So, you can implement the solution that we recommended and experience a trouble-free method to transfer AOL mail folders to Gmail.