#1 EPS to JPG Converter Software by BitRecover – Get It Now!
Introduction: Take advantage of the most reliable, trustworthy, and secure EPS to JPG converter software available.
Are you looking to convert a large number of EPS files to JPG / JPEG image format? Searching for the ideal answer but haven't come across one yet.
If you replied, you won't have to look any further. You will find your solution right here.
Continue reading and you will be able to complete your work in a few steps.
Before to get to the answer, let's take a quick look at the two file formats themselves.
Overview of EPS & JPG
EPS: We all know it is possible to create vector images using the Encapsulated PostScript (EPS) file format, which contains both text and graphics-based instructions for creating the picture. An EPS file includes an enclosed image that depicts what the final image should be like. This allows viewers to see a low-resolution preview of the image even if they do not have the appropriate software to view it in its entirety in a full-screen mode. The most frequent application for EPS is the creation of large hardcopy graphics, often known as dry graphics.
JPG (Joint Photographic Experts Group) is a global file format that compresses photos and graphics using an algorithm. JPG's widespread use is because to the significant compression it provides. As a result of their tiny file size, JPG files are ideal for transmitting over the Internet and displaying on websites. You may use our compress JPEG tool to significantly reduce the size of your files by up to 80%!
Solution to Convert EPS to JPG Image Format
If you believe that manually converting EPS to JPG is doable, please do not spend your time. There are no accessible manual procedures for converting EPS files to JPEG picture format. Numerous conversion options are available online for this sort of conversion.
As is common, we strive to give consumers with the optimal solutions for their needs. As a result, we developed
BitRecover EPS Converter Wizard
. This solution satisfies the requirements of all users.
With this advance solution, one can easily convert multiple EPS files to JPG / JPEG image format at once. Additionally, you will save time on the conversion. You can obtain the entire outcome in a few simple steps.
Easy Steps to Export EPS Files to JPG Images
Follow the simple step by step process mentioned below.
Firstly, download EPS to JPG Converter Software on your Windows-based machine.
Run the application and please Select Files or Select Folders option to load EPS files.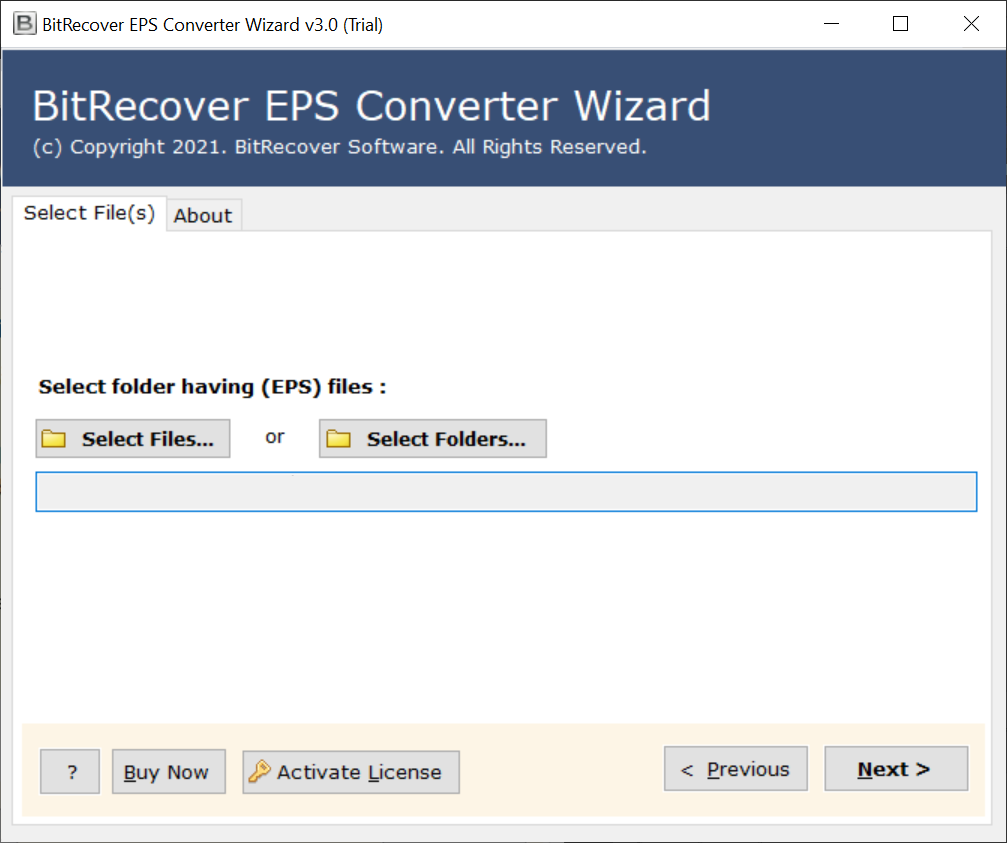 Once you've browsed your files, they'll be loaded into the left panel. Now, the solution will prompt you to select the folders to convert. Then, click on next button.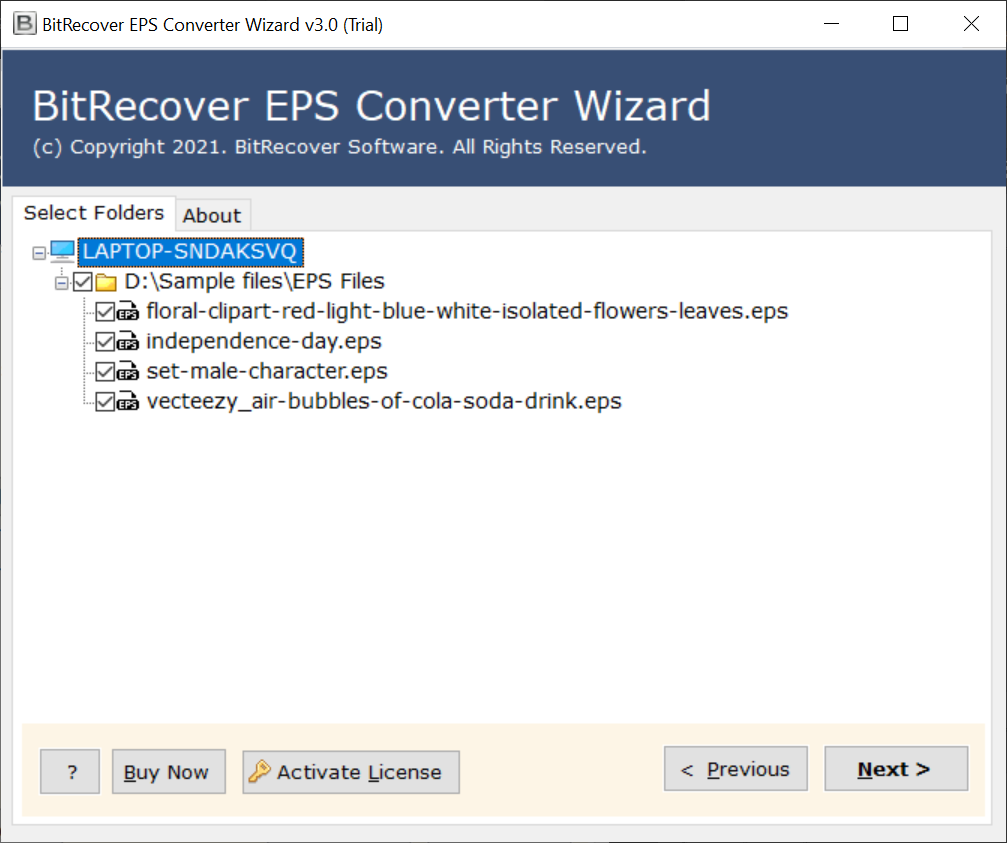 Now, from the list of file saving options, choose JPEG format.
The tool will allow you to select the location where you need to save data. After that, click on Convert button to begin the process of conversion.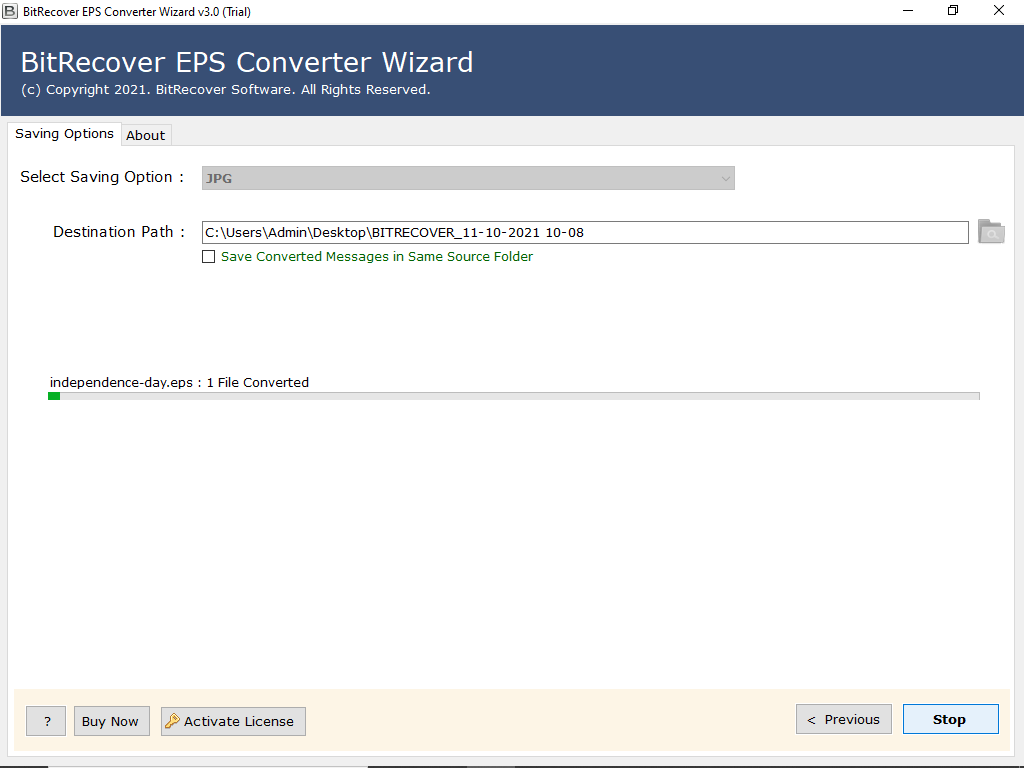 That is all. You can convert your EPS files to JPEG picture format by following the easy instructions above. Please wait a moment.
Check Out Some Amazing Features of EPS to JPG Converter
Safe and Secure: One of the finest features of this software is that it has been well tested. There is no need to be concerned when converting EPS files to JPEG image format. You will undoubtedly obtain an exact conversion without losing any data.
Simple User Interface: The graphical user interface of EPS to JPG Converter is quite easy. Thus, both technical and non-technical people will have no difficulty using this solution.
Convert Unlimited EPS to JPG: With this incredible software, one can quickly convert an unlimited number of EPS files to the JPG image format. This incredible approach is not constrained by file size restrictions.
Get Accurate Result: It is the most trustworthy software for converting EPS files to JPG images. The application retains all characteristics while converting EPS files to JPG picture format. With a few easy clicks, you will undoubtedly obtain an exact conversion.
All Windows Compatible: EPS to JPG Converter is compatible with all Windows editions. This software is compatible with all current and previous versions of Windows, including 10, 8.1, 8, and more.
Some Closing Words
In the preceding post, we discussed one of the most amazing solutions for converting EPS to JPG picture format. With the assistance of the provided approach, one can easily finish the conversion without losing any data.
You could contact us at any time with any concerns.
Thanks for reading..