How to Convert EPS File to BMP Image Format in Simple Steps ?
Would you like to open your EPS data as a digital image? Are you looking at the bitmap format for storing data rather than any other format? Well, then the BMP comes up with an option. This file format will definitely meet your needs. So, if you also think this suits your requirement, we can help you convert EPS file to BMP.
The BMP file provides you with high quality graphics and creates a large size image that can be easily opened in Microsoft Windows Photos. On the other hand, these files are only device-independent and do not require a graphics card to display them.
BMP are also best as they can have lossless compression, if your files are compressed and you want to compress them it will not degrade quality or mitigate any data. The bottom line from all of this is that BMP gives you better accessibility to data that you want to see in raster image format.
To take experience of all these advantages and better data management, we offer you a solution that allows you to easily convert EPS file to BMP. We therefore urge you to follow us and get the most valuable solution for your task.
Check out The Best EPS to BMP Converter for Your task
BitRecover EPS Converter Software, this software or we can say this is the solution that allows you to convert EPS file to BMP. The goal of this application is not only to help you get your job done, but also to make that job one of the easiest jobs ever.
One of the many reasons you find this job easier is the availability of many features in the tool. The functions will surely make your data conversion faster, more reliable, more convenient and easier for you. Besides the functions; the best quality of this tool is the process.
The process that you need to follow to convert EPS file to BMP is very simple. While you can track it yourself once you run the tool, we must provide all of the steps for your convenience. So check them out and get yourself familiarize with them.
Step-by-step Process to Convert EPS File to BMP Format
Download the EPS to BMP Converter to your Win Compatible device by clicking the link provided. Then install and start the software.
Once the EPS to BMP Converter launches, you need to click the Select Files or Select Folders option to upload all the required EPS files to the tool. After uploading, click Next.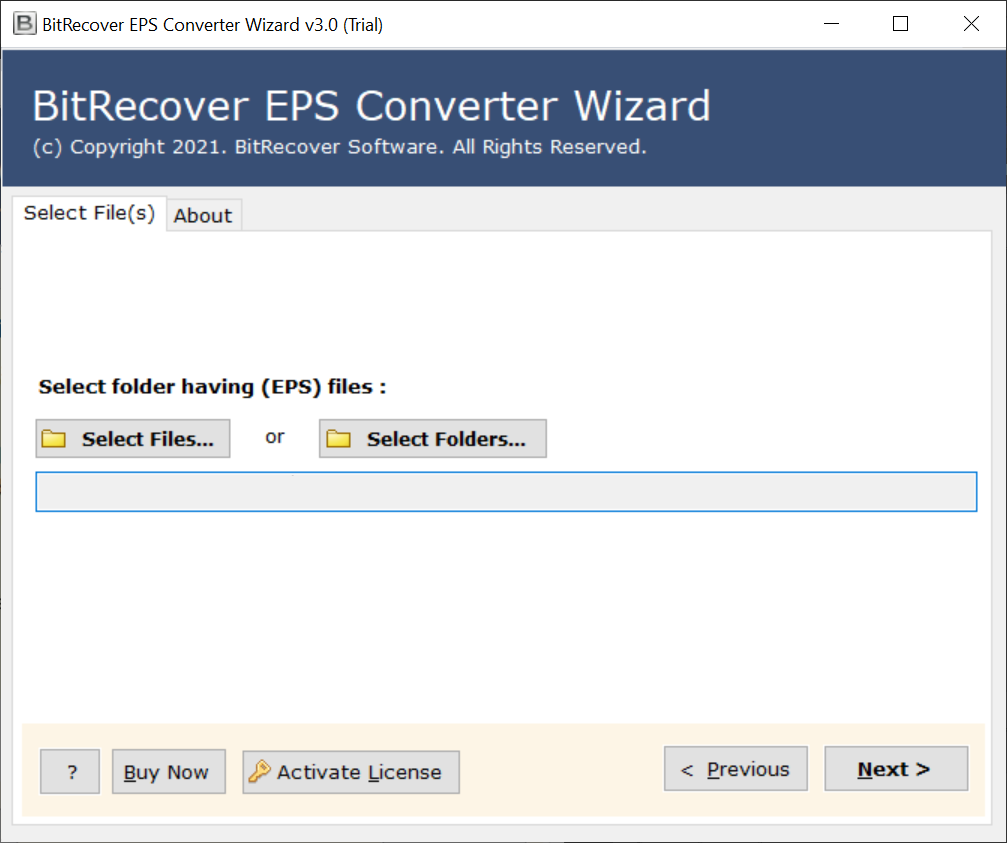 You can now see that all of the selected EPS files are not visible in the left pane of the tool's user interface. Now you need to check the boxes in front of the files shown to select them for conversion. Then click the Next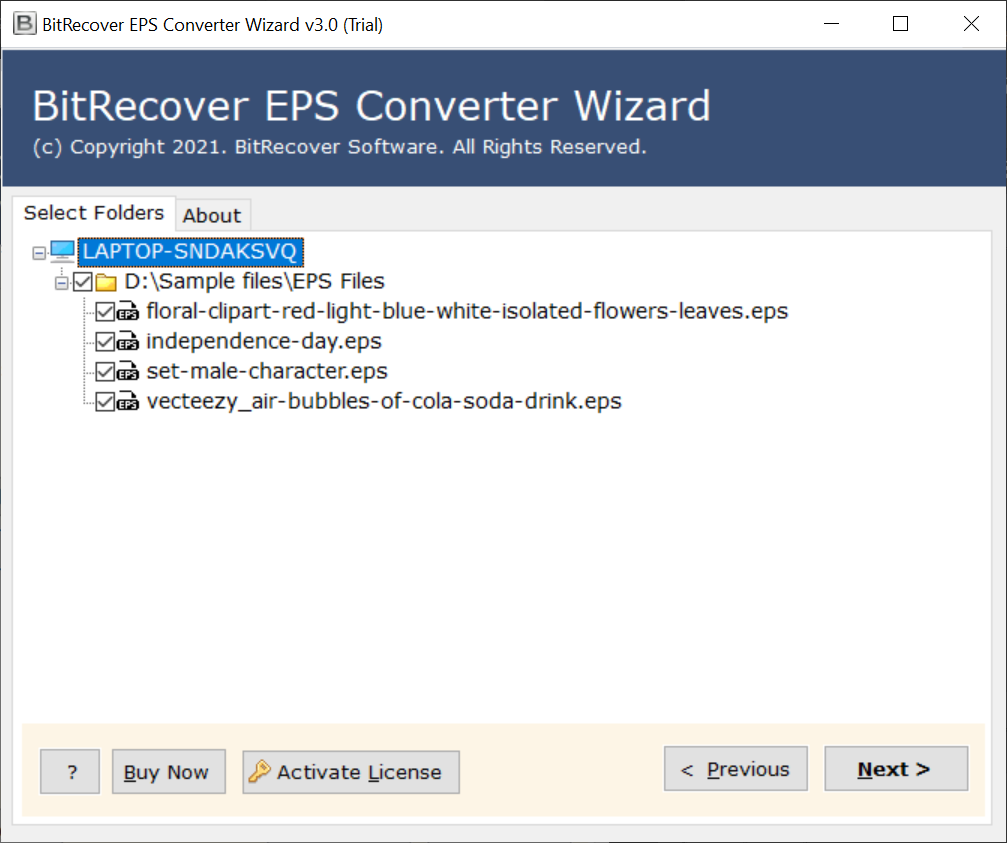 Proceed to browse the storage option, select BMP from the available options. Now browse the destination path for your resulting files and then finally hit the Convert.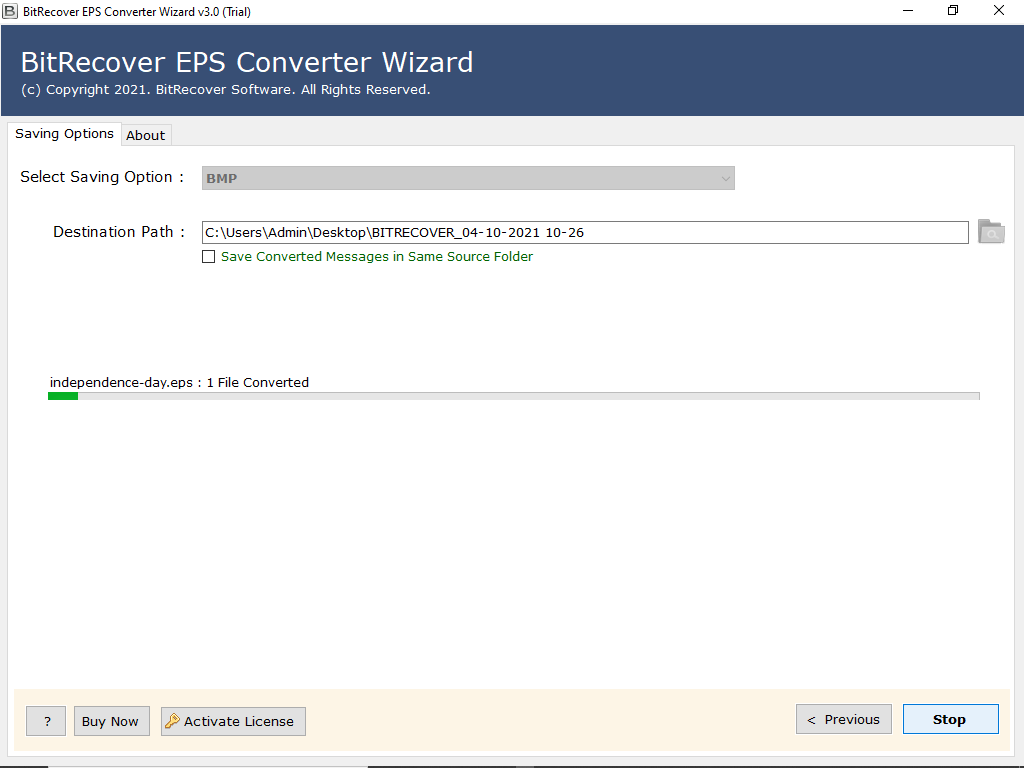 The process then starts as soon as you hit the convert button, the tool only takes a few minutes to convert data completely despite the large number of files, and you will be informed as soon as the process is complete.
In this way, this EPS to BMP converter makes this file conversion easier for you by offering you a few simple steps.
However, this process is not the only thing that makes your journey easier, as we already told you that the tool has many features that will make it more convenient for you to convert EPS file to BMP, and now it is time to learn more about it.
Find out What Makes This Tool Unique and Perfect for You
It gives you a simple interface so you don't have to struggle between completing your task.
Also, gives you two options based on file size to select files. "Select files", "Select folder".
This application can easily convert EPS file to BMP in bulk even in the shortest time period.
It is able to convert all BMP related properties like graphics and others data like attachment.
You can review all of your BMP files in the tool to see what kind of information they contain.
Also, you can apply different filters to your data export and import settings, based on your needs.
It retains all properties associated with EPS and no data is manipulated during conversion.
You can run this EPS to BMP converter on the device that supports any version of Windows.
It is completely stand-alone and does not require any further setup help to convert EPS file to BMP.
Note: We have to mention that these features are only there to give you an idea of the power of the tool. Hence, we have only offered you a few features, so keep in mind that there are many surprises waiting for you and to get them you will have to run the tool.
In Conclusion
If you are looking for the easiest way to convert EPS file to BMP as possible, you have to check out our recommended EPS to BMP converter in person. This software is entirely designed for your simplicity and convenience; thus it offers you a lot of advantages. It has several features to make your EPS file conversion faster and easier. So if you need the simplicity and power of the tool, you have to give it a try.