How to Download Emails from HCL Notes to Common file formats?
Looking for a one-stop approach to download email from Lotus Notes / IBM Notes / HCL Notes to several reusable / commonly used formats? If yes, fortunately, you have visited at correct page.
Increase in technical platforms has resulted in accessing of emails in online as well as offline mode. Considering the case of IBM Notes then, individuals can operate their information without any privacy issues. There are ample amount of reasons due to which big organizations use HCL Notes or Lotus Notes for their growth.
Read Also – Import NSF to Gmail
However, a small problem in IBM Notes exists i.e., limited storage space. It becomes challenging for an administrator to use Lotus Notes mail application if he or she suffers from a storage problem. The application goes in hang mode or result in an error occurrence whenever a person uses it. To prevent Lotus Notes from such threats, downloading emails becomes crucial.
Enterprises' C-level members download IBM Notes messages with attachments. They do this to access crucial emails on their smartphones so as to fulfill their business needs. So, we have rendered foolproof techniques to archive messages from HCL Notes to PDF, CSV, OLM, PST, EMLX, etc., which has been illustrated here.
Professionals Suggested Solution – Several IBM Notes specialists rely on NSF downloader application to archive emails with attachments in .pdf, .eml, .mbox, etc., file formats. They use this measure for achieving result without any platform dependency issues; and in just few clicks.
Download Email from Lotus Notes Email Application
The approach does not demand for a third-party tool. Only HCL Notes program with proper server connection is required to accomplish the project in a successful manner. Well, there are two stages to be implemented for the completion of this activity.
Important Note – The manual approach to download HCL Notes messages might result in data loss. To avoid this, we heavily suggest you to backup IBM Notes mailboxes on your system.
Stage 1: Download Emails in CSV File Format
Open Lotus Notes program on your PC and click on File >> Export.
This opens an Export wizard where you have to define the location at which CSV file should be saved.
In the same wizard, go to 'Save as type' field and choose Comma Separated Value option from the associated list.
Provide a name to resultant CSV file in File Name field and then, click on Export button.
Select anyone of the desired options in CSV export panel and then, hit on OK.
Complete Stage (1) procedure by clicking on Finish button.
Stage 2 : Import CSV File in MS Outlook Profile
To download emails from Lotus Notes manually, you have to open Outlook program.
Click on File tab, select Open & Export and then, choose Import/Export option.
This opens an Import and Export window where you have to select Import from another….. option. Hit Next to proceed further.
Now, select Comma Separated Values and click on Next.
Use the Browse button to add CSV file that you had created in Stage (1).
When you are done with browsing of .csv file, click on Replace duplicates… radio button.
Click on Next and accomplish the task by clicking on Finish button.
This technique downloads emails from Lotus Notes to PST file. If you want, you can save .pst emails to any other file format.
Major Drawbacks of Manual Method
The major limitation of this approach is that it does not download messages with attachments. When CSV file gets saved, it holds only plain text data of selected emails.
Email structure gets hampered severely because of the manual measure. It works only with plain HTML part of a message. Therefore, not reliable for professional purpose.
Experts and specialists do not use this method because information security is at risk. Technical server configurations might get hampered – resulting in default settings' changes of IBM Notes.
Use BitRecover Downloader for HCL Notes
The sensible and best idea is to avoid using manual measures & use automated IBM Notes backup software. It involves adopting of a program named as Lotus Notes downloader. Officials use it on a wide range because the application enables backing up of emails in PDF, PST, MSG, MBOX, and other reusable file formats.
HCL Notes messages with attachment(s) are being processed in this product. People don't have to roam around here and there because they can use the same application to migrate from IBM Notes to Outlook / Thunderbird or any other. The program has the ability to process large amount of folders and sub-folder simultaneously in a hassle-free way.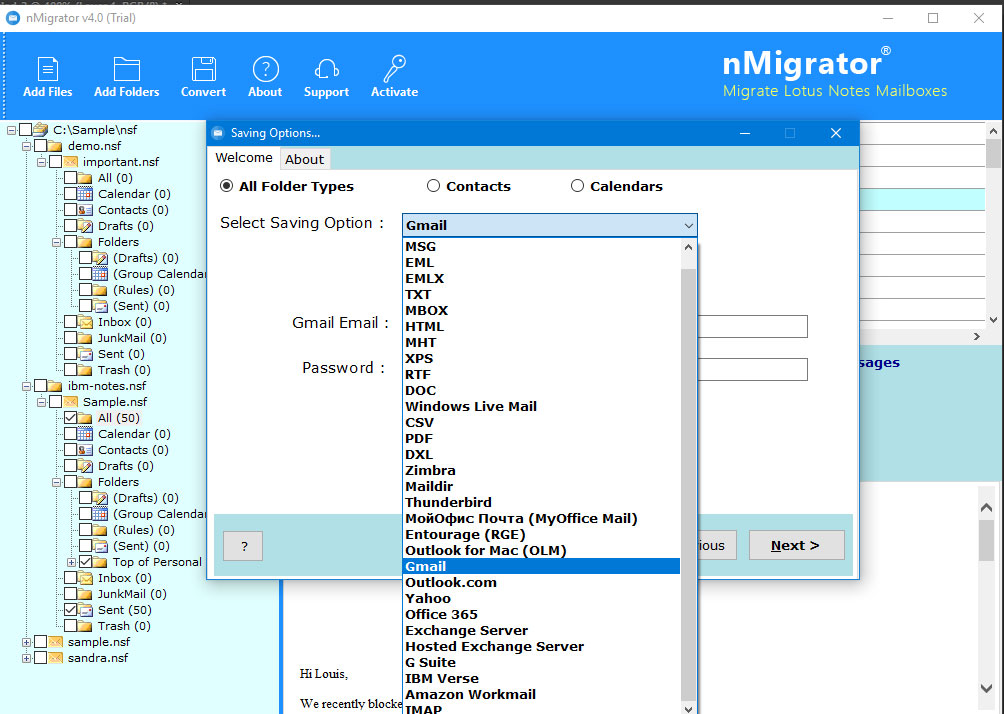 Conclusion
Due to the requirements like high maintenance cost, sudden disaster occurrence, reduce storage size, etc., you might need downloading emails from Lotus Notes. Today's write-up outlined two approaches to archive IBM Notes messages with attachment(s). If you want to download only the plain content of emails, manual approach is suitable for you. Simply open CSV file using Microsoft Excel and view HCL Notes email content in tabular format. Otherwise, the reliable method is to use IBM Notes downloader. It facilities a rapid and precise method to replicate NSF emails to commonly / reusable formats.