Batch Export Outlook Express DBX Files to PDF Format with Attachments – Easy Quick Solution
With every passing day, the demand to export DBX files into PDF format is rising. If you are also finding the quick and easy solution to convert DBX to PDF with attachments, then end your search now. It is so because you are on one of the trusting solutions page, and we provide you the best DBX to PDF Converter with free complete guidance.
Moreover, the present era is of graphical and legal users, where attachments hold importance, as they are much essential for preserving numerous industrial projects etc. In the following segment, we will discuss the need and way to move multiple DBX emails to PDF format.
Need to Convert DBX to PDF Format
However, here are described some of the recent queries by the user's issues. There are various situations are occurred which forces the user to export DBX to PDF format. So, it is compulsory to migrate complete DBX data to PDF format. Some of the major requirements for converting DBX files to PDF format are given below:
Portable Document Format (PDF) is widely used as legal documents.
Medical, Business and more reports are also presented into a PDF format.
It is a safe and secure format to easily create multiple copies of PDF files.
It keeps all data items with attachments into the PDF format by maintaining the data folder structure.
One of the main reasons to change DBX files in PDF files in Outlook Express DBX emails easily kept in a PDF format for a long time as their backup.
Trouble-Free Solution to Export DBX Files into PDF Format
For converting DBX emails into PDF format efficiently, it is recommended by the technical experts to use the BitRecover DBX to PDF Converter software for perfect conversion results. It is the most prominent choice of all users to completely export entire mailbox data of Outlook Express to PDF format in a few seconds or without any data loss.
Furthermore, it offers multiple advanced features that enable the user to convert DBX to PDF format quickly. This offers the best solution to users where users can easily migrate any size DBX files into PDF format along with their attachments. Also, this tool does not require any other application installation to move the DBX files in PDF Adobe format.
Steps to Convert DBX to PDF File Format
Now, choose one option from the Select Files or Select Folders to convert DBX to PDF.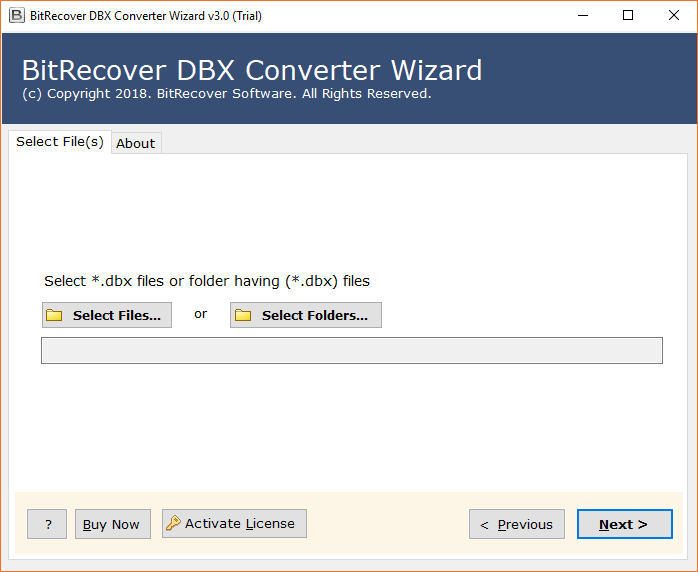 Select Outlook Express DBX files, after this it will show the file path.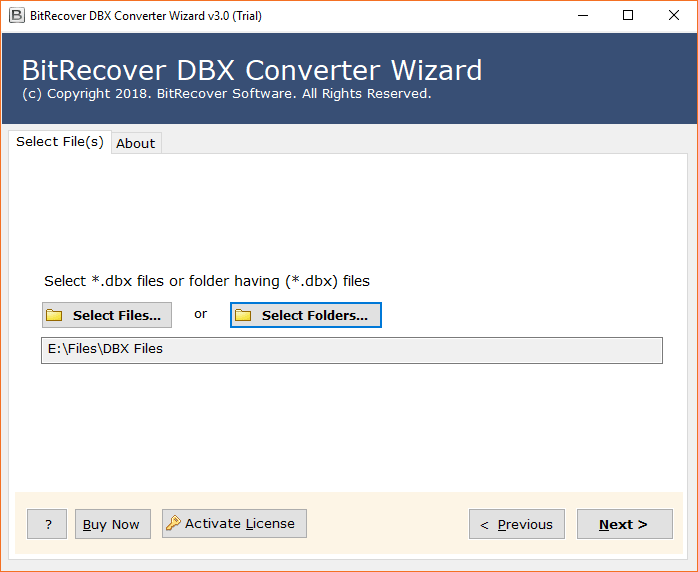 Check DBX files which you want to convert in PDF format and click on the Next button to export DBX to PDF files.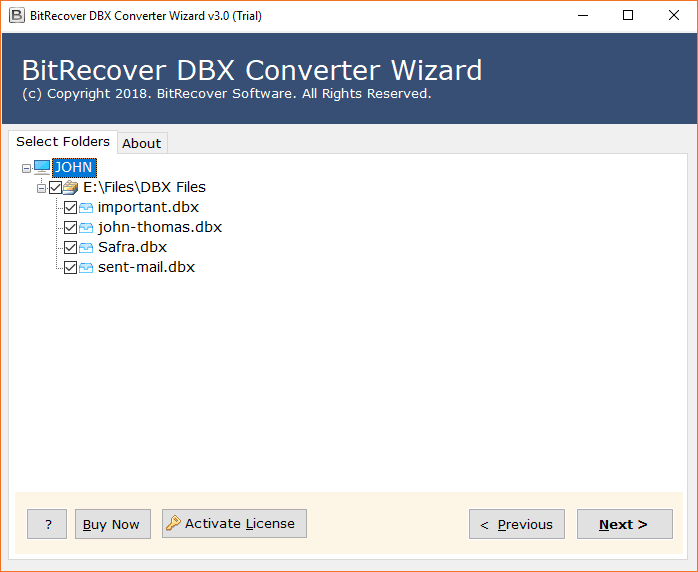 Choose PDF option from all saving options into DBX to PDF Converter software panel.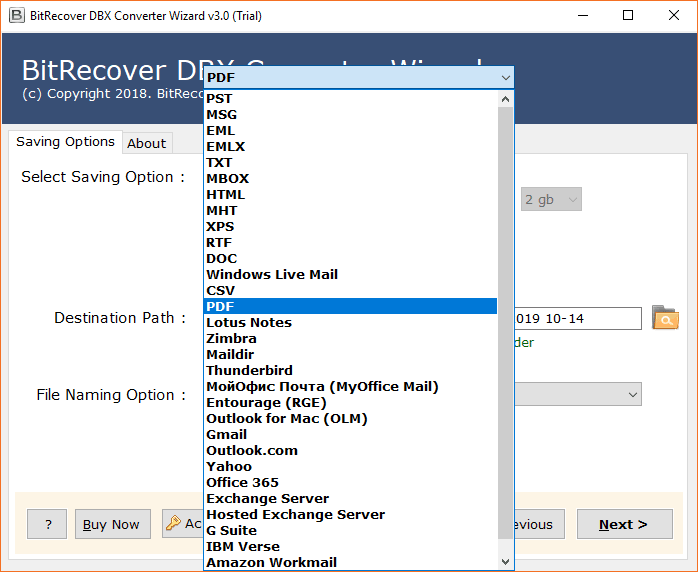 The user can also choose the File Naming Option according to their needs as provided by the application.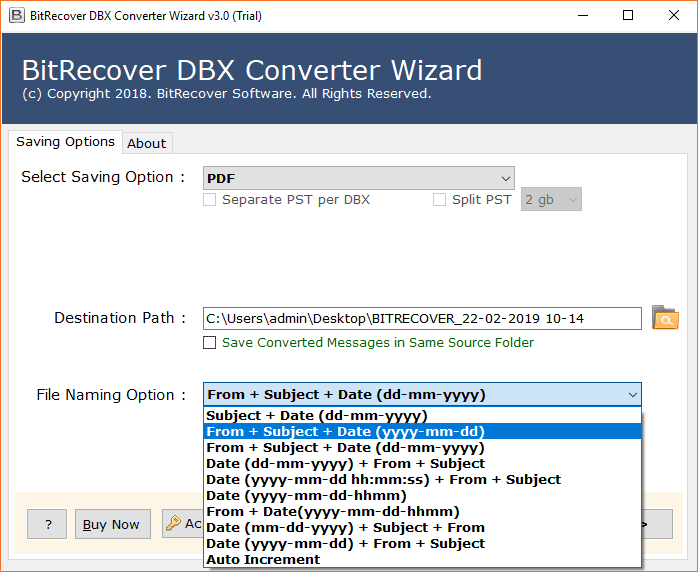 Select the Destination Location where you want to save your Converted DBX files. Hit on the Next button to convert DBX to PDF.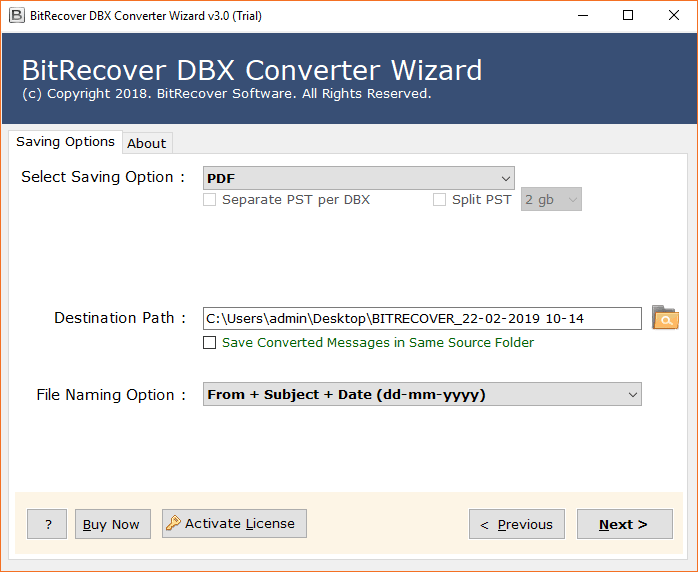 DBX files into PDF files conversion process is started now, it will take a few seconds to complete the migration.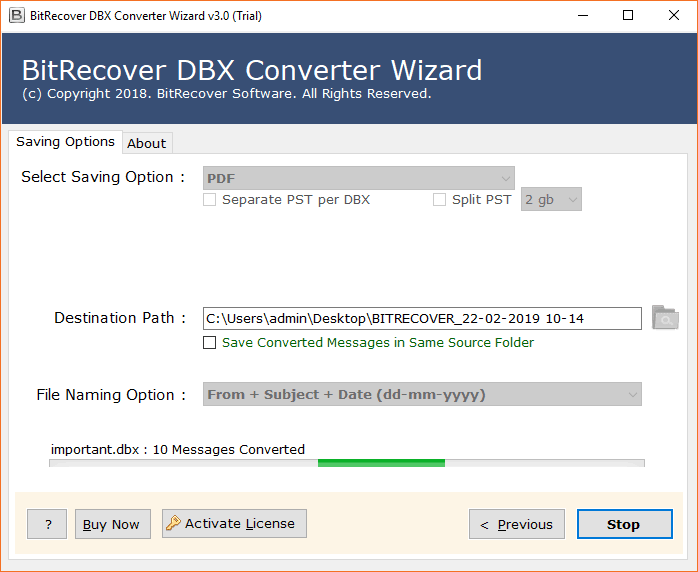 Outlook Express DBX Files converted successfully with the completion message.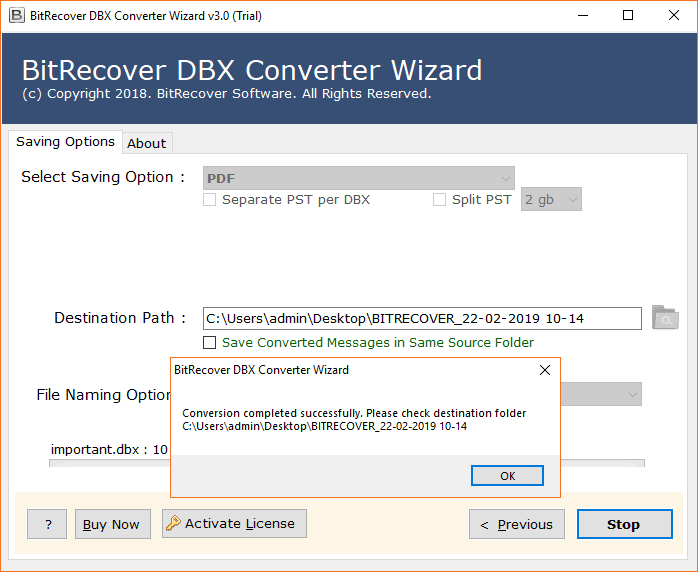 After completion of the process, the tool will automatically open the destination folder, where you find your resultant data.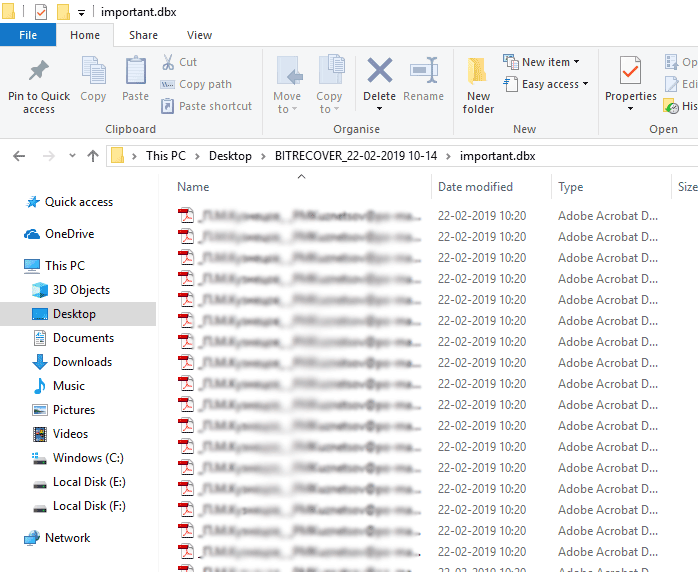 Major Advantages of DBX to PDF Converter Tool
Bulk Convert DBX Messages to PDF: It enables users to export countless Outlook Express DBX files to PDF format in a few clicks. It allows users to upload large size DBX files in PDF format without any error issue.
Export DBX Emails into PDF with Attachments: By using this application, the user can instantly move their DBX mailbox in PDF format with all attachment. It is capable to export all items such as emails, attributes, components, etc.
Provides User-Friendly Interface: With the help of this DBX to PDF Converter utility, the user can easily manage their multiple DBX files and convert them into PDF format. Because it offers easy to use graphical user interface which can simply handle by any novice users to perform the conversion.
Maintains Complete Data Structure: The software to convert DBX to PDF is capable to maintain the entire email properties of the DBX files such as cc, to, from, size, or much more. Thus, after the converting into PDF format it also maintains folder hierarchy.
Supports all Outlook Express Versions: The DBX to PDF Converter tool is compatible with all the latest and previous versions of Outlook Express DBX files. It is easily read by any version of Adobe Reader.
Frequently Asked Questions by Clients
Q: How to convert DBX file to PDF format?
A: Follow the below mention steps to easily export Outlook Express DBX file into PDF format in a couple of clicks.
• Free Download the Best DBX to PDF converter
• Now, load the files/folder having several DBX emails
• Select the PDF as saving option and Click on the convert
• Successfully converted all DBX files into PDF format
Q: The application convert DBX to PDF with attachments?
A: Yes, this DBX file to PDF migrator tool capable to convert multiple DBX emails into PDF with attachments or without losing the data.
Q: The software will maintain the DBX file folder structure during the migration?
A: Yes, the DBX file to PDF file conversion tool to maintain the complete data structure after the conversion too.
Q: The DBX to PDF Converter program provides any facility to check the tool before buying it?
A: Yes, you can simply try the Free Demo version of the DBX file to PDF file converter application. Just download a trial version of the DBX files to PDF files conversion utility and convert 25 emails from each folder. After, that when you get satisfied you can purchase the full version of the tool and continue bulk importing DBX to PDF mailbox.
By Ending Words
I would say that exporting data from DBX mailbox to PDF format with attachments is the most difficult task. Even, I also facing a similar issue then, I got this one of the best DBX to PDF converter tool to move bulk DBX files to PDF Adobe. I must say the selection of this correct solution makes easy to convert DBX to PDF format without losing a single bit of information.