How to Convert PDF to BMP Bitmap Format with 100% Originality ?
The Starting – You may come across the situation in which you want to convert PDF to BMP (Bitmap Image File.) Or if you are someone looking for the best PDF to Bitmap Converter, stay here. In this BitRecover guide, we will tell you about the step-by-step process to convert PDF files to BMP. It is fast and straightforward. So, let's get going.
Problems faced by users?
Now, let's look at some user queries to switch from PDF to BMP file format one by one.
Request No.1:- I have some vital information about our new projects in my PDF files. Now, I am asked to convert PDF to BMP format. How can I do this? Please note I have many PDF files to change?
– Tim
Request No.2:- I want to see the PDF image in BMP format. What's the best way I can do this without compromising on image quality?
– Robert
PDF to BMP Converter: Fast and Reliable Solution
Reliable and Powerful Solution Introduced: – BitRecover PDF to Image Wizard is an excellent solution for converting PDF files to BMP format with complete excellence. It instantly changes PDF documents to BMP files without effort. Also, you do not need any external installation on your machine. It is quick and straightforward. But, remember that this solution only works on Windows OS supportive applications. Moreover, it permits you to save your final results at a location of your choice. So, let's understand the easy procedure to save PDF as BMP files.
Steps to Save PDF as BMP Format
Go and start the PDF to BMP converter-free.
Select the source to upload PDF – Select Files & Select Folder.
Choose BMP as the saving format and click on Convert.
The process to convert PDF to BMP format running.
Also Read: How to Convert PDF to Text File?
How to Convert PDF to Bitmap (BMP) Format?
Please Note: – PDF to BMP Converter is free here means that you can use the demo edition of the software to save limited PDF to BMP files. It is a simple way for a user to use the application to get to know the working and features of the solution. Once you are satisfied, move to Pro edition for the unlimited conversion of PDF files to BMP.
Firstly, download and launch the PDF to Bitmap Converter on the Windows OS. Next, open it, and you will see an easy-to-use interface.
Now, you can see two tabs Select Files and Select Folders as the source to upload PDF. So, tap on it according to requirements.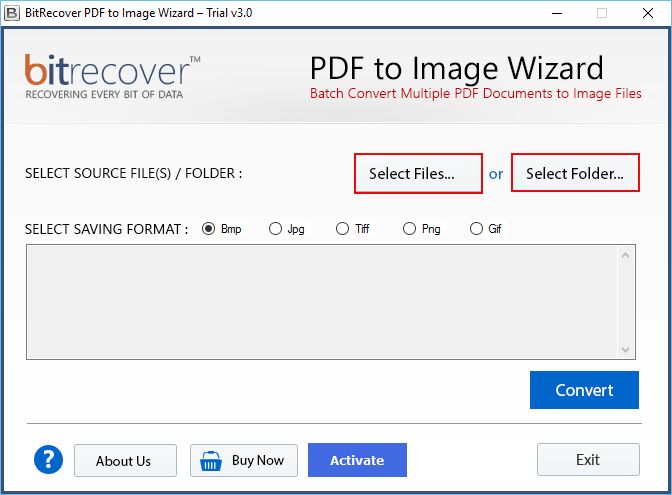 After that, the software displays the total count of the PDF files in the software window.
Here are a few options to save PDF files. Please check the BMP option to change PDF files to BMP format.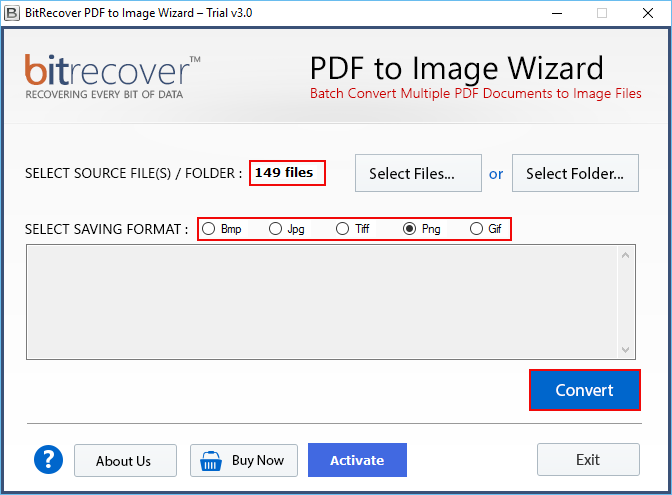 Finally, click on the Convert button and see the live conversion from PDF to BMP files in the program window.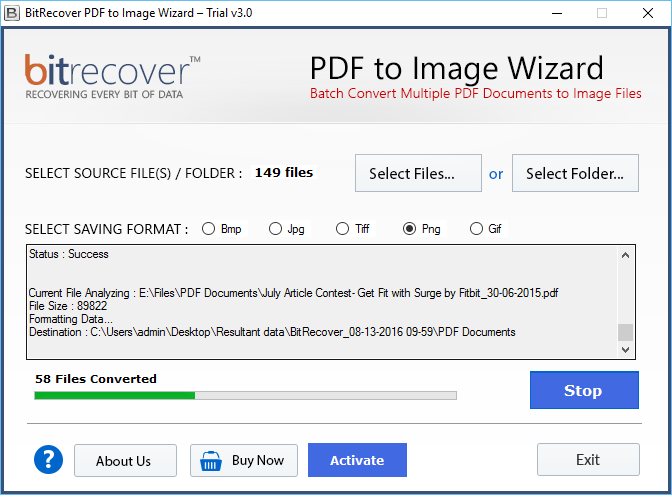 Read Me First:- The software saves the converted PDF files to BMP format on the desktop location so, after you get a complete conversion message and log report as the final confirmation. Go to your desktop location to see the outcome.
Read about the Benefits of PDF to BMP Converter Tool 
PDF to Bitmap Converter is a popular solution to convert PDF documents into a single BMP image file format in a few clicks.
The image quality and the other components are preserved throughout the process of converting PDF to BMP formats.
The software supports the batch conversion from PDF files to BMP image file without any compromise.
The utility is a reliable solution that is effortless and automatic to save multiple PDF documents to BMP format.
With this PDF to BMP converting tool, you can convert multiple PDF files to bitmap image format without any limitations.
The software is a Windows supportive application that works on all the available editions of Windows OS, Windows XP, Windows Server, and more.
A Quick Overview of PDF and BMP File Format 
PDF is a short form of Portable Document format. It is used extensively in all sectors, whether it's education, business, government, and more. Your information and data are entirely secured in files with .pdf extension. It even allows you to set a Password on your PDF files. The constitution also accepts evidence saved in PDF file format. All-in-all, PDF is a useful and vital format for saving information.
BMP is a short form of Bitmap Image file. Users of web-designing or Photoshop are quite familiar with this file format. It is a raster graphics image file, especially for Windows and OS/2 operating systems. The user saves both monochrome and colorful images in the composition. The bitmap image file consists of fixed-size structures (headers) and variable-size structures that appear in a default sequence.
The Final Words
If you are looking for a solution to convert PDF to BMP format, then the above blog is helpful. It explains the step-by-step process to save PDF files as BMP images with quality maintained. The PDF to BMP Converter tool is an outstanding solution to change from PDF to BMP. One can also use the software for free. For any inquiries, contact our support team.