How to Convert Exchange to IMAP account in a few taps? – Learn from Experts
So you've decided to convert Exchange to IMAP account. Are you looking for a powerful solution to migrate email from MS Exchange to IMAP? Is it bothering you? Well, not anymore. This blog highlights the perfect way to change Exchange to IMAP with attachments. We bet it is going to be simpler than you think. So, what are you waiting for? Let's get started.
Table of Contents…….

#1 Why Change from Microsoft Exchange to IMAP account? Introduction of Reliable Solution
#2 Before you start
#3 Preparation and Step-wise details
#4 What to Keep In Mind
#5 Features of the Mind-blowing program
#6 The Conclusion
Some Possible Reasons to Change from Microsoft Exchange to IMAP – Learnt from User Queries
Our technical support team receives queries related to Exchange Server to IMAP conversion quite frequently. This depicts the demand for a professional solution to migrate from Exchange to IMAP account. First, let's understand the primary reasons to switch emails from MS Exchange Server to IMAP through user queries.
Robert: – I am trying to convert Exchange to IMAP, but some don't let me see my emails in the IMAP account. I want to want to know how I can do this process efficiently. Please guide.

Michael: – I currently use a domain for an Exchange mail account. But, now I want to convert the Exchange account to G Suite account. So, someone advised me to do this in an IMAP way. So can anyone tell me how to migrate Exchange to IMAP account directly?
After understanding the user requirements to change from Exchange to IMAP account, let's move on to the best possible solution for this.
Best Tool to Convert Exchange to IMAP 
BitRecover Email Backup Wizard is a professional tool to migrate from Exchange Server to IMAP account with attachments. It makes the conversion process simple for businesses and individuals. You can trust this for 100% accurate results without any compromise. It can convert emails from all the available Exchange editions such as 2019, 2016, 2013, and more. In the following section, we have explained the complete details about how to migrate from Microsoft Exchange to IMAP account.
Prepare Yourself to Migrate from Exchange Server to IMAP account 
Read Me First: Before we start, please know that we are explaining the process to convert Exchange to IMAP using the tool's demo edition. It only migrates 25 data items from Exchange account to IMAP. So, after knowing the process, switch to Pro edition to import unlimited emails and other items. The process is quick and straightforward. So, let's take a look.

How to Convert Emails from Exchange to IMAP using the Step-by-Step Instructions ?
Launch the Exchange to IMAP conversion utility on a Windows computer/ laptop. Then, read the bulletins mentioned in the software panel.
Now, choose the Exchange Server option as the required source and fill the credentials, as shown in the screenshot. Then, click on the Login tab.
Here, you will find the software list folders and mailboxes from your Exchange account. So, select the required ones to continue the conversion.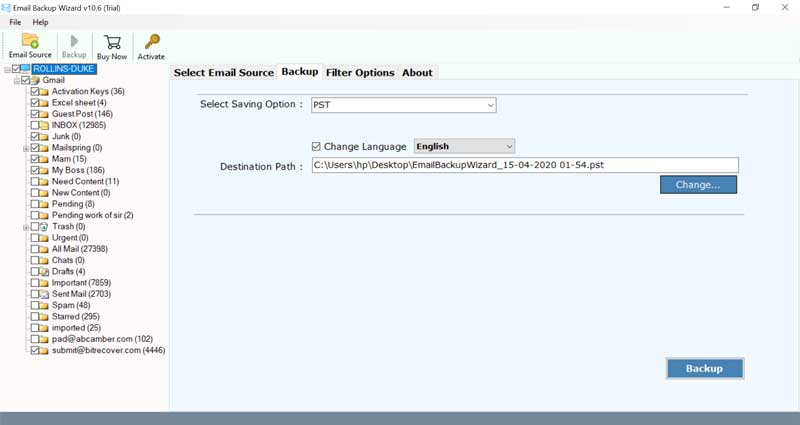 It's time to pick IMAP as the select saving option to convert Exchange emails to IMAP account.
After that, fill all the asked details such as email address, password, IMAP Port No., and Server Name.After providing all the details. It's time to hit the Backup button, and you will find the Exchange Server to IMAP migration process started.
Before You Leave: – Don't leave the software panel until the conversion process is running. Later, you will get a complete conversion message and also a log report. At last, login to your email account and check the final results. That's all.
Some Major Advantages of Exchange to IMAP Conversion Utility
Microsoft Exchange to IMAP Migration tool is one of the best solutions to convert emails from Exchange to IMAP server. The software provides large numbers of benefits such as: –
The Exchange to IMAP migration utility is a completely safe and easy-to-use application.
The software has a consistent and intuitive user interface for all types (technical and non-technical) users.
During the migration process, the software will maintain the email folder hierarchy.
Email attributes are one of the main problems in the conversion process. The software will retain email Meta attributes during this process.
One process can easily migrate multiple emails from Exchange user mailboxes to IMAP account with attachments.
The software supports all versions of the Microsoft Windows operating system, including the Windows Server version.
This is an entirely independent solution that can migrate email from Exchange to IMAP Server without any problems.
During the migration process, there is no limit to the size of user data and the number of users.
The software provides advanced filter settings and can convert required emails from MS Exchange to IMAP accounts with complete information.
Some Closing Thoughts
In the above article, we described how to convert Exchange to IMAP account. The entire migration process is safe, complete, and without any trouble. Also, no third-party software and plug-ins required during the migration process. The company provides a free demo version that can migrate several emails from MS Exchange to IMAP Server. If you have any other questions, please contact our technical support team.