How to Convert EML to TXT File Format with Accuracy ?
The Beginning: – In regards to emails, there are several file types that we use almost every day. Among all, the most basic and standard is the EML file format. No matter whether you use MS Outlook or Mozilla Thunderbird, Windows Live Mail or Apple Mail, or other applications, mostly support files with .eml extension. Working with EML files is simple. The header part of an .eml file is available in ASCII text format and body contains text, hyperlinks and also attachments. So, if you are someone who has thousands of EML files and looking for a solution to convert EML to TXT, then you'll love this guide.
Here, we will explain what best you can do to change emails into Text files with attachments. There is no need for any external installation or limitations when using a professional solution to batch convert EML to TXT files. So, here we start.
Why People Want to Convert EML to TXT ? – User Queries
User 1:- Hi, I am Adam. I work with Mozilla Thunderbird email client and fall in need to convert my EML files to TXT format. I tried a couple of solutions but didn't find them suitable? Is there any solution that works best for EML to TXT conversion? Please Help!
User 2:- Hello, I need to save Windows Live Mail emails to Plain text. The folder given to has thousands of EML files. So, can you help me with my situation? Please tell me a professional solution to convert EML to TXT format. –Richard
User 3:- EMLファイルをTXT形式に変換したい。 これどうやってするの? そのためのソフトウェアはありますか?-日本人の氏名
Learn from Experts the Best Way to Convert EML to TXT with All Properties 
BitRecover EML Converter is an exceptional solution to convert EML files to TXT format directly. Thousands of users have used this software to get EML to TXT conversion done. It provides 100% accurate results without any compromise. It let you convert a single EML file to TXT and also bulk convert EML files to TXT format. The tool has advanced functionality that makes the convert EML file to TXT process more comfortable than you think. We will also explore the significant advantages of EML to TXT Converter in the later sections. First, let's understand the working of the tool.
How to Convert EML Files to TXT Format ?
Consider the following steps to convert EML to Plain Text quickly.
First download and open EML to TXT converter.
Click on Select Files and Folder to upload .eml files.
Then, check the required files/ folder to continue.
Now, choose TXT as the saving file type and enter a location.
Click on Convert and finish EML to TXT conversion.
Understanding the Steps to Batch Convert EML to TXT in Details with Screenshots
Read Me First: – Please note that first use the demo version of the software to understand the software working. You can install it on your computer without any pay. But, it comes with limitations and lets you convert 25 .eml files to .txt format with attachments. After that, you need to switch to Pro edition to convert multiple EML files to Plain Text format at once.
The following instructions help you to convert EML files to TXT in one go step-by-step.
Download and install EML to TXT conversion utility on your Windows system. Then, read the instructions mentioned in the software panel to change emails into text files.
Click on Select Folder button and open the folder containing .eml files from your computer. If you want to convert a single EML file to TXT format, then check the Select Files and press Next tab.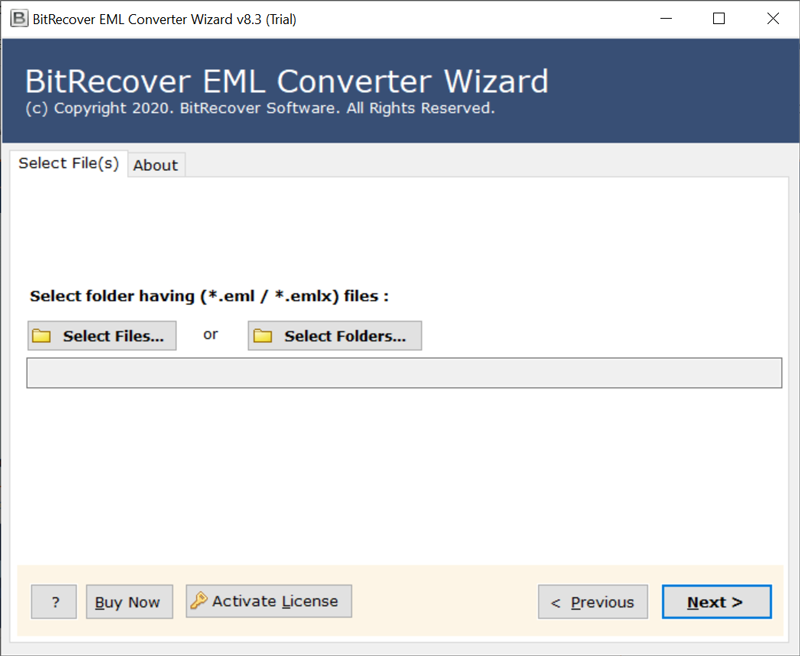 Now, the software analyses the data in the software panel and upload it. Check the required EML folder to batch convert EML files with attachments.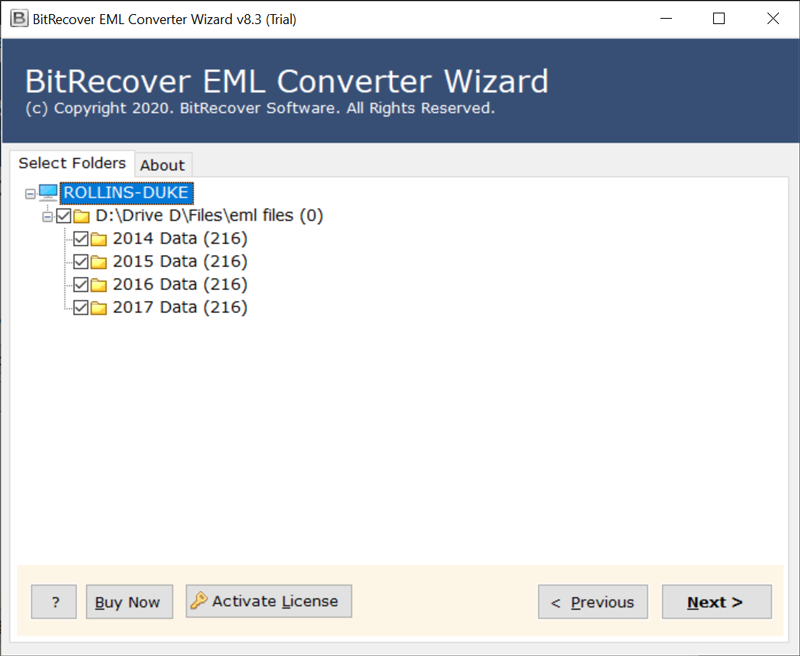 Choose TXT as the saving file type from multiple options.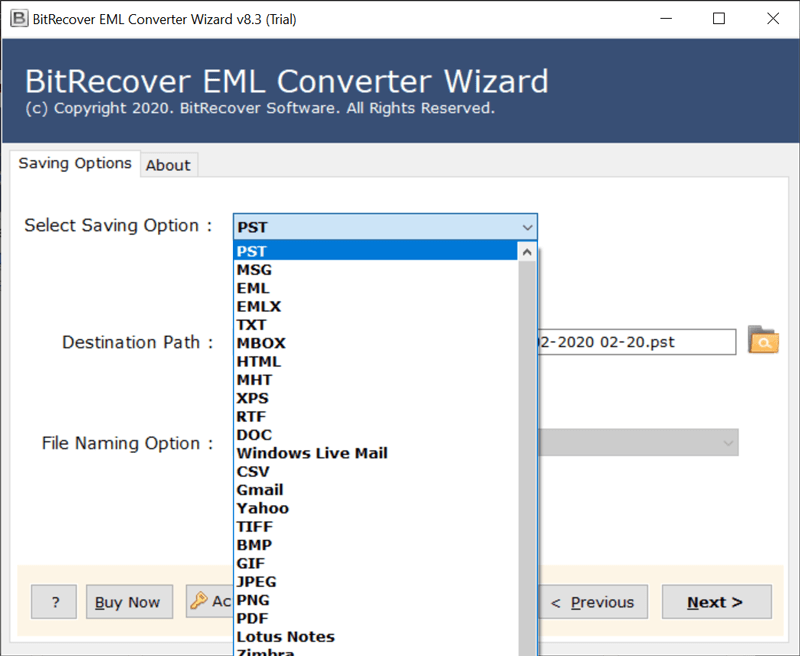 Next, fill the desired location in the destination path to get the results. The utility also offers File Naming options that help you save final results in a more organized way. So, select if you require any.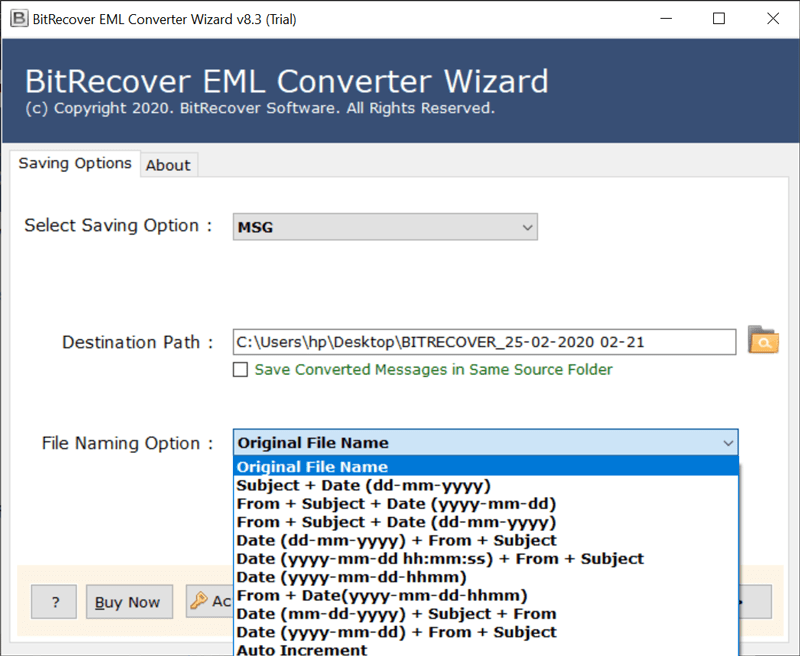 In the end, click on the Convert button and watch the live conversion from EML to TXT with attachments.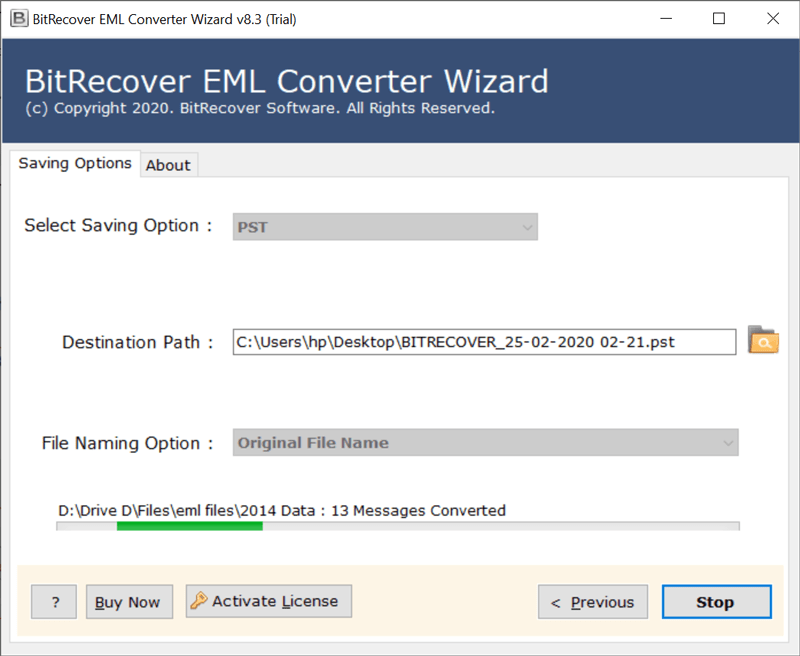 Where are the Results? – It is the only application that provides the live conversion of the data. Once it all ends, you will get a complete conversion message. Following it, a log report as the confirmation that converts EML to TXT process done. Now, go to that specified location and get your results.
Now, it's time to explore the prominent features of the tool to convert EML to TXT quickly and directly.
Talking About the Key Advantages of Using EML to TXT Converter Tool
Convert multiple EML files to TXT format – The best part of using this software is that it converts EML file to TXT in batch mode. Therefore, the user does not have to select the EML file multiple times. The entire transformation ends in a single operation.
100% accurate and fast – This is a versatile email conversion software that maintains the accuracy of all your data. User can convert EML file to TXT accurately and quickly in one try.
Standalone App:- This tool allows you to convert EML files to text without installing external applications. It is an independent tool that perfectly meets all your needs to convert EML files to Plain Text.
Save output to the desired location:- This -a risk-free tool that allows you to freely choose the output location after converting the EML file to TXT format.
Compatible with Windows OS–  This best EML to TXT Converter works on all Windows OSs, including Windows 10, Windows 8.1, Windows 8, Windows 7, Windows Vista, Windows XP and more.
The EndNote
As we all know that EML file is a standard email file type. A large number of email applications uses it. Therefore, the need to convert EML to other file format is quite common. In the above, we have explained a beneficial way to convert EML to TXT without losing a single bit of information. The EML to TXT Converter is easy-to-use and powerful. It supports both single email message and bulk conversion. If you want to ask anything, do contact our support team or connect through live chat.