How to Convert EML to Maildir Format in a Few Seconds ? – Accurate and Complete Solution
Abstract: – We all work with the EML file. It is the short form for email or electronic messages. Some email applications use EML as the standard format for storing information. So if you're looking for an excellent way to convert EML to Maildir, this guide is all you need. Here we explain the easiest way to convert EML files to Maildir or Maildir ++. So let's get started.
Convert EML to Maildir Solution for Windows Users – 100% Reliable & Powerful 
If you want to convert multiple EML files to Maildir format without any limitations, try BitRecover EML Converter. It is a professional application designed to import EML messages to Maildir++ with attachments. The approach of working is fast and straightforward. There is no chance of any compromise or alteration. Hence, you can use the program without worrying about any issue. It is the best way to convert .eml files to Maildir with elements and properties. So, now let's understand the step-by-step process to achieve this process in a few clicks.
How Can You Convert EML Files to Maildir in A Few Taps ?
There are five steps to transfer EML files to Maildir with attachments.
Run EML to Maildir Converter on your machine.
Click on Select Files and Folders to upload email messages.
Check the required folder to continue.
Select Maildir to start the direct conversion from EML to Maildir.
EML to Maildir convert process comes to an end.
Step-by-step Instructions to Convert Bulk EML Files to Maildir / Maildir ++ Format 
If you have ever wondered about how to convert EML to Maildir, follow the below-mentioned steps for quick results. It is simple and fast.
Let's start this by downloading the EML to Maildir converter application on the Windows machine. Click on the Download button and follow the instructions.
Step1:- Setup and open the mentioned program on your Windows machine. Then, read the instructions specified in the panel. (Specially designed for the Microsoft Windows OS users.)
Step 2:- Now, there are two ways to upload EML messages in the software Window. Select File and Select Folder. If you tap on Select Files, then you can choose multiple .eml files at once. If you click on the Select Folder button, then you can pick EML folders. After that, click on the Next button.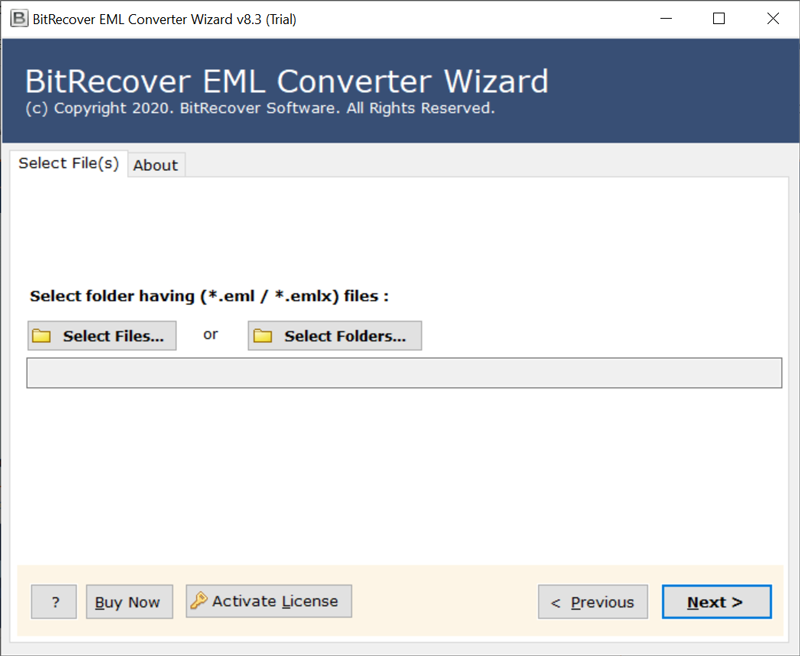 Step 3:- Here, the program analyses the files and folders. Check the required ones for the conversion and hit the Next button.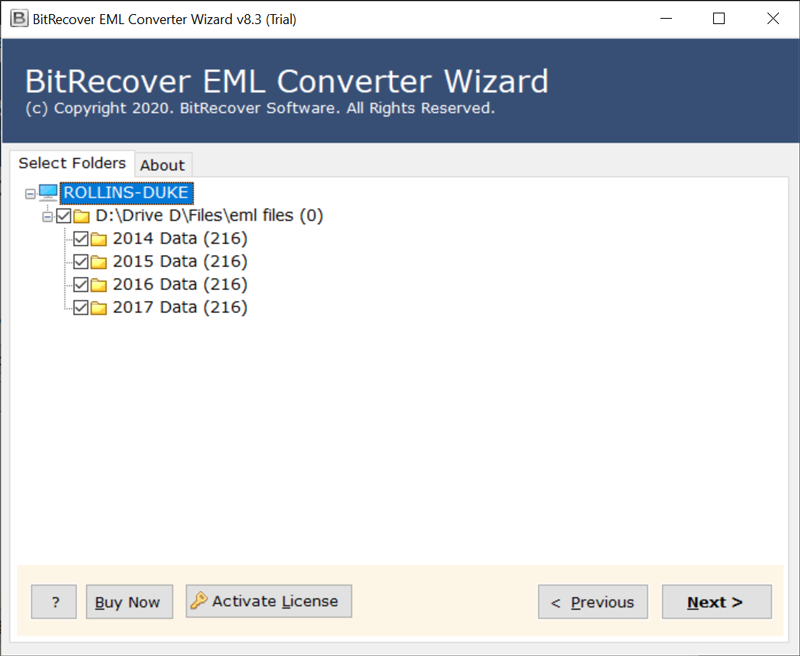 Step 4:- Pick Maildir as the select saving option, as shown in the screenshot.
Step 5:- Then, define a location where you want to see the final results in the destination path tab. Also, pick a file name as per your requirement.
Final Results in some time: – The EML to Maildir conversion is ready to go, click on the Next button. As you can see, the live conversion is running in the software panel, so wait for a while. When EML to Maildir convert process comes to an end, a complete conversion message appears on your screen. Then, the software provides a log report detailing all complete information.
Step 6:- Open the resultant folder containing the Maildir files.
Convert EML to Maildir Free Without any Loss 
The company offers a trial edition to convert EML files to Maildir email client with attachments. But, the free trial edition has limitations of changing only 25 files with .eml extension to Maildir format. For an extensive conversion process, purchase a licensed lifetime software activation key. For further assistance contact us on live chat.
Some Major Benefits of the EML to Maildir Converter Software
The EML to Maildir conversion utility is one of the best ways to transfer EML messages to Maildir format. Now, let's look at the main advantages of this application:-
The software is completely secure and user-friendly to transfer EML file to Maildir without any loss.
Comes with a simple and easy to apply consistent interface platform for both (technical and non-technical) users.
The software will maintain the structure of the email folder hierarchy during the conversion process.
The software stores all email meta-properties during the EML file in Maildir conversion task
Users can convert multiple EML files to Maildir account in one process without any problems.
It is an entirely independent solution for more effortless transfer of EML files to Maildir format.
The software also offers options for storing results at a location of the user's choice.
There is no file size or number of emails limitations during the conversion process.
The software supports all Microsoft Windows operating systems, including server editions.
What to Say in End?
In the blog above, we provided complete information to convert EML to Maildir in the best possible way. EML Converter is an outstanding solution to transfer multiple EML files to Maildir format with attachments. It also supports bulk conversion. Using the tool, you need not worry about email properties, folder structure, Meta elements and more. The program is 100% safe and provides exact results. So, go and try the software now.