Can Gmail Import Outlook .pst files ? – Resolve this Query Now
How to get numerous years of emails stored in old Outlook .pst files into Gmail account? Can Gmail import Outlook .pst files? Such queries always pop up in minds of users who prefer a web-based interfaces over desktop-oriented email clients like MS Outlook.
If you want to access PST data anywhere over the internet then we bet that Gmail would be the best option. However, Listen up. Importing Outlook .pst files to Gmail isn't as super easy as it sounds. But, here in this guide, we will resolve your query "Can Gmail import Outlook .pst files".
Prime Reasons to Prefer Gmail Over Outlook
Well, importing Outlook .pst files into Google mail has its own perks. Major benefits are-
Gmail gives you various applications using a single Gmail account.
It has boundless space to store users' information.
Gmail has a more easy-to-use GUI than Outlook.
Gmail fuses a low-hassle add-on.
Users of Gmail don't have to stress over sync.
It is freely available and you don't require to be very techy to operate it.
Having elaborated the reasons for the users who are searching for a solution of "Can Gmail import Outlook .pst files". It's time to jump over to the quick solution to import .pst file(s) to Gmail account.
How Can Gmail Import Outlook .pst Files Directly with All Attachments ?
Andrew writes: All my old emails have been stored as a .pst file on my Windows PC. I don't have Outlook installed on my machine but now wish to import all these PST messages to my Gmail account so that I can have them in my android phone too. I want to know can Gmail import Outlook .pst files?
Andrew is looking for a trick to solve this confusing query – "Can Gmail import PST files without Outlook configuration?"
Solution by Experts: There are manual workarounds to overcome this question "can Gmail import PST". But, there may be certain glitches so don't take any risk and choose a reliable solution. It is thus, best for you to use a more professional solution like BitRecover PST to Gmail Wizard. It is by far the most desirable utility for Gmail import PST files process.
Now, you must be wondering what are the key steps involved in accomplishing this conversion. Don't worry!
Here are the step-wise guidelines:
First of all, download and start the import PST to Gmail tool.
Step 1. Choose .pst file(s) or folder(s) from either of Select Files… or Select Folders… option.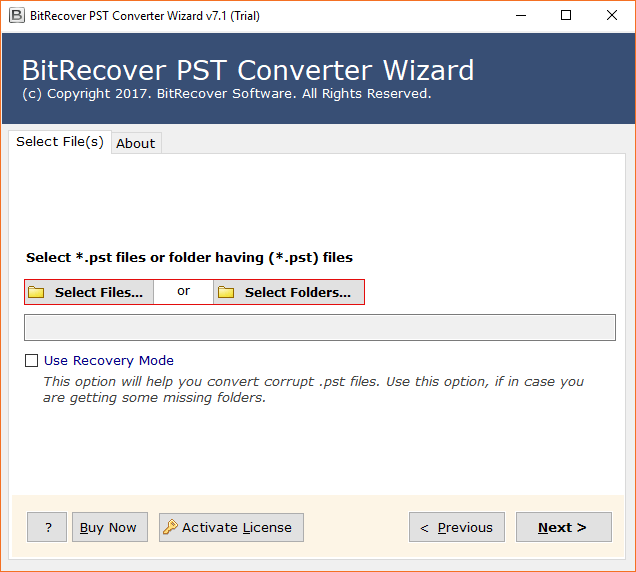 Step 2. Now, select Outlook PST files from your machine and press on Next button to continue.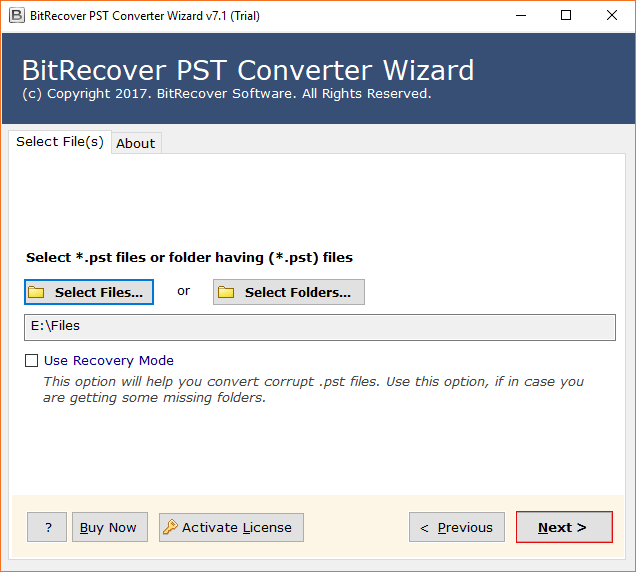 Please Note: You can enable the "Use Recovery Mode" option to import corrupted .pst files or some missing folders into the Gmail account.
Step 3. Here, the toolkit will show you a list of email folders from your Outlook database. Enable all folders or the required ones.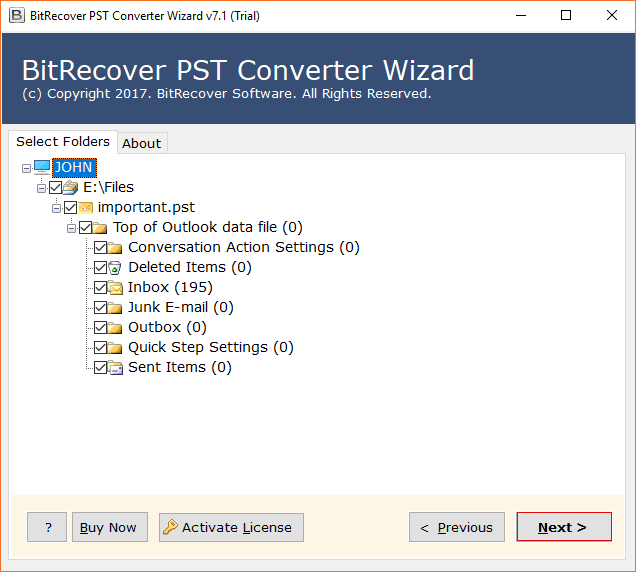 Step 4. Thereafter, navigate to the saving options list and pick Gmail from it.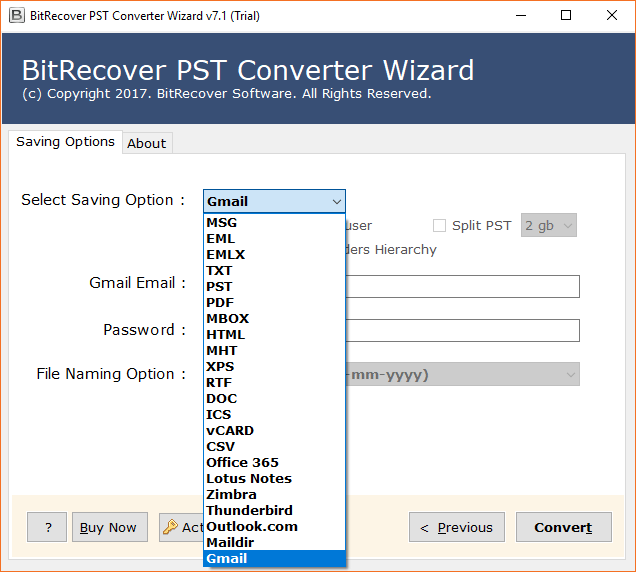 Step 5. Then, enter the account details of your Gmail account – email ID and Password. Along with this, press on the Convert button to start this process.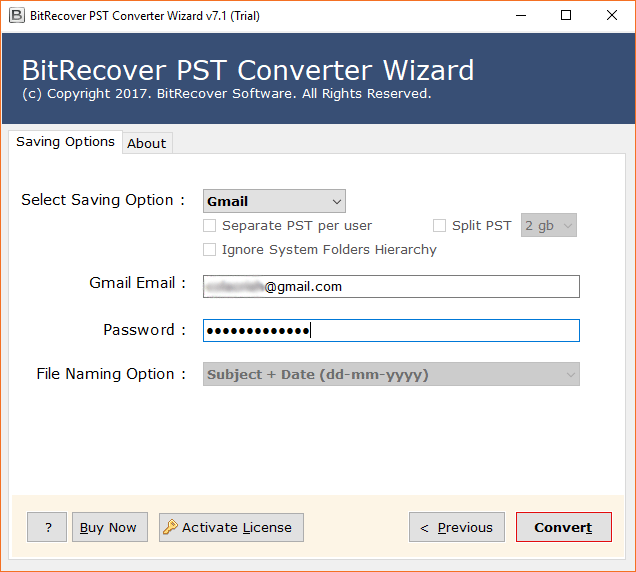 Step 6. Lastly, this conversion process to resolve the issue of "Can Gmail import Outlook .pst files" is finished. Now, you can login to your Gmail account to view all .pst messages.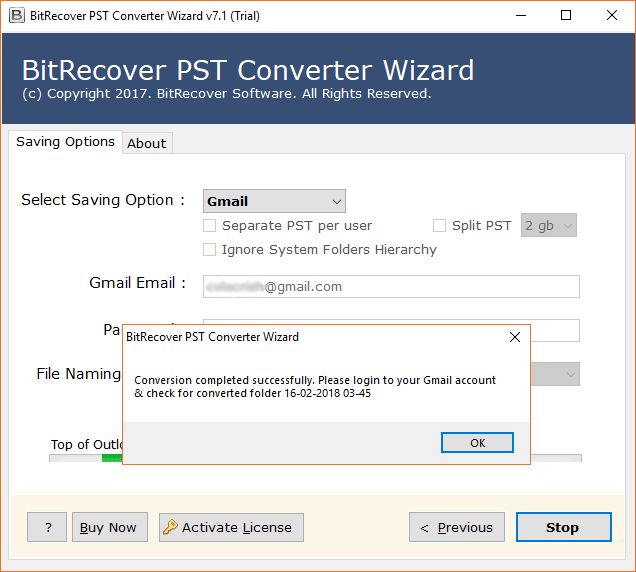 Thus, your Outlook emails will soon be available inside your online Gmail inbox.
Read the Superb Features of Software to Resolve Problem – "Can Gmail Import Outlook PST Files ?"
Directly export all emails from Outlook folders and sub-folders into Gmail account.
Dual options to import .pst file(s) or folder(s) into the toolkit for the conversion process.
No dependency of Microsoft Outlook installation to carry out this email migration.
The tool offers a complete conversion of PST data items: emails, contacts, calendars, tasks, notes, journals, etc.
It comes with an intuitive and user-friendly interface which makes easy to resolve issue of "Can Gmail import Outlook .pst files".
Users can bulk import PST emails into Gmail account in a single round of processing with this application.
It keeps intact the mail headers like From, To, Cc, Bcc, Subject and attachments etc during the conversion.
It supports both ANSI and Unicode PST without showing ay error message.
The toolkit maintains the original folder hierarchy of Outlook email folders throughout the process.
It is compatible with all latest and earlier versions of Microsoft Windows Operating Systems like Windows 10, 8.1, 8, 7, XP, Vista, etc.
Frequently Asked Queries
Ques1: Can Gmail import Outlook .pst files directly? If yes, how?
Start the recommended PST Converter to Gmail import tool.
Choose PST file(s) or folder(s) from database.
Select desired PST files to import into Gmail.
Pick Gmail saving option and enter its account details.
Start the Gmail import Outlook PST files process.
Ques 2: Are there any limitations to move Outlook PST emails into Gmail?
Sol: No there are no file limitations with the pro version of the software. However, if you are willing to do few conversions and want to test the tool. Then, you can use the free demo version of this software.
The Closure
Hopefully, now you have got a clear idea about how can Gmail import Outlook .pst files. We have explained a detailed process to import all messages from Outlook to Google mail account in this blog. Still, if you have a query then you can contact our technical support team.