How to Backup SeaMonkey Profile Email Folders ?
SeaMonkey profile gives you access to mails, bookmarks, cookies, new-groups account, address book, etc. Whenever you want to backup SeaMonkey profile, it is very important to know its actual process. Hence, in such scenario, using an automated solution will migrate SeaMonkey profile email folders to a desired location.
It is a smart decision to backup emails from SeaMonkey profile to your PC for secure data and settings. Sometimes, there occurs unwanted mishaps to the computer system. Hence, ensure to migrate emails from SeaMonkey profile in a correct way.
In this blog, we will describe how to take backup of SeaMonkey profile. The name of the suggested solution is BitRecover SeaMonkey converter. This reliable solution can transfer emails folders from SeaMonkey profile to another location. It can effectively migrate emails, contacts from SeaMonkey profile with attachments.
How to Backup SeaMonkey Profile ?
Follow these steps to migrate email folders from SeaMonkey profile:
Download and launch SeaMonkey backup tool.
Enable convert configured SeaMonkey profile data.
Pick only required emails for backup process.
Choose any desired saving option and a target location.
Now, start to backup SeaMonkey profile email folders.
Migrate SeaMonkey Email Folders to Another Location – Solution with Screenshots
Firstly, download the setup file of SeaMonkey email backup tool. Now, choose this option "Convert configured SeaMonkey profile data".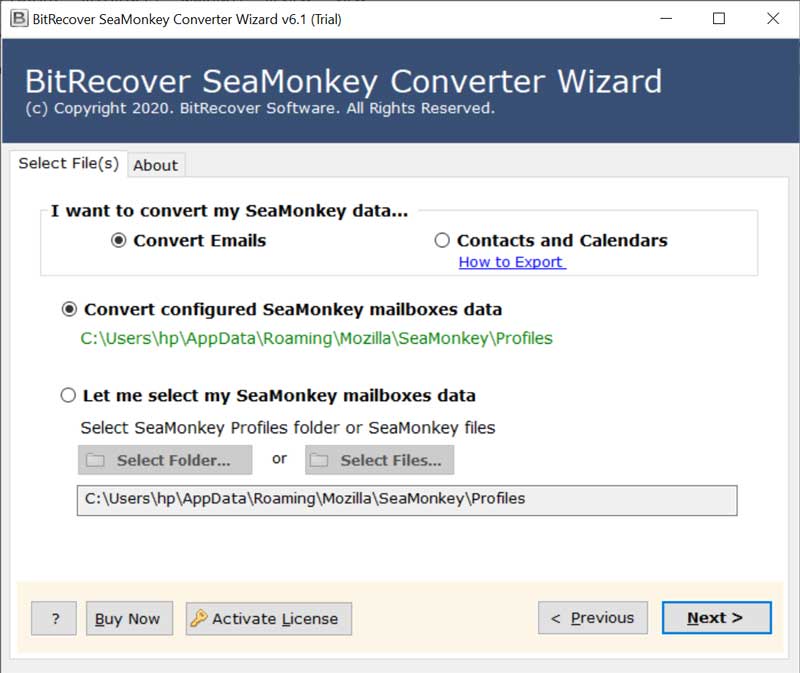 Then, enable required email folders whose data you want to backup.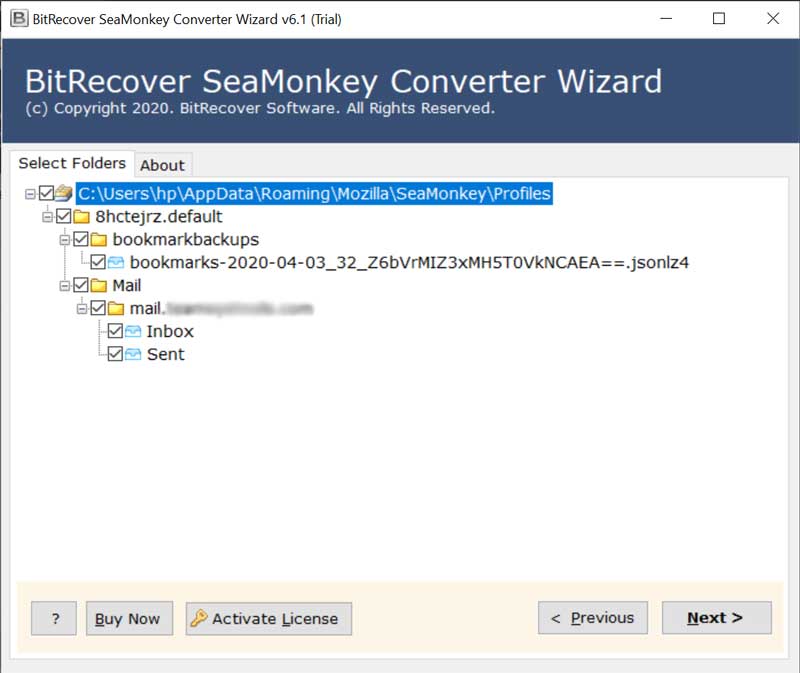 Thereafter, select any desired saving option for initiating the migration process.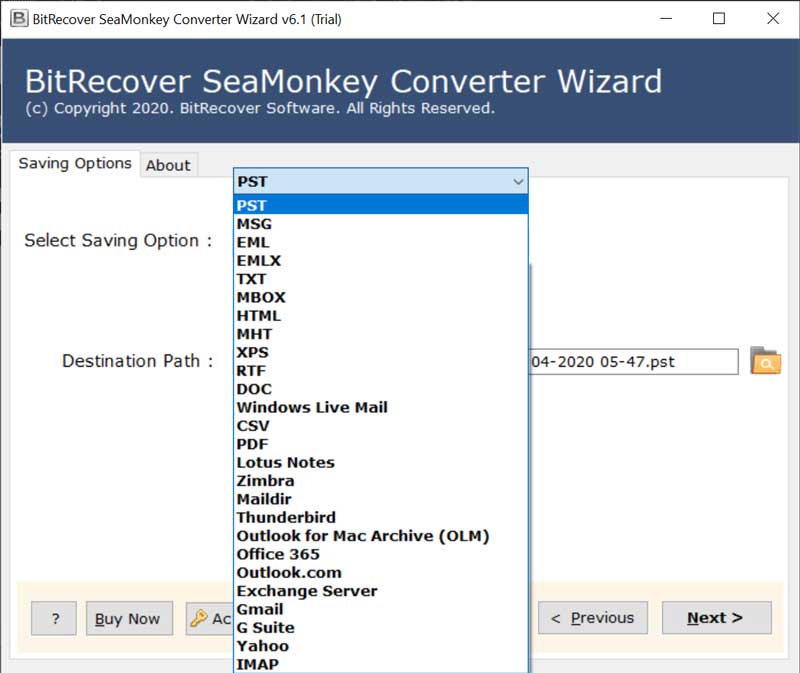 Now, choose any destination location for saving the converted data.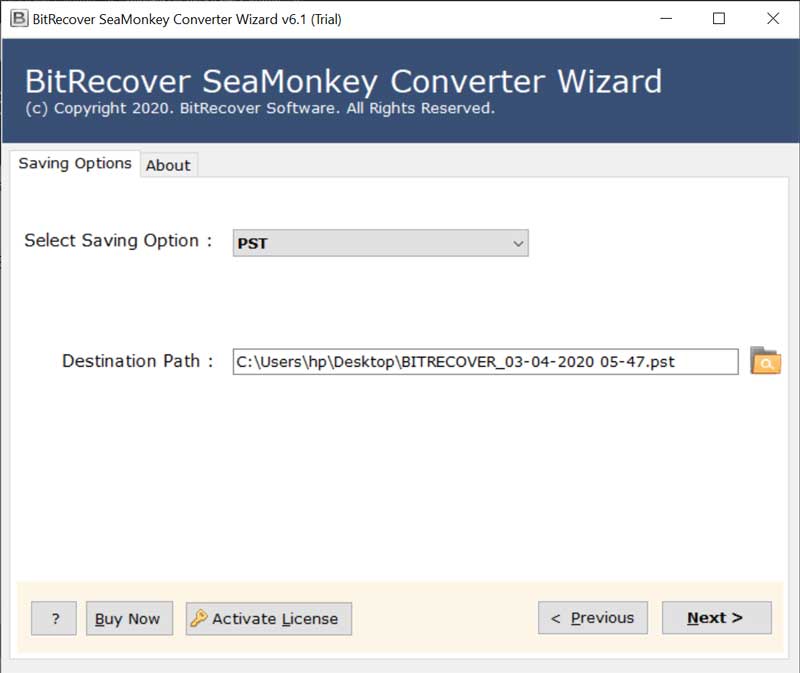 Lastly, start the SeaMonkey backup process. This process takes some seconds and ends with a completion message.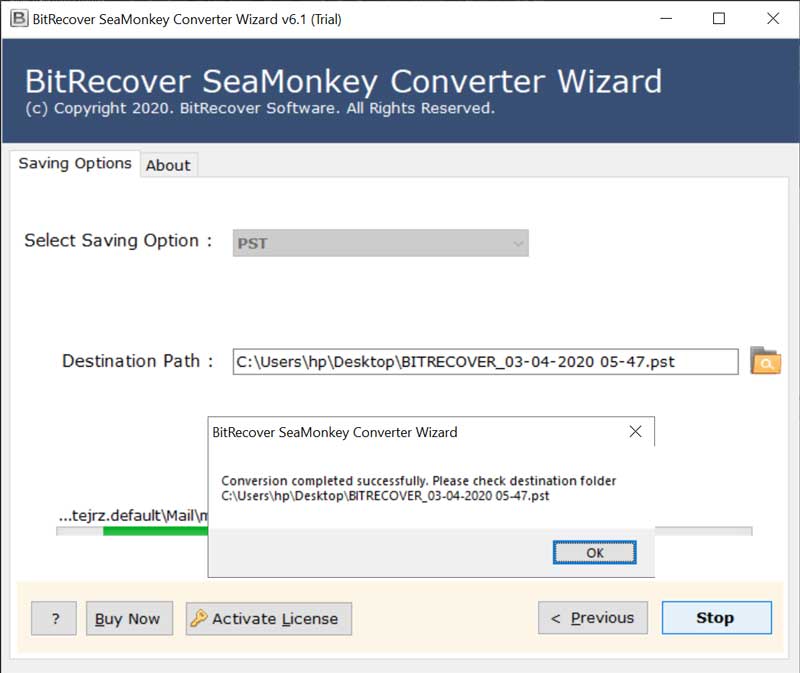 Then, you can open the location where you have taken backup of SeaMonkey profile.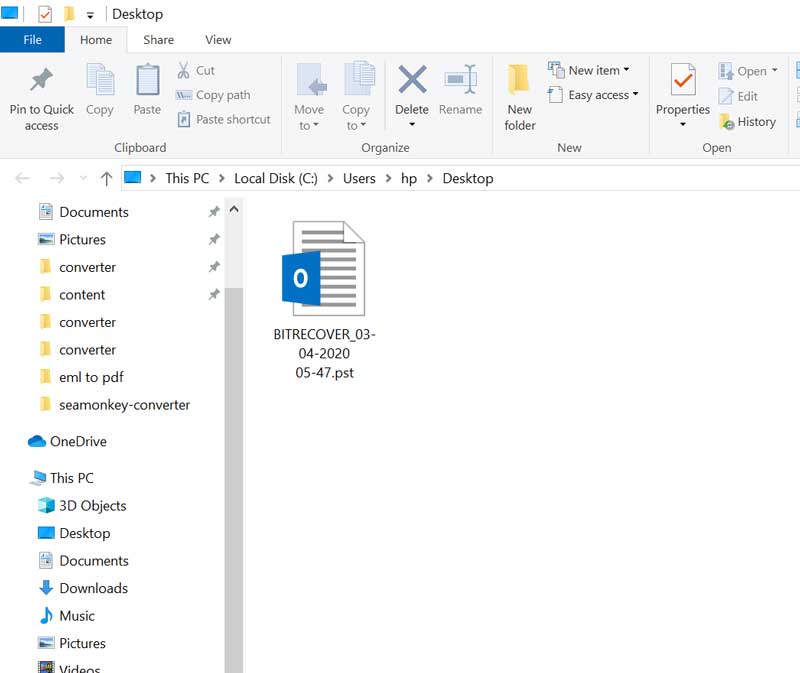 Noteworthy Features of SeaMonkey Backup Tool
This SeaMonkey email migration tool is an excellent software that facilitates to take backup of emails from SeaMonkey. It comes with such an innovative GUI that enables users to migrate SeaMonkey profile fastly with all details. Let us see some of the important benefits of this utility.
Supports all Windows OS: The application runs on all Windows versions such as Windows 10, Windows 8.1, Windows 8, Windows 7, Windows XP, Windows Vista, Windows Server 2019, Windows Server 2016, Windows Server 2012, etc.
Preserves email attributes: The software maintains the email properties properly. It keeps intact sender and receiver details, subject, formatting, embedded attachments, inline images, active links, etc.
Maintains email data integrity: It assures to preserve the integrity of data throughout the seamonky backup process.
Free demo version: Now, you can evaluate the tool's proficiency with the free SeaMonkey backup software's demo version. It allows to convert first 25 items from each SeaMonkey profile folder to selected file format.
Take SeaMonkey backup in batch: The software permits to backup SeaMonkey profile folders in batch mode. This helps to migrate multiple SeaMonkey mailboxes in a single processing.
No data limitations: With this wizard, the users can migrate SeaMonkey profile without facing any data restriction issues.
Multiple Saving options: One can use this tool to backup SeaMonkey profile by using any of the saving option. These are Windows Live Mail, Outlook.com, Thunderbird, PST, MSG, EML, EMLX, MBOX, PDF, HTML, MHT, XPS, RTF, DOC, CSV, Lotus Notes, etc.
Frequently Asked Questions
Ques1: How to migrate SeaMonkey profile to PST ?
Ans: Just follow these steps to backup emails from SeaMonkey.
Launch SeaMonkey profile backup tool.
Choose required SeaMonkey profile data.
Select PST saving option from the GUI.
Enter destination path for saving the resultant files.
Press on the Next tab to start this backup process.
Ques2: Can I backup SeaMonkey profile email folders along with attachments too?
Ans: Yes this tool permits to migrate SeaMonkey profile along with corresponding attachments.
Ques3: How do I check the tool's working before purchasing it?
Ans: You can use the free demo version of SeaMonkey backup software. With this trial version, you can evaluate the tool's working.
Ques4: How to migrate SeaMonkey profile to outlook?
Ans: Use the above recommended software to backup SeaMonkey profile into Outlook.
Client Testimonials
I am very much impresses with this software. The amazing functionality of SeaMonkey backup software has enabled me to move unlimited SeaMonkey profile folders to another location within few seconds. Thanks a ton!

-James, New York

Firstly, I was worried about how to backup SeaMonkey profile to my webmail account. But, this trusted application easily let me to migrate SeaMonkey email profile. After the migration process, even it provides option to save the resultant files at a desired location.

-Harper, USA
Let's Conclude
In this blog, we have explained how to backup SeaMonkey profile to a specific email client, Webmail, email formats. The entire solution to migrate emails from SeaMonkey profile is quite easy to understand. This application has a user-friendly interface. Hence, any technical or non-technical user can access it for backup process. So, download this tool now and backup unlimited SeaMonkey email folders folders hassle-free.