How to Backup Mailbird Emails and Contacts ?
Summary: Are you worried about your Mailbird email data to be spoiled by any means of data loss issues? Then, we suggest you to backup Mailbird emails on your computer. This blog explains how one can take backup of Mailbird emails, contacts.
Today, hackers are constantly looking for accounts weakness, so it is quite obvious to that your email account is not safe. With the rising users of Mailbird, chances of targeted account hacking is also high. Moreover, virus on your computer can also make your Mailbird data in an inaccessible state.
So, it is better to backup Mailbird emails locally on your computer. So, that you can review and access your files in future too. Read this blog to understand how to download Mailbird emails, contacts by taking Mailbird backup.
Download Mailbird Backup Software to Save Mailbird Email Messages
BitRecover Mailbird Converter is an expert solution which is known prominently for its beneficial user-friendly features. This wizard gives you facility to backup Mailbird file in a variety of email formats and cloud-applications. The users can even backup Mailbird contacts in CSV and vCard format. It is an automatic Mailbird backup tool that can automatically fetch Mailbird profile data from the default storage location in the GUI. In order to achieve Mailbird email backup, the users can pick any file format from the software. There are more than 30 file formats which you can use to take backup of Mailbird emails. It is a powerful utility which has the ability to download your emails from Maailbird program without any limitations.
How to Take Backup of Mailbird Emails and Contacts ?
Using this application, the users can backup Mailbird file as well as folders. Folder here refers to the email folders that are stored within your account. In order to accomplish Mailbird email backup, follow these steps:
Download and run Mailbird backup tool on your computer.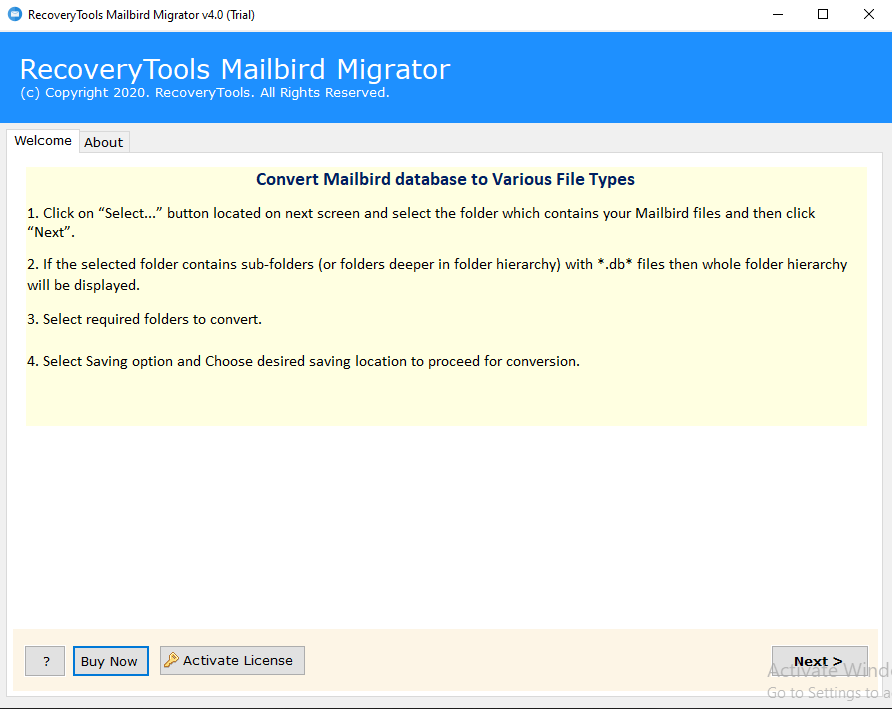 Import Maildir files or folders to perform the backup process. This can be done in two ways:
Convert configured Mailbird mailbox data: Enabling this will automatically fetch Mailbird data from default storage location.
Let me select my Mailbird mailbox data: You can choose either Select File or Select Folder option to upload single or multiple Mailbird emails and contacts manually.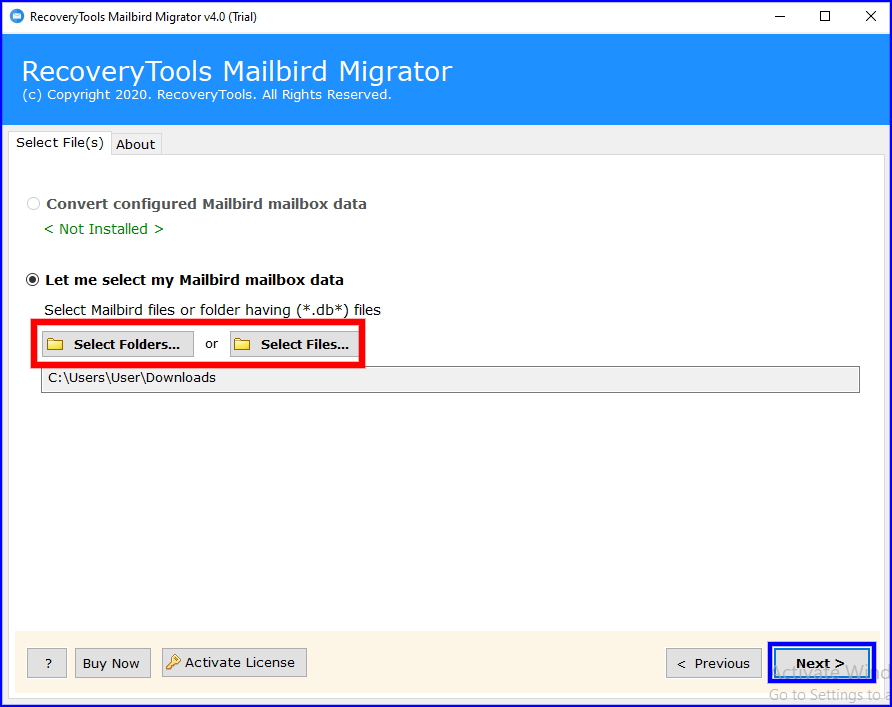 Now, check desired email folder to start the backup.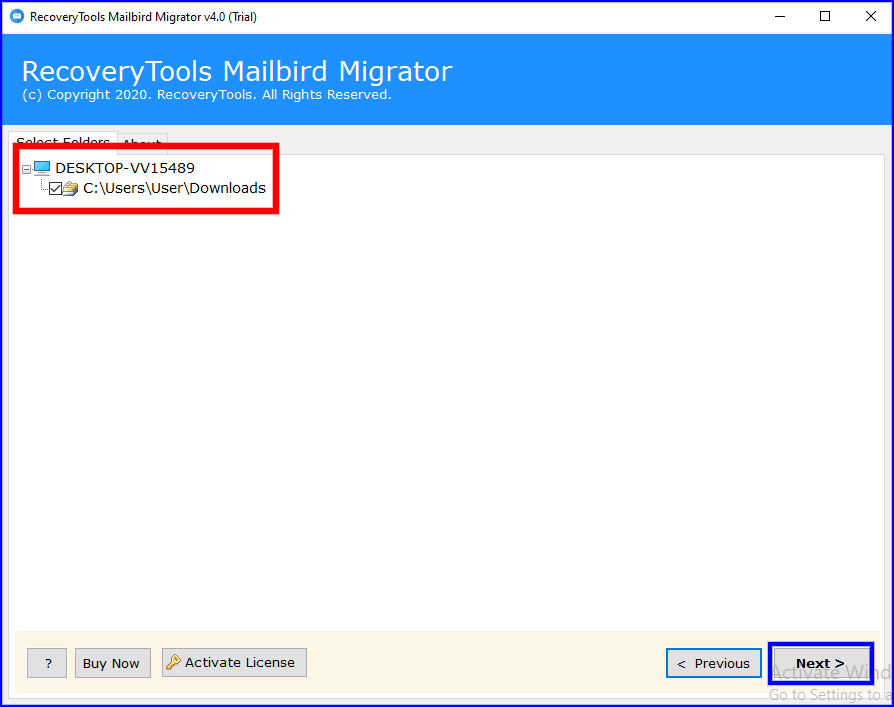 Save Mailbird Emails to File Formats
Now, choose any of required file format like PST, MSG, EML, EMLX, MBOX, PDF, HTML, MHT, XPS, RTF, DOC, vCard, CSV. For an illustration, we are taking PST as file format.
Save output files at a desired location and start the Mailbird backup process.
After backup finishes, the software will show a completion message on the screen.
Save Mailbird Data to Email Clients
The user can download the Mailbird files and import them into email clients like Windows Live mail, Thunderbird, Lotus Notes, etc.
Once you have take backup of Mailbird emails , you can directly import into these supportable email clients.
Perform Mailbird Backup on Cloud-Application
Select an option accordingly like Gmail, G Guite, Yahoo to backup Mailbird emails.
Enter the credentials of desired email account to save emails from Mailbird.
Once the backup completes, open the required email account to view the Mailbird email messages.
In this way, one can take backup of Mailbird emails, contacts to file formats, email clients, Webmail accounts, email servers.
Prime Features of Software
Backup countless Mailbird emails: For taking backup of Mailbird files, the user can select any number of files and folders without any hassle.
Automatic Mailbird backup: With this tool, the users can upload the Mailbird data automatically from the default storage location.
Selective download emails: Using this tool, you can choose emails for backup in a selective manner. The users can pick desired Mailbird emails and leave the unwanted ones.
Take Mailbird backup in batch: This utility facilitates to perform the Mailbird email backup in batch mode. Hence, saves a lot of users time and efforts.
Preserves email properties: The tool maintains all the email attributes throughout the backup of Mailbird emails process. The email components like sender/receiver details, subject, font style, formatting, hyperlinks, attachments, images, etc.
Download Mailbird email attachments: The utility will give you option to backup email as well of associated attachments of Mailbird profile.
Maintains folder hierarchy: No matter how many number of files you are choosing for Mailbird backup process, it will preserve the internal folder hierarchy.
Frequently Asked Questions
Ques1: I have some Mailbird email data but I need to create a backup of my Mailbird emails. Later I want to print it into PDF format. Can I use this software for this purpose?
Ans: Yes, the software provides PDF as file saving option. You can choose it, and backup Mailbird emails into PDF file format.
Ques2: Can I backup Mailbird contacts on my computer?
Ans: Yes, for this you can select vCard and CSV option and easily save Mailbird contacts on your computer.
Ques3: Does the software provides any facility to move Mailbird emails to mail servers also?
Ans: Yes, the software provides this function too. You can download and save Mailbird data to mail servers like Microsoft Exchange Server, IMAP Server, MDaemon Server, etc.
Client Testimonials
I was very happy to see that this Mailbird email backup utility gives facility of demo edition too. I used this demo version to analyse the potential of software before investing my money on it. Really amazing utility for taking backup of Mailbird emails.

-Cameo, USA

Due to the constant threat from hackers and viruses, I decided to backup my Mailbird account. I did this with the help of Bit Recover Mailbird backup software. It is really an efficient tool for saving Mailbird emails and contacts on computer. Highly recommended tool!

-Cedar, New York
Conclusion
In this blog, we have described how to backup Mailbird emails and contacts in an easy and effective manner. This automated solution is quite understandable for each type of users, be it technical or non-technical. If you still have query regarding Mailbird backup process, kindly contact to our technical support team.