How to Convert Emails from Zimbra to Word DOC ?
Are you looking for a way to change emails from Zimbra to DOC file then no problem ? This article will guide you through the entire process of moving folders from TGZ emails to Word file.
Free Download Zimbra to DOC Migration Toolkit:
The trial version of this utility will help you transfer the first 25 emails from Zimbra items to Word Document. It has become very difficult for the users to switch their mailboxes, but this application will facilitate all that process very quickly. There may be several reasons why you want to convert Zimbra mailboxes to DOC format.
How to Move Emails from Zimbra to DOC ?
The above video tutorial will help you to migrate Zimbra mailboxes to DOC. All the service is very fast and easy because it transfers the bulk of Zimbra TGZ files data with attachments. It's working process is very easy and simplified, since any non-technical user can better understand its procedure simply by following these simple steps:
Step 1: Launch and Run Zimbra Converter software to export TGZ files to DOC format.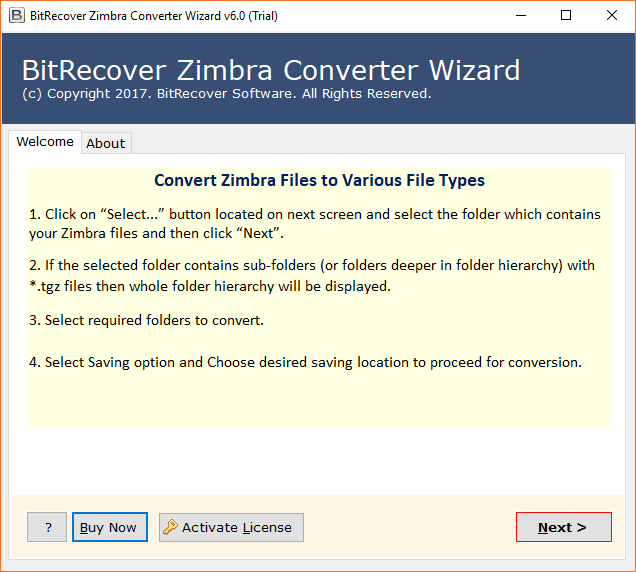 Step 2: In the below image, mention the two options for transferring Zimbra files to Word DOC format i.e. Select File or Select Folder. The user can choose according to his / her need.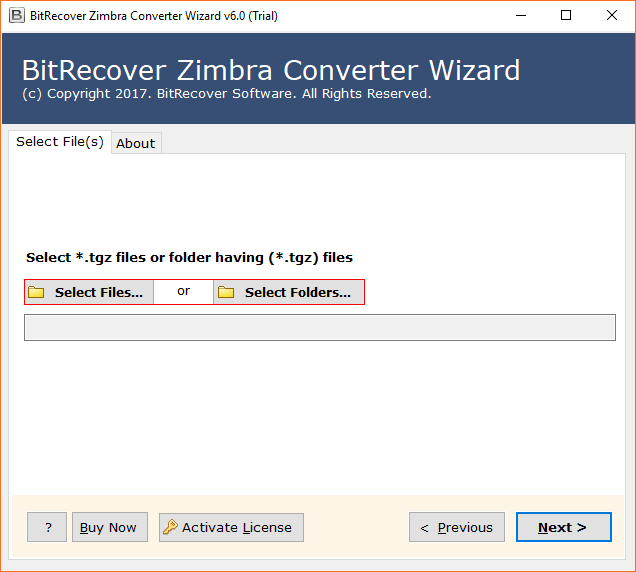 Step 3: After that, you have to select the TGZ files, the tool will show its path >> hit on the Next button to move further.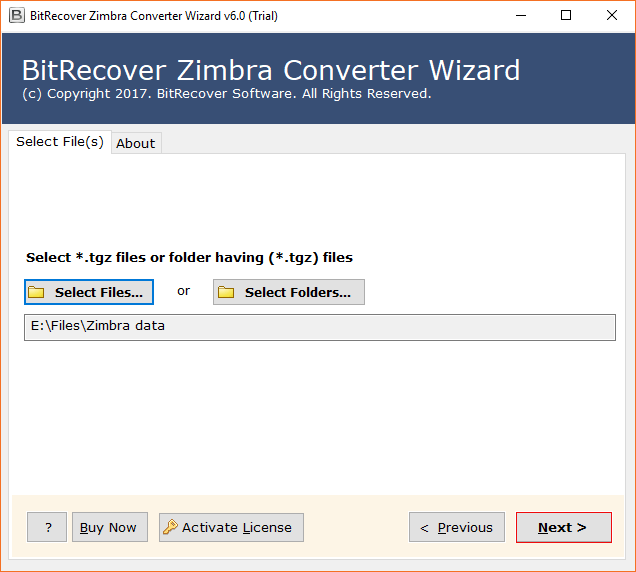 Step 4: Now, mark the desired folder to perform the conversion process from Zimbra data to DOC files >> hit on the Next button.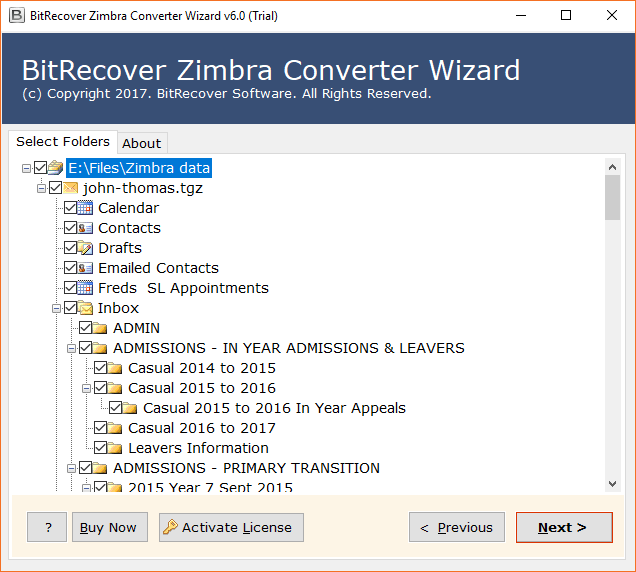 Step 5: Then, from the below-given list choose DOC to save all Zimbra TGZ files into the DOC mailbox. Click on the Next button to continue.

Step 6: The Zimbra to DOC converter tool by default select the destination path if users want to change the location then, they simply choose the route where they want to Save your converted Zimbra file. Press on the Next button.

Step 7: The tool provides various File Naming Options, user can select as they required.

Step 8: Click on the Convert button, the Zimbra to DOC conversion process is started now.

Step 9: Here you get your resultant Zimbra files with all email attachments.
From above, we can easily conclude that it has become a very easy task for the users to migrate from Zimbra to DOC file. The whole process is very easy to understand and will not require any technical guidance.
Advantages of Word DOC File
No Internet connectivity is required to open DOC files, users can double-click for reading MS Word documents.
DOC files can be easily opened with various computer programs, such as MS Word, LibreOffice, Microsoft Wordpad, Kingsoft Writer, Apple Pages, Apache OpenOffice or many others.
Different types of OS support DOC files, including Windows. Mac, Linux, iOS, Android, etc.
The users can effortlessly send or receive the resulting DOC files as email attachments and it is very safe against viruses.
Zimbra to DOC Converter Features:
The Zimbra .tgz to Word DOC Migration software is designed with advanced algorithms to provide a large number of advantages to its users. Some of them are listed below:
It will enable the users to batch export various users' information from Zimbra TGZ emails to DOC.
The interface of this application is very easy to understand with a simplified approach.
The software is compatible with all the latest versions of Microsoft Windows, i.e., Windows 10, Win 8.1, Win 8, Win 7, Win XP, Windows Vista, etc.
The TGZ files to Word Migration application will allow the users to transfer all the data from Zimbra file including emails, contacts, calendars, etc.
The migration tool from Zimbra to DOC did not have any file size limitation, during the conversion.
After the conversion process, the tool can easily convert the Zimbra files in DOC format with its original data structure.
FAQ's – BitRecover Zimbra TGZ to DOC Wizard Software:
Q: I don't have so many technical knowledge, so it's easy to use this application ?
A: Yes, you can easily use this Zimbra to DOC Converter software for the conversion process. Because it gives a simple user-friendly interface so, you can convert Zimbra TGZ emails to Word DOC migration in a hassle-free manner.
Q: Can I export various TGZ file messages to Document at once ?
A: Yes, the Zimbra files to DOC Converter program provides dual mode conversion option. By using this you can add a folder for converting multiple emails in DOC format at one time.
Q: Does it transfers emails with attachments into MS Word file ?
A: Yes, the program to change Zimbra to Word file can simply convert TGZ files with attachments into the DOC format.
Closure
Hope you get the simple method to migrate Zimbra to DOC. The above-mentioned steps are easy-to-perform. Also, the product is automated you can quickly perform Zimbra to Word Document conversion. In addition, the application is a reliable tool and maintains data integrity throughout the migration process. So, download the tool free for an effortless.