Simple Techniques to Open EML File in Outlook 2019, 2016, 2013, 2010
Because of ceaselessly expanding interest in MS Outlook, users are immediately moving from different email clients to Outlook. With the assistance of Outlook, clients can send/get messages, oversee schedules and contacts, and so forth. In any case, taking over an email client with another isn't that basic as every application has its own different document format to store information. Microsoft Outlook stores all email database in PST file format. Though Apple Mail, Outlook Express, WLM, Thunderbird, SeaMonkey utilizes EML format for the equivalent. Consequently, it gets necessary to make data viable to the target application prior to executing the conversion. This article discloses how to open EML file in Outlook alongside motivations to execute such conversion.
INSTANT Solution- Take a free trial of EML to PST Converter – automated software which is designed for the users who want to open EML file in Outlook.
Why Need Arises to Open EML File in Outlook ?
Over many years, numerous individuals more likely have used different email clients, for example, Outlook Express, Windows Live Mail, and so forth which have now gotten out of date. Subsequently home as well as corporate users are currently relocating from these email clients to MS Outlook as it presently offers many exciting features.
Kindly note that with the Operating System release, Microsoft continues changing the default email clients. For instance, in prior forms of Windows OS like XP, Outlook Express was the default email client, however, in the later editions of Windows like Vista and 7, Outlook Express was supplanted with Windows Mail and Windows Live Mail. These three email clients uphold distinctive file formats; henceforth, it gets necessary to open EML files in Outlook.
Multiple Techniques to Open EML File in Outlook 2019 | 2016 | 2013 | 2010
There are various tips to open EML file in MS Outlook.
I) With Microsoft Outlook Application
This approach is helpful when you have separately saved EML files on your PC and there is no obligation for EML supportable email client installation. However, you will clearly need Microsoft Outlook to execute this process.
Follow these steps to open EML files in Outlook:
Launch MS Outlook on your Windows PC.
Go to the location where EML files are stored and then choose a required file.
Now, drag the chosen EML file and drop it into Outlook.
Please Note- This method suits you when you have few EML files. A large EML database can increase data loss issues.
II) Open EML File in Outlook with Windows Live Mail and Outlook
Keep in Mind- Before you start this manual method, ensure to create an email backup. Also, it is essential to have WLM and Outlook on your local machine to perform the conversion. Now, follow these guidelines:
Start both Outlook and Windows Live Mail on your Windows PC.
In Windows Live Mail, go to File and choose Export option and pick the email messages.
Then, select Microsoft Exchange as the Export option and click on Next.
Now, you will get a message saying that all messages are exported to Outlook/ Exchange. Hit on OK tab.
You can choose to transfer all folders or only selective folders that you need to export with Select Folders option.
Lastly, hit on OK and the export process starts.
Once the task ends, click on the Finish button.
Drawbacks of Manual Method
Needs Technical Expertise:- If you want to execute the process to open EML file in Outlook then, you will need to have the technical proficiency to operate windows live mail and Outlook.
High Chances of Data Loss:- Any sort of negligence can cause data loss problems. Thus, you must be careful while performing the open EML file in Outlook process.
Time-Consuming:- Such native methods prove beneficial when you have few EML files but if you have a large database. Then, it could be a long tiring, and intimidating process.
But, don't worry! Now, try a professional solution for opening multiple EML files in MS Outlook.
III) Open EML Files in Outlook without EML Supportable Email Clients
Accessing EML files in Outlook without compromising information loss is difficult with standard methods. Thus, a requirement for expert solutions generates for the same. One such conversion software is EML Converter to PST tool that enables users to open EML file in Outlook 2019, 2016, 2013, 2010, 2007, etc. This is a smart way to import multiple EML files into Outlook along with attachments. First, download and launch the software and follow these steps.
Now, click on the "Select Folders…" or "Select Files…" option to import EML files into the toolkit.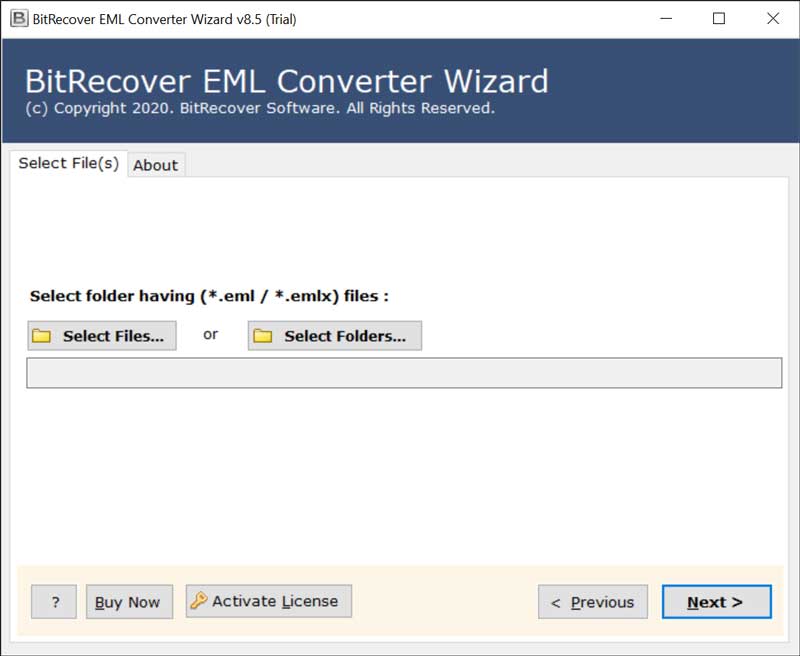 Choose required MBOX mailbox folders for the conversion.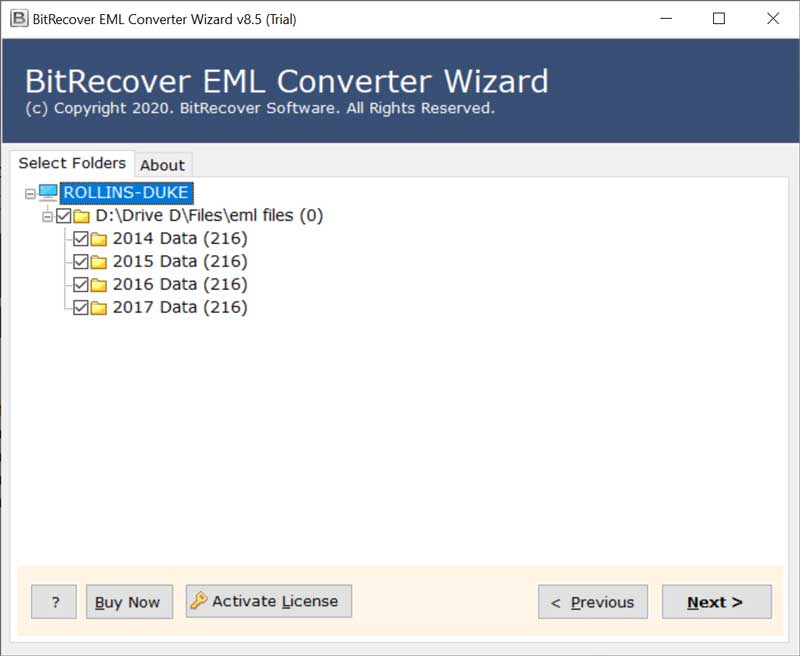 Then, select PST as a saving option from the tool.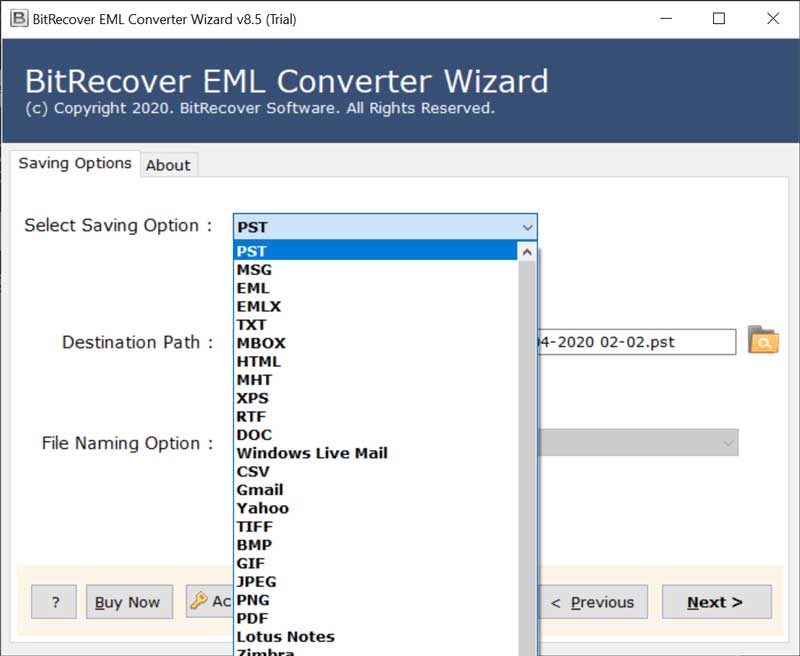 Thereafter, enter a destination path for saving the output at the desired path.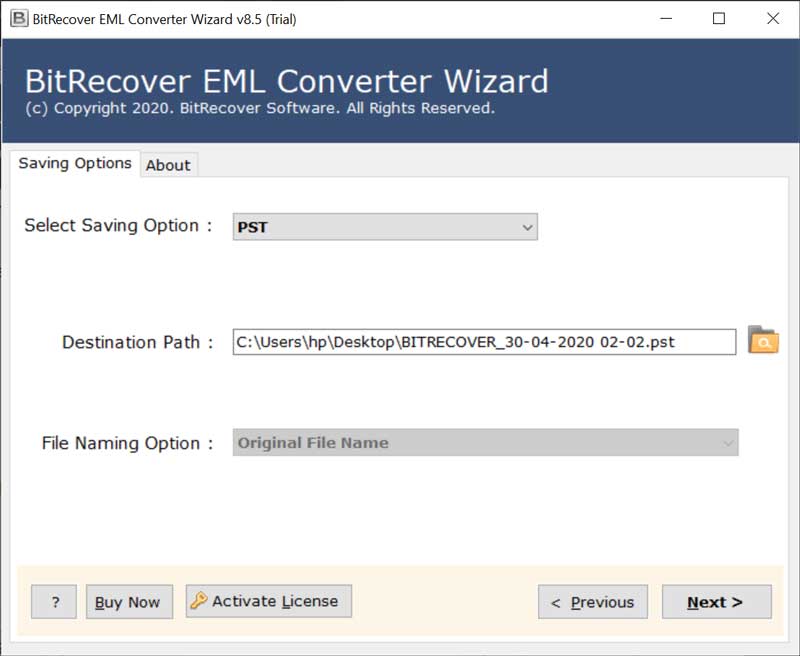 Now, start the process to open EML files in Outlook by clicking on the Convert button.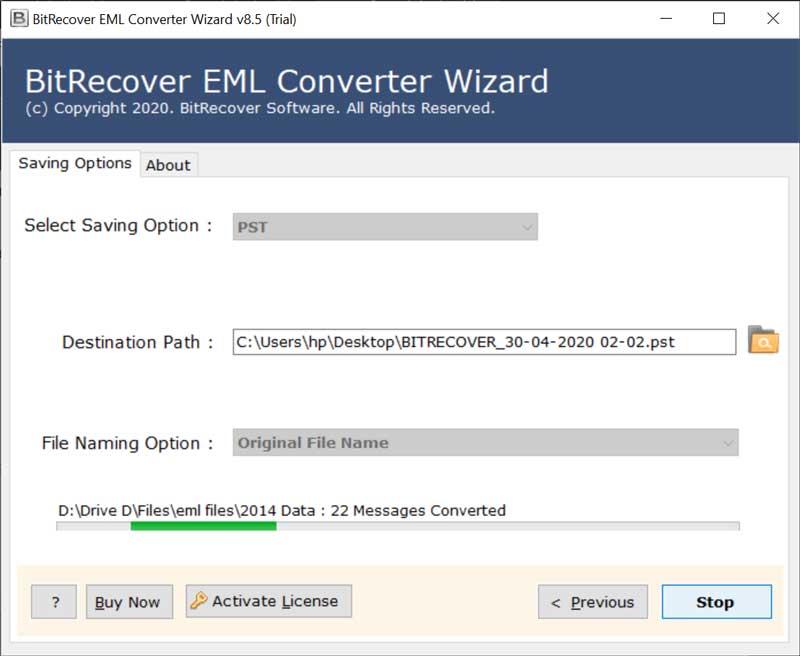 Soon you will receive a conversion completion message.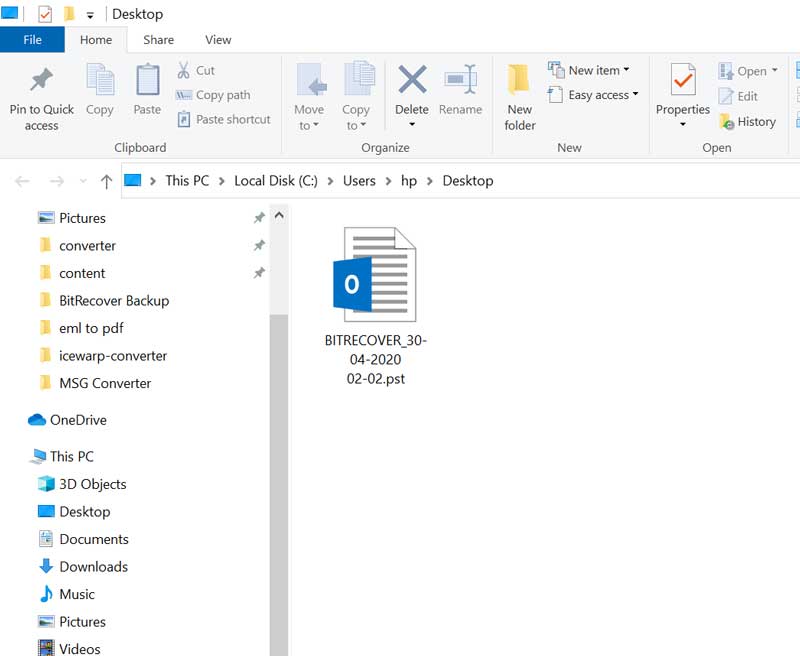 Salient Features of Software
You can perform batch conversion to open EML file in Outlook application.
The tool will open multiple EML emails into PST format along with attachments too.
Dual options to load single or multiple EML files for executing conversion.
It supports various EML supportable email client applications like Mozilla Thunderbird, Windows Live Mail, Windows Mail, eM Client, Outlook Express, The Bat!, DreamMail, Zoho Mail, Roundcube, Apple Mail, IceWarp, Zarafa, SeaMonkey, etc.
The software provides a migration summary report with complete details.
It is compatible with all Outlook versions like Outlook 2019, 2016, 2013, 2010, etc.
Conclusion
The manual methods might look direct but there is no guarantee that all EML files will be successfully imported into Outlook. Thus, we suggest you to use BitRecover Software to open EML file in Outlook. It is an independent application and suits best for all sorts of users.