How to Move SeaMonkey Mail to New Computer ?
Summary: Looking to move SeaMonkey mail to new computer? Can't find a correct approach for the same? Don't hassle! We will guide you in this write-up, how to transfer SeaMonkey profile to new PC.
SeaMonkey saves your personal data like bookmarks, passwords, emails, new messages, installed add-ons, etc in a specific profile folder. SeaMonkey surely appeals to advanced users, web developers, and even corporate users. Now, apart from just installing SeaMonkey, uses want to move SeaMonkey mail to new computer.
No one can easily locate the SeaMonkey profile location because of encryption. In this blog, we will describe how one can move SeaMonkey profile to new computer. With this described solution, you can easily access the old SeaMonkey profile to your new PC.
Move SeaMonkey Mail to New Computer – Use this Expert Solution
BitRecover SeaMonkey converter wizard is an automated utility that allows to convert SeaMonkey email data to different file formats like PST, MSG, EML, EML,X PDF, MBOX, DOC, etc. This software facilitates to migrate SeaMonkey mailboxes along with all attachments. Download this application by hitting on this green button and effectively transfer SeaMonkey to new computer.
How to Move SeaMonkey Profile to New Computer ?
Follow these steps to transfer SeaMonkey to new computer:
Run SeaMonkey conversion wizard.
Choose SeaMonkey profile data to transfer into new PC.
Select desired saving option from the software.
Pick a target location for saving converted data to new computer.
Start conversion to move SeaMonkey mail to new computer.
Once you have exported SeaMonkey emails in a desired file format, now you can import the data to email clients like Outlook, Windows Live Mail, Thunderbird on your new computer.
Important Note: This software runs on all Windows OS. It is compatible with Windows 10, Windows 8.1, Windows 8, Windows 7, Windows XP, Windows Vista, Windows Server 2019, Windows Server 2016, Windows Server 2013, etc.
Transfer SeaMonkey Emails to Another PC – Complete Solution with Screenshots
First of all download the setup file of SeaMoneky conversion program. Launch it properly on your Windows machine.
Now, choose single or multiple SeaMonkey emails into the GUI.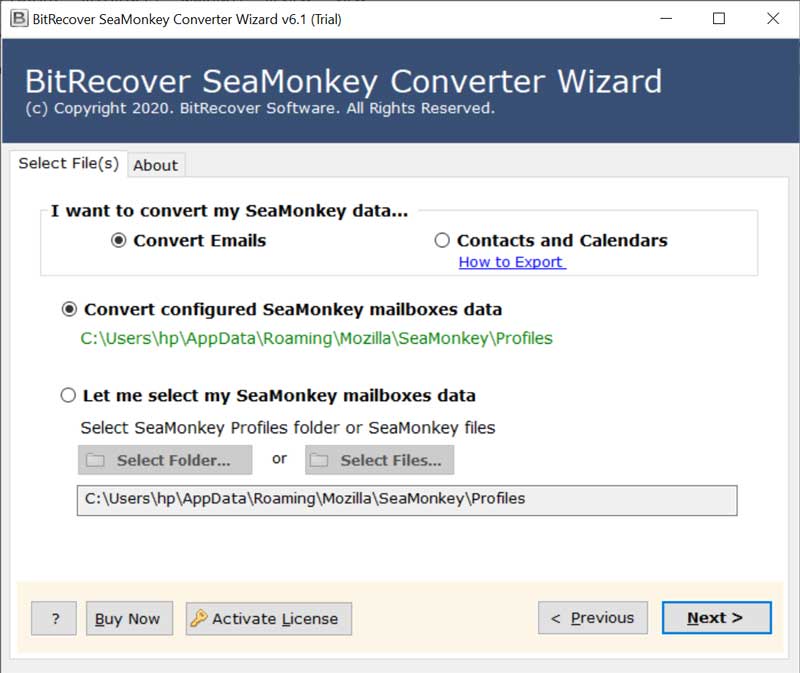 Thereafter, pick only those emails whose email data you wish to transfer into new computer.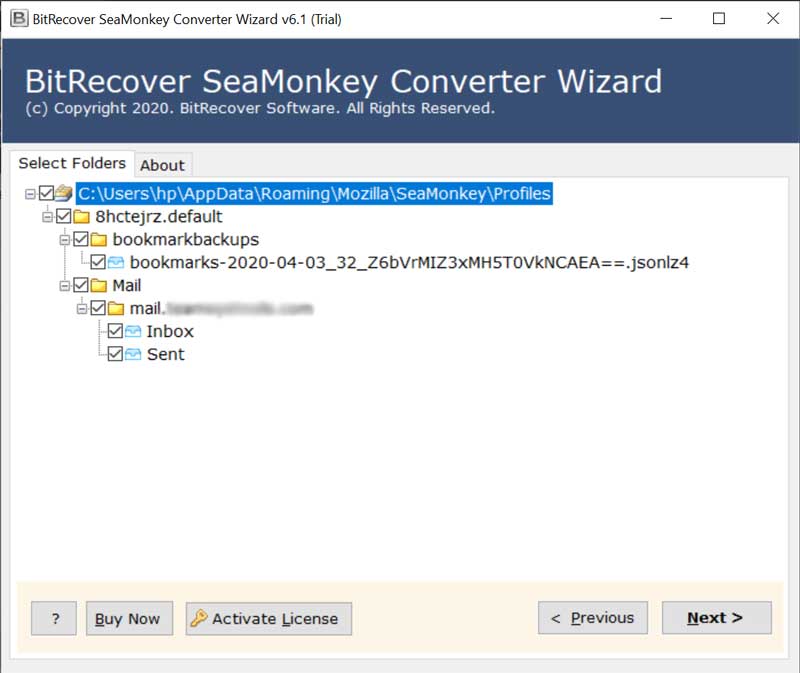 Then, choose any saving option according to your need. Here we are taking PST as saving option for an illustration.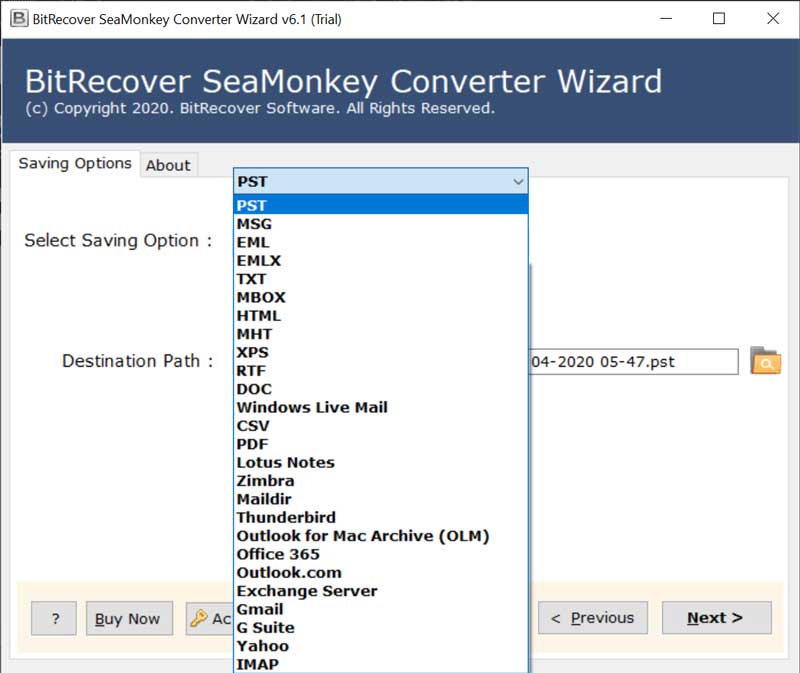 Now, enter a required destination path or choose the location from the Browse icon.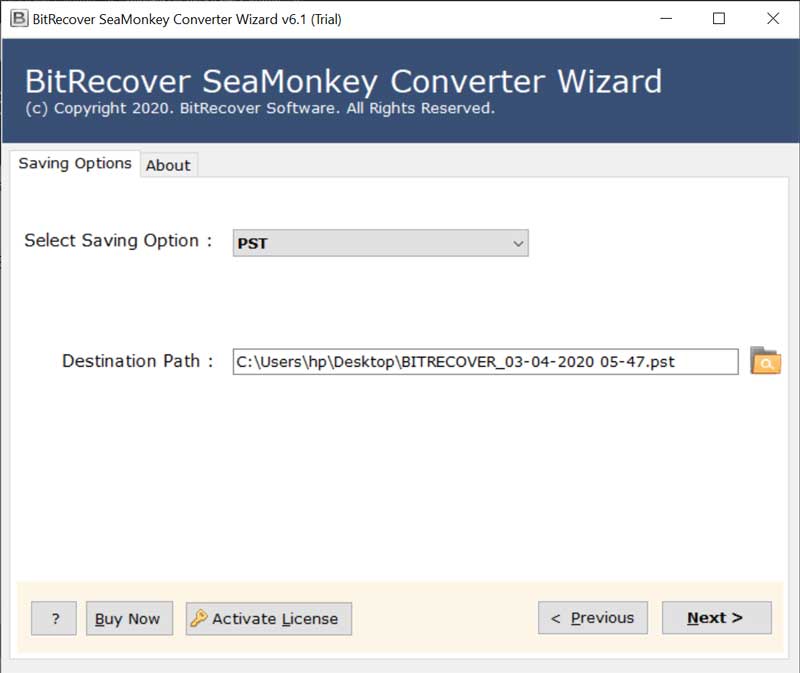 Lastly, hit on the Convert tab to start the conversion. The process is running and will end after some time.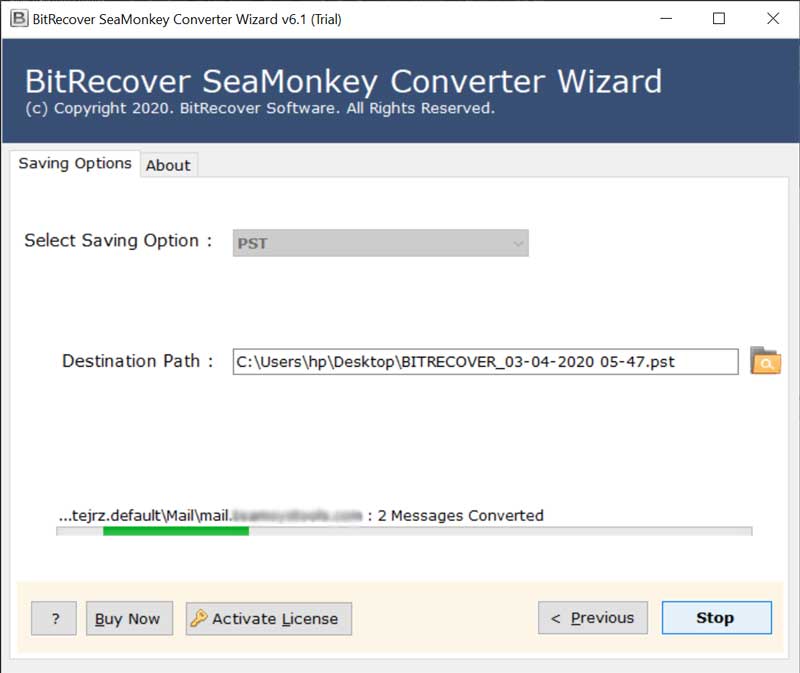 Once this transfer process completes, a completion message will display on the screen. Click OK to move further.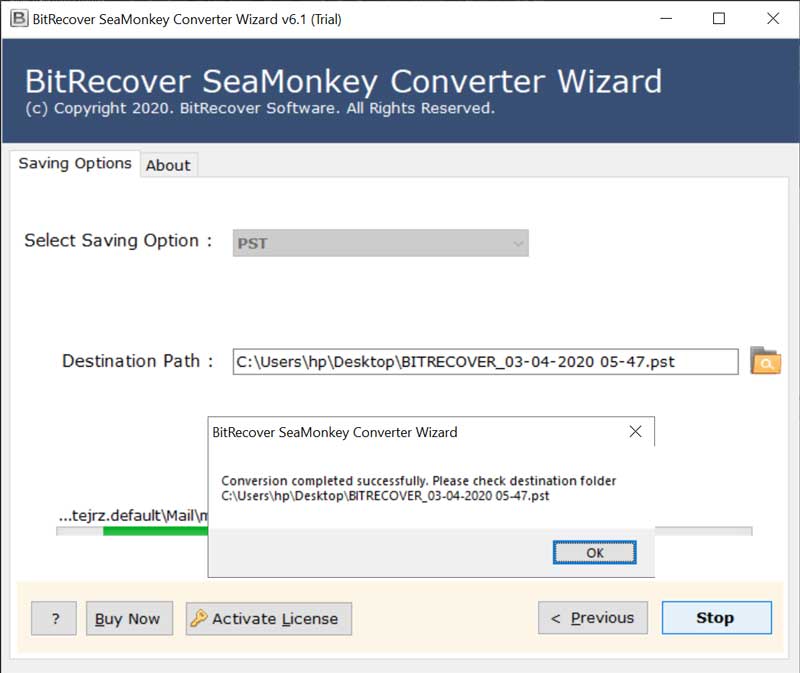 The software will automatically open the folder containing your SeaMonkey converted emails.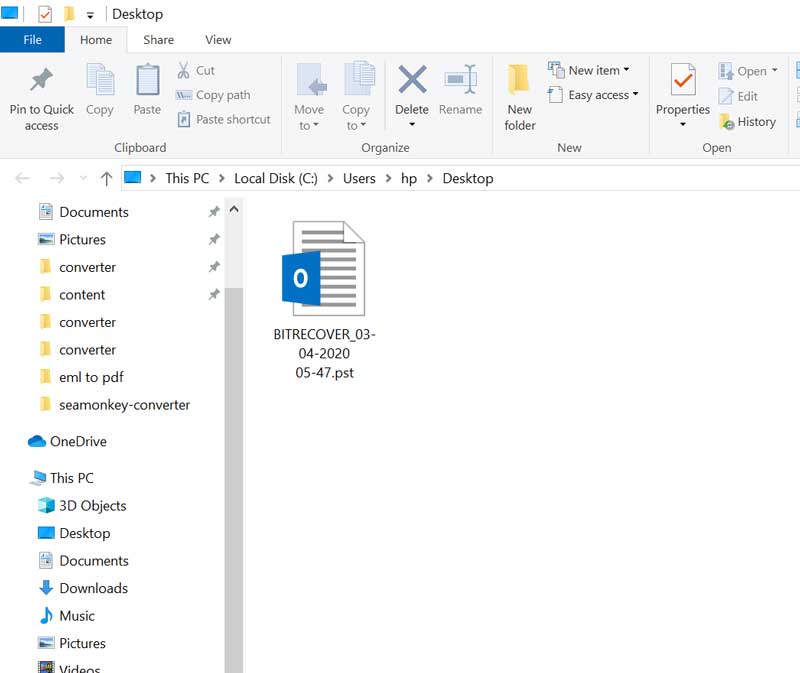 Now, switch to your new computer and open the converted PST email messages.
User Problems – How to Transfer SeaMonkey to New Computer ?
Case1: SeaMonkey is my default email client right now, just as I had it on my previous PC(Windows 7). I am having trouble as I want to move SeaMonkey profile to new computer (Windows 10). I did some online research about the migration process, and I understand the basic drift of it, but somehow every single attempt goes in vain. Please help me to accomplish this SeaMonkey email transfer process. Your help will be really appreciated!

Case2: So, I am getting started to assemble my new computer and I intend to transfer SeaMonkey to new computer straightforwardly. Actually, my old SeaMonkey profile on previous computer contains some important emails which I need now in my new PC. I don't know a correct sequence for doing this process. Can someone please suggest me a direct solution to move SeaMonkey mail to new computer. Thanks in advance!
Manually migrating emails from SeaMonkey to new PC is very tedious task. Also, people who don't belong to technical background find it troublesome to move SeaMonkey to new computer. Hence, use the BitRecover SeaMonkey migration wizard to move all emails from SeaMonkey to another computer.
Remarkable Features of Software
Batch Export feature: This outstanding software provides batch conversion mode option using which one can move SeaMonkey mail to new computer in bulk. This helps to transfer multiple SeaMonkey profiles to another computer in a single processing.
Multiple Saving options: One can use this tool to move SeaMonkey profile to new computer by using any of the saving option. These are Windows Live Mail, Outlook.com, Thunderbird, PST, MSG, EML, EMLX, MBOX, PDF, HTML, MHT, XPS, RTF, DOC, CSV, Lotus Notes, etc.
Automatically detects SeaMonkey profile: This conversion wizard no longer reuires you to remember your SeaMonkey default storage location. It automatically detects all the SeaMonkey profile data from your storage location once you install this software.
Transfer SeaMonkey attachments: If you SeaMonkey emails consists of some attachments too, then this utility will move all those attachments to your new PC. It will export all SeaMonkey emails with associated attachments to another computer.
Preserves the data integrity: The software assures to maintain complete integrity of SeaMonkey data throughout the entire conversion process.
Maintains email attributes: You don't need to worry about the email headers while you are working with this tool. Reason being, it keeps intact all the email properties like sender/receiver details, subject, exact message formatting, active links, inline images, attachments, etc.
Simple GUI: It has been programmed in such a manner that any of the technical or non-technical user can use this application. Anyone can efficiently move SeaMonkey mail to new computer without any trouble.
Client Testimonials
I was searching for a solution to move SeaMonkey mail to new computer. But, I was unware how to find the default SeaMonkey profile on my computer. My friend suggested me this software, once I used it, my problem got resolved. This amazing utility detects the SeaMonkey profile direct as soon as I launched it. I am full satisfied with this application as I used it to transfer SeaMonkey to new computer.
-Brian, Germany
Thank you BitRecover team for launching such a useful software! This tool provides both automatic and manual file selection option so anyone who is willing to move SeaMonkey profile to new computer can use it. Highly recommendable tool!
-Eli, New York
Let's Conclude
Migration of SeaMonkey emails to another PC seems difficult as manually there is no option. Now, you can download this software and move SeaMonkey mail to new computer in a fraction of seconds. It is an standalone application, so you don't require any external installation of any other software. Hence, use this utility to perform a smooth transfer of emails from SeaMonkey profile to new PC.