How to Import CSV Contacts to iCloud Account ?
Recently, I bought a new MacBook for my personal use. Generally, I save all my family contacts into a CSV file. Now, I am willing to import CSV contacts to iCloud+ in order to get all-time accessibility. Please suggest to me a solution to transfer CSV contacts to iCloud.
Today everyone wants that their contact list available to all platforms and devices like Android, iPhone, or iCloud+. A CSV file (Comma Separated Variable) is a table-structured format that is useful for contact management.
Your contacts precisely do not mean a telephone number! But, it also comprises the name of contact, address, location, company details, email address, fax number, etc.
Sadly, a CSV file is incompatible with iCloud, iPhone, iPad. On the other hand, VCF (or vCard) format is a standardized format that not only supports storing contacts but also contacts photos, logos, audio clips, etc.
Hence, if you are juggling on the internet to find a reliable solution to import CSV contacts to iCloud+. Then, your search ends here.
Professional Solution to Import CSV Contacts to iCloud, iPhone, iPad
If you are a Windows and Mac user and want to export CSV contacts to iCloud+ account in a direct manner then try BitRecover CSV to vCard File Converter. It grants the users to bulk transfer CSV contacts to vCard file which can later be imported into iCloud account.
You can use the demo version of this software in order to evaluate the tool's features. It permits saving few CSV contacts to VCF format. After getting completely satisfied, upgrade the license keys.
How to Import CSV Contacts to iCloud Account ?
Applies to: Windows, Mac
After downloading the software, you'll see the following starting screen. Now, choose the CSV file which you wish to import into iCloud+.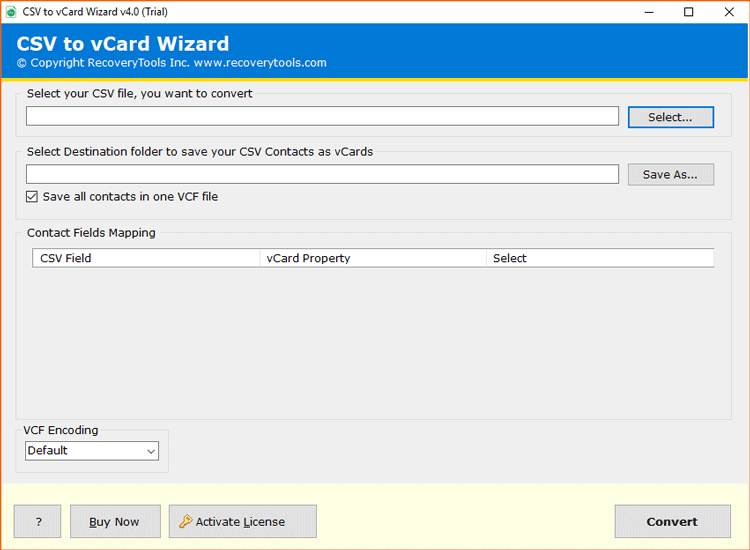 Then, select VCF Encoding as per your need like Default, ASCII, UTF-8, Unicode, UTF-32, UTF-7. Also, pick a destination folder to save CSV contacts to iCloud+.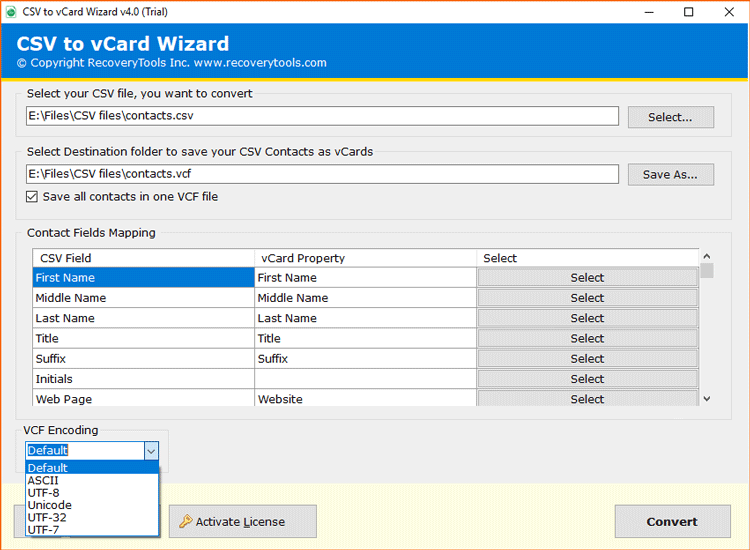 Now, click on the Convert button to begin the process. You'll get the resultant vCard file for iCloud.
Thereafter, open www.iCloud.com in your web browser.
Sign in to your iCloud account by entering the email address and password.
Next, click on the Contacts from the available option.
After this, in the gear icon, tap on the Import vCard… option.
Here, choose the vCard file which you have converted earlier and tap on the Open button.
Finally, the process to import CSV contacts to iCloud+ starts automatically.
In order to import CSV contacts to iPhone, you don't need to worry. The reason being, once the contacts are transferred in the iCloud+ account, it is default synchronized with the iPhone device (if the same iCloud account is added on the device).
Advanced Features of CSV Contacts to iCloud+ Import Tool
You will find the suggested solution as the easiest one since it comes with a user-friendly interface. One can freely access all CSV contacts to iPhone 4s, 5s, 6s, 7s, and X. Read some of the useful features of the software:-
This utility is specifically programmed for all home and corporate users. It allows importing CSV contacts to iCloud+ account without any limitations. It offers lifetime license validity so that users can avail all of its best qualities.
It supports all sorts of CSV files like MS Outlook, Mozilla Thunderbird, Google Mail, PowerShell, Ubuntu, Windows, etc.
There is an option to create single or multiple vCard files with this software. You can make a single VCF file for each contact easily.
Users can apply different vCard Encoding like Default, ASCII, UTF-8, Unicode, UTF-32, UTF-7.
It also offers an advanced contacts field mapping option so that users can efficiently pick CSV field and vCard Property as per requirement.
The software is compatible with all latest and earlier versions of Windows and macOS.
Bottom Line
The transfer of CSV contacts to iCloud or iPhone is not as much tiring as it sounds. One can implement the whole migration without any prior technical knowledge. We hope that now you'll be able to import CSV contacts to iCloud+, iPhone, or iPad without any hassle. The approach described in this blog is easy to follow. But, if you still have any queries, feel free to contact our support team via live chat.