HostGator Email Migration – Transfer HostGator Emails from User Account to Computer
Get to know the instant and exact way of HostGator email migration in this guide. Four simple steps to migrate HostGator mailboxes to computer and a definitive solution is there for you.
"I want to migrate all my important emails from HostGator to my PC. But it seems that HostGator doesn't have a perfect way of doing it. Can anyone tell me about direct email migration from HostGator account? "
It is the exclusive query published on the forum platform. If we consider searches, it is not a question of some, but many are looking for a solution to migrate emails from HostGator account.
Now, there is great news for everyone planning a successful HostGator email migration. Try the BitRecover HostGator Backup Wizard. It's a straightforward and versatile solution to transfer all emails from HostGator to different file types, email client, and webmail in a few easy steps. For instant HostGator email migration, please follow the steps below.
How to Migrate Emails from HostGator Account to Computer ?
Download and run the HostGator Migration Tool.
Select HostGator as the source and fill its login credential.
Choose the required mailbox and pick the desired saving option.
Check the filter option for the advance method and hit the Backup tab.
That's all. It is the easiest and fastest in which you can migrate emails from HostGator to Computer with all information intact. Now, let's keep reading about the best HostGator migrator application.
Learn More About The All-Rounder HostGator Email Migration Software
If you don't want to get into the manual and lengthy process for HostGator email migration, then try the expert recommend a solution. HostGator Email Migration Tool developed by BitRecover is a completely hassle-free solution. It allows you to transfer as many emails you want from the HostGator account with complete information. It allows you to migrate HostGator to Document File Formats, HostGator to Email Client Application, and HostGator to Webmail.
Full Synopsis of Process To Migrate Emails From HostGator To Computer
Here, we will give all the information about the HostGator email migration stepwise along with software images. So, keep on reading.
Take A Free Trial To Start
You can use the solution without sharing any payment details. The demo version of the HostGator Migrator is designed for testing. It is 100% accurate and easy-to-work. Download it on your computer no matters its Windows Supportive or Mac. One thing that should be noted, the software migrates only the first 25 emails to your selected saving. It is the limitation of the trial edition. So, to work without any restrictions you need to buy the License edition.
Check Out The Proper Steps For Transferring Emails From HostGator with Attachments
First of all, launch the software on your computer and do the steps.
Select HostGator as the email source.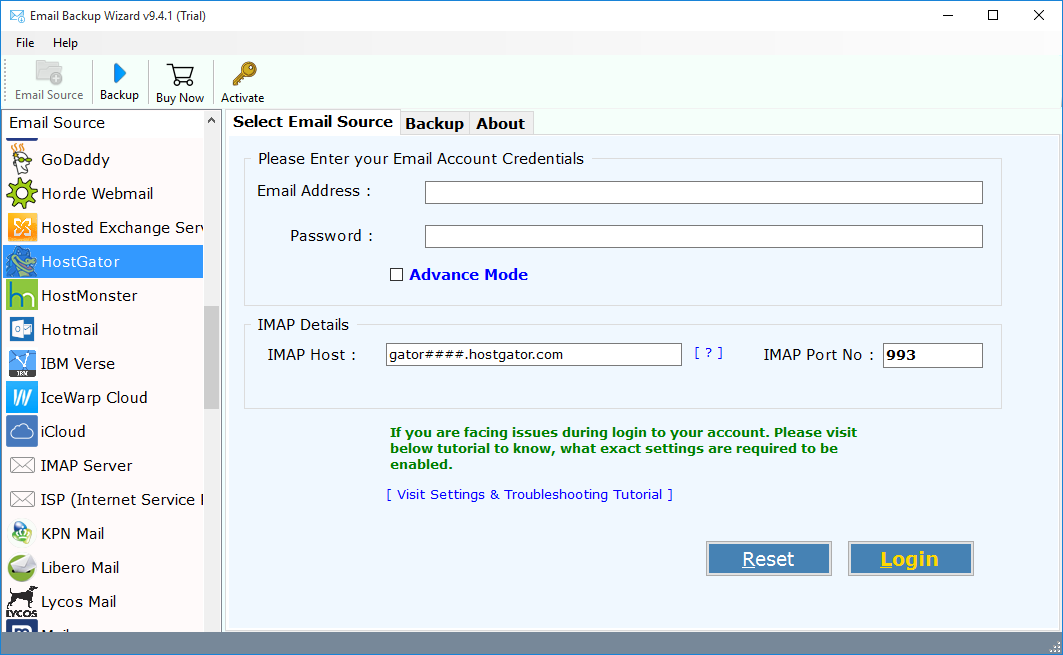 Fill in the login credentials such as email address and password. Then, click on the Login button.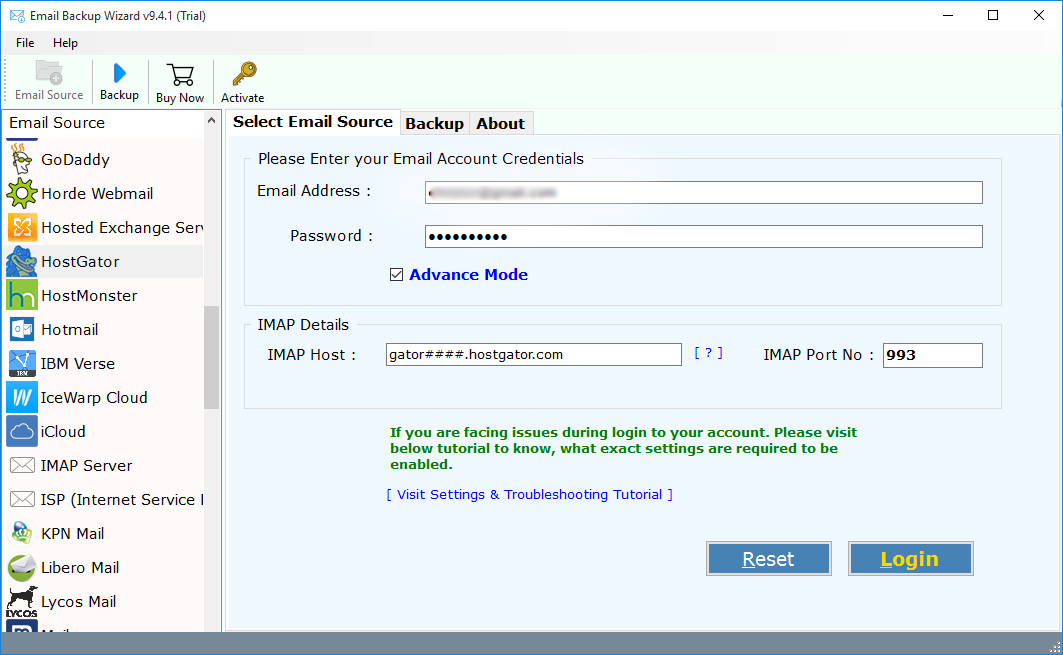 Now, choose the required HostGator mailbox and folder for the migration task.
From the saving option list, check your favorite option for HostGator email migration.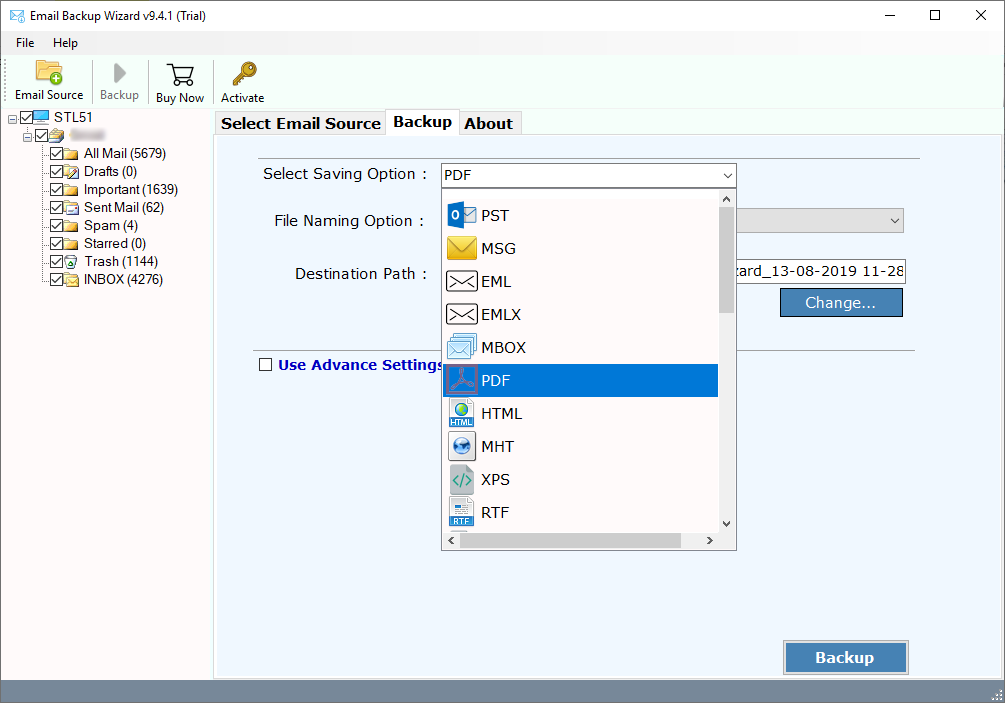 If you select any file type or desktop-email application, the software gives you a fill destination location option. It is the path where you get the complete results. Those who select any webmail option have to mention the login details of the account.
Please Keep in Mind: Go to the Filter option and check if you required any of the fields to sort HostGator emails such as From, To, Subject, and Date Range.
After all, click on the Backup button and wait for your HostGator migration to end.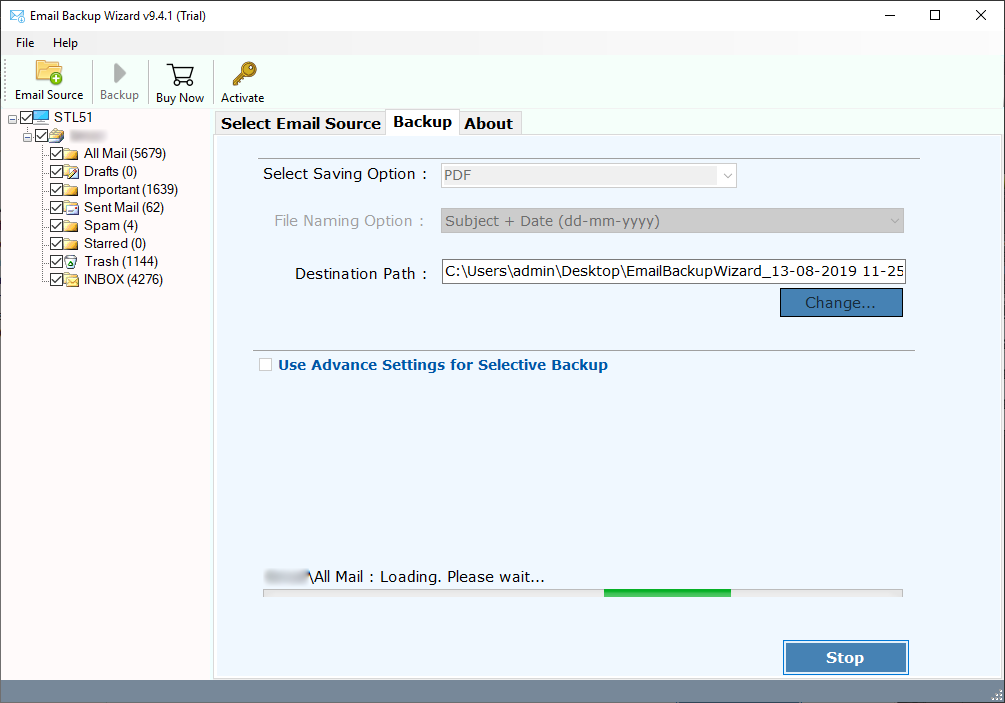 Congratulation! All your HostGator emails are migrated into the desired saving option.
Take A Look At The Detail List Of HostGator Email Migration Options
As we already mentioned that the software gives you many options to migrate HostGator mailboxes with full information. It is more than 20+. Now, let's get the understanding in the detail.
HostGator email migration to File Types:- Using the automatic solution for HostGator messages migration, you can transfer HostGator to Outlook PST, HostGator to MSG, HostGator to MBOX, HostGator to PDF, HostGator to RTF, HostGator to EML, HostGator to HTML, HostGator to XPS, and more.
Transfer HostGator Emails to Mail Client:-The same application gives you the freedom to migrate emails from HostGator to Thunderbird, HostGator to Lotus Notes, HostGator to Windows Live Mail, etc.
Migration from HostGator to Webmail user account:- It is the utility that also brings you the options of transferring HostGator emails to Gmail, G Suite, Office 365 now as Microsoft 365, Exchange Server, Outlook.com, IMAP Server, and many others.
After all the discussion, let's move on to the HostGator email migration tool working. The given step-by-step guide will give proper information on it.
Automatic HostGator Email Migration Tool Prominent Features
Easy to use: The main goal of the software is to provide a complete HostGator email migration through a self-explanatory interface. It uses a reasonable layout design to avoid confusion for users.
Migrate HostGator emails in bulk: This software provides users with the option to migrate emails in bulk from HostGator accounts. In this way, you can save a lot of time and effort.
100% safe interface panel: The software has a completely independent interface that can migrate all emails from HostGator to the computer. The software also provides a 100% safe interface and no-cache interface.
Maintain a complete internal folder structure: You do not need to worry about the structure of the HostGator folder. During this process, it will maintain the folders on the disk and the subfolder structure of HostGator emails.
The fastest migration speed: The app has advanced an algorithm, that's why HostGator email migration process will be completed in some time.
 The Conclusion
If you are planning for HostGator email migration, then you must have many good reasons to do so. Now, you can migrate emails from HostGator to 20+ saving options in a single click. The above guide gives full information about the process. One can also test the solution for free of cost.