How to Fix Microsoft Outlook 0xc0000005 Error ? – Your Troubleshooting Guide
A few hours ago, Microsoft Office updated that the Outlook for Windows is crashing immediately with an exception code 0xc0000005. This Outlook 0xc0000005 error is acknowledged by the Microsoft company which says that –
"There is an active investigation into Outlook crashing on launch starting on 7/15/2020. It added that Additional details can be found in the admin center under EX218604."
With this crashing of MS Outlook over the last few hours, there are multiple reports which are flooding in from worldwide. Users are frustrated when this Outlook error 0xc0000005 is popping on their screen. But, don't panic! We have a robust solution to fix this issue "Microsoft Outlook is crashing worldwide with 0xc0000005 Error".
How to Resolve Microsoft Outlook 0xc0000005 Error Swiftly ?
We understand that in order to fix the Microsoft Outlook is crashing with 0xc0000005 Error issue, you need to have technical knowledge. However, your trouble can be lessen with an automated solution which is completely simple, intuitive and user-friendly. Yes, the name of the software is BitRecover PST Repair tool. It is the most ideal choice for any technical or novice user to fix the Outlook 0xc0000005 error issue.
The suggested tool is rich-featured plus compatible with all Windows OS. It has the potential to restore the damaged or corrupted Outlook PST files into the original format. One can trust on this application as it facilitates to retrieve the deleted Outlook emails, contacts, folders, journals, calendars, notes, etc. Hence, we highly suggest this application to the individuals to quickly repair their Outlook due to the arising error of Outlook 0xc0000005 error.
Before we discuss how you can use this software to resolve the problem of Microsoft Outlook is crashing with 0xc0000005 Error. Have a glance what are some common situations that leads to this error.
Figure Out the Reasons that Leads to Outlook 0xc0000005 Error
The Outlook 0xc0000005 error can pop up on your screen under various situations. Read them one by one.
Due to wrong settings for incoming and outgoing servers.
Your profile configured with MS Outlook is corrupted.
Problems related to Network or Antivirus software.
An incorrect password is cached in credentials storage.
Your Windows Operating System is not properly upgraded.
Today in the morning we received a query from US regarding this Outlook 0xc0000005 error.
Hello!
Few months back, I have started a new business and for that made an Outlook account too. Since it's very in demand, I also thought to use it and it was working fantastic too. But, suddenly yesterday I got an Outlook 0xc0000005 error message while I was accessing my emails. My Outlook account just crashed within a few moments. Now I am too much annoyed with this situation as I actually can't afford to lose a single email of my Outlook account. Whole night I was searching how can I get rid of this issue. On the web I found some things using which I can tackle this issue. But, I am not getting them. I am wondering that it is because I have upgraded my Windows. Can you please provide me a relevant solution to resolve Outlook 0xc0000005 error.
Please Note:- Resolving the problem with yourself without any technical knowledge can lead you in troubles like the one we are discussing here – Outlook 0xc0000005 error. Therefore, the automated Outlook repair software will definitely help you out to fix this issue.
Best Workaround to Fix Microsoft Outlook Crashing with 0xc0000005 Error Issue
Wait! Check the demo version of the software to analyse the tool's working and features. It permits to convert top 25 corrupted PST data items to the healthy format. If you want to recover permanently deleted Outlook emails and restore corrupted Outlook files for lifetime, please purchase the full pro version of tool.
Step1 : Start and run the software
Download and launch the software to fix this issue – Outlook 0xc0000005 error.
Step 2: Import corrupted Outlook files
From your database, quickly upload the Outlook emails by choosing an appropriate option – 'select file', 'select folder'.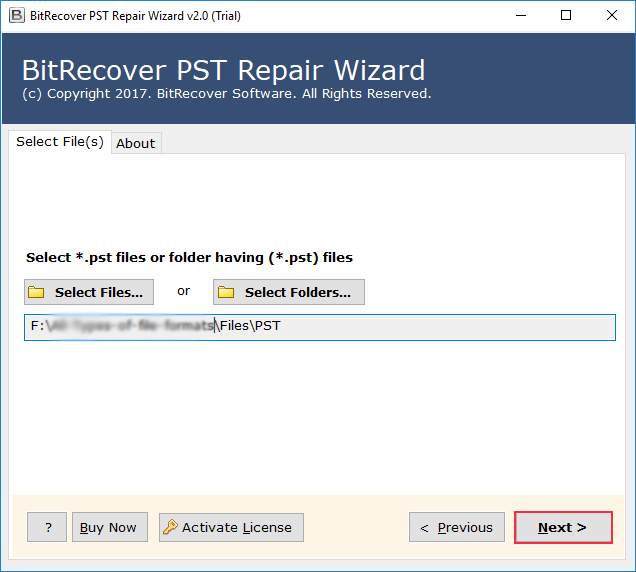 Step 3: Preview all Outlook emails
Now, take a glance at all selected Outlook data items and enable only those folders which you wish to repair so as to resolve the problem of Microsoft Outlook is crashing with 0xc0000005 error.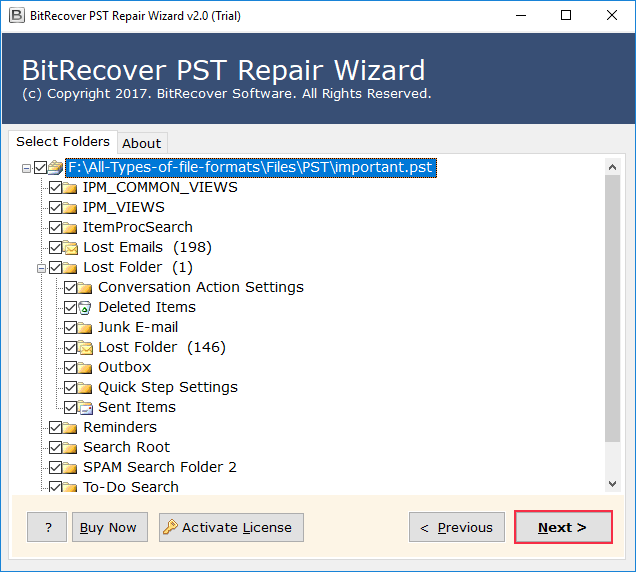 Step 4: Choose a saving format
Thereafter, navigate your mouse towards the saving type options and select any file saving option from it. You can save them in multiple formats as shown in the screenshot.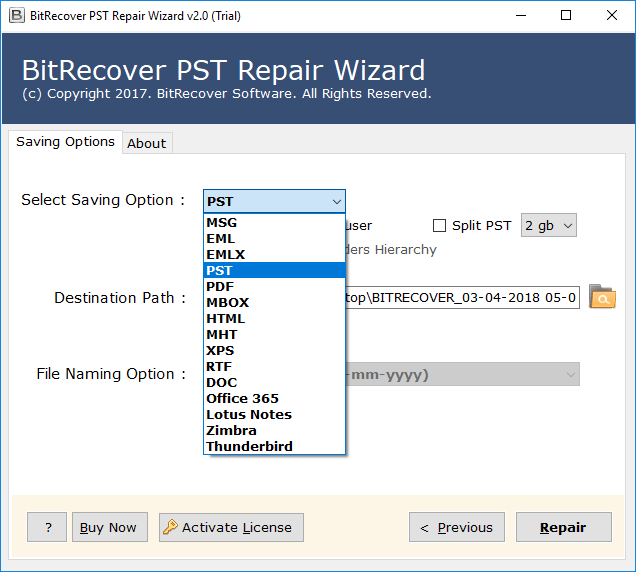 Step 5: Pick all smart options available
Then, fill the location where you want to save the output files. Alongside, also enter a file naming option for a better email management.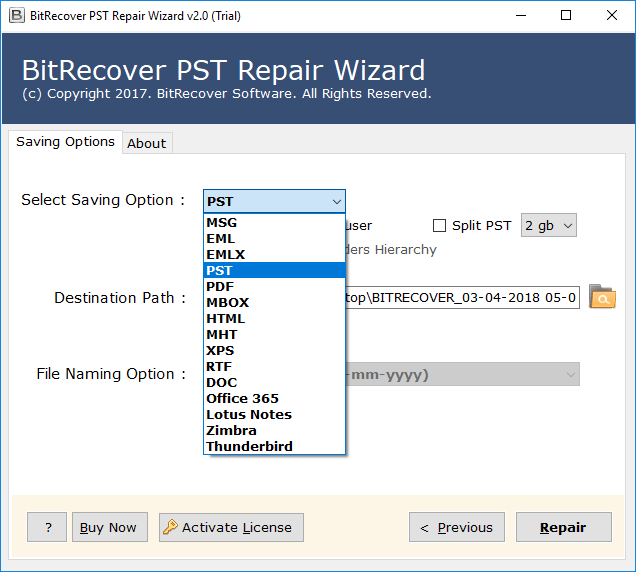 Step 6: Press on Repair button
Now, at the end click on the repair tab to start to retrieve the corrupted data items in order to resolve the Outlook crashing with exception code 0xc0000005 error.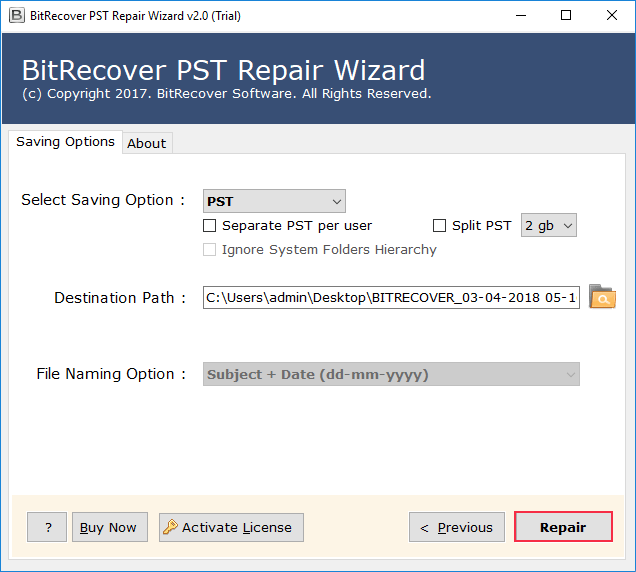 Step 7: Repair process is running
The Outlook PST recovery is going on and you can see the live conversion status too.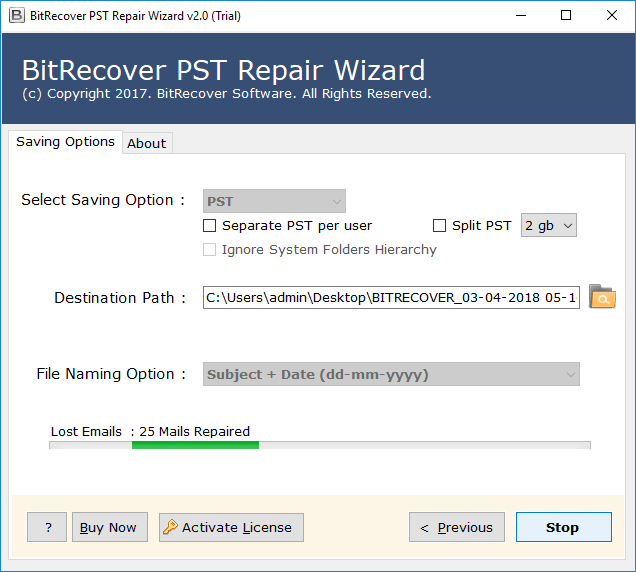 Step 8: Find the repaired Outlook data
Once you have done the process, the tool will give a completion of task message. Click on OK button and find out the repaired Outlook emails from the chosen output location.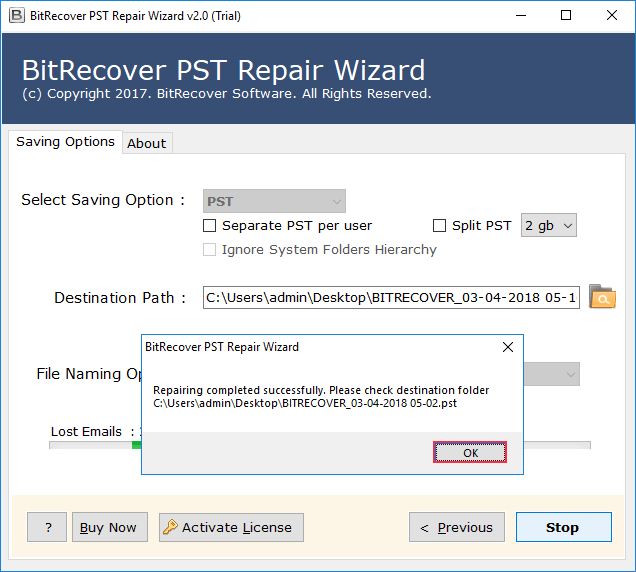 Core Features of Software
You must be wondering why this software is the BEST fix issue of Microsoft Outlook 0xc0000005 error. Take a note of these features which you can enjoy with the utility.
With the software, you can selectively recover Outlook data items.
It has an easy and well-interactive GUI so it's very helpful for any user.
The tool can swiftly fix the damaged Outlook emails within few seconds.
It is compatible with all MS Outlook versions to fix the Outlook 0xc0000005 error.
The utility has an additional split PST file feature which helps you to divide large PST file.
It offers multiple saving options to recover the Outlook files.
The application provides many file naming conventions for a smart email management.
No compatibility issues – you can download it all latest and earlier Windows editions.
Over to You
Microsoft Outlook is very essential for your personal and professional requirements. But, due to certain technical errors you can't afford to lose your crucial Outlook data. The frequently occurred error is Outlook 0xc0000005 error message. Here, in this write-up we have described a simplistic approach for troubleshooting the issue of Microsoft Outlook is crashing with error code 0xc0000005. Hopefully, now you can easily resolve this unexpected Outlook crashing issue.
If you still have any doubts, our technical support team will help you out.