How to Export Windows Live Mail Calendar to Outlook?
WLCalendarStore.edb (WLM Calendar) is a great way to manage your meetings or events, but it is good to know you have the option to export Windows Live Mail calendar to Outlook calendar. If you travel or use another computer then, it's safe option to convert WLCalendarStore.edb to Outlook. So, today we will talk about a brief and precise solution to achieve this transfer of WLM Calendar to Outlook.
Information: WLCalendarStore.edb is the storage location for Microsoft Windows Live Mail.
What's the Solution to Convert WLCalendarStore.edb Calendar Data to Outlook ?
100% Workable Windows Live Mail Calendar Converter – BitRecover Windows Live Mail Calendar to Outlook PST Converter tool is a well qualified solution to export Live Mail .edb files to Outlook PST file format.
This Windows Live Mail Converter is proficient to –
✅ Batch export Windows Live Mail calendar to Outlook PST file format.
✅ Selectively convert Calendar .edb file Windows Live Mail (WLM) into Outlook.
✅ Rapidly migrate heavy size of WLCalendarStore.edb file to Outlook.
✅ Auto-detect Windows Live Mail calendar default storage location on your system.
✅ Compatible with all versions of Microsoft Outlook 2019, 2016, 2013, 2010, 2007, 2003, 2000.
✅ Provides other saving options like ICS, CSV, Lotus Notes, Office 365, Exchange Server.
✅ Precisely export WLM Calendar details like Subject, Start date, end date, reminder, business events.
✅ Dual manual options to choose WLCalendarStore.db files for conversion.
How to Export Windows Live Mail Calendar to Outlook ?
Now, if we talk about the solution to transfer calendar from Windows Live Mail to Outlook, then you can follow these steps for the same.
Tip- Please try the free demo version of export Windows Live Mail to Outlook tool. It permits to convert few calendar events to MS Outlook. After evaluating the tool's features and working, you can upgrade the license keys of unlimited calendar migration.
Download Windows Live Mail export calendar to Outlook tool.
Choose WLCalendarStore.db files either automatically or manually.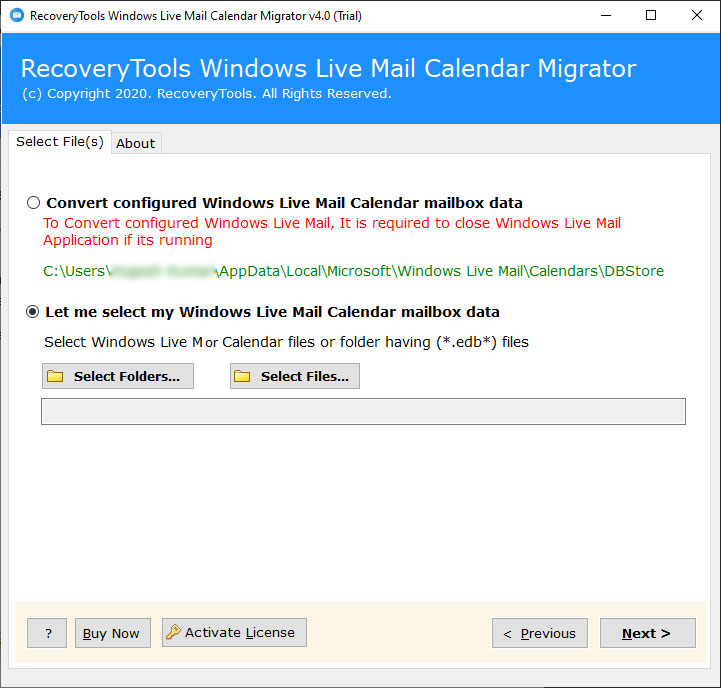 Enable desired Windows Live Mail calendar for export process.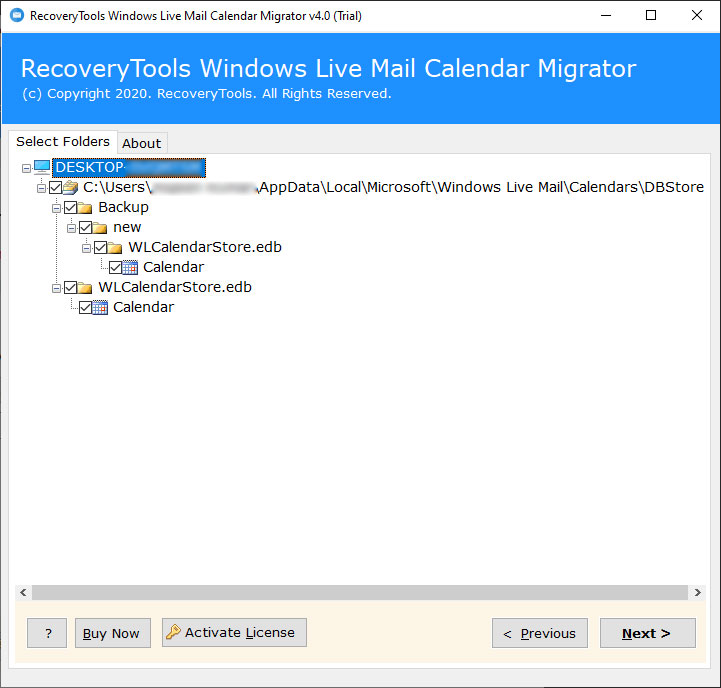 Select Outlook PST as saving option and set a destination path.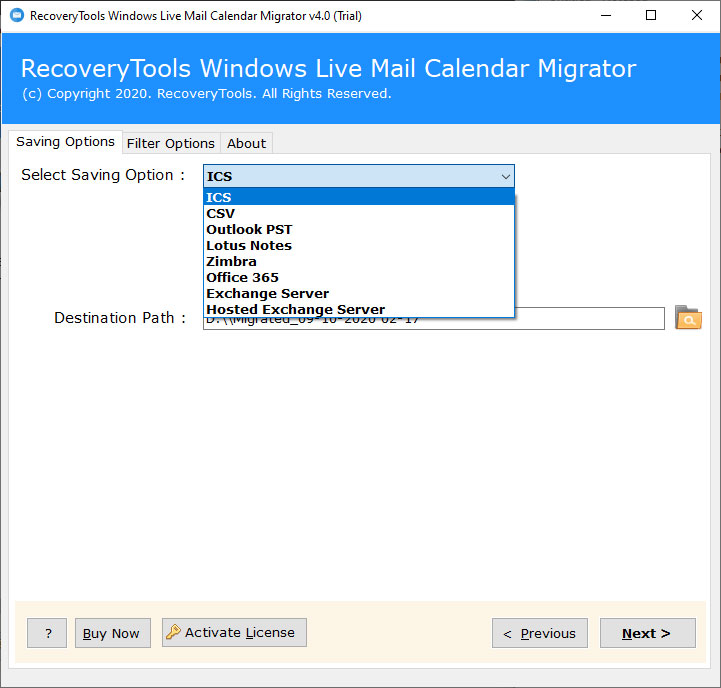 Start to export Windows Live Mail calendar to Outlook.
Once this process finishes, you will immediately receive a pop-up message showing completion of conversion. Now, you can click on OK to end the task.
Benefits to Export Calendars from Windows Live Mail to Outlook 
Similarly as you write in a journal, you can click any schedule in the Outlook Calendar and begin typing. After export Windows Live Mail calendar to Outlook, can avail the following advantages:
1 – Make appointments and events : To create your own event or schedule an appointment.
2 – Organize meetings : In Outlook calendar, you can make a meeting request and choose the people to invite.
3 – Read group schedules : You can view the schedules of all individuals in your department or all resources like conference rooms, etc.
4 – Link to calendars on MS SharePoint sites : Can view the event lists from that SharePoint site in your Outlook calendar.
5 – Share calendars through email : You can send calendar as an Internet calendar to anyone.
Information: Why BitRecover WLCalendarStore.edb Reader is Best?
– Plethora of happy clients all over the globe.
– Completely safe and secure application for Windows OS.
– 24*7*365 Technical Support Available.
WLM Calendar to Outlook Conversion – Major User Queries
Query 1: Last time when I tried to open Windows Live Mail calendar, it started to update. I got an error message "There was an error when attempting to connect to the Windows Live Calendar Service. If error persists, check to see there is an upgrade of Windows Live Mail available or contact a service representative". This is happening with me for the third time. So, I decided to export Windows Live Mail calendar to Outlook as it is running flawlessly. Do you have any ideas regarding this subject? Is yes, please help!
Query 2: Recently I received an error message because may be a file in my Windows Live Mail calendar was corrupt. I can't seem to find any help on any forum. Since, my Outlook 2016 is working absolutely fine and I have my business calendar meeting scheduled there. So, I want to know is there any way using which I can Windows Live Mail calendar to Outlook migration. Your help will be really appreciated!
The Closure
By concluding, we can say that the process to convert WLCalendarStore.edb to Outlook is really simple and quick with an automated solution. The recommended software in this guide is absolutely fantastic and provides accurate results. Users can test the software's proficiency with the free demo version before purchasing the license keys. Hope, now you can effortlessly export WLM calendar to Outlook.