How to Import IncrediMail Emails to Zimbra Desktop ?
Summary: Looking forward to convert IncrediMail to Zimbra TGZ format? Read this write-up to find the useful information about the same.
With the shut down of IncrediMail desktop application, you have a strong reason to convert IncrediMail emails to a format that helps you to access your precious email messages once again to a new email client – Zimbra Desktop
Although all email applications shows same features – sending and receiving of emails, yet the actual difference is that in what formats do they store emails, contacts.
Both IncrediMail and Zimbra is an email client application but the IncrediMail email application saves email messages in IMM, IML, CAB format and Zimbra in TGZ format.
Why we are here talking about migration of emails from IncrediMail to Zimbra Desktop is due to the amazing features and benefits that Zimbra offers to its users which sets it apart from other email client applications out there.
If you need a migration of IncrediMail IMM files to Zimbra Desktop, you want a safe and easy transfer process to convert IncrediMail to Zimbra TGZ. In this scenario, firstly you will require a direct conversion tool that can export IncrediMail emails to Zimbra TGZ format in seconds!
Download IncrediMail to Zimbra Migration Tool
BitRecover IncrediMail to Zimbra conversion tool is one of the finest tool that gives you direct option to convert IncrediMail .imm, .iml files to Zimbra .tgz format. It offers a smooth and hassle-free conversion of emails from IncrediMail to Zimbra desktop. It has a simple and user-friendly GUI and can extract even corrupted and crashed IncrediMail files for importing into Zimbra. This IncrediMail IMM to Zimbra TGZ software supports all versions of IncrediMail for conversion i.e. IncrediMail 2.0, 2.5.
Then entire migration of IncrediMail emails to Zimbra is a two stage process:
1. Convert IncrediMail to Zimbra TGZ format
2. Import converted TGZ files to Zimbra Desktop
How to Convert IncrediMail to Zimbra Desktop ?
Follow these steps to export IncrediMail emails to Zimbra desktop:
Launch BitRecover IncrediMail Converter on Windows.
Select IncrediMail emails using auto-locate or manual option.
Enable the required data from the GUI.
Choose Zimbra as saving option and pick a destination path.
Press on the Convert tab to start IncrediMail to Zimbra migration.
Export IncrediMail  Emails to Zimbra Desktop – Stepwise Explaination
Firstly, download the setup file of IncrediMail to Zimbra software on Windows machine.
This tool will automatically fetch IncrediMail emails by clicking on Convert configured IncrediMail mailbox data. You can also manually select IncrediMail files with dual options: Select Files or Select Folder.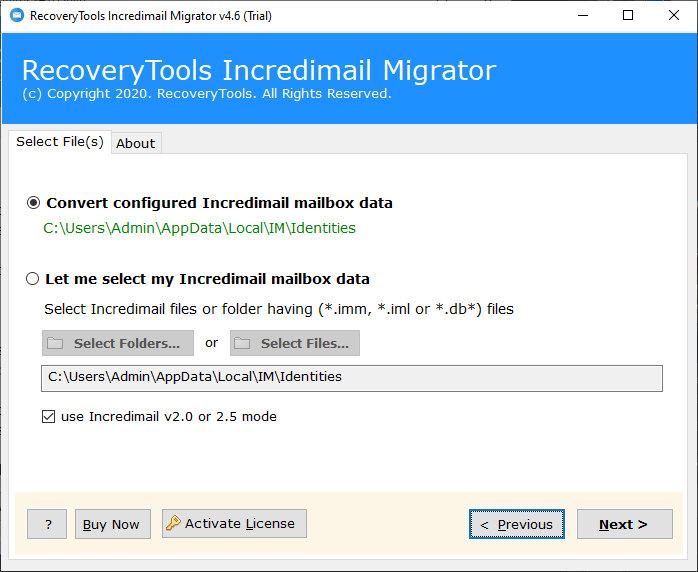 Then, enable required mailboxes whose data you want to import in Zimbra.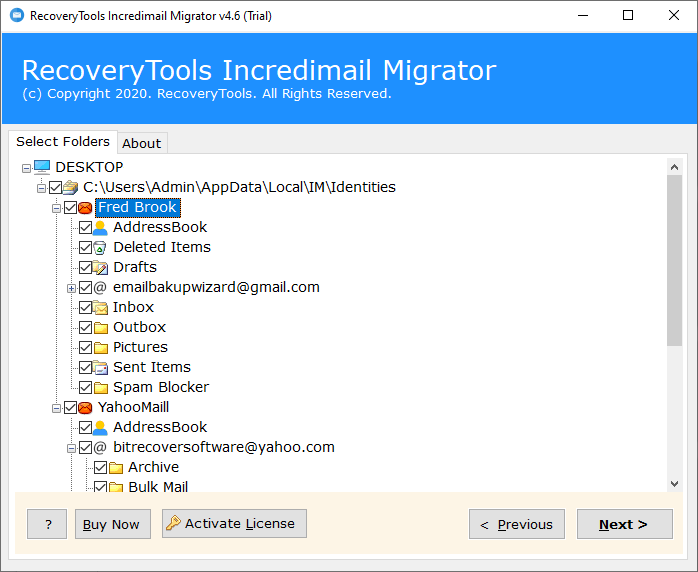 Thereafter, navigate the mouse towards the saving options list. Choose Zimbra as file saving option from the software.
Finally, choose a destination path where you want to store the resultant IncrediMail to Zimbra exported email data.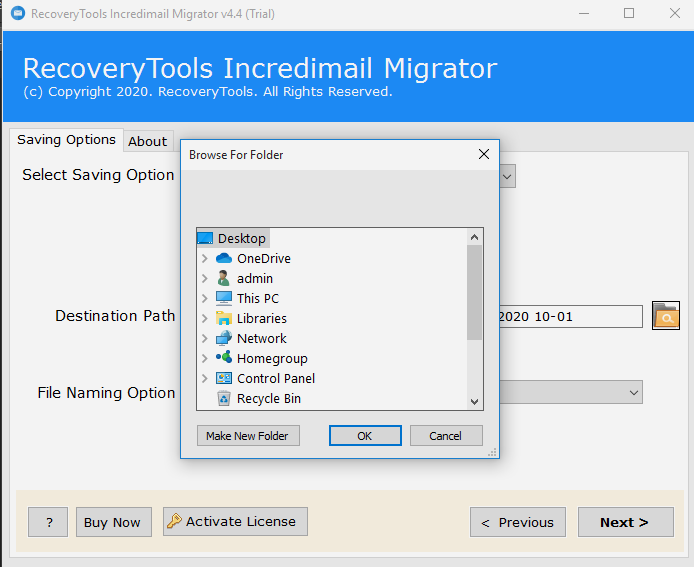 Last step is to press on the Convert button. Once these steps are done, the software will start running the IncrediMail IMM to Zimbra TGZ conversion. You can view the number of email messages that are being converted from IncrediMail application to Zimbra.
After you have exported emails from IncrediMail to Zimbra TGZ format, the tool will show a conversion report.
The migration tool will also show the resultant folder containing the IncrediMail files that are converted into Zimbra TGZ format.
Done! This was a very simple and easy processing that anyone can follow to convert IncrediMail to Zimbra TGZ format. Now, you are good to go for importing this exported TGZ files into Zimbra desktop. The next section describes the same. Keep reading.
How to Import Converted TGZ files to Zimbra Account ?
The users can efficiently import .tgz files to Zimbra account on few simple steps.
To do that, follow these instructions,
Step1: First of all, open Zimbra Desktop application on your computer and login to Zimbra Web Client.
Step2: Now, in the menu bar of the application, locate the Preferences option.
Step3: Then, choose the Import/Export option on the left side panel of the window.
Step4: Thereafter, an Import pop-up will box appear, Browse the IncrediMail exported .tgz files from the stored location on your computer.
Step5: Now, press on the Add Folder option to pick required destination folder where you want to save the IncrediMail converted to Zimbra exported files. Also, you can create a New folder to save the Zimbra TGZ files.
Step6: Then, choose a desired option from Resolve duplicates option:
1.Ignore: Enabling this will keep both new and previous files .
2.Modify: To update the old calendar and contacts.
3.Replace: To re-add old emails and keep the newly created ones as well
4.Reset: Import all new emails and delete the old ones.
Step7: Then, choose the Advance Settings option and select the required email data you want to import into your Zimbra account. You can leave the checkboxes that are unrequired.
Step8: Once this step is done, just hit on the Import tab.
Lastly, the Zimbra application is starting to import the converted IncrediMail .tgz messages and will also show the Import successfully complete message at the end of processing.
Advanced Features of Software
Choose Emails Automatically or Manually: The tool offers dual options to import IncrediMail emails to GUI. It has an inbuilt feature that automatically detects the IncrediMail emails from the computer. Besides this, you can also choose Select Files or Select Folder option to upload IncrediMail 2.0, 2.5 data to GUI.
Easy to use interface: This software processes easy graphical user interface. The tool is specifically designed for native users and does not require any hands-on experience and technical skills to access the software. Through this software users can easily move IncrediMail files to Zimbra with all components.
Retains email formatting: The tool can precisely convert IncrediMail to Zimbra TGZ format, while preserving the original formatting of all email. It preserve the on-disk folder structure of mailbox.
Perform safe IncrediMail to Zimbra conversion: The program ensures a precise IncrediMail messages to Zimbra converter by averting all possible risks of loss of formatting and other mail attributes. It is totally Virus, Worms and Trojan free toutilize
Store resultant data at desired location: The advance save option of this software gives user the privilege to store all the converted data at desired location in your system after conversion so it is great option to import IncrediMail data to Zimbra.
Batch convert IncrediMail to Zimbra: This application allows user to migrate bulk of data from IncrediMail client to Zimbra. It saves a lot of user's time by converting multiple IncrediMail files at once.
Transfer IncrediMail email attachments too: It can easily export IncrediMail files to Zimbra along with its attachments.
Convert all IncrediMail IMM and IML files: It supports both IncrediMail IMM and IML files to perform the IncrediMail to Zimbra TGZ conversion process. The software also convert IncrediMail address book to Zimbra..
Important Note: The software is fully Windows based, has been verified on all Windows OS. It easily supports all Windows version like Windows 10, Windows 8.1, Windows 8, Windows 7, Windows XP, Windows Server versions, etc.
More about Zimbra Desktop
Zimbra Desktop is a freeware open source email client that which provides you online as well as offline access to all your email messages at one location. It serves as infallible medium for exchanging all email content: mailboxes, contacts, calendars, etc. If a user wants to extract data from Zimbra account, the format is TGZ for it. It is like a traditional ZIP file which can be extracted easily. Besides this, Zimbra offers various valuable advantages. Have a look on these:
It can be easily installed in any workstation or system as Zimbra desktop has a version for every Operating System in the world. That is Windows 32bit/64bit, macOS, Linux.
Zimbra desktop ensures productivity, by providing a full syncing experience even when there is no internet connectivity.
It is free and and imparts a rich emailing experience at zero cost with greate reliability.
Zimbra desktop can seamlessly sync large emails without threatening the workstation usability.
Try Demo Version for Evaluating Tool's Proficiency
Before purchasing, users will be curious to know whether the IncrediMail to Zimbra Wizard can convert data effectively. Now, user can check it yourself. For this, download the free demo for evaluation, the trail edition can only convert first 25 IncrediMail data to Zimbra. If you are happy with the outcome of the trial edition, buy the full version of this software to avail the fully functional saving facility.

Frequently Asked Questions
Ques1: Does the software supports IncrediMail IMM files for importing into Zimbra account?
Ans: Yes, the software supports both IMM and IML files to perfrom conversion.
Ques2: How much time does it take to import IncrediMail to Zimbra?
Ans: The tool takes few seconds to convert IncrediMail to Zimbra TGZ format.
Ques3: Is it necessary to install IncrediMail in the system before performing the conversion?
Ans: No, it only requires IncrediMail files to perform conversion, its configuration is not required.
Ques4: Can I batch transfer IncrediMail files to Zimbra desktop?
Ans: Yes, with this software you can efficiently move all IncrediMail emails to Zimbra TGZ format.
Take a Glance at Client Reviews
After testing the software, I can say that I don't have to look for separate tools if I need to convert attachments of IncrediMail files to Zimbra. It maintains the folder structure after conversion of data. Thank you BitRecover.

-Sophia, New York

I never knew that data conversion is so easy. By using BitRecover tool for converting my IncrediMail mailbox data to Zimbra was so easy. I must give 10 of 10 to this software, it is really an amazing software to migrate IncrediMail to Zimbra.

-Michelle, U.K

Superb Software! I was having about 10 GB of IncrediMail data in my system, which I need to convert to Zimbra. I was quite worried but IncrediMail to Zimbra Wizard takes only few seconds and convert all my data to Zimbra. Thank you BitRecover for this time saving tool.

-Hopkins, Japan
Summing Up Together
IncrediMail to Zimbra TGZ conversion tool is one such utility which you can rely for exporting IncrediMail emails to TGZ format. It assures complete accuracy and no data loss throughout you convert IncrediMail to Zimbra TGZ. If you are dealing with any issues regarding this, feel free to our technical support team.