How to Convert EPS Files to PNG Image Format ?
Introduction: This BitRecover blog is entirely dedicated to explaining how to convert EPS files to PNG image format.
Recently, we received the following user query:
"Dear support team, do you have a solution to convert EPS files to PNG?
I have a large number of EPS files that I need to convert to PNG format for official purposes. I tried this manually with Adobe Illustrator but it did not work well for me. It was limited in several ways, and I was unable to convert my files in bulk. So, do offer me with a solution for completing this work. It is important."
– James
We gave him the BitRecover EPS File Converter Wizard after getting the above request. This is one of the best software to export EPS files to PNG image format in bulk without any limitations.
Therefore, if you are one of them who needs to do such a work, you can utilize this application.
Now, without further ado, allow us to walk you through the procedure step by step. Therefore, continue reading.
Easy Steps to Convert EPS Files to PNG Format
There are no such requirements; all you need to do is download EPS to PNG Converter on your Windows computer.
Suggestion: It is advised that you download and try out the free trial edition first. This free edition is ideal for testing the tool's features and functionality. You may use this shareware to convert a few EPS files to the PNG format.
Once this software is downloaded, install it properly and run it.
Now, click on Select Files or Select Folders option to browse and load your EPS files. Then, click on Next button.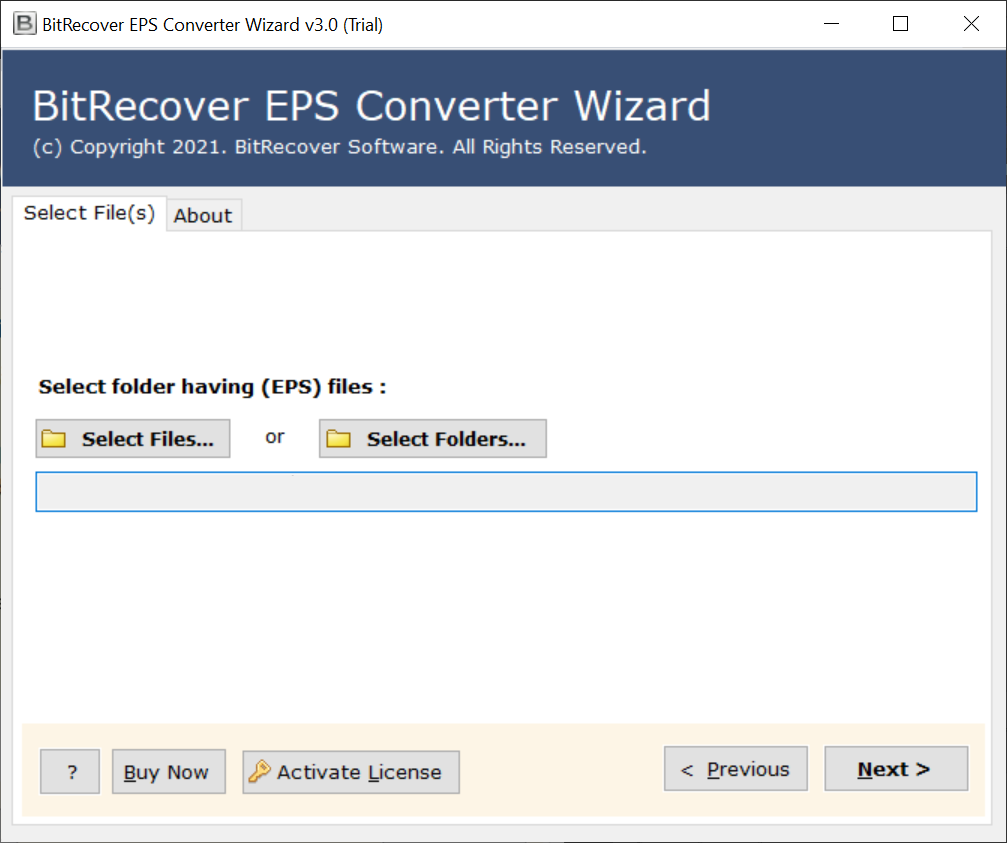 This application will instantly load all the EPS files / folders on the left panel. Now, check the files you need to convert.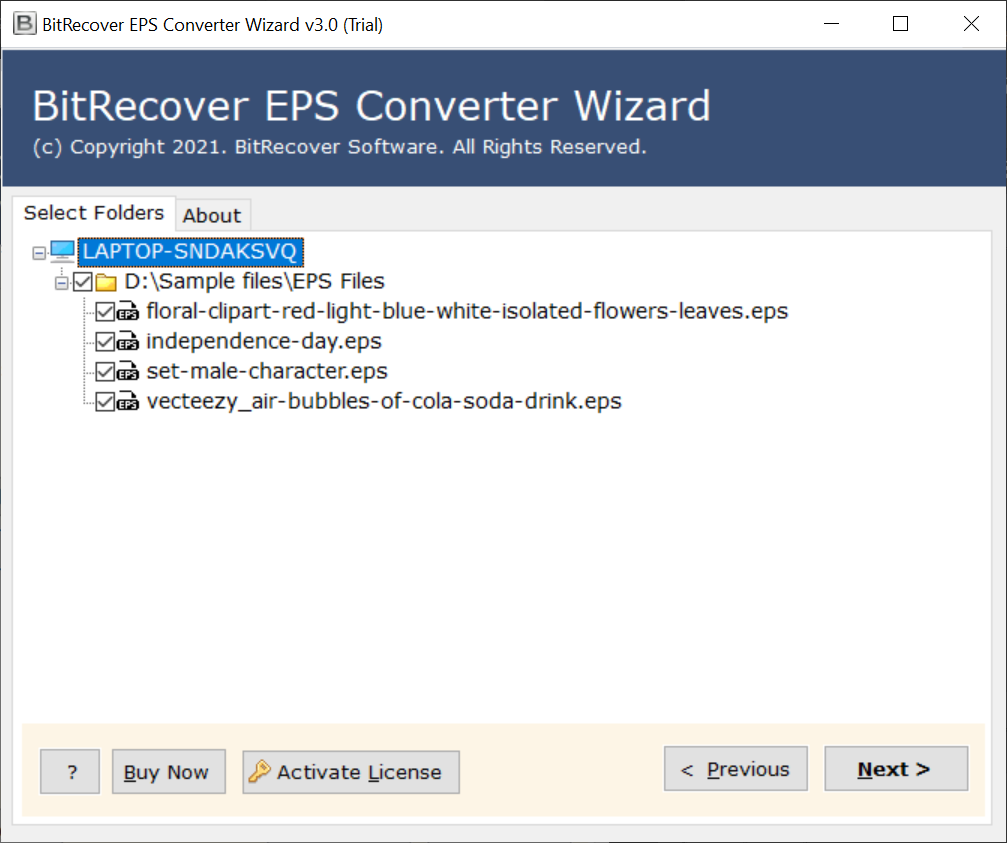 Now, choose PNG format from the file saving option.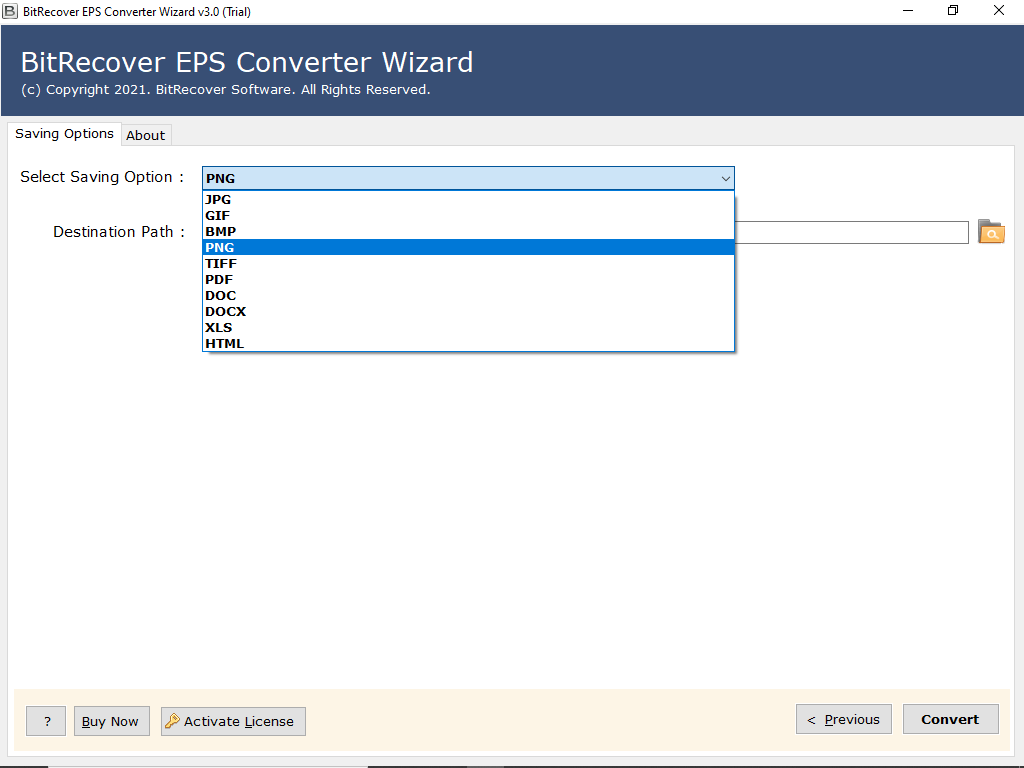 Finally, choose the required destination path and click on Convert button to begin the process.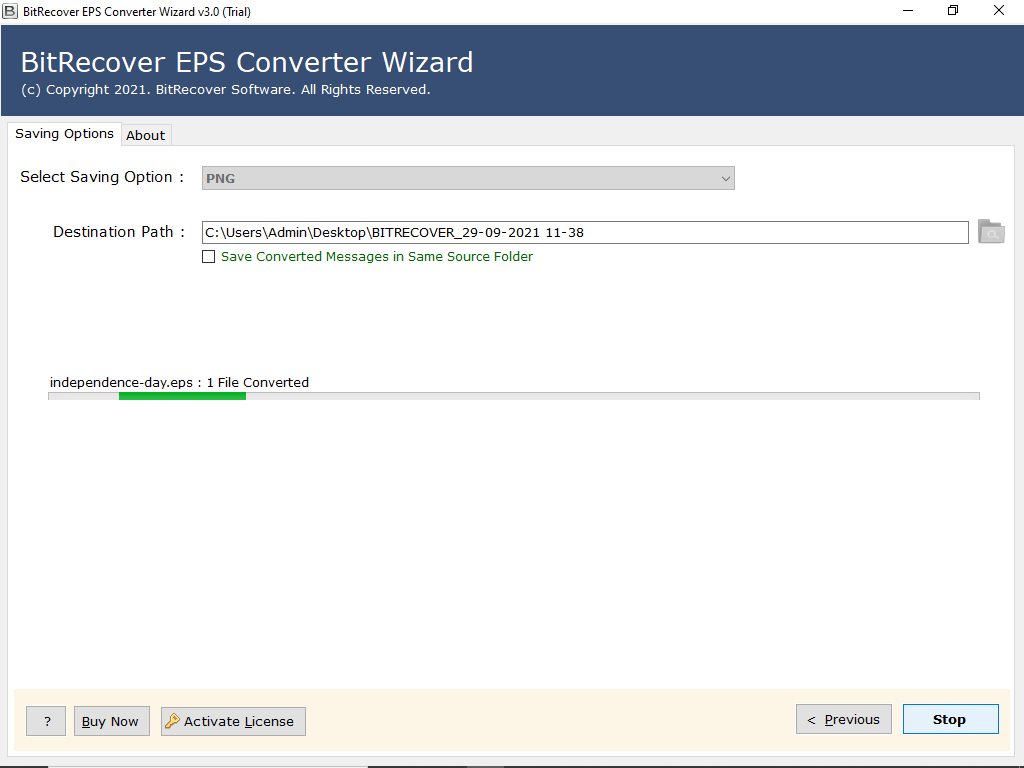 As you can see, the software has now started converting your EPS files to PNG images. This procedure will take only a few seconds.
Don't Overthink; While using the app, let go of all your troubles. This application has been thoroughly tested and is completely risk-free. We guarantee that the tool will return accurate results. It will convert your EPS files to PNG format properly and without errors.
Have a Look at the Advantages of EPS to PNG Converter
Need Bulk Conversion ? Yes, It Is Possible: We developed this incredible software in such a way that it is capable of resolving any user's query. This method enables the safe conversion of numerous EPS files to the PNG picture format. You no longer have to waste time repeatedly picking files.
Convert Files with All Properties: If your EPS files have additional attributes, you should not worry. With this software, you can convert EPS files to PNG images safely and retain all of their features. So, use this software to get the complete conversion of your EPS files.
Choose Location to Save Data: This application is distinguished by a large number of advanced features. When you choose to save, this application will prompt you to pick a destination path. This option allows you to store the resulting output to a specified location. This feature enables easy access to and management of the resulting output.
Doesn't Require Supportive Application: The majority of online apps require a supporting application to perform the conversion. However, our system is entirely self-contained. To convert EPS files to PNG format, the tool does not require any other software.
Always Maintains All properties: This application preserves all attributes while converting EPS files to PNG format. No modifications will be made to the original formatting. You will without a doubt obtain an exact conversion in a few easy clicks.
Some Commonly Asked Questions by Users
Question 1: Does the app allow to convert multiple EPS folders to PNG format without any supportive application ?
Answer 1: Yes, this app is capable of simultaneously converting numerous EPS files / folders to PNG without the use of any additional applications.
Question 2: Which license do I need to convert an infinite number of EPS files to the PNG picture format?
Answer 2: You can purchase a personal license to convert an unlimited number of EPS files to PNG format.
Question 3: Where can I obtain the resulting files?
Answer 3: You can get the resultant output at the required place.
Final Words
In the preceding article, we discussed the best method for convert EPS files to the PNG picture format. The suggested app is good for exporting EPS to PNG in its entirety.
Hope you will find this article help.
Additionally, you can contact us at any time if you need any suggestions. We are always there to assist you.