How to Convert BigPond Email to IMAP Server ?
In this blog you will know how to convert Bigpond email to IMAP server of any web hosting company.
BigPond is a reliable and robust brand name of Telstra communications in Australia. It offers a powerful email service but like other email applications, it also comes with few issues. The BigPond email users often encounter many problems like email login problems, email not working issues, etc.
Since users always desire a hassle-free email application for their communication thus, they wish to switch from BigPond and migrate all email information to other servers.
If you are also dealing with such problems and want to move all data from BigPond service then this blog will help you. This write-up explains a proper solution to convert BigPond emails to IMAP server.
What Experts Suggest to Export BigPond to IMAP Server ?
Use the top-rank IMAP Mail backup tool for converting your BigPond emails to any webmail, mail server, or for a safe backup on PC. This software gives the facility to convert BigPond email to IMAP server. It is thoroughly tested by the professionals of BitRecover. The utility allows exporting all emails from BigPond account to IMAP server with attachments.
Download the free version of the software-
Steps to Convert BigPond Email to IMAP Server
Launch the BigPond to IMAP conversion tool.
Fill in the BigPond email login and IMAP host details.
Choose the required mailboxes.
Select IMAP server and enter its account credentials.
Start to convert emails from BigPond to IMAP account.
How to Migrate Emails from BigPond to IMAP Account in Bulk ? – Complete Working
Read the steps given below to convert BigPond email to IMAP server-
Primarily, download and install the tool on your Windows or Mac PC.
Now, enter the email address and password of the BigPond account. Also, enter the IMAP host as IMAP.telstra.com and port number as 993. Tap on the login tab.
The tool starts loading all email folders from your BigPond account. In this step, choose the wanted emails which you want to move in IMAP account.
Then, navigate to the storage options list. Choose IMAP server and specify the IMAP account email address, password, IMAP host number and IMAP port number.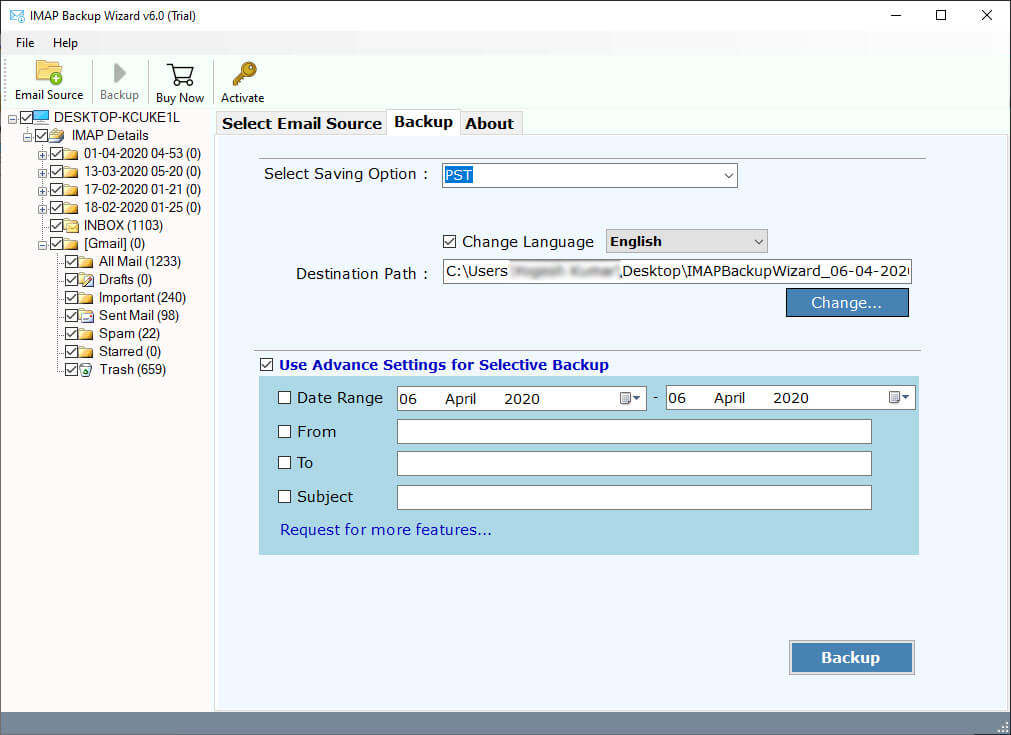 Thereafter, hit on the backup button. The software starts to export BigPond mailboxes to IMAP server.
Prime Advantages of this Software
Migrate Emails with Attachments
The suggested tool has the ability to convert all BigPond emails to IMAP server with attachments as well. It will transfer all attached files without any change in the formatting.
Preserves the Email Formatting
During the conversion of BigPond to IMAP, the software keeps intact all metadata information. It maintains the attachments, embedded images, hyperlinks, email signatures, email details like sender/ recipient information, subject, email address, etc.
Independent Tool
The software can move BigPond emails to IMAP without any external application installation. It has the proficiency to export all data without any trouble.
Protects the Integrity of Data
While the user migrate data from BigPond webmail to IMAP, this software will maintain the data integrity. Along with this, it also safeguards the internal folder structure of your database.
Vast Windows Compatibility
The user can run this software smoothly on any latest and older version of Microsoft Windows Operating Systems. It can be downloaded on Windows 11, Windows 10, Windows 8.1, Windows 8, Windows 7, Windows XP, Windows Vista, Windows Server 2019, Windows Server 2016, Windows Server 2012, etc.
Advance Mode for Selective Backup
If you want to move some selective email messages of BigPond account into IMAP, then this is possible the batch mode option. It allows to selectively BigPond emails to IMAP server.
Bulk Conversion with Accuracy
No matter how many emails does your BigPond account carry, you can use this application to convert all BigPond data to IMAP in bulk. There is no limitation to migrate emails with this software.
Regularly Asked User Queries
What are the system requirements to use this software?
The general system requirements of this tool are a free hard disk space of 48.7 MB and a minimum of 512 MB RAM.
Can I convert BigPond to IMAP server in batch with your tool?
Yes, by using our application, you can implement a bulk migration of BigPond emails to IMAP server.
Does the software retains the email folder structure during the processing?
Yes, during the entire task, the email folder hierarchy remains intact.
Bringing all together
In this write-up, we have explained the best and efficient method to convert BigPond emails to IMAP server. You can test how this software works with the help of a free trial edition. It grants users to migrate data with certain limitations. The application allows converting top 25 email items from BigPond account. Once you are completely satisfied with the software, you can buy the license keys for unlimited conversion.
In order to resolve any queries, please contact our technical support team via live chat or through email.