How to Convert WLCalendarStore.edb files to ICS format ?
Summary: Ready to migrate windows live mail calendar to standard ICS format or other file formats, but don't know where to start from? Well, WLM stores all its calendar data in the default location "WLCalendarStore.edb". So, in order to use this calendar information at other places too, you can use WLCalendarStore.edb File Converter application.
Today, calendars are playing as a significant tool by all professional users for organizing their busy schedules. Numerous corporate heads, business officials go by their calendar schedule as it ensures that they don't miss any planned event with clients or even their own families. Microsoft Windows Live Mail Calendar is a free online calendar that can be accessed from any place and from any device! You can manage different events like checking holidays and birthdays, coordinating with family/ colleagues, handling personal/ public calendar with windows live mail calendar.
If you want to use WLCalendarStore.edb File then you can convert this file to standard calendar format, then we suggest you download WLCalendarStore.edb File Converter.
How to Convert WLCalendarStore.edb File ?
Follow these steps to convert WLCalendarStore.edb File:
Launch Windows Live Mail Calendar Converter on the computer.
Choose WLCalendarStore.edb file using automatic or manual mode.
Pick the desired calendar saving option from the tool.
Enter a location for saving the output at a user-defined path.
Start the conversion of WLCalendarStore.edb files.
How to Get Started with WLCalendarStore.edb File Converter ?
Read this first- Download the free demo version of WLCalendarStore.edb File Converter. It allows converting few WLCalendarStore.edb files to desired formats. Later you can switch to the license version for unlimited calendar conversion.

Firstly, Launch the software on your Windows machine and read all instructions.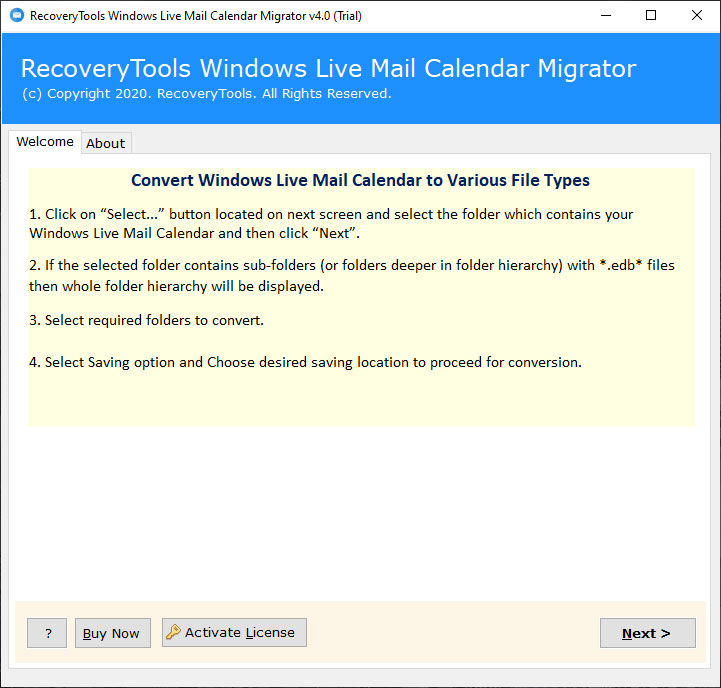 Now, upload the calendar with the automatic or manual file selection options.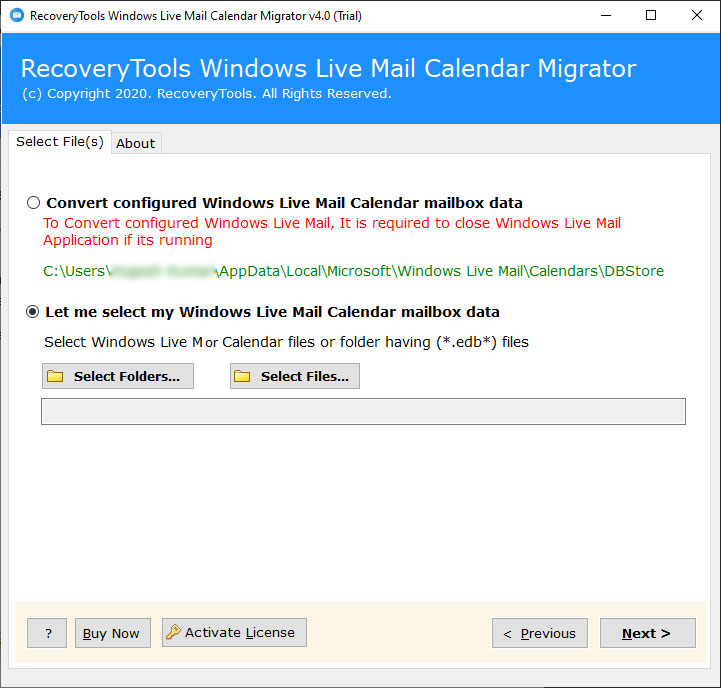 Please note- To convert configured Windows Live Mail, please ensure to close Windows Live Mail if it's running.
Then, enable the desired WLCalendarStore.edb files for conversion.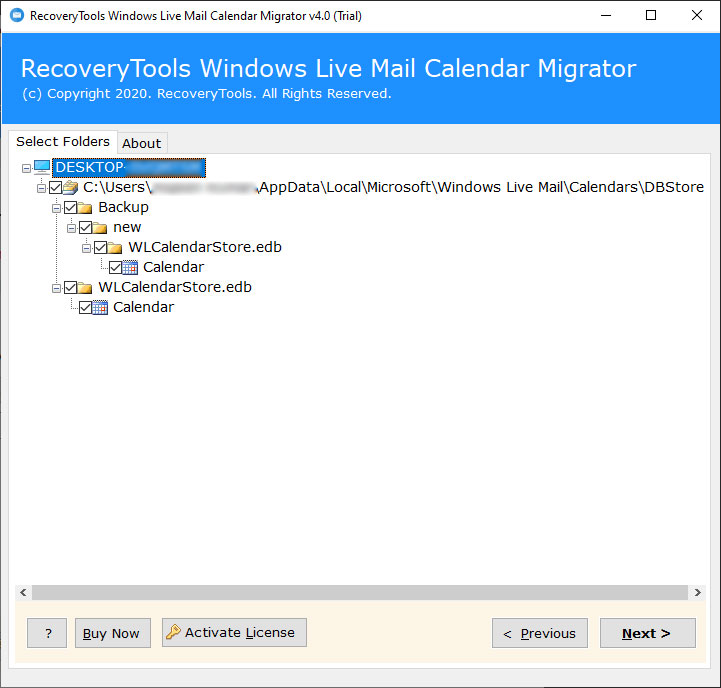 Thereafter, select a required saving option to convert WLCalendarStore.edb files.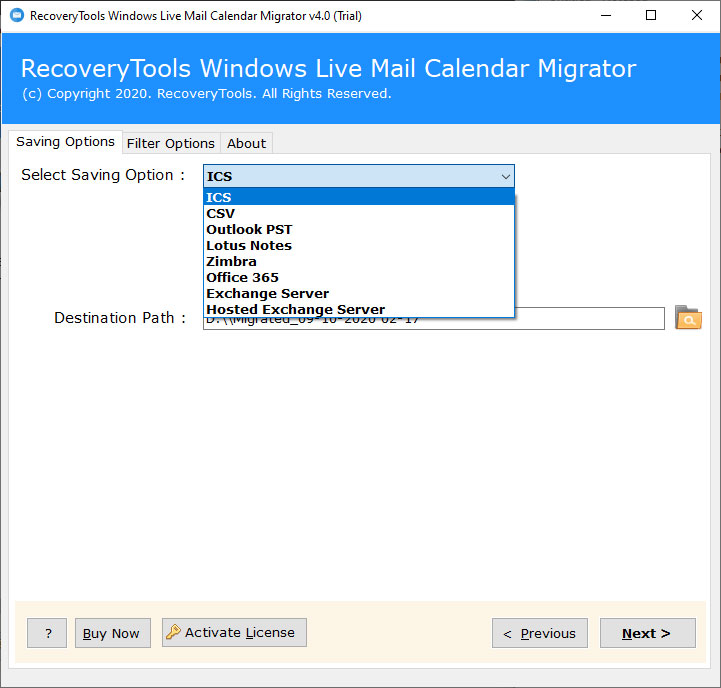 Now, choose the desired filter option to convert required WLCalendarStore.edb calendar data.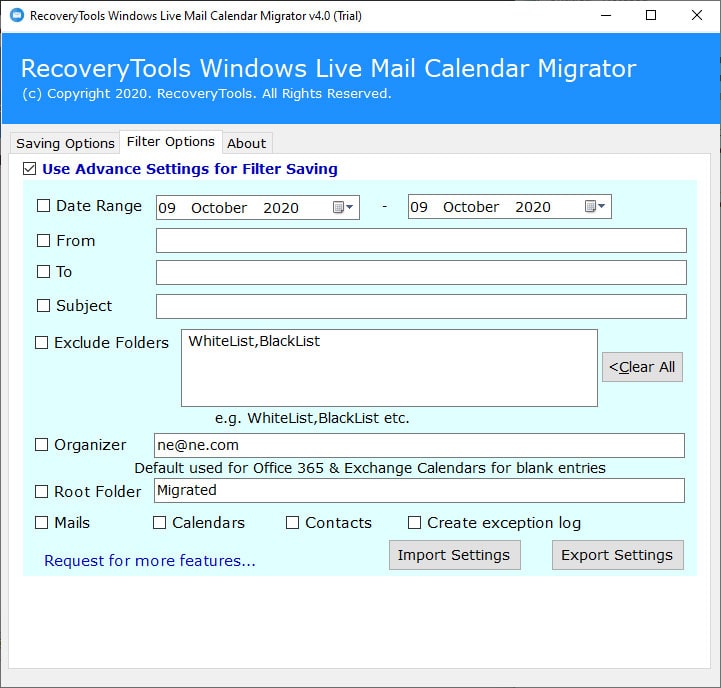 Then, Setup a destination location for saving the resultant data.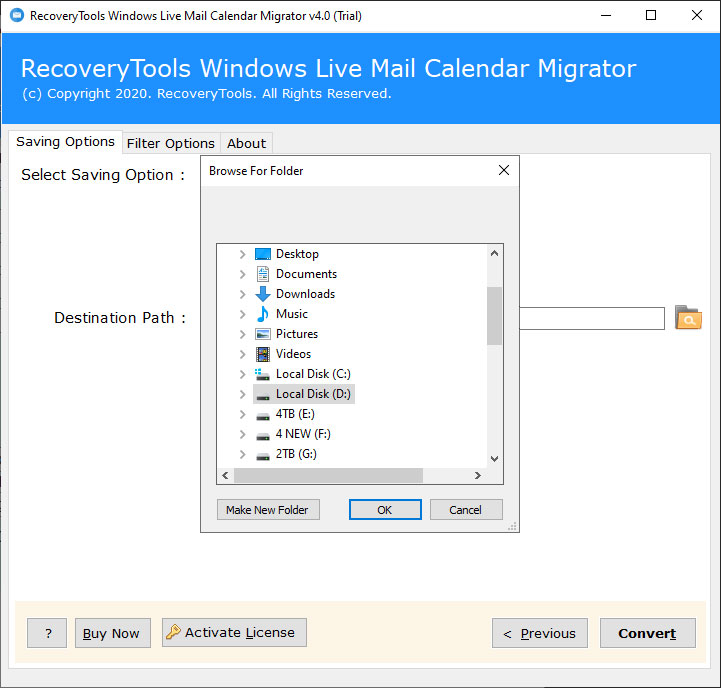 Now, click on the Next tab to start to convert WLCalendarStore.edb files.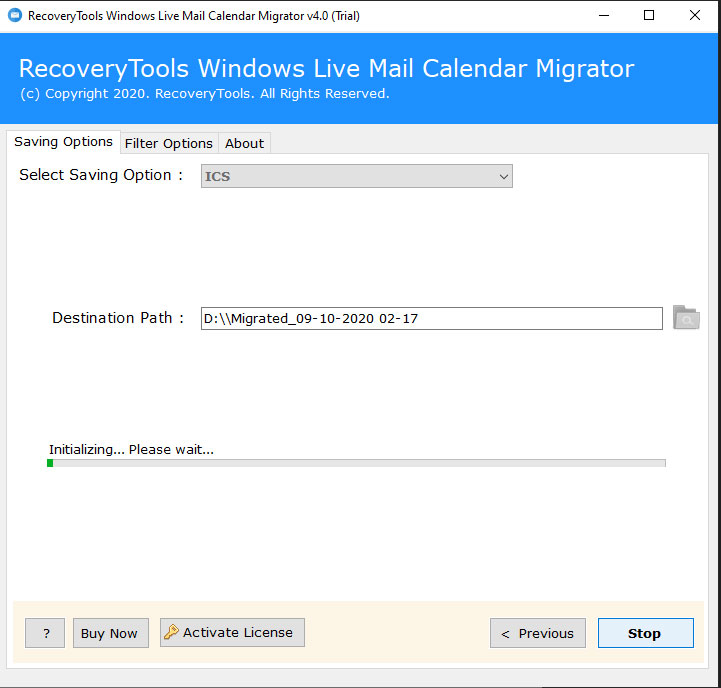 Lastly, once the process ends, click on the OK tab to end the task.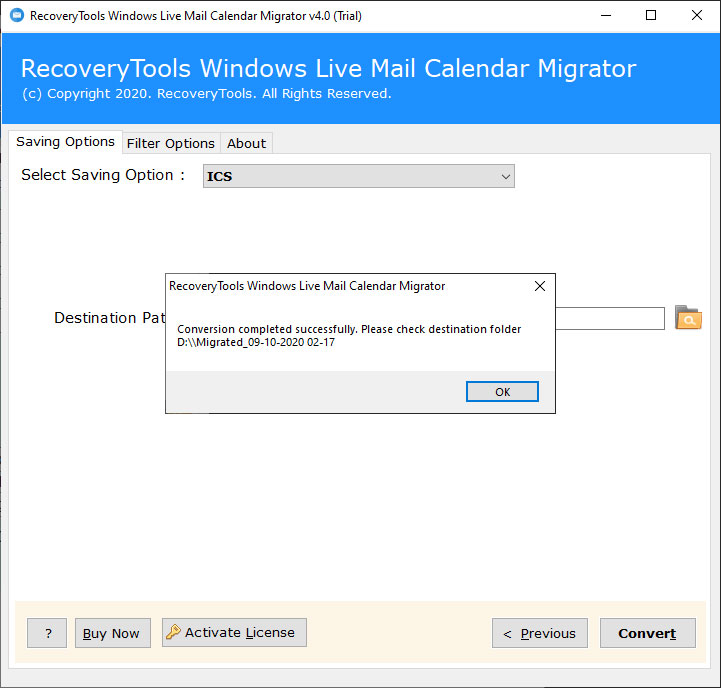 Best Features of WLCalendarStore.edb File Converter
Bulk WLCalendarStore.edb File Conversion – With this software, the users can batch convert WLCalendarStore.edb files in single processing.
Double approaches to upload data- You can load Windows Live Mail Calendar in dual ways with this tool. Users can automatically upload WLM data from its default location of manually load files/ folders.
Preserves calendar information- During the process of WLCalendarStore.edb file conversion, the tool maintains all calendar data like meetings, appointments, tasks, locations, start time/ end time of meetings.
Compatible with all Windows OS- Users can run WLCalendarStore.edb File Converter on any version of Windows OS like Windows 10, 8.1, 8, 7, XP, Vista, etc.
100% Safe to use- The tool never saves the user's information in the software's database.
Conclusion
In the above blog, we have explained the conversion of WLCalendarStore.edb files using WLCalendarStore.edb File Converter tool. This utility is the only trustworthy application for converting data of Windows Live Mail. It has a simple and user-friendly interface. Any technical or novice user can access it. If you have any queries, please contact our technical support team.