How to Recover Crashed Outlook Emails ? – Troubleshoot this Issue Now
Summary: Do your Outlook application has stopped responding or it has crashed on your computer? In this article, we will walk through some simple steps and the outright solution to fix the issue of how to recover Outlook emails after crash.
It is very certain that your journey with MS Outlook has been pleasing or worse, technically depends on certain factors. These may include how you use Outlook, what particular features you have turned on, number of applications you have configured on your system.
There are multiple issues like the above query that the users encounter while working with Outlook app. Errors like Outlook has stopped working, crashing on startup, Outlook not responding, Outlook crashing in safe mode, crashing while sending mails or loading profile.
Reasons whatsoever, the good news is anyone can fix it! Now, you can recover email from Outlook application crash easily.
How to Solve Recover Outlook Emails After Crash Issue ?
Valuable Solution: Download BitRecover PST Converter on your computer. This impeccable software can convert your configured Outlook mailbox data in few seconds. It gives option to its users for recovering email from crashing of Outlook application. The tool provides various saving options which the users can utilize to convert Outlook data after recovering it. Also, with this utility, one can recover Outlook application crash emails, to other email clients. There are no technical specifications required for converting email data from crashed Outlook application. It will precisely recover crashed Outlook emails.
How to Recover Crashed Outlook Emails ? – Troubleshoot This Issue
Firstly, launch BitRecover Outlook recovery email software.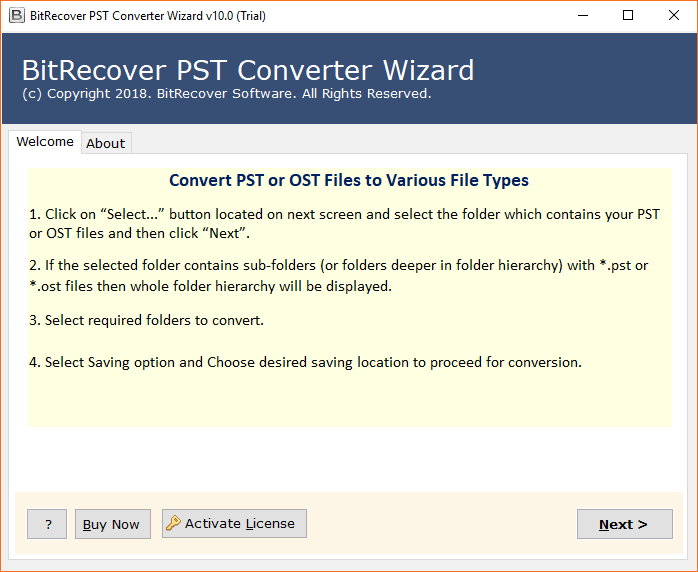 Then, enable Convert configured Outlook mailbox data.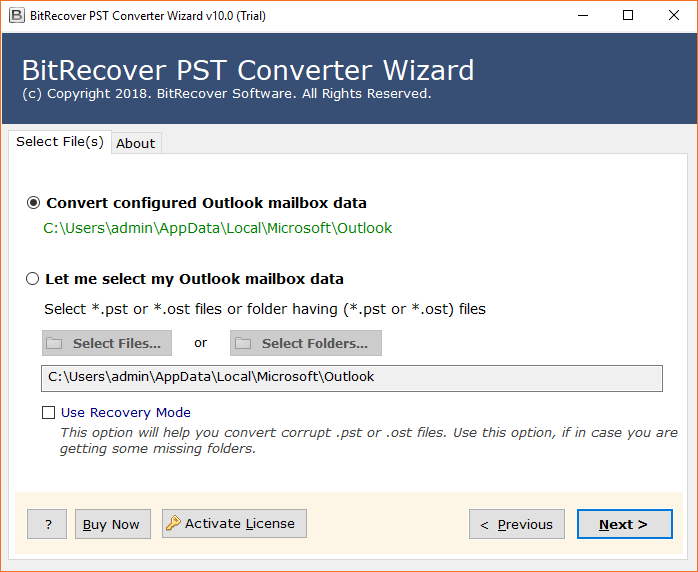 Now, pick required email data that you want to restore.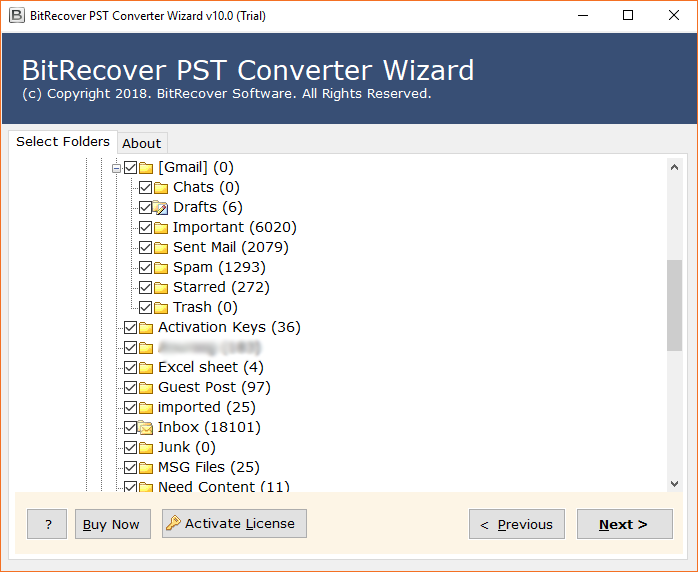 Thereafter, choose any saving options for recovering Outlook email in that format.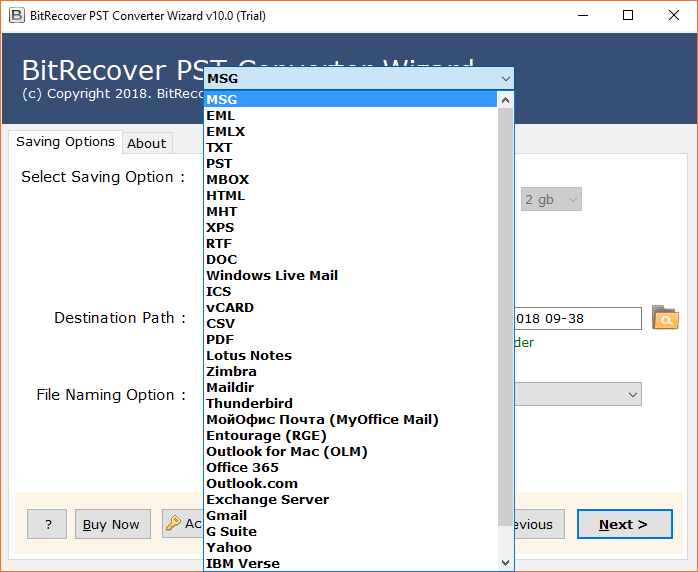 Finally, enter a destination path and start recovering Outlook email after crash.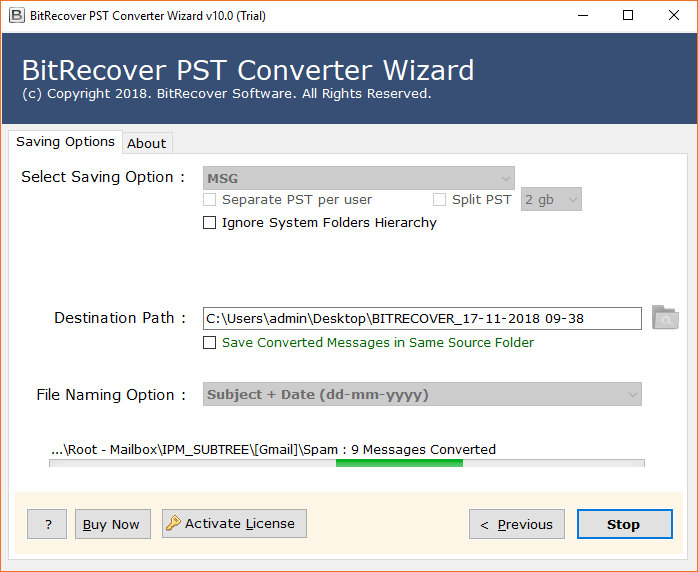 Fnally, here are the recovered emails from outlook application that has been crashed.

Users Problem
Microsoft Outlook has been my primary email client from many years. Currently, I am using MS Outlook 2019 but when I click on Sent items or Deleted items, Outlook crashes. My notion is that may be some corrupted item is there, but I am completely unaware to find that corrupted item. Till now, I have even re-created Outlook profile but end up getting no success and any of the online trick didn't even work either. Can someone please suggest me some solution so that I can recover crashed Outlook email. Please help!
-Joseph, USA
Reasons Why Outlook Application Crashes
Restarting System: Sometimes, the users restart computer and the programs running back on computer may clash with Outlook leading to crash.
Update Outlook versions: If you are using an outdated version of Outlook, it may cause to happen crashing of application.
Incorrect account settings: Many times, due to wrong account settings, Outlook does not runs smoothly, resulting in crashing application.
Unnecessary add-ins: Faulty unnecessary add-ins also cause Outlook to interrupt its functionality.
Corrupted data files: Damaged or corrupted Outlook files also causes to crash Outlook.
Now, go through this solution that will take your out from the situation of "recover crashed Outlook email".
Recover Emails from Crashed Outlook – Benefits of Software
Batch migrate Outlook email: With this wizard, the users can convert the recovered crashed Outlook emails in batch mode.
Preserves folder hierarchy: The software will maintain the internal folder hierarchy while recovering Outlook message after crash.
Restore all versions of Outlook: The tool can recover Outlook 2016, 2019, 2013, 2010 crashed emails very well in supportable file formats.
No limit on file transfer: It does not impose any restrictions of recovering email from Outlook application crash.
Export Outlook emails in many formats: This software provides 20+ file formats for recovering Outlook after crash emails.
Independent application: It does not require any external support for recovering crashed Outlook emails.
Frequently Asked Questions
Ques1: Can I recover Outlook email after crash?
Ans: Yes, the above described solution will recover Outlook message after crash.
Ques2: How to recover draft Outlook crashed email?
Ans: Download and run Outlook email crashed recovery software to fix recover draft email after Outlook crash.
Ques3: Can I recover Outlook 2010 email after crash?
Ans: Yes, this software provides this facility to restore Outlook 2010 email after crash.
Conclusion
In this blog, we have described how to fix restore Outlook after crash issue. This utility to recover email crash Outlook emails is one of the easiest solutions. Now, you can also try the demo version of the tool which is available free of cost for converting 25 emails from each Outlook folder. Hopefully, now one can efficiently recover crashed Outlook email.